The Stirring and Visually Spectacular New 'Mulan' Is One of Disney's Better Live-Action Remakes
Instead of talking dragons and cricket sidekicks, this straight-to-streaming version revisits the Chinese legend in a rousing and vibrant way.
When the latest version of Mulan starts its story, it does so with a crucial piece of narration that clearly signals the movie's intentions. "There have been many tales of the great warrior Mulan, but ancestors, this one is mine," Hua Mulan's father Zhou (Tzi Ma, The Farewell) advises the audience. Most viewers know the titular character's name from Disney's 1998 animated musical. The Mouse House is behind this new film, too, as part of its growing stable of live-action remakes of its own past hits (see: everything from Cinderella and Beauty and the Beast to Aladdin and The Lion King). But Mulan circa 2020 isn't interested in slavishly recreating the company's last take on the tale frame by frame, just with flesh and blood rather than illustrations — instead, it's smartly interested in retelling the Chinese legend in a rousing and vibrant way.
As first transcribed in the Ballad of Mulan in the sixth century, the story of Hua Mulan holds a considerable place in history — and it is easy to understand why. When her elderly and ailing father is conscripted to serve in the Imperial Army, with no son of an acceptable age to take his place, Mulan steals his armour and sneaks off to join the forces for him. To do so, she disguises herself as a man, which none of her colleagues or superiors suspect. The fact that she has considerable martial arts, swordplay and archery skills assists, of course, but Mulan's kindly subterfuge sees her become a formidable and respected warrior who helps save her kingdom.
With Whale Rider and The Zookeeper's Wife's Niki Caro in the director's chair, Mulan covers the expected tale; it wouldn't be a Mulan movie otherwise. But this story first fought its way across the big screen in a 1927 silent film, and has been no stranger to the page, stage or cinema over the past 93 years — so just repeating the 1998 movie really would've been the laziest option. Accordingly, the feature's four writers (Jurassic World's Rick Jaffa and Amanda Silver, plus Christmas Perfection's Elizabeth Martin and Lauren Hynek) aren't afraid to wrangle their own version of the narrative, and Caro doesn't shy away from imparting a specific tone and focus either. Where its animated predecessor played the situation in a lighthearted but still respectful manner (think: talking dragons, cricket sidekicks and lively songs about arranged marriage), this iteration adopts a weightier mood, stressing the significance of its protagonist's journey at every turn.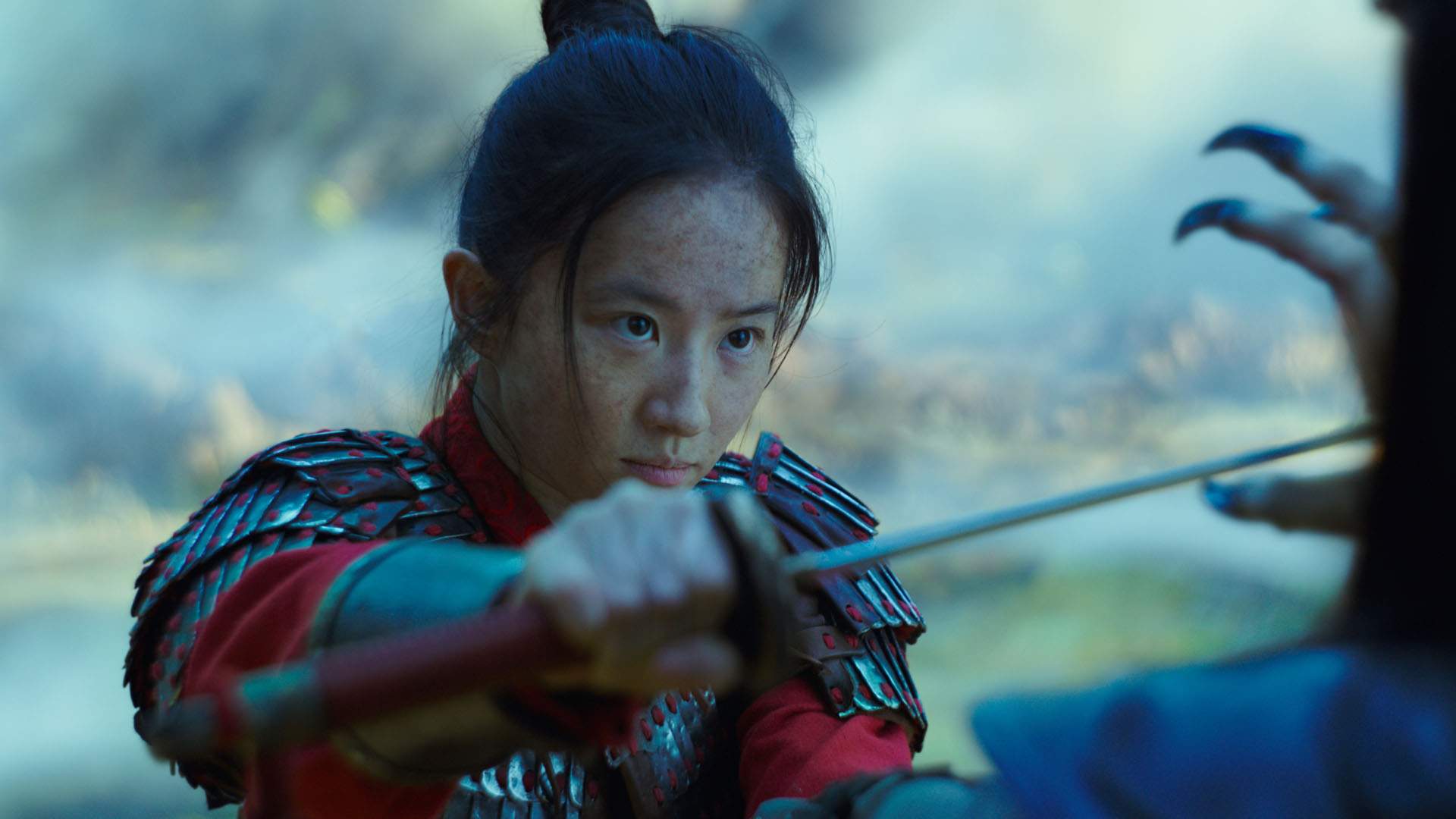 Cue details both familiar and new, including ditching the aforementioned Eddie Murphy-voiced dragon for a symbolism-laden (and mute) phoenix, scrapping the romantic subplot with Mulan's commander and delving into the treatment of women in multiple ways. As the Emperor's (Jet Li) military battles invading northerners led by the revenge-seeking Böri Khan (Jason Scott Lee, Crouching Tiger, Hidden Dragon: Sword of Destiny), Mulan (Liu Yifei, Once Upon a Time) not only fights alongside her peers and tries to keep her secret from her mentor (Donnie Yen, the IP Man franchise) and her rival (Yoson An, Mortal Engines), but also comes up against shapeshifting sorceress Xianniang (Gong Li, Memoirs of a Geisha). Mulan isn't very subtle about juxtaposing the two women's plights — nuance is rarely Disney's specialty — but the comparison is always moving. And, with Liu serving up a quieter, more stoic performance and Gong getting a showier part as the outcast on the other side, they offer something that the company's movies aren't always known for: multiple visions of femininity, even in a story that literally tasks its lead with pretending to be male.
As a result, Mulan feels like it's forging its own path even when it does hit recognisable notes, either from the 1998 film or from general cinematic tropes. Its central figure is given an almost superhero-esque origin story, involving her innate ability, or qi, because Disney is also the home of Marvel and Star Wars — but in charting her quest to succeed, the film never merely drums to the requisite beats. This version of Mulan was always going to heighten the inspirational angle, too, to rightly reflect today's attitudes; however the emotions it earns are genuine. When a coming-of-age story about a determined young woman defying the shackles of her gender and her culture in a groundbreaking way is treated thoughtfully and intelligently, it's always going to evoke a reaction.
While viewers will be watching Mulan on a small-screen — after the feature was originally scheduled to play in cinemas in March, had its date delayed several times until July and August due to COVID-19, then opted for a streaming release via Disney+ instead — there's no missing the movie's visible spectacle, too. Australian cinematographer Mandy Walker (The Mountain Between Us, Hidden Figures) delivers a sweeping feast of lush imagery across a plethora of landscapes, and lenses energetic wuxia-inspired combat action as well. Indeed, this is one of Disney's most sumptuous-looking remakes, and one of its better examples in general anyway. The chasm between the company's best do-overs (Pete's Dragon, The Jungle Book) and its worst (Alice in Wonderland, particularly) is considerable, but this big-hearted, captivating and striking film easily falls into the first category.
Mulan is available to stream via Disney+ from Friday, September 4, for an extra price of AU$34.99/NZD$39.99 on top of your regular Disney+ subscription. It'll join the service for no extra fee from December 4.
Top image: Jasin Boland. © 2019 Disney Enterprises, Inc. All Rights Reserved.
Introducing Concrete Playground Trips
Book unique getaways and adventures dreamed up by our editors