The Sydney Opera House Illuminated Its Sails with Images of Firefighters to Support Bushfire Relief
The iconic venue will also host a huge comedy gig on its forecourt to raise funds for those in need.
Perched on Sydney Harbour and boasting an iconic design, the Sydney Opera House always makes a stunning sight. That's especially true when the sun goes down, with the world-renowned landmark lighting up its sails every night. When the venue uses its evening light show for a cause, though, the luminous display is extra special.
That proved the case last night, on Saturday, January 11, when the famed venue illuminated its sails to support bushfire relief. Images of firefighters were projected on the eye-catching structure, in a show of support to the communities affected by the blazes, as well as the men and women fighting the flames across the country. The striking photos were sourced from Agence France-Presse (AFP), Australian Associated Press and The Sydney Morning Herald.
As Sydney Opera House CEO Louise Herron explained, "we are lighting the Opera House sails to show our collective support for everyone affected by these devastating fires and to express our deepest gratitude to the emergency services and volunteers for their incredible efforts and courage. As difficult circumstances continue, we want to send a message of hope and strength to the people of Australia."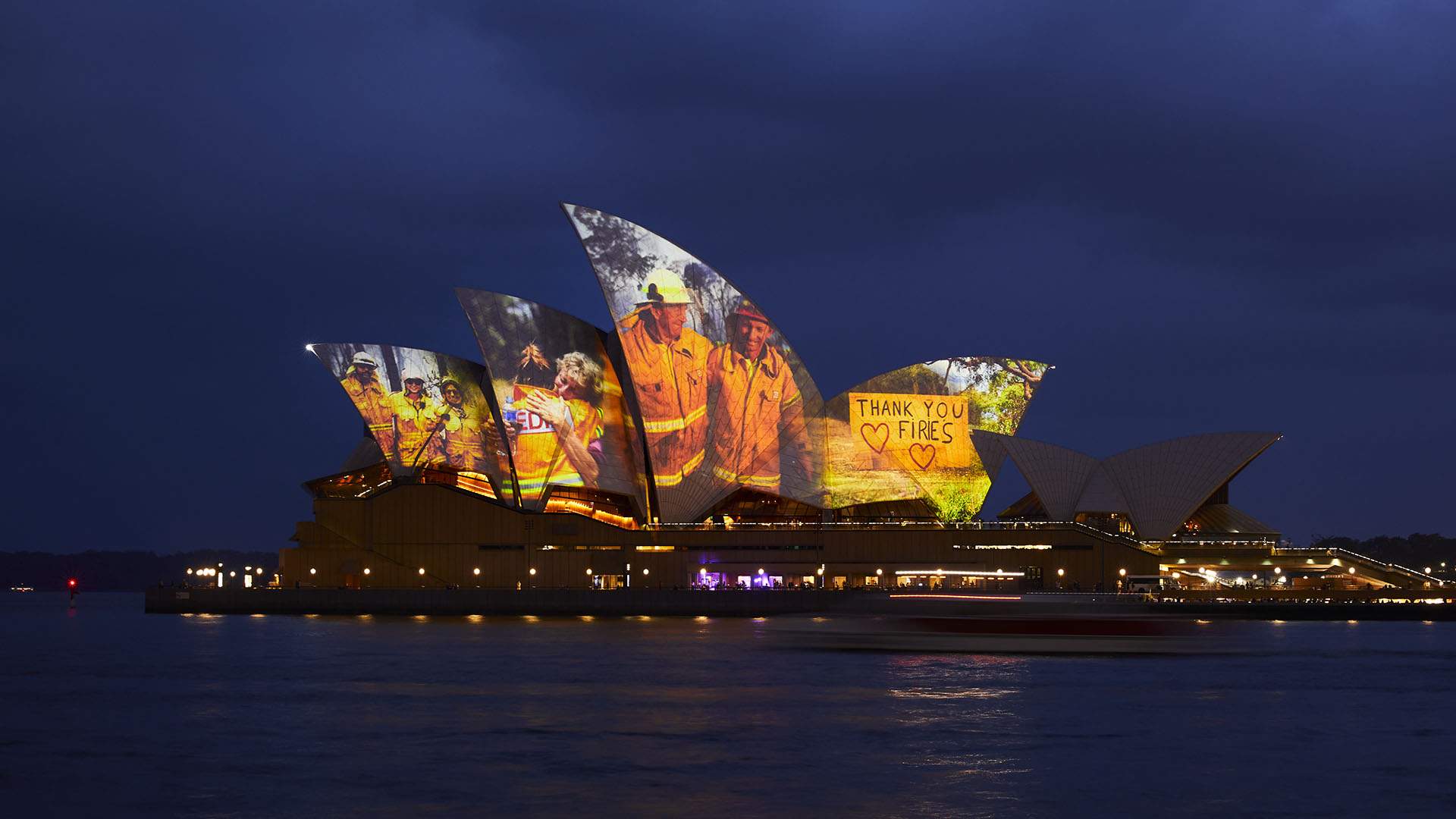 In a further effort to assist — and raise funds — the Opera House is also hosting a huge comedy gig on its steps and forecourt on Monday, March 16. Called Comedy Steps Up for Bushfire Relief, the outdoor gala performance will see Arj Barker, Tim Minchin, Becky Lucas and The Simpsons star Harry Shearer take to the stage, as well as Carl Barron, Urzila Carlson, Joel Creasey, Kitty Flanagan and Julia Morris — with more acts to be announced. All proceeds from ticket sales will be donated to the Australian Red Cross Disaster Relief and Recovery fund, the NSW Rural Fire Service, Wildlife Victoria and WIRES
Images: Ken Leanfore.