Dan Hong and Mike Eggert's Vivid Sydney Dinner Will Be "Like Nothing You've Seen Before"
A celebration of New South Wales produce brings together two superstar chefs, Ken Done and some of the state's best seafood.
The exciting program for Vivid Sydney 2022 includes the aptly named Vivid Sydney Dinner, a first-ever culinary extravaganza that will be held in the Ivy Ballroom on Saturday, June 4, headlined by a pair of the city's superstar chefs in Dan Hong (Mr Wong, MuMu) and Mike Eggert (Totti's), both from the Merivale talent stable.
When we recently caught up with the two chefs and finished the conversation by asking for a five-word summary of what guests can expect, Eggert instantly answered in exactly five words: "like nothing you've seen before" — as if he knew it the question was coming.
Yes, there will be food. And based on the menu (which you can peruse for yourself at the bottom of this article if you're fond of spoilers) the food will be very, very good. But this particular dinner and the concept behind it was specifically conceived by 2022 Festival Director, Gill Minervini, to add an intentional element of food into the program.
"Vivid is all about celebrating Sydney as a creative capital of the world and food is part of that creativity," Minervini recently explained to Concrete Playground. "So we really wanted to highlight Sydney and New South Wales in everything we do and bring the world in. This is just continuing that narrative."
To bring that narrative to life, she enlisted Hong and Eggert as co-captains to steer a menu that celebrates New South Wales produce with an emphasis on seafood.
Dan Hong told Concrete Playground about the collaborative approach to constructing the selection of dishes with his mate.
"We've been friends for years and we're very similar in how we think about food, I'd say. Mike does Totti's but he's done Asian before in his life, plus we work very closely together every week as exec chefs at Merivale anyway, so it actually came quite naturally to come up with the dishes. We didn't want to make it too complicated. We wanted to celebrate New South Wales produce and just showcase that."
"It's a nice, simple menu that's really just about the produce," adds Eggert. "I guess the big show starter is the seafood so we really wanted the menu to go from the north to the south and show everything we can through the season. So we've got sea urchin and lobsters, we've got some scallops and a range of fish. We thought that was a really great way to start and show what New South Wales coastal seafood is all about."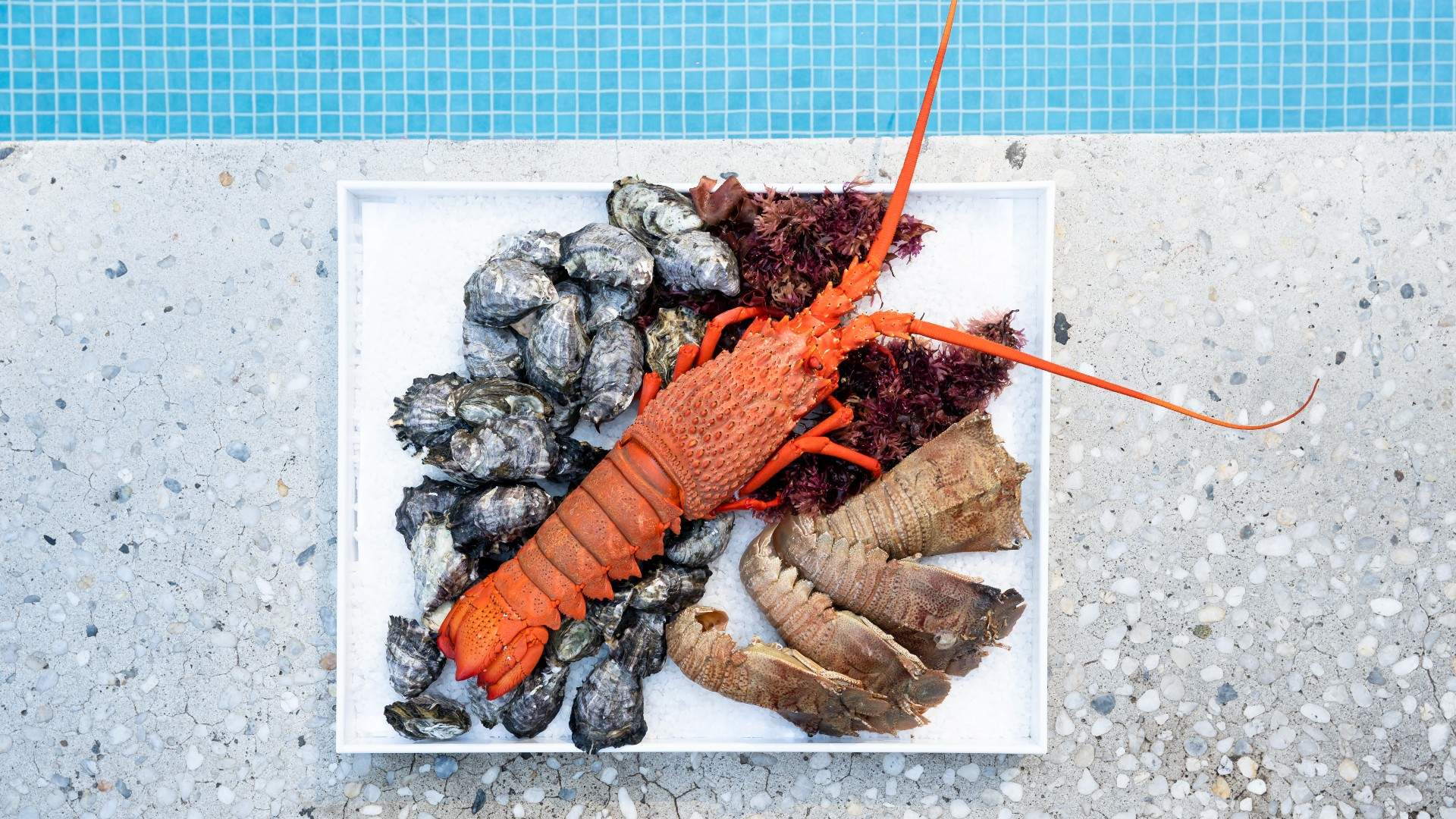 The Vivid Sydney Dinner joins a few other first-time additions to the Vivid Sydney lineup, including a light walk that stretches a full eight kilometres — the longest in Vivid history — and traverses the city from Circular Quay all the way to Haymarket. It also marks the first time Ken Done has been part fo the Vivid Sydney program with a major projection called 'To Sydney With Love' and a special appearance at the dinner to tell his love letter to Sydney in person.
How the hell is it that one of the most iconic Sydney artists of all time has never, ever made the bill in ten-plus years of Vivid — until now?
"No one ever asked him - until I did!" Minervini laughs. "He's the most delightful man and when he talks at the dinner... he talks about Sydney and it's just so emotive. You could arguably say that not many artists have done for Sydney what he has. And he's had a resurgence... Ken's very hot right now!"
In addition to the so-hot-right-now Mr Done, the dinner will feature appearances by journo Julia Baird, live music courtesy of Ngaiire, Virginia Gay, jazz impresario James Morrison AM and DJ Kate Monroe.
Beyond the dinner, Dan Hong and Mike Eggert are looking forward to Vivid Sydney bringing one of the busiest times of the year to the CBD and their respective venues.
"Vivid has brought so much to the industry, particularly in the CBD," Hong told Concrete Playground. "And for us, especially before the pandemic, Mr Wong was just as busy as during Vivid as in Christmas periods. We can't wait to bring those people back, whether they go for dinner then go for a walk around Circular Quay or wherever else in the city."
Eggert adds, "Vivid is such a nice excuse to walk through the city and stop in at all your favourite restaurants and duck into bars for a drink. In the middle of winter it provides such a great excuse to get out and do it, because it's so easy to forget that Sydney's still alive in winter, so that's what Vivid's always done."
VIVID SYDNEY DINNER MENU
Canapé course:
Pecora Dairy sheep's milk cheese with a fragrant NSW truffle tartlet (Southern Highlands NSW)
Crostini seaweed butter and local sea urchin (Wollongong, NSW)
Entrée course:
NSW coastal sashimi platter with a selection of locally sourced fresh fish, served with ginger and shallot dressing. Fish selection includes:
Tuna and Bonito (Ulladulla)
Sydney Rock Oysters and local Lobsters (South Coast)
Snapper and wild Kingfish (Bermagui)
Main course:
Master stock glazed Rangers Valley beef cheek served with Li-Sun Exotic Mushrooms grown in Mittagong's disused railway tunnels, rice from the Murray River/Murrumbidgee region (New England, Southern Highlands, Riverina NSW)
A fresh, mixed herb salad from Newcastle greens and new season roasted Brussel sprouts with fragrant herbs and a ginger, chilli, fish sauce dressing (Hunter Region NSW)
Dessert:
Burraduc buffalo yogurt panna cotta with roasted quince (Bungwahl, Barrington Coast, NSW)
The Vivid Sydney Dinner is on Saturday, 4 June, 2022 at the Ivy Ballroom from 6.30pm.