Concrete Playground's DIY Inner West Brewery Walking Tour
Eight stops. Eight breweries. All Sydney-made beer.
The inner west is home to all things craft beer. You name it, they've got it: from craft focused brewpubs and bars to whole restaurants serving nothing but craft brews. The real draw to the inner west drinking scene, though, is the breweries themselves, many of which only opened their cellar doors recently. They're all into keeping it local and are swiftly rivalling bars as the go-to for afternoon sessions. Each brewery is distinct from the next and the beer has that 'just made' freshness because, well, it is fresh — you can quite literally see where it was made.
Keen to try them all? Pick a Saturday and strap on those sneaks — no DD required for this drinking tour.
FIRST, A FEW SIMPLE TIPS
Start early — It's easy to lose track of time in a house full of beer. To fit all of these in, you'll need to get to your first brewery for 10am opening.
Go with a group — Sharing a beer with friends doesn't just spread the love for local craft — it will also make the walking go by faster.
Take advantage of tasting paddles — The most bang-for-your-buck option, paddles allow you to taste the brewery's range without going overboard.
Schedule a brewery tour — There are few occasions in life when you get to see exactly where the product you're consuming is made. Take advantage of this moment.
Pace yourself — Don't be a hero, you have a whole day of drinking ahead of you. This isn't a pub crawl for rowdy uni kids all wearing the same t-shirt. The breweries are community hangouts where friends gather to chill and grab a beer, best to keep that in mind.
Eat, eat, eat — Drinking on an empty stomach leads to nothing but inevitable sadness; luckily, most of the breweries have food trucks parked outside or pop-up stalls inside.
Pick and choose — Eight breweries is a lot to fit in one day, so don't feel you have to tick them all off. Choose your favourites, linger for longer.
NOW, LET'S WALK.
The new-look brewery
Willie the Boatman has just opened a fancy new-look brew bar in St Peters' Precinct 75, and this is your excuse to go check it out. Start your trek in the Luchetti Krelle-designed space sitting on a comfy leather couch, in a booth or around a long communal table. The beers, like the brewery, all have fun names and stories — from the easy drinking Old Salty melon gose to the Tempe Tim pale ale. If you're really lucky, the bar will have its speciality Albo corn ale on tap (named for the current Leader of the Opposition Anthony Albanese); this beer is in a league of its own and could easily keep you at the brewery all afternoon.
75 Mary Street, St Peters. Get there via Sydenham Station or Buses 348, 418 and 422. Open 3–8pm Wednesday–Thursday, 12–9pm Friday, 10am–8pm Saturday and 12–7pm Sunday. 

SECOND STOP: BATCH (15-MIN WALK)
The all-American brewery
Next, head on over to Marrickville and rock up at Batch Brewing Company. It's no surprise that the Batch guys, American brewers Andrew Fineran and Chris Sidwa, are into big, bold flavours in their beer. Apart from their signature APA, their core beers include a summer farmhouse ale, the West Coast IPA and a nitro milk stout named Elsie. Batch is all about reppin' its neighbourhood and serving the community top-quality beer. The brewery does feel like a local hangout, complete with couches and lounge areas. Love Batch's beers? You'll find more of them of at the label's recently opened second brewery in Petersham.
44 Sydenham Road, Marrickville. Open 10am–8pm Sunday–Thursday and 10am–9pm Friday–Saturday.
THIRD STOP: STOCKADE (FIVE-MIN WALK)
The all-rounder
Located in an old factory space in Marrickville, Stockade's brewery and bar boasts a communal dining space for 250 punters, plus a 14-person tasting room for private parties. Designed by RAD Studios, the fit-out includes terracotta tiles and blackbutt timber furniture that gives the industrial space an art deco feel, plus a custom-built bar made with up-cycled barrels and lightbox menu boards. Here, Stockade's sessionable core five beers are poured alongside the brewery's out-there seasonal releases. Time your visit right and you'll be able to try the coveted maple syrup-infused imperial stout. If you've had a couple of beers, this is the point at which you might start feeling peckish — luckily, Stockade can help. It has a rotating lineup of ten different burgers on offer, including an extra-cheesy number, one with jalapeños and a vego version. You can schedule in a brewery tour, a masterclass and sometimes even a boozy yoga class here, too.
25 Cadogan Street, Marrickville. Open 5–10pm Wednesday–Thursday, 12–11pm Friday–Saturday and 12–10pm Sunday.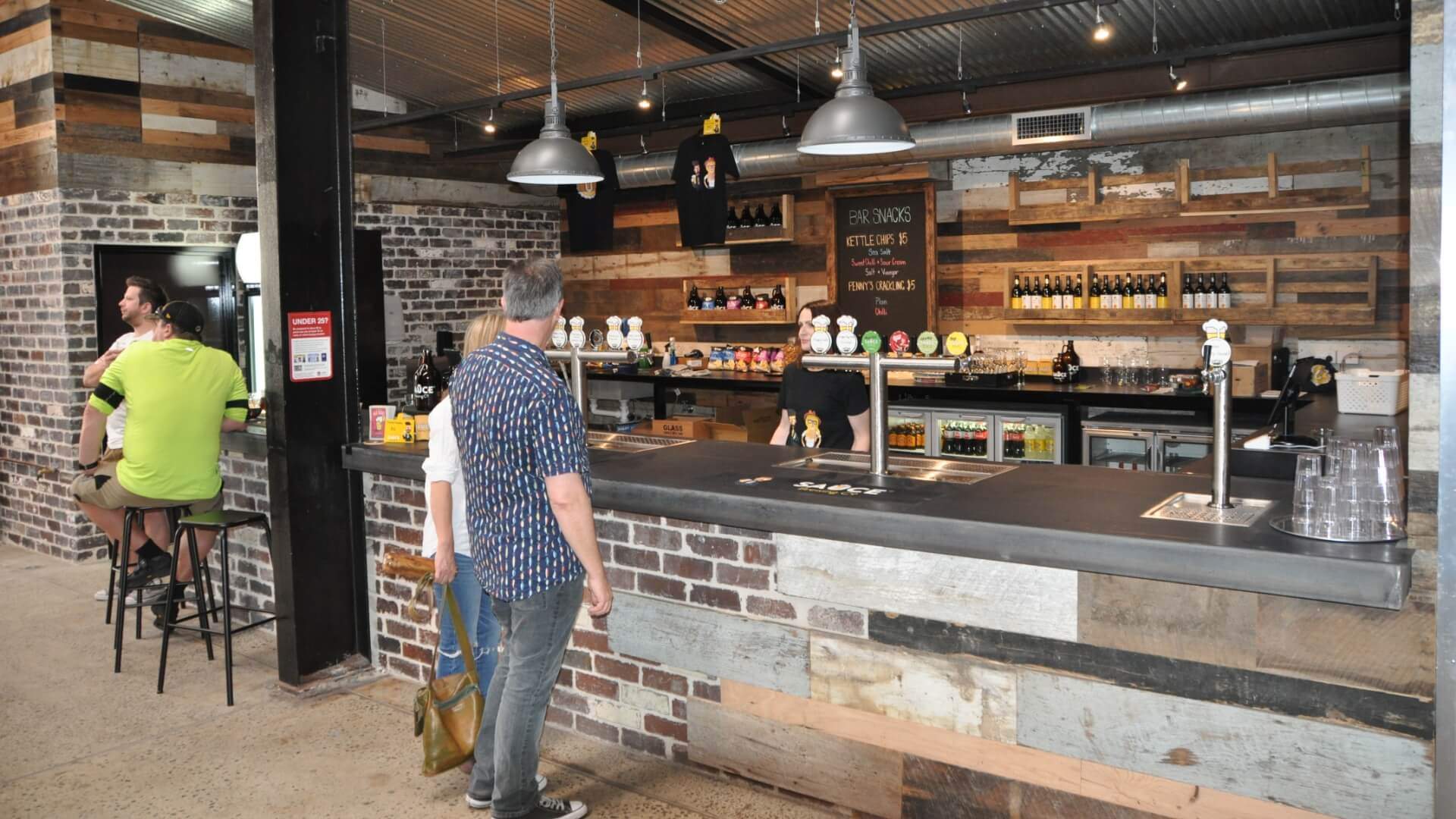 FOURTH STOP: SAUCE (TEN-MIN WALK)
The roomy brewery
In this comfy, laid-back watering hole, you'll sit overlooking the Sauce's shiny collection of brewing equipment. It has a beer garden and a bar area crafted from recycled bricks and timber, too, and seating options aplenty — because, as owner Mike Clarke will tell you, "there's nothing worse than a crowded bar with standing room only and 50-foot lines to get a drink". To drink, you can choose from Sauce's core beers, including the Hop Sauce pale ale and Piss-Weak Sauce mid-strength IPA, as well as seasonal releases and collab beers, such as a recent Citrus Haze IPA made with Spain's Garage Beer Co. There are food trucks here every Friday, Saturday and Sunday, too — check the Facebook event page for more info.
1a Mitchell Street, Marrickville. Open 4–10pm Thursday, 12–10pm Friday–Saturday and 12–8pm Sunday.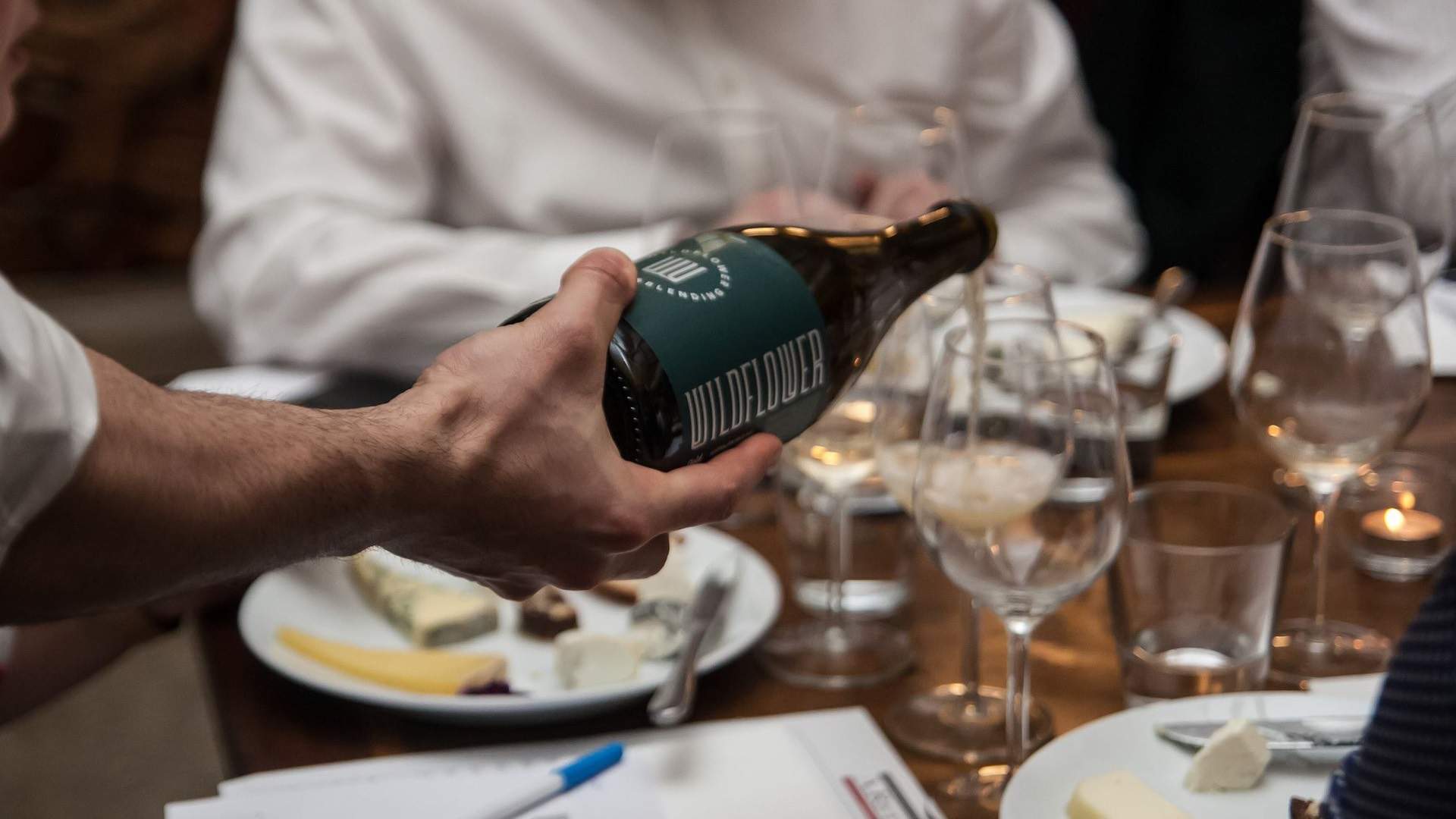 FIFTH STOP: WILDFLOWER (TEN-MIN WALK)
The wild one
If you want to include Wildflower on your brewery crawl, you'll need to get your timing right. It's only open for four hours on two days: Friday and Saturday. But, schedule right and you'll be rewarded — this Marrickville spot is pouring some of the city's most unique brews. Made using wild NSW yeasts and barrel ageing techniques, the brews have distinctly tart characteristics. But as owner Topher Boehm will tell you, Wildflower is not a sour beer facility. On the contrary, Boehm is focused on producing balanced, easy-drinking beers that are closer to farmhouse or saison-style ales than sours. Blending newly brewed beer with existing barrel-aged beer is what gives this balance between fresh and funky. If you'd like to learn a little more about these tasty brews, you can book into a tour and tasting session, which run on the first Saturday of the month from 1–2pm. It'll set you back $25 and includes three tasters — you can purchase tickets over here.
11–13 Brompton Street, Marrickville. Open 2–6pm Friday and Saturday.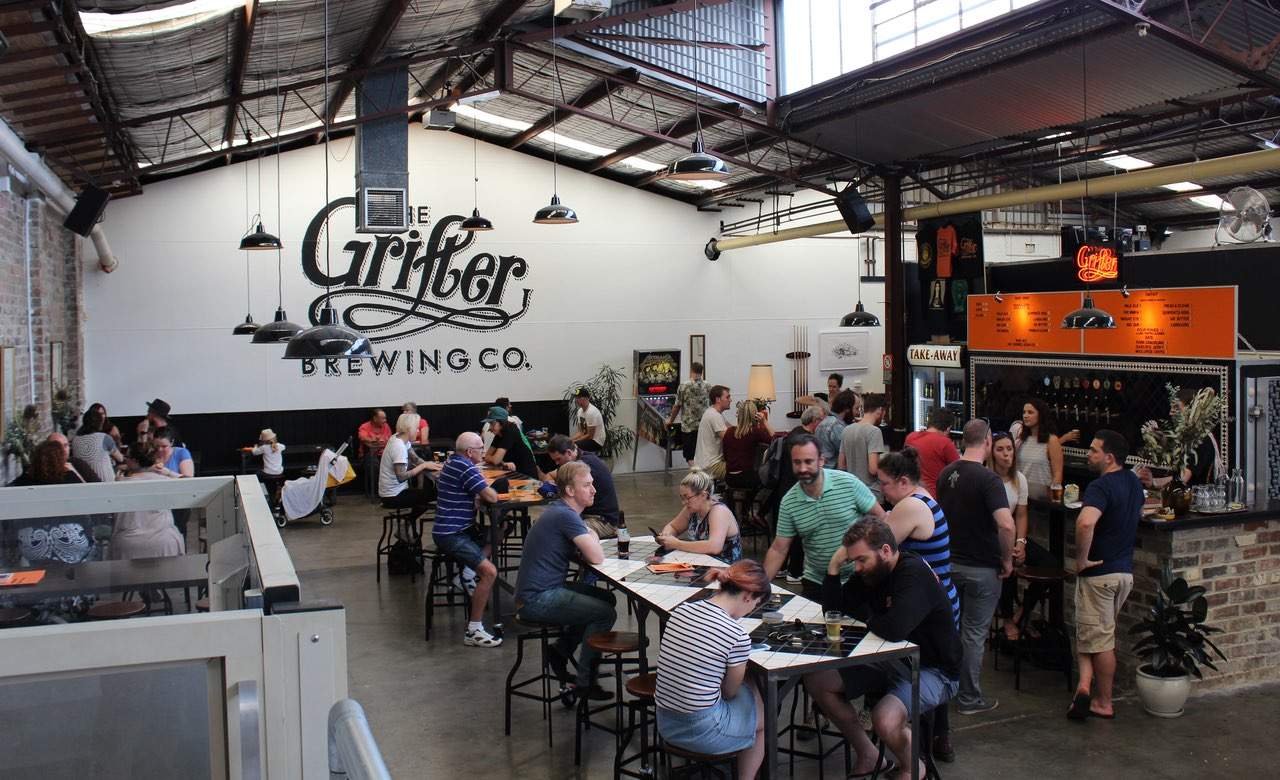 SIXTH STOP: THE GRIFTER (FIVE-MIN WALK)
The One with the Watermelon Pilsner
Located in a former dry-cleaner, Grifter is one of the inner west's busiest breweries — it's packed, but it never feels overcrowded. Opening to the public at the end of 2015, the brewery has quickly gained a cult-like status for its sessionable and limited-release beers. Its orange-canned pale ale can be found at restaurants, bars and pizzerias across the city; its Serpent's Kiss watermelon pilsner has fans travelling from all across the city; and its hard-to-find Pink Galah pink lemonade sour has never been available in cans. You can wear your love for the brewery on your sleeve or head, too, thanks to its lineup of fresh merch. While you're there, grab something from the rotating pop-up food stall, which has hosted the likes of Dulwich Hill's Rosa Cienfuegos and Crows Nest's Johnny Bird.
1/391-397 Enmore Road, Marrickville. Open 4–9pm Monday and Thursday, 12–10pm Friday–Saturday and 12–8pm Sunday.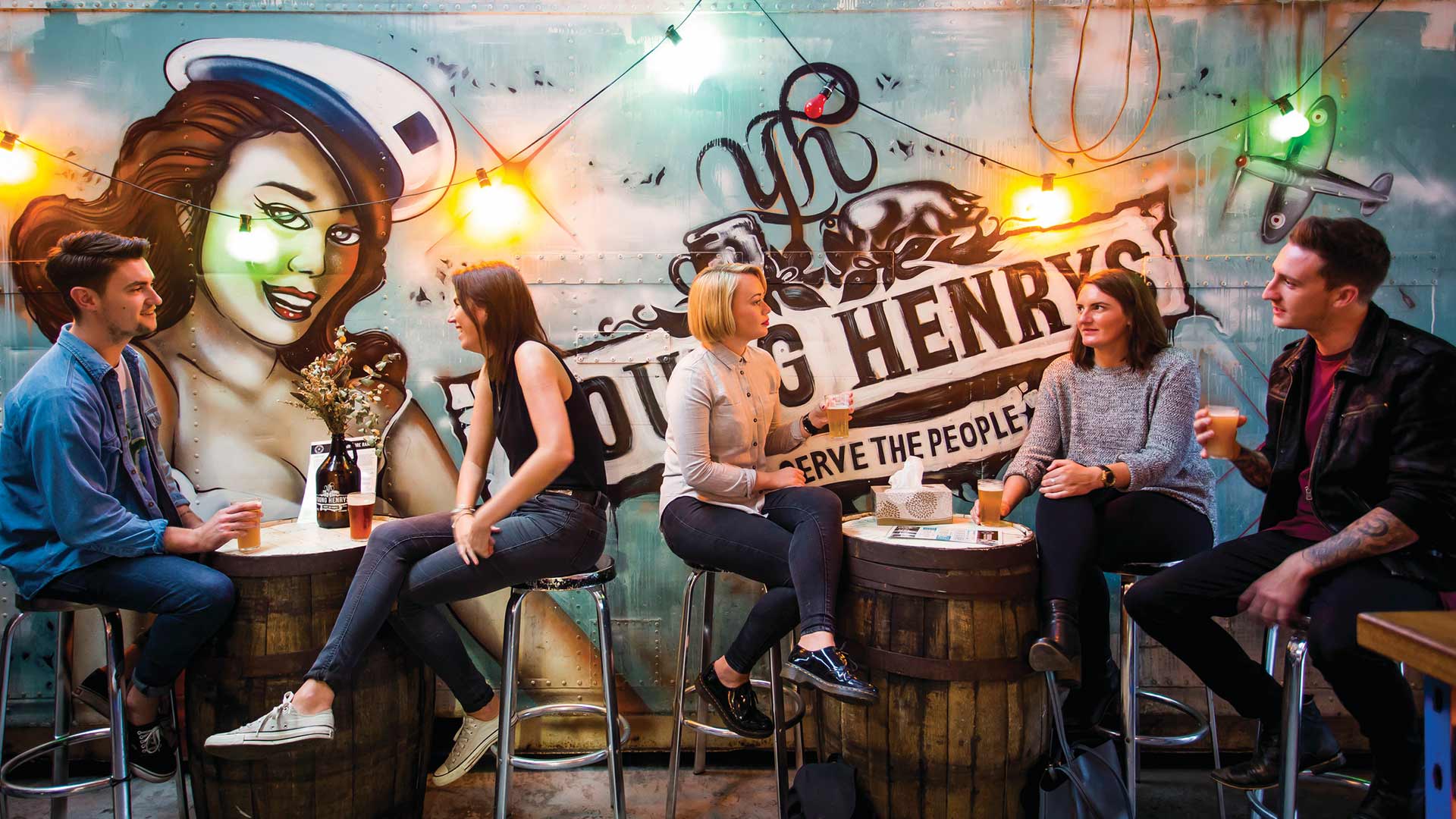 SEVENTH STOP: YOUNG HENRYS (15-MIN WALK)
The artsy brewery
If you're still going strong, take an easy walk across town to Young Henrys. Part brewery, part gallery space, Young Henrys' tasting bar is an artist's hangout where music is always blaring and beers are a-flowing. These masterminds don't limit themselves to beer, either — their cider and gin game is strong as well, having launched their own Noble Cut. The brewery is constantly trying out new angles like chef-inspired beers, restaurant collaboration and community contests and events. It may be local craft, but Young Henrys is a big player in the beer industry as a whole.
76 Wilford Street, Newtown. Open 12–7pm every day.
The lost brewery
As evening draws in, head to the catacombs of Camperdown for Wayward Brewing Co. This covert laneway location was purposefully chosen to give patrons the sense of being "lost on purpose". The massive cellar door houses a 24-tap bar, foosball tables and a labyrinth of rooms filled with upcycled, retro lounge furniture. The beer is a fresh departure from the popularised big, hoppy beers — the core five including an Everyday Ale, pilsner, IPA, Red IPA and the popular raspberry berliner weisse. You can check out the rest of the rotating tapped beers over on its website. Wayward stays open late, as in 10pm late, and it knows how to throw a good themed party, an ideal spot to end on. Go ahead, Carpe Bierum.
1 Gehrig Lane, Camperdown. Open 2–10pm Thursday–Friday, 12–10pm Saturday, 12–8pm Sunday and 4–9pm Monday.
Top image: Young Henrys
Concrete Playground Trips
Book unique getaways and adventures dreamed up by our editors