FOOD & DRINK
Neil Perry Opens Burger Project in Sydney CBD
Broke fans of Rockpool's wagyu burger have something to squeal about.
Neil Perry Opens Burger Project in Sydney CBD
Broke fans of Rockpool's wagyu burger have something to squeal about.
Broke fans of the Rockpool wagyu burger, things are about to get accessible. Neil Perry and the Rockpool Group are bringing a burger joint to the Sydney CBD. Snuggled into a top spot within World Square, Perry's brand new burgtastic venture will count dumpling heavyweights Din Tai Fung as neighbours. Fully licensed for 100 hungry punters with takeaway options on offer, Burger Project will open from lunchtime on Friday, October 31 — with the hope to expand to Melbourne, Brisbane, Perth and Dubai in the future.
Perry's new endeavour follows in the footsteps of Justin North's Charlie & Co. chain launched four years ago, as well as two-hatter Warren Turnbull's closure of Assiette to open Surry Hills' Chur Burger. Hinged around the success of Perry's celebrated $24 wagyu beef burger, Burger Project will apparently see a similar design to Rockpool without the hefty price tag (Perry apparently hopes to keep things as close to $10 as he can with housemade next-best-thing patties). Architect Grant Cheyne is on board to bring Perry's new centrally-located open kitchen layout to fruition.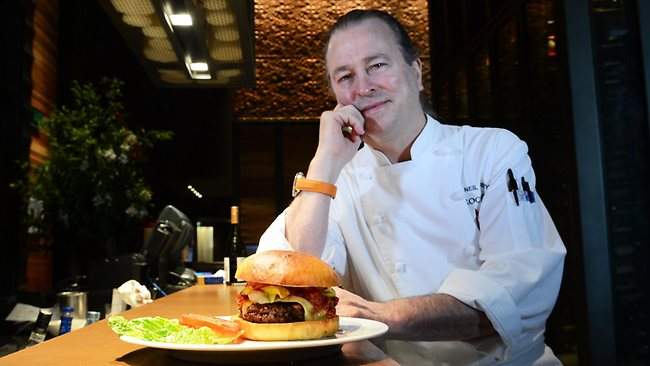 Predictably, Perry's won't be any ol' dry-pattied 'wiches, these are Perry-style burgs. Perry told Good Food he wanted to make a "people's burger... high quality, accessible and affordable,". Patties will be made onsite from 36-month old Gape Grim beef, feature Schulz bacon from the Barossa Valley and the ever-indulgent gruyere chese. Importantly, the famous Rockpool Zuni pickle won't be featuring on the burgers, but Perry has promised a shiny new pickle for the newbie.
Burger Project will also give the Perry treatment to American classics like housemade chorizo dogs, chicken wings, milkshakes and sodas. They'll also be serving those unfalteringly genius side legends: shaker fries. Yep, they'll come with All The Seasonings including Szechuan pepper and a spot of chilli. "We've designed it so you'll be able to dine in and relax, with music and a drink, or simply grab a burger and eat it on the go," Perry says. CBD burgers never looked so fancy and possibly affordable.
Burger Project is at Shop 11.06, World Square, 644 George Street, Sydney. It's open daily, 11am – 10pm, from Friday, October 31.
Via Good Food and Business Insider. Images by Rockpool Group and Andy Drewitt.
Published on October 30, 2014 by Shannon Connellan