FOOD & DRINK
The City of Sydney Has Just Announced a New Plan to Help Sydney Stay Open Later
It includes proposals for 24-hour trading in the CBD, later opening hours for bars in local areas and a brand new cultural precinct in Alexandria.
For a long time, it's felt like the city's nightlife has been in limbo. After stricter liquor and lockout laws were implemented by the State Government back in 2014, forcing a 1.30am lockout on venues in the CBD and its surrounds, many have felt the pumping soundtrack of the city dwindle — or at least heard it move out of areas like Kings Cross and the CBD and subsequently relegated to a few concentrated areas, like King Street in Newtown.
But a new push to end the lockouts from the Shooters, Farmers and Fishers Party last month has reignited some hope that maybe the city won't be stuck in this limbo forever. And now, the City of Sydney has released an extensive new plan for Sydney's nightlife that will update and somewhat loosen the council's planning controls for the first time in ten years.
Many of the proposed new changes would allow businesses in the CBD and surrounding villages — that includes bars, restaurants, shops, galleries and cultural institutions — to extend their opening hours through a process of application and proven good behaviour. These would be in line with how the city has grown and changed both geographically and culturally over the last decade.
The plan is a result of feedback submitted by over 10,000 Sydneysiders the recommendations of the Nightlife and Creative Sector Advisory Panel, a 16-member panel that was put together by the city last year. Here are a few things Lord Mayor Clover Moore and the City of Sydney are proposing.
Businesses in the CBD would be able to operate 24 hours a day (currently most can trade until 5am). This would ideally spread out the number of 24-hour businesses as, at the moment, they're all crowded around George Street and The Rocks.
Outside of the CBD, small 'low impact' business along main drags — like Glebe Point Road, Crown Street and Redfern Street — would have their opening hours extended from midnight till 2am.
Some live music venues and theatres would score an extra hour of trading on the nights they have a gig or performance on.
Even non-licensed venues like shops and hairdressers would be encouraged to stay open later to create a more diverse late-night economy.
Note that these proposals wouldn't change the venue's liquor licensing restrictions — bars that fall under the lockout laws will still have to abide by the State Government's licensing and lockout laws.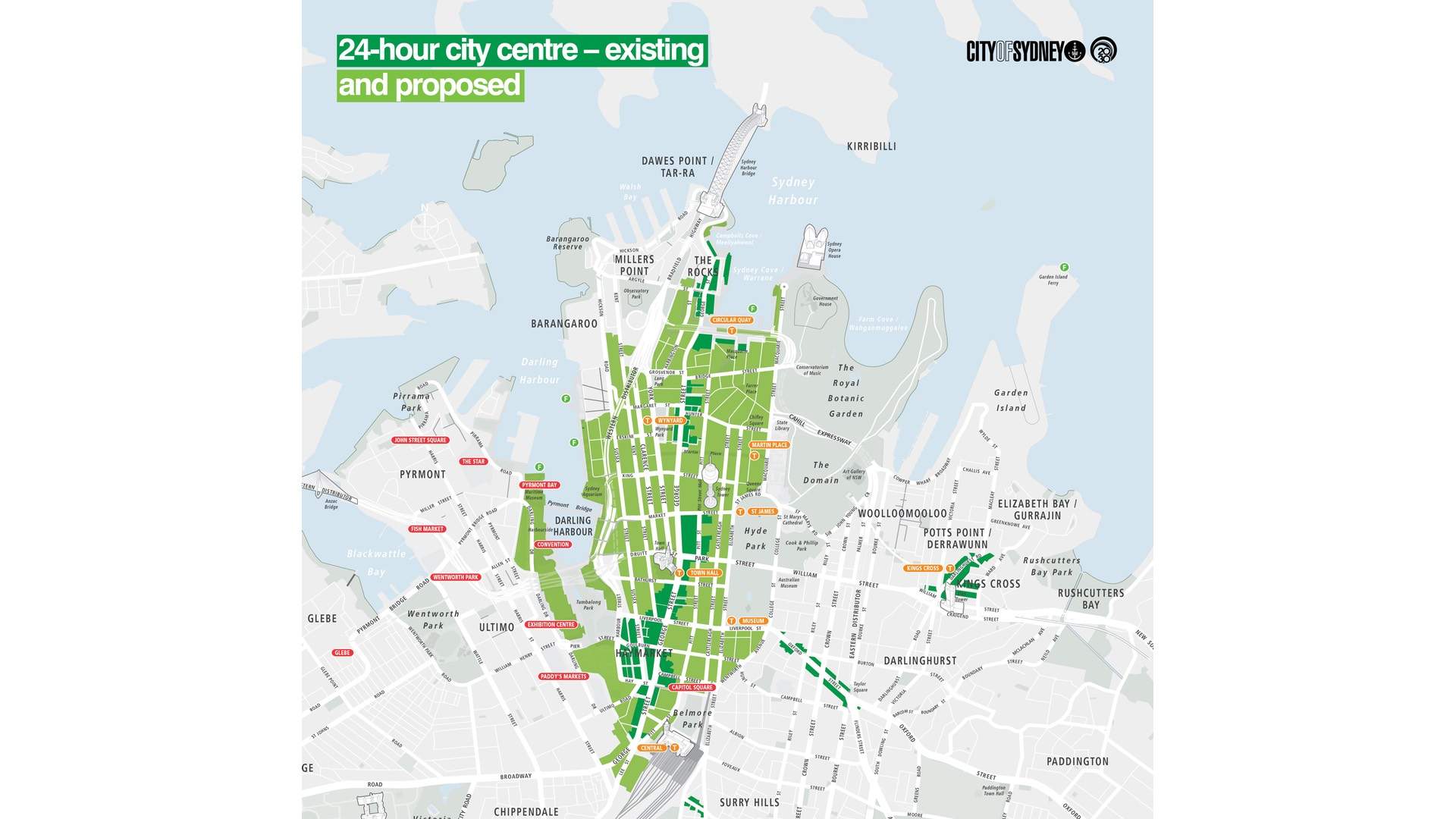 In addition to this, the City is also hoping to establish a brand new 24-hour cultural precinct in the industrial part of Alexandria on the corner of McEvoy and Wyndham streets. This would house creatives and host exhibitions, parties and gigs, and service the growing population around Alexandria and Green Square.
Of course, the City of Sydney can't change the lockout laws — that's the job of the NSW Government — but these proposed control changes will allow businesses to gain at least a few more freedoms within the state's restrictions. The city hopes that, with these proposals, it can safeguard Sydney's nightlife culture for the future, whether the lockout laws stay in place or not, but it's hard to see real change coming about without the State Government willing to step down on the lockouts or introduce other late-night infrastructure, like 24-hour transport on weekends.
The proposals will go to council on Monday, November 19. If they're approved, they'll then go on public display until February where you can submit your thoughts and concerns. We'll let you know what happens next.
Published on November 05, 2018 by Lauren Vadnjal