FOOD & DRINK
Seven Signature Dishes to Order at Western Sydney's New Dining Precinct
Graze for days at these exciting additions to Parramatta's CBD.
Seven Signature Dishes to Order at Western Sydney's New Dining Precinct
Graze for days at these exciting additions to Parramatta's CBD.
in partnership with
No doubt you've heard about western Sydney's multibillion-dollar development Parramatta Square, which is transforming the CBD into a thriving retail and dining hub. While there's some way before the project is completed, you can now dine at several new restaurants and takeaway spots, including new outposts from already popular burger and salad bowl chains to newbies from restaurateurs Maurice Terzini and Ibby Moubadder. In partnership with Parramatta Square, we've picked out seven dishes you should order when you're there — whether you're booking in for a feast or in need of a fast feed.

CLAM FREGOLA AT CICCIA BELLA
One of the most exciting additions to Parramatta Square is Maurice Terzini's second Ciccia Bella. Chef Nic Wong (The Apollo and Cho Cho San) oversees the menu at both the Bondi and western Sydney restaurants, which takes inspiration from southern Italian cooking. We suggest starting with a serve of the woodfired house bread and LP's Quality Meats mortadella, before opting for the Sardinian fregola with prawns, calamari and clams ($28). Make sure you leave room for a slice of the banoffee pie ($15), too.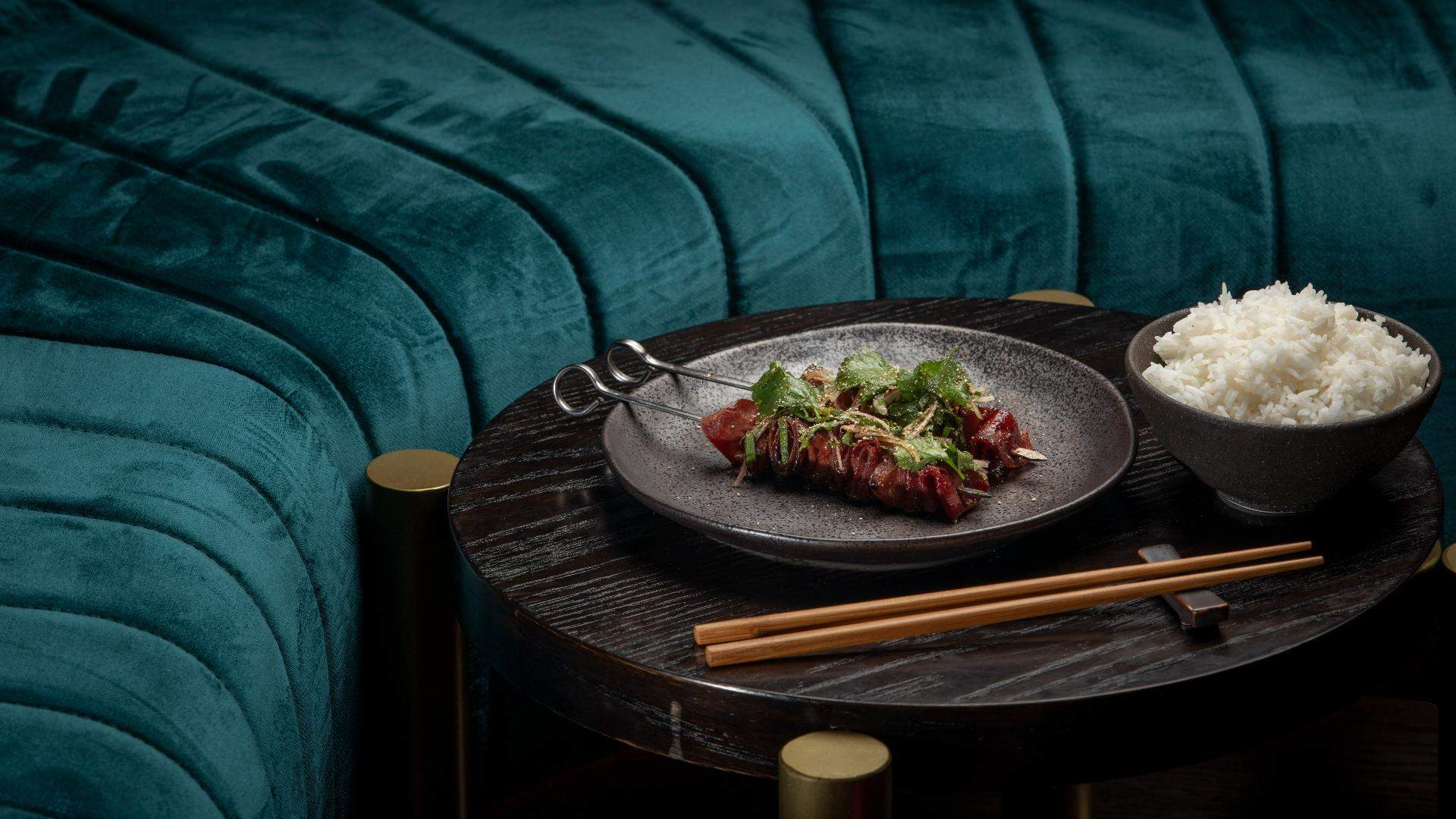 CHARCOAL WAGYU BEEF SKEWER AT LILYMU
We could just as easily picked the tom yum prawn dumplings or the egg-topped mi goreng with black garlic at Lilymu, but our favourite dish at the new half-indoor, half-outdoor diner from Ibby Moubadder (Nour and Henrietta) has to be the charcoal wagyu beef tongue ($11). It's beautifully soft, has a delicate texture and works surprisingly well with one of Lilymu's spicy margaritas. And, as the menu here is designed to share, you can easily order all three dishes between two and still have room for a slice of tres leches cake to finish.

A BENTO BOX AT SUSHI YUZEN
This is the first Sydney outlet from head chef Hiroshi Shimizu, who has two Melbourne-based Sushi Yuzens and nearly four decades of experience under his belt. Sushi Yuzen does exactly what you'd expect: fresh, precisely prepared nigiri, plus bento boxes with options including chilli chicken and teriyaki salmon, all served with house-made sauces. As Parramatta Square is smack-bang in the middle of its financial district, with a university on its doorstep, there are plenty of places to sit and enjoy a quick feed al fresco. Sushi Yuzen makes a speedy lunch even easier with its online ordering system, too, so you can place your order at your desk and pop down when it's ready to takeaway.

BEEF DIP SUB AT HARVEY'S HOT SANDWICHES
Fluffy white bread, grilled beef fillet, horseradish mayo and grilled onions, with provolone cheese and gravy dipping — the beef dip sub ($16) is our top pick at newbie Harvey's Hot Sandwiches. The American-style diner makes its sambos thick, meaty and saucy, and any one of the subs, including the philly cheesesteak, buttermilk fried chicken, mortadella, slow roasted brisket and pastrami sandwiches are day makers. And, as it's open daily, you'll have every reason to sample them all.

CRISPY CHICKEN CAESAR AT BETTY'S BURGERS
Brisbane-born burger shack Betty's has been serving up handheld feasts in Sydney since it first opened up in Darling Harbour in 2017. There are now ten locations across the city, including a new diner at Parramatta Square. You'll find Betty's Burgers in the walkway from Parramatta train station, and you can grab a burger to eat in or take away to the ample outdoor dining areas nearby. Our pick is the new crispy chicken caesar ($15): panko-crumbed chicken topped with a parmesan wafer, bacon, egg, fresh lettuce and dijonnaise sauce. Add one of Betty's famed frozen custard thick shakes and you'll be fuelled for the rest of the day.

ANY TWO SCOOPS AT RIVARENO GELATO
Whether you're craving sweet mango and strawberry, tart Sicilian lemon, dairy-free pistachio sorbet or piña colada granita, you know the intense flavours at Rivareno Gelato are thanks to the gelateria's commitment to making its icy treats in-house, every day. Owner Kieran Tosolini opened his third outlet of the Italian-style gelato shop in Parramatta Square knowing he'd be bringing scoops of joy to new and returning customers throughout the year. As all 26 flavours are seasonal, made using only natural ingredients, our tip is to seek out the specials board and start working your way from top to bottom.

PUMP-IT-UP AT FISHBOWL
You know the format by now. Select your base (rice, noodles or cabbage — or a combination of two), then select your toppings, from salmon and tuna sashimi to free range chicken, tofu and braised brisket. The beauty of Fishbowl, whether you're in Bondi, Chatswood or Parramatta, is that each Japanese-style salad bowl is freshly prepared using the same quality, minimal intervention ingredients you've come to expect from the fresh fast-food chain. When ordering at the Parramatta Square's outpost, we suggest ordering the roasted pumpkin as your protein, or the Pump-It-Up bowl. It comes with tofu, cabbage, beetroot, radish, chilli and coriander, lemon oil and almonds ($14.90). It's earthy, textural, and best enjoyed while sitting in the sunshine.

Find out more about Parramatta Square's new dining options, here.
Top image: Lilymu
Published on November 16, 2020 by Emma Joyce