TRAVEL & LEISURE
The Nine Best Glamping Spots Near Sydney
For those who don't want to go all the way back to basics.
The Nine Best Glamping Spots Near Sydney
For those who don't want to go all the way back to basics.
---
Where would we be without the portmanteau? The world may not miss Brangelina but we would certainly be far worse off without glamping. Camping's not for everyone. Some of us have every intention of immersing ourselves in nature, breathing the sea air and setting up a temporary home away from home for the weekend. But the thought of camp stretchers, unidentifiable crawly things and eating tinned peaches can dampen a jolly holiday pretty damn quick.
Glamping effortlessly fuses the fun of camping with the glamorous creature comforts of hotel stays, like a refrigerator stocked with champers or the aesthetic refinement of looking like a giant book. Check out these top nine glamping experiences where the hard work is all done for you.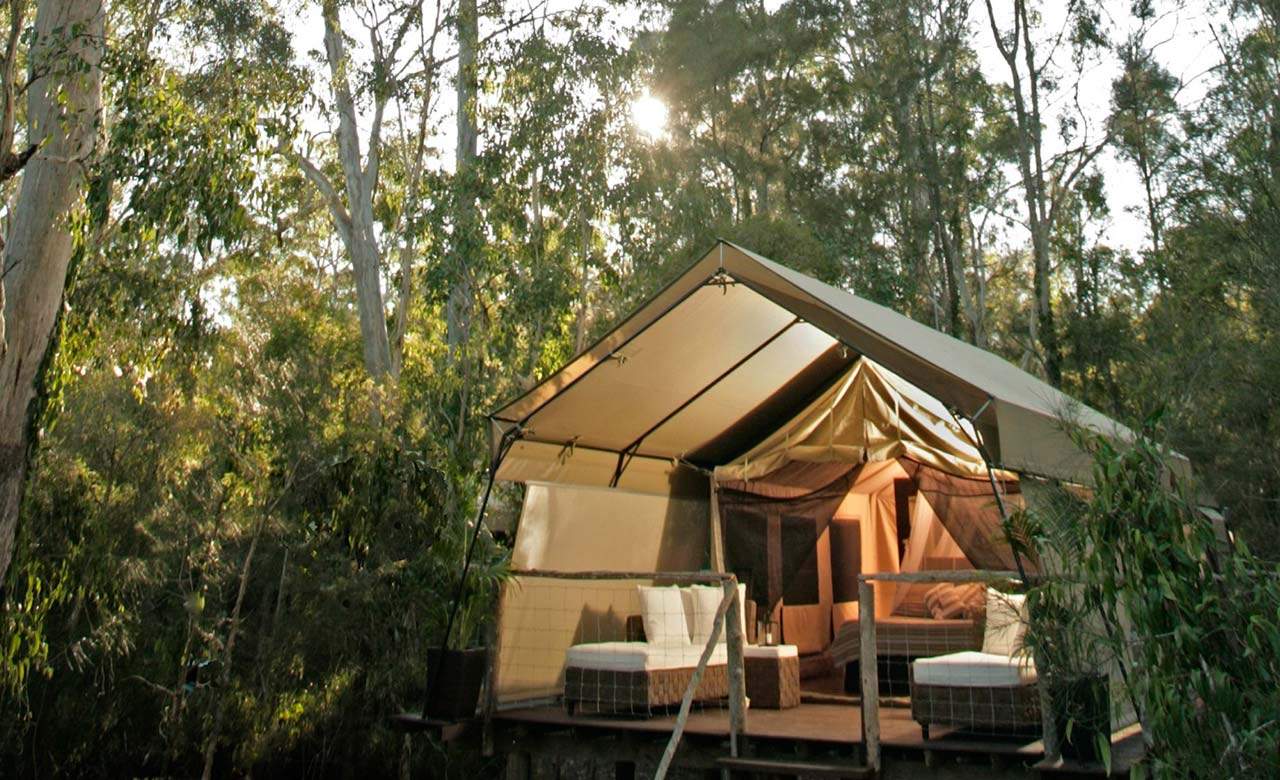 One word: ridiculous. Just 2.5 hours' drive south of Sydney, Paperbark Camp is the ultimate in fine camping. Think food, wine and paradisiac natural surrounds, with the pristine waters of Jervis Bay at your toes. The idea for Paperbark was initially conceived during a trip to Africa — sitting elevated on timber decks and lit by a soft solar-powered glow, these intimate luxury safari-style tents boast wrap-around verandahs for an immersive bush experience without the creepy-crawlies. The food is fresh and local — fish caught in the bay, mushrooms from Mittagong and wines predominantly from NSW vineyards. Paperbark's tents feature queen or king beds, tea-making facilities and en suite bathrooms complete with free-standing baths. This is eco-tourism at its most delightful.
571 Woollamia Road, Jervis Bay. From $495 per night. paperbarkcamp.com.au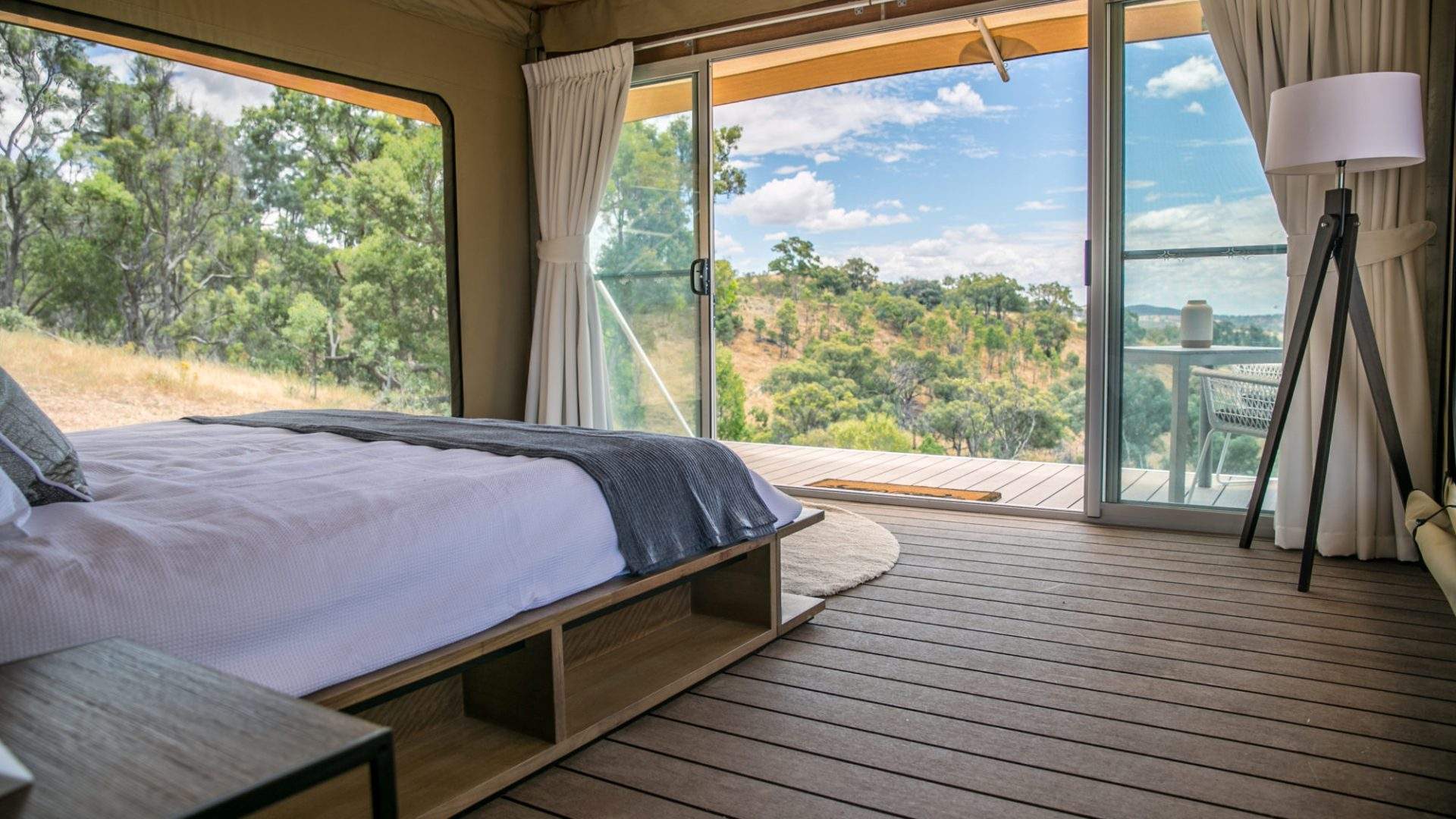 Sierra Escape — Mudgee's first and only luxe glamping retreat — is located 260 kilometres north-west of Sydney. The 280-acre property boasts spectacular views and is home to wildlife including kangaroos, deer and a variety of native birds. So yeah, basically it's paradise. The original tent — if you can even call something this opulent a tent — includes floor-to-ceiling windows, a king-sized bed, a camp stove and fridge, an ethanol fireplace and a separate bathroom complete with freestanding bath, shower and flushing toilet. It's insulated for all seasons, and there's even a deck out front where you can kick back and watch the sunset. And, it has company courtesy of two other, newer abodes, including a hilltop tent specifically for couples and another that sleeps seven.
1325 Lower Piambong Road, Piambong. From $420 per night. sierraescape.com.au/mudgee-glamping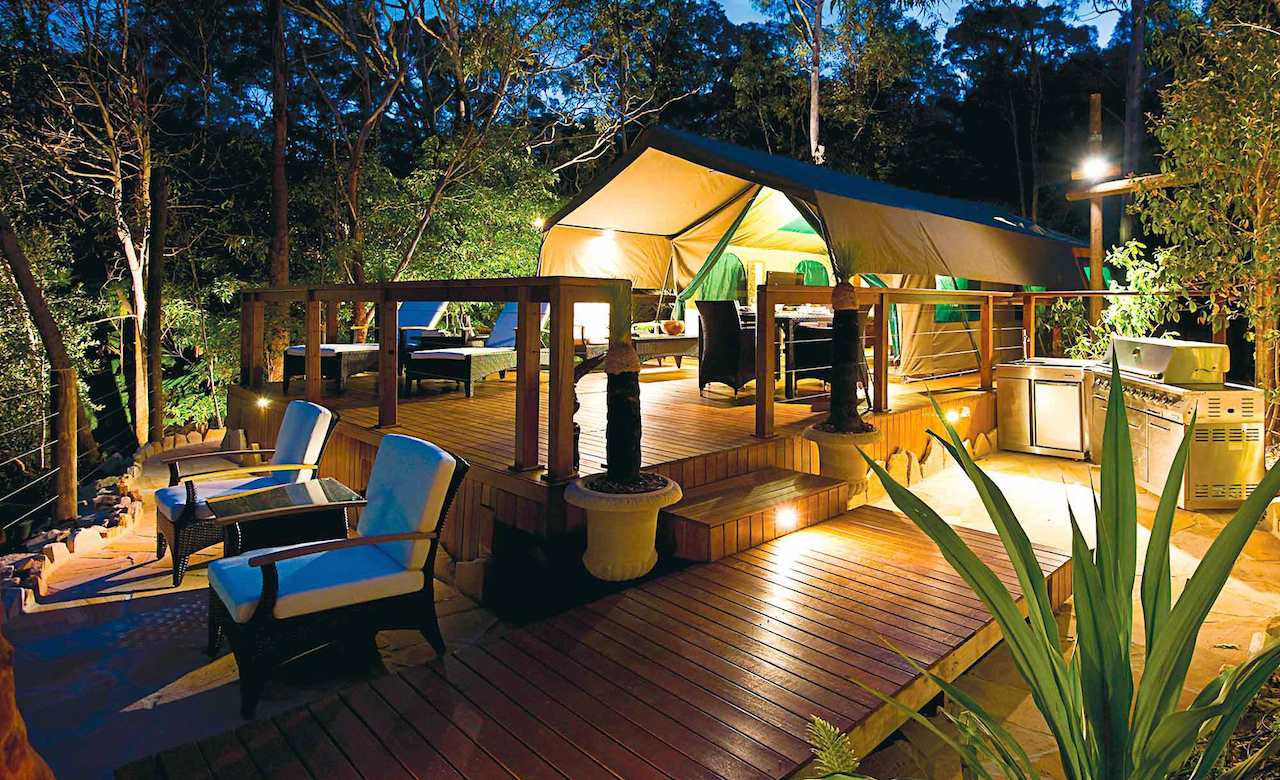 If you love camping and your plus one loathes it, Tandara is neutral ground. This luxury camping option within Lane Cove National Park and Lane Cove River Tourist Caravan Park is a stone's throw from Sydney's CBD via the Gore Hill freeway — so it's super easy to take a weekend away without the lengthy road trip. The roomy African safari-style tents feature a super stylish get-up, with a TV, good-sized tub and beautiful shower facilities — making it the ideal reading/DVD retreat space for the not-so-keen nature junky. A wildlife tour is a must: hang out with lorikeets, water dragons, tawny frogmouths, ringtail and brushtail possums, owls, sugar gliders and even endangered bandicoots. Tandara boasts beautiful manicured gardens to enjoy with glass of bubbly in hand, and should you pine for news of the outside world, the carrier kookaburras are very reliable.
Lane Cove River Tourist Park. $220 per night. nationalparks.nsw.gov.au/camping-and-accommodation/accommodation/tandara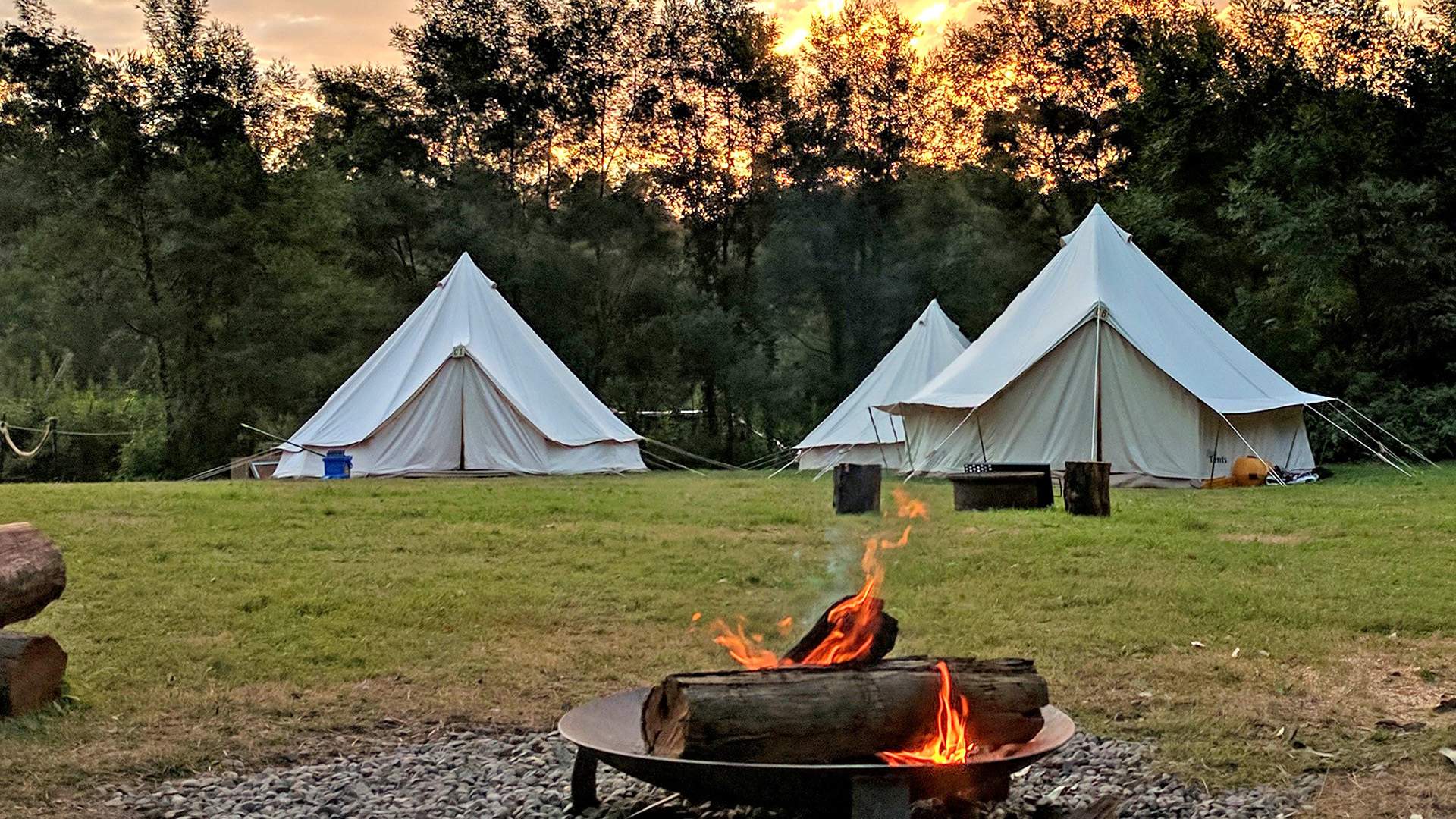 Located a 2.5-hour drive down the South Coast from Sydney (or thirty minutes from Nowra), the remote glamping campsite offers a true bush experience — complete with no reception. But you won't be too far from creature comforts, the tents are luxe and stocked with quality wares. They come with comfortable mattress covered in plush bedding, solar lighting, a table and chairs, toiletries and a hand-woven Armadillo & Co rug. The glamping site is located within Coolendel's 52 hectares of bushland along the Shoalhaven River. Nature lovers will be keen on this secluded grassy park, which is an ideal location for spotting wombats, goannas, wallabies and native birds. Apart from nature watching and bushwalking, guests can also try a spot of canoeing, biking and fishing.
Grassy Gully Road, Buangla. From $180 per night. flashcamp.com.au/coolendel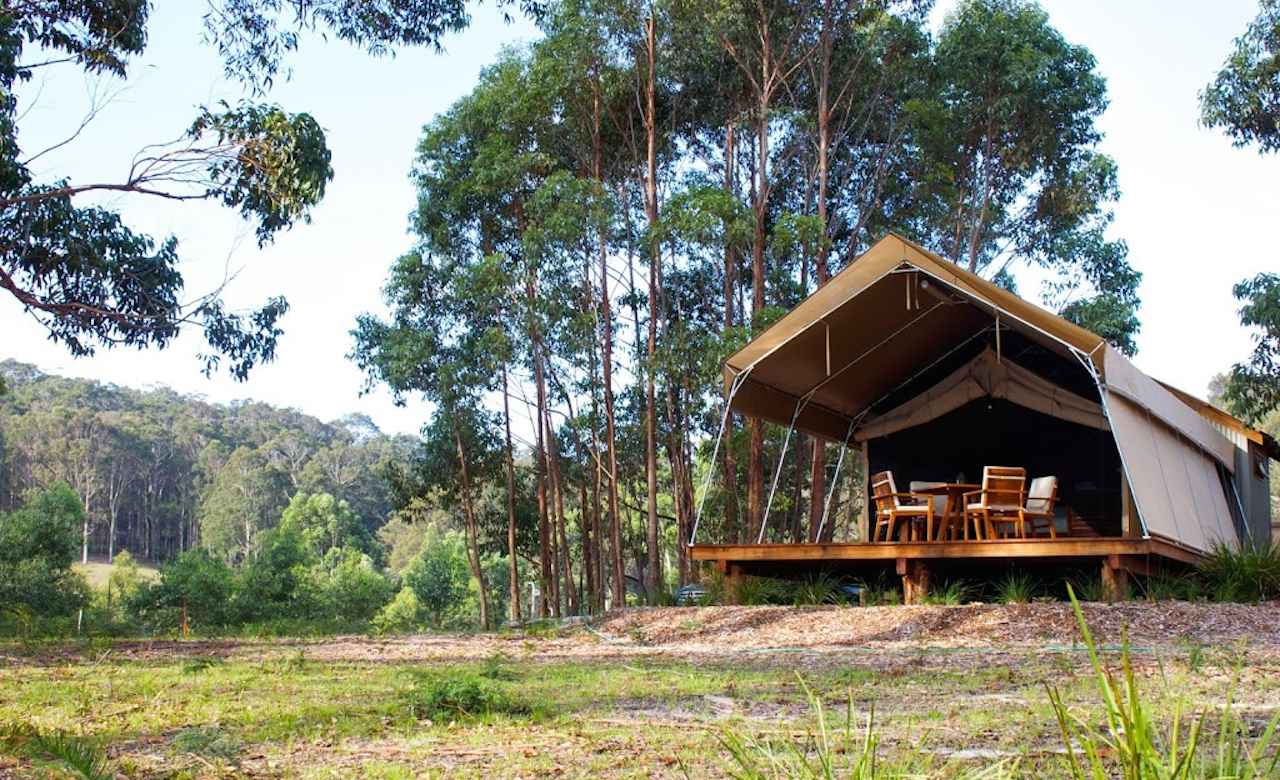 Stay in a safari tent, minus the lions. Instead, kangaroos, koalas and sooty owls surround you here. This super-secluded parcel of private land in the middle of a lagoon-tipped national park is a real haven, with only four tents on the property. The tents aren't the kind that are going to packed up any time soon; each comes with an ensuite bathroom, handcrafted queen-size bed, sofa/daybed, writing desk, kitchen, barbecue and, if you go the deluxe option, a bathtub to fit two. They sit on their own expansive decks made of local timber, most of it milled on site, since Tanja Lagoon Camp is an eco-orientated operation. If reading on your daybed isn't activity enough, there's canoeing, swimming, mountain biking, wine tasting and gallery-going to be done.
142 Haighs Road, Tanja. From $250 per night. tanjalagooncamp.com.au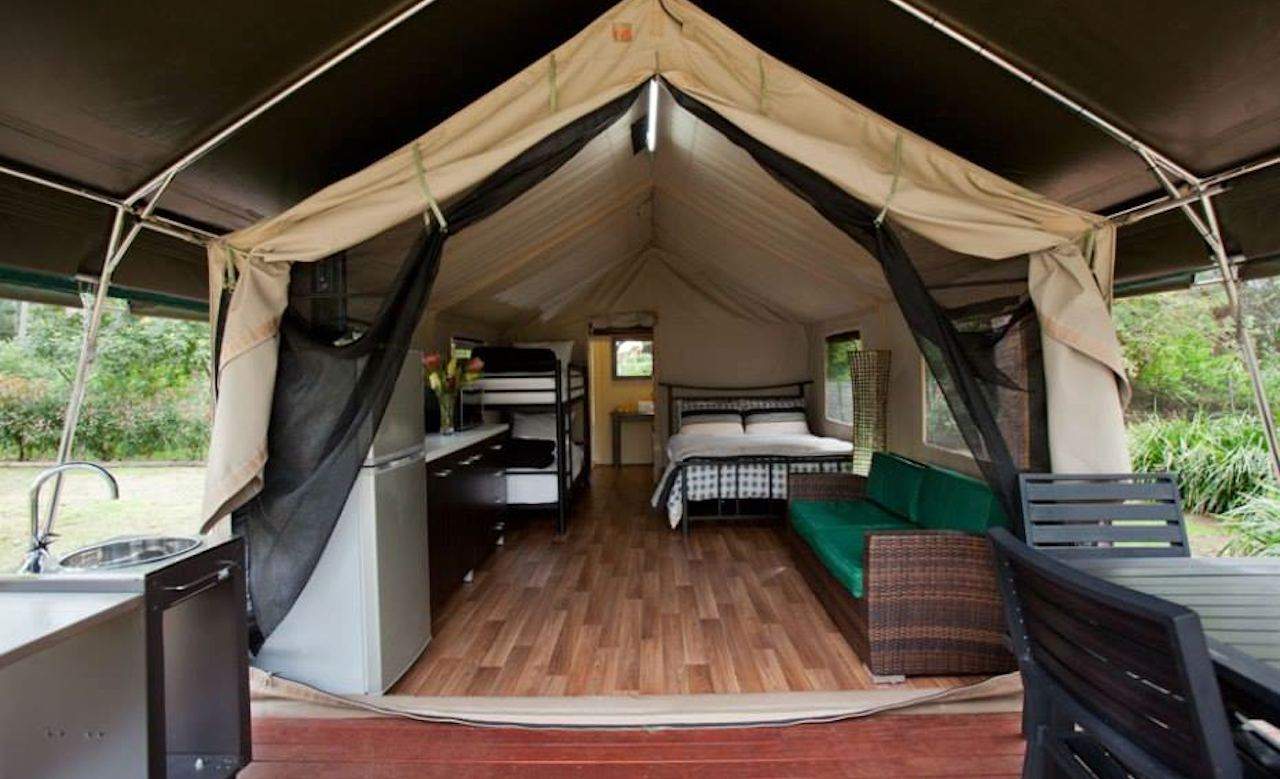 Live simply with a few creature comforts — that's the vibe just south of Ettalong where Safari Palm Tents offer a cost-effective, comfortable and completely laidback option for upmarket beach holidaying. As part of the Ocean Beach Holiday Resort Park, the Safari Palm tents sleep up to four people and boast their own ensuite bathroom, TV/DVD, kitchen and verandah with BBQ. The chilled-out Umina beach location offers great access to sandy playgrounds, plus you're right near the stunning natural bushland of the waterfall-dotted Brisbane Water National Park. Probably the best option by far if your glamping experience is inclusive of small humans with a hankering for climbing.
Ocean Beach Holiday Park, Sydney Avenue, Umina Beach. From $160 per night. oceanbeachholidaypark.com.au/accommodation/safari-palm-tent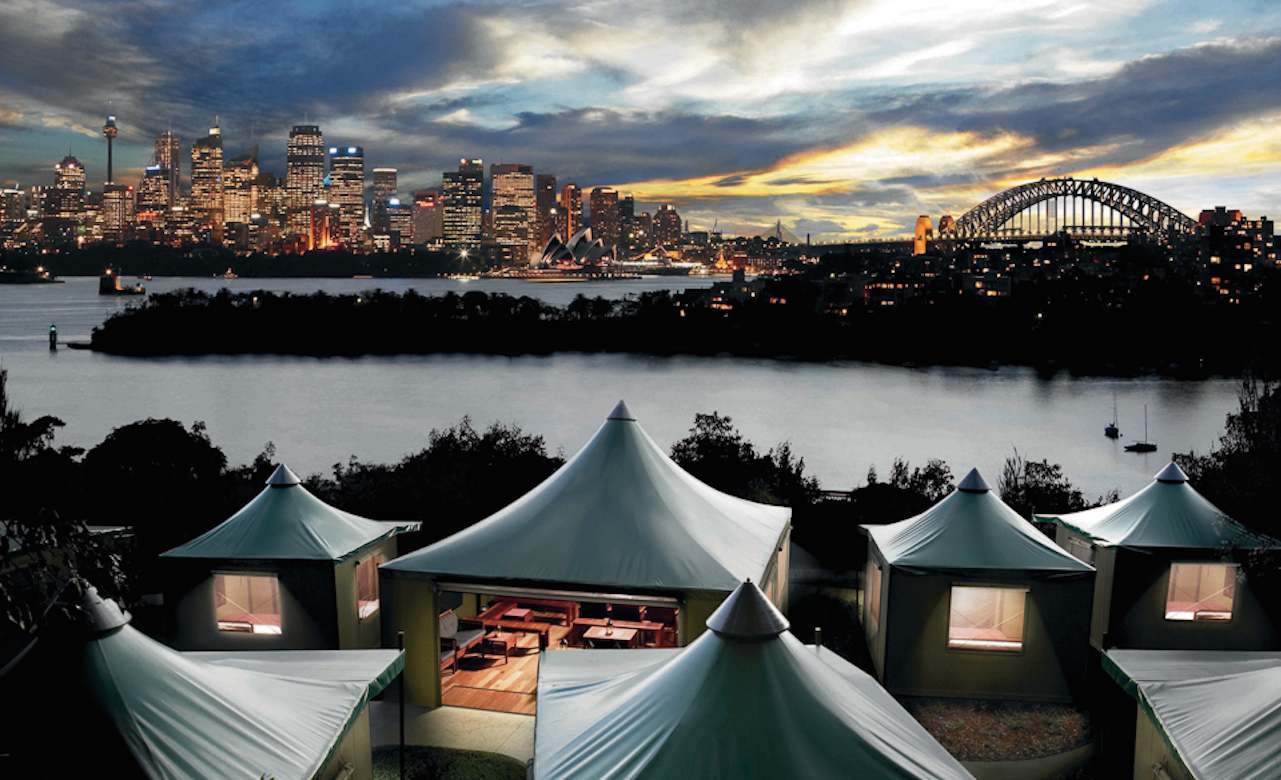 If waking up to the call of an elephant is not your 5am cup of tea, you better sit out on Roar and Snore at Taronga Zoo. Otherwise? An unmissable Sydney experience if you don't got the cashola for an actual Sahara night safari. Snuggled on the Mosman headland, Taronga's safari tents — super comfortable and fully set up — are perched atop the country's most famous zoo (with the stunning Sydney Harbour views the giraffes enjoy daily). A buffet dinner and a personal night tour by a zookeeper makes this one helluva glamping experience with a difference. Just don't get too close to the snakes before bedtime unless you enjoy python-filled dreams.
Taronga Zoo, Bradley's Head Road, Mosman. From $373 per adult per night. taronga.org.au/taronga-zoo/accommodation/roar-snore-bookings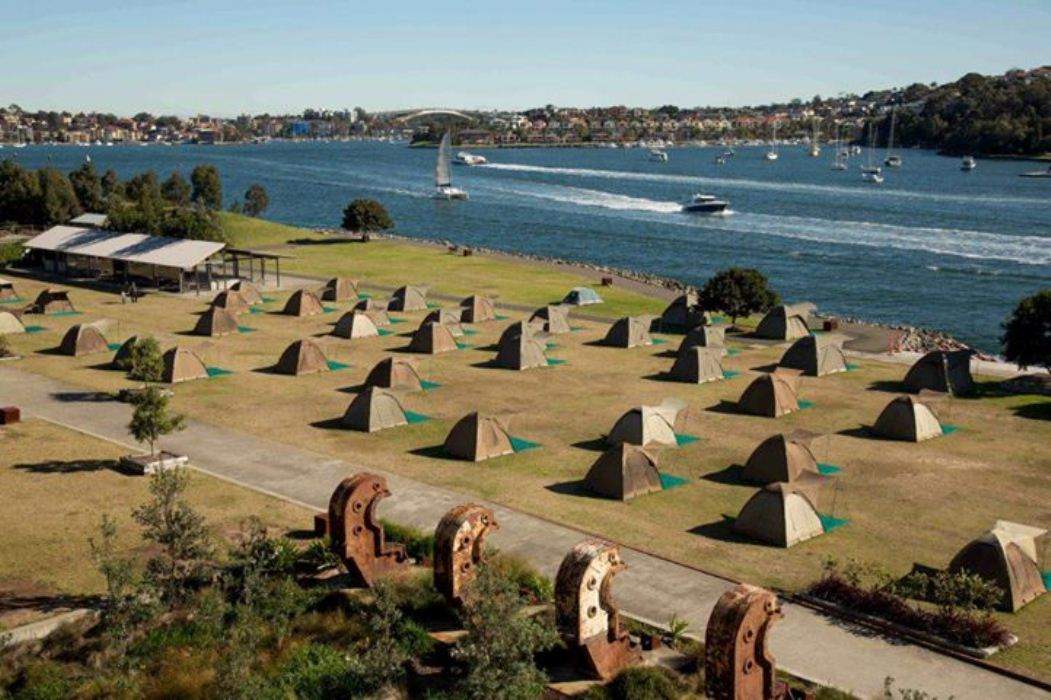 Crisp white linen. Happening Island Bar. Antipasto and woodfired pizzas. Need we say more? Sleep in splendour under the industrial cranes of Cockatoo Island in a stunning waterfront location smack bang in the middle of Sydney Harbour. Creature comforts roam free on the island — a large camping kitchen, multiple BBQ areas, your own fridge, microwave and a Zip boiling water system. While you can bring along your own tent if you're feeling Bush Tucker Man-like, the glamping packages can include a pre-erected Safari Bow tent, two camping beds with mattresses, all bedding, towels, sun lounges, an esky and a lantern. Just bring your BBQ tongs, cutlery, plates and excessive sunset snacks.
Cockatoo Island, Sydney Harbour. From $150 per night. cockatooisland.gov.au/stay/glamping.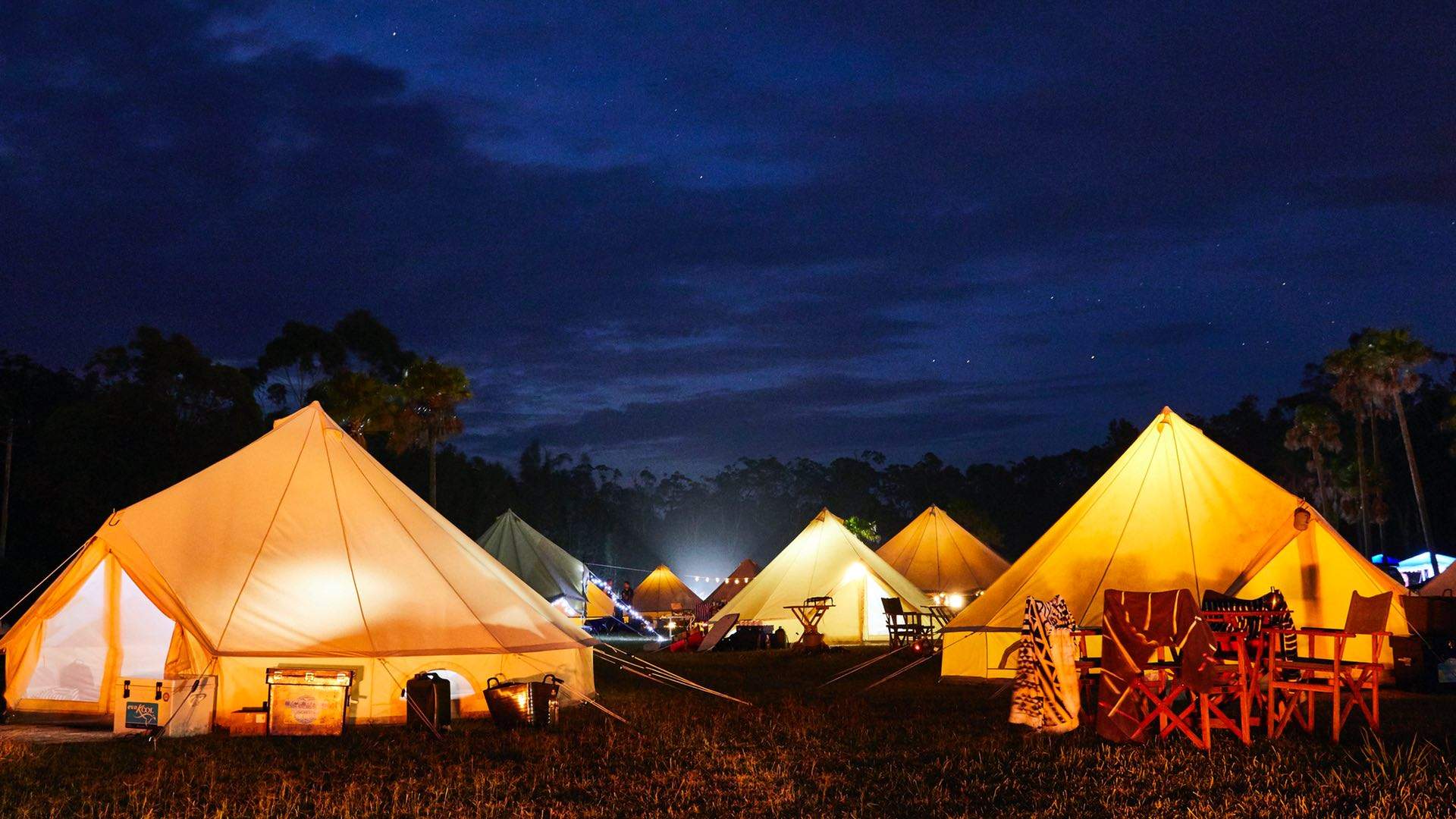 For a brief time each year, Simple Pleasures Camping Co. takes over the grounds of Oberon's Mayfield Garden for a luxurious eco-friendly camping retreat. Glamping in the Garden will pop up from March 1 through April 27, 2019 in one of the world's largest privately owned cool climate gardens. Located three hours west of Sydney's CBD, spot is seriously impressive and includse an 80-metre waterfall, a walled kitchen garden, an Islamic-style pond and a six-acre water garden — plus a bluestone chapel, aviary and rose garden.  As for the glamping, you'll bed down in one of 15 bell-shaped tents fitted with queen mattresses, goosefeather pillows, bedside tables, solar lighting and vintage rugs from around the world. The experience also comes complete with towels, an outdoor table and chairs to sit at, lanterns and torches, along with on-site bathrooms and showers, which are exclusive to the glamping area.
530 Mayfield Road, Oberon.  From $290 per night. simplepleasurescamping.co/events/mayfield-garden/#book
Published on January 03, 2019 by Ashleigh Synnott