TRAVEL & LEISURE
Morning Gloryville Returns with a Huge Breakfast Warehouse Rave
Lockouts can't touch a breakfast rave.
Morning Gloryville Returns with a Huge Breakfast Warehouse Rave
Lockouts can't touch a breakfast rave.
---
At first glance, mid-week raving and healthy living don't seem to go hand in hand. The energetic people behind Morning Gloryville turned that preconception on its head with their breakfast raves in Paddington Uniting Church last year. Now, Sydney's dawn party experts are back with a brand new venue — an Alexandria warehouse.
Taking over All Sorts Indoor Sports Factory from March 18, the London-founded breakfast bash will ring in its first Sydney pop-up event for 2015 with a huge warehouse party. An early, early 6.30am warehouse party. Lockouts, consider yourselves excluded from this shindig.
"Anything goes really," says co-organiser Max Becker. "The benefit of having a rave at 6.30am is that the lockouts are irrelevant, plus rather than ensuring people get home safely it's actually trying to make them go to work that becomes the problem."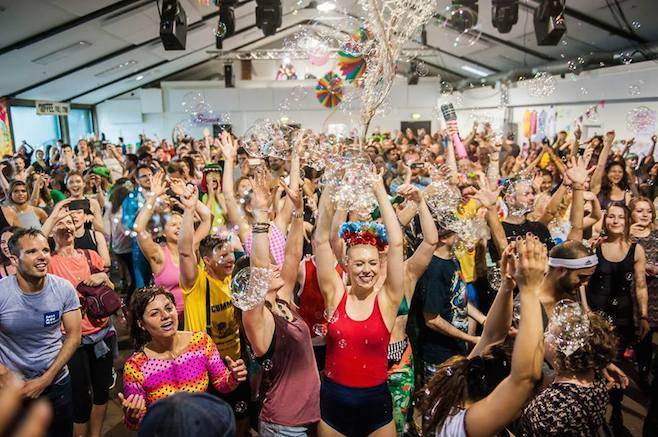 So first-timers, what can you expect from this breakfast rave? The Morning Glory rave started in London's Shoreditch — where else — by Sam Moyo and Nico Thoemmes. Like last time around, music will be pumping from 6.30am, with sets from some of Sydney DJ favourites Levins and Max Attack. You're encouraged to jump around and shake those cobwebs loose before heading to work — there's even a few furiously energetic dancers around to show you some moves.
To keep your energy up and legitimately kickstart your day, MG offer up a bunch of tasty breakfast options and juices, as well as free yoga and massages. The recommended dress code is simply 'dress to sweat', but loads of colour and festivalwear is also encouraged — anything to help you seize the day. The only real rule is sobriety; let your inner dance monster show the world what it's made of unimpeded by plonk.
It's all ages, just ten beans if you get tickets early, and probably the most fun you'll ever have early on a Wednesday morning.
Find Morning Gloryville at All Sorts Indoor Sports Factory, 160 Bourke Rd, Alexandria on Wednesday, March 18. Runs 6.30 - 9.30am, tickets are $10 for early birds, $15 first release, $20 second release, more on the door. Grab 'em here.
Words by Hannah Valmadre and Shannon Connellan.
Published on February 24, 2015 by Shannon Connellan