This Helpful Interactive Map Shows NSW's COVID-19 Vaccination Rates by Postcode
The New South Wales Government maps lets Sydneysiders see the percentage of residents who've had the jab across the city and state.
Throughout the pandemic, the New South Wales Government has been providing the state's residents with multiple online maps that track COVID-19 cases, including by postcode and area. These handy resources have been updated every day throughout the state's response to the coronavirus, helpfully. Also now on offer on the NSW Government website, and also just as useful: a map that shows vaccination rates in each postcode.
Covering the entire state, the nifty resource outlines jabs in two ways: first doses received by people who live in each postcode, and the number of folks who are fully vaxxed in each area. You just need to toggle between the two options, and then you can zoom in to check out the respective vaccination rates postcode by postcode. The map is colour-coded, and you can also hover over each postcode area for further details.
In terms of hues, you'll see a yellow colour for under nine percent vaxxed, a light green for 10–29 percent, a darker green for 30–49 percent, then deeper aqua and blue tones through to navy at 50–59 percent, 60–70 percent and 80 percent.
And, if you hover over a particular postcode, it'll tell you which suburbs it covers, the four-digit postcode, the eligible population and how many jabs have been administered. Also included: what percent has received a first dose, what percent has received both doses and an age split for vaccinations given — covering below 50, and then aged 50 and over.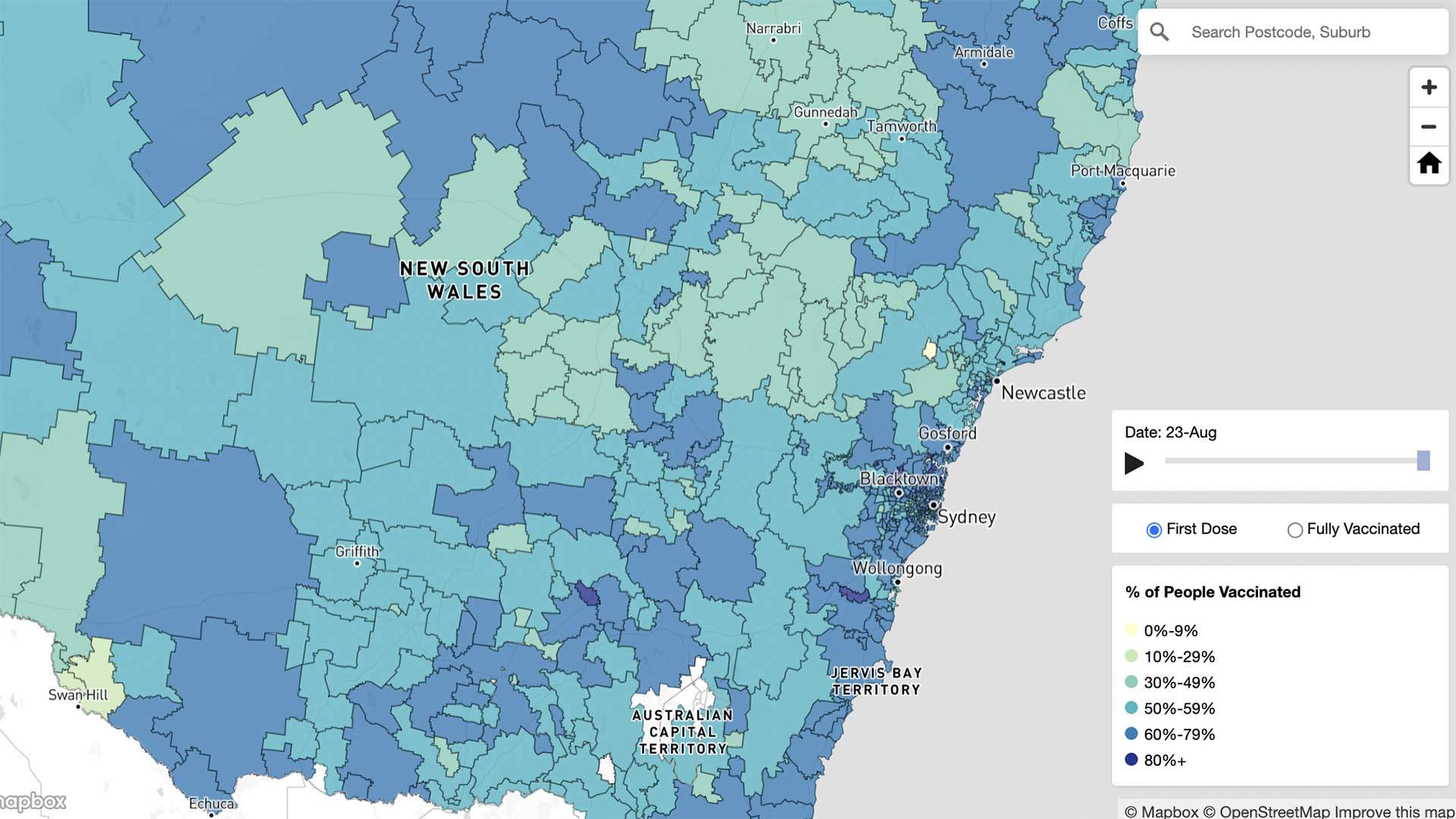 The postcodes are based on the location of a person's usual residence, as reported when they were vaxxed — and the map is refreshed each Tuesday and Friday.
NSW Premier Gladys Berejiklian has previously announced that some restrictions may ease once the state hits six million jabs — which it has just this week, with those changes in lockdown rules set to be revealed by Friday, August 27.
NSW's path out of stay-at-home conditions in general is also tied to vaccination rates, with more restrictions set to relax when the state hits 70-percent and 80-percent double doses. These thresholds fall in line with Australia's new overall 'National Plan to transition Australia's National COVID Response' that was announced in July, too, which steps through how the country aims to move away from lockdowns, temper restrictions for fully vaxxed folks and handle COVID-19 cases moving forward.
To find out more about the status of COVID-19 in NSW and have a look at the COVID-19 vaccination map, head to the NSW Government website.
Images: The NSW Government COVID-19 vaccine map as at Wednesday, August 25.