Tinder Is Building a Big Rainbow in a Regional Aussie Town — and You Can Vote for Where It'll Live
You've got until June 30 to pick Daylesford in Victoria, Hay in NSW, Broome in WA or Katherine in the Northern Territory as the site for Australia's next big landmark.
One Australian town is about to get a whole lot brighter, gain a towering new landmark, radiate queer pride and become a must-visit tourist destination. That's what's bound to happen when the lucky spot welcomes the most colourful big thing there is: Tinder's new Big Rainbow.
Australia loves its big things. If you're not stopping to gawk at a giant pineapple, lobster, watermelon, sheep, prawn or avocado, have you really taken an Aussie road trip? No, no you haven't. So adding this super-sized wave of red, orange, yellow, green, blue, indigo and violet to your travel itinerary will be an easy no-brainer.
Your possible destinations, and the rainbow's potential new homes? The coastal spot of Broome in Western Australia, Victoria's Daylesford, Hay in New South Wales and the Northern Territory's Katherine. They've all been picked from a submissions process that launched during this year's Sydney Mardi Gras — and Tinder now wants you to vote for which place ends up with the rainbow.
The public vote is open now until June 30, after The Big Rainbow Project team came up with the shortlist in consultation with community advisors and experts from the LGBTQIA+ community. Beaming with pride is the whole aim of the huge rainbow, of course, which Tinder envisions will stand tall as a massive symbol of equality and unity.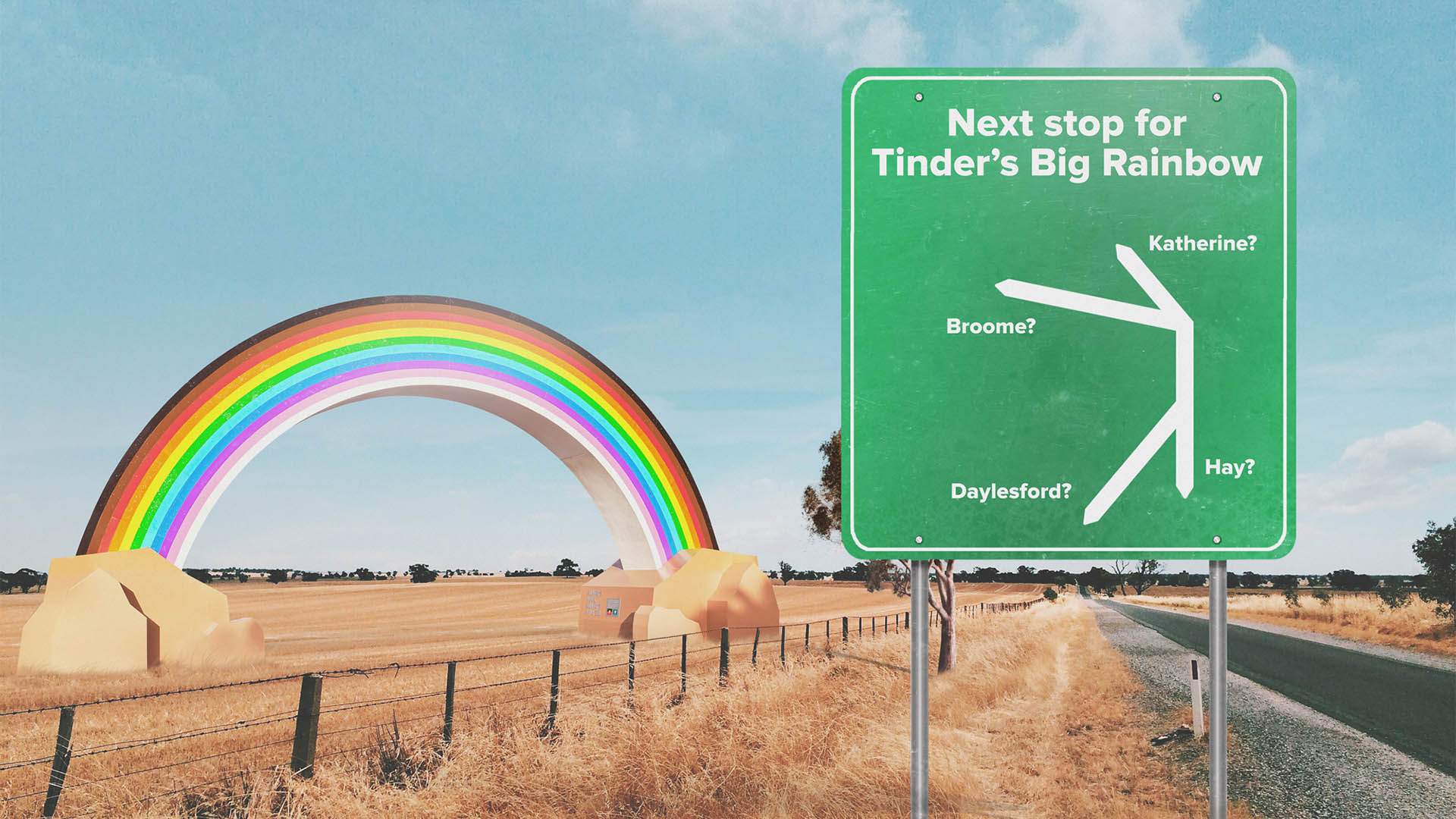 If you're wondering where to pick — and you're thinking beyond whatever is the closest drive for you — Broome is the Traditional Land of the Yawuru people, and also home to one of Australia's most remote Mardi Gras celebrations. Daylesford boasts the Chillout Festival, one of the longest-running regional LGBTQIA+ pride events, and is also the Traditional Land of the Dja Dja Wurrung people.
NSW's finalist, Hay, is where you'll find the Rainbow on the Plains — the first Mardi Gras of the region — as well as the Traditional Land of the Wiradjuri people. And sat in the Big Rivers region of the NT, Katherine is the Traditional Land of the Jawoyn, Dagoman and Wardaman peoples, and throws an annual pride shindig.
Whichever spot gets the nod, there'll be a pot of gold for a heap of organisations that support and uplift LGBTQIA+ folks. Tinder has also pledged to give $100,000 to regional outfits that fit that description, to go towards programs for regional queer communities
To cast your vote for where Tinder's Big Rainbow should live, head to the Big Rainbow Project website before Thursday, June 30.