The Best Things to Do in Auckland This Week
Sink your teeth into a bottomless afternoon tea spread, or check out Karangahape Road's huge anti-Valentine's Day festivities.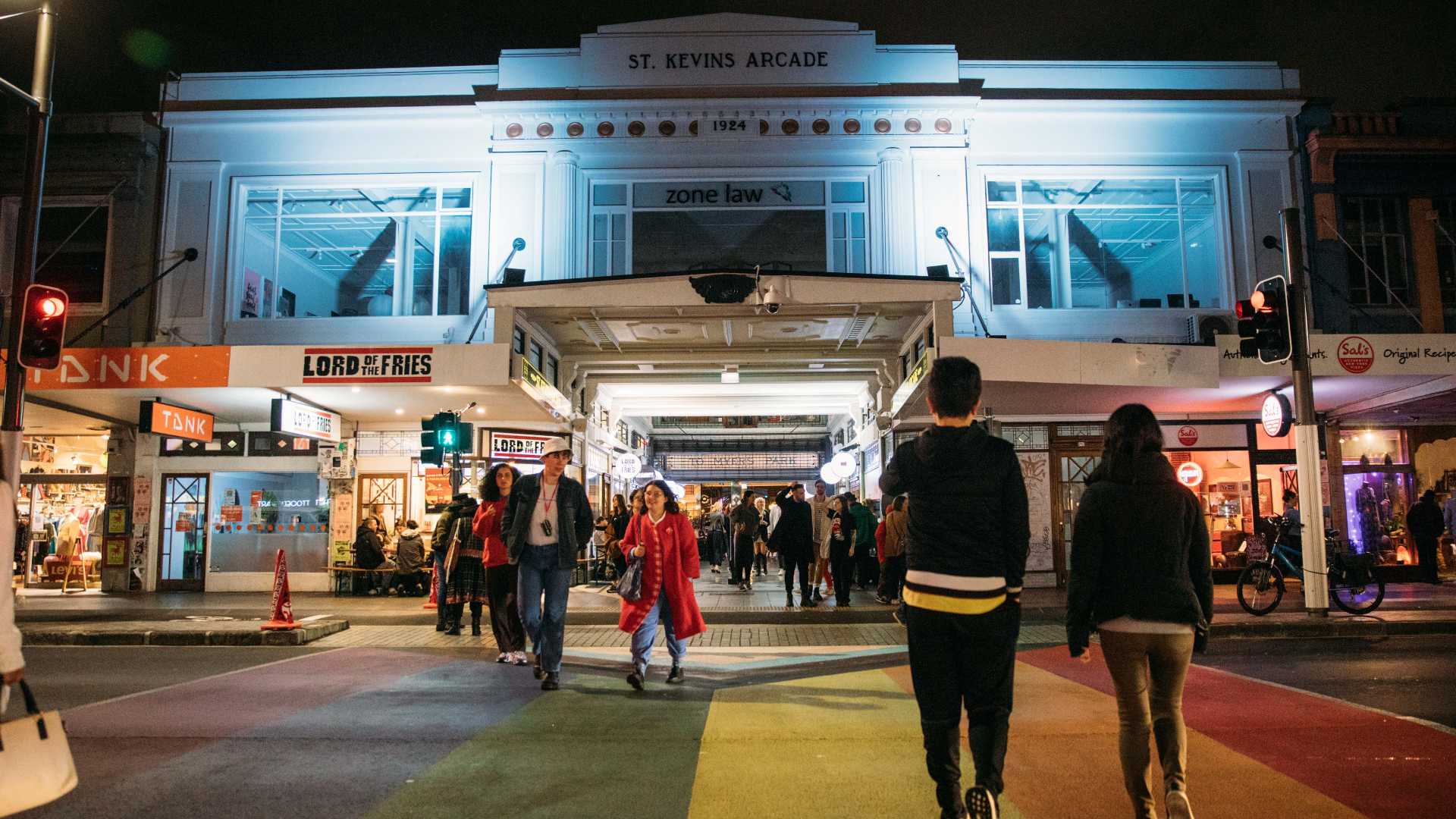 Heading back to the ol' daily grind can be pretty damn awful after a bright and shiny weekend of picnicking, bar hopping and patting dogs that aren't yours, but luckily Auckland's a 'keep the ball rolling' kind of city and has plenty of events, exhibitions, theatre, film festivals and live music for you to inject a little awesomeness into your week. Sure, use Monday for Netflix. Then get out there and sink your teeth into Auckland's best happenings this week.
Image: Karangahape Road, by Nathan Clarke
Arts & Entertainment

Inspired by true events, this powerful drama about women in a religious colony features exceptional performances by Rooney Mara, Claire Foy and Jessie Buckley.

Arts & Entertainment

Oh bother: this slasher version of 'Winnie-the-Pooh' doesn't offer much that sticks beyond its attention-grabbing premise.

Arts & Entertainment

Great things no longer come in 'Ant-Man'-sized packages in this 'Star Wars'-leaning 31st entry in the ever-sprawling Marvel Cinematic Universe.

Food & Drink

Start your adventure in Auckland with some craft beer and a nose-to-tail feast.

Food & Drink

This harbourside bar is now serving up boozy ice cream everyday.

Arts & Entertainment

Virtually walk through this major exhibition on Japan's Edo period at Auckland Art Gallery.

Arts & Entertainment

Hugh Jackman, Australian up-and-comer Zen McGrath and Oscar-winning 'The Father' filmmaker Florian Zeller explore a difficult family dynamic in this well-acted but uneven drama.

Travel & Leisure

For one night only, Karangahape Road is throwing a street party dedicated to love and all its messiness.

Arts & Entertainment

Channing Tatum's stripper saga returns with spectacular dance scenes and winning chemistry, but a half-hearted thrust of a story.

Arts & Entertainment

Lily James and Shazad Latif make charming leads in this by-the-numbers British rom-com about a filmmaker documenting her childhood best friend's assisted marriage.

Food & Drink

Over two hours you'll scoff five courses of delicious seasonal treats and sip bottomless bevvies.

Arts & Entertainment

Anchored by Dave Bautista's best performance yet, M Night Shyamalan's latest gets creepy and mostly compelling in the woods.

Food & Drink

Cassia is making a post-flood comeback with a new dining pop-up across town.

Arts & Entertainment

Brendan Fraser and Hong Chau thoroughly deserve their Oscar nominations for this complicated drama — and 'Stranger Things' star Sadie Sink is also phenomenal.

Arts & Entertainment

Spent your weekends this summer checking a run of free music events taking place across the city.

Arts & Entertainment

Made for just $15,000 by a first-time filmmaker, this unsettling experimental horror flick will get inside your head.

Food & Drink

Spend two hours scoffing bottomless smash burgers — then wash them down with all the prosecco and beersies you can sink.

Arts & Entertainment

Cate Blanchett turns in another awards-worthy performance in this powerful, complicated and compelling drama about a cancelled conductor.

Arts & Entertainment

The free outdoor screenings of classic family flicks and newly released blockbusters are coming back for summer.

Travel & Leisure

The zoo is opening its doors later than usual for animal spotting and keeper talks.

Food & Drink

Enjoy the hottest (and highest) private party in town.

Food & Drink

Now you can top off your morning beach walk with a twice-baked almond croissant and some damn good Eighthirty coffee.

Food & Drink

Embrace summer with two hours of bottomless frosé by the water's edge — complete with fruity flavours and fun toppings.

Arts & Entertainment

Top off your museum trip with a visit to the historic building's exclusive rooftop.

Food & Drink

This weekly inner-city farmer's market sells everything from fresh produce and flowers to coffee, vegan foods, pastries, sweet buns, crepes, juices and savoury snacks.

Food & Drink

See out the last sunny evenings of autumn with fresh pasta handmade by an ex-Baduzzi chef and ice-cold beers on tap.

Travel & Leisure

Take your yoga practice to a whole new level — level 51, that is.
Tap and select
Add to Home Screen
to access Concrete Playground easily next time.
x