Feminism, Penises and 70s Porn for Women: It's All in HBO's Savvy and Breezy New Comedy 'Minx'
A workplace comedy set inside a fledgling feminist erotica magazine, this Jake Johnson and Ophelia Lovibond-starring newcomer is a seductive must-stream.
When home video, the internet and mobile phones with inbuilt cameras each arrived, six words could've been uttered: get ready to look at dicks. New HBO comedy Minx is set the early 70s, so before all three, but the same phrase also applies here. It's true of the show itself, which isn't shy about displaying the male member in various shapes and sizes. It also stands tall in the world that Minx depicts. When you're making the first porn magazine for women — and, when you're making a series about it, even if it's all purely fictional — penises are inescapable.
Also impossible to avoid in Minx: questions like "are erections consistent with our philosophy?", as asked by Vassar graduate and country club regular Joyce Prigger (Ophelia Lovibond, Trying). Idolising the magazine industry and unhappily working for the dispiritingly traditional Teen Queen, she has long dreamed of starting her own feminist publication — even penning a bundle of articles and making her own issues — but centrefolds splashed with male genitalia don't fit her ideal pitch. No one's buying what Joyce is selling, though; The Matriarchy Awakens, her dream mag, gets rejected repeatedly by the industry's gatekeepers. Only one is interested: Bottom Dollar Publications' Doug Renetti (Jake Johnson, Ride the Eagle), but he's in the pornography business.
In Minx's premiere — which is now streaming alongside its second via Stan in Australia, with future episodes dropping in pairs weekly — Joyce and Doug are poised as opposites. When they first meet at the Southern California Magazine Pitch Festival, they contrast so forcefully in a visual sense that the show's Los Angeles-set frames may as well be screaming. She's buttoned up in a three-piece pantsuit, while he hasn't seen fit to fasten his shirt above his navel. Her gaze is steely and resolute; his couldn't be more casual. As created by Ellen Rapoport (Clifford the Big Red Dog) and executive produced by Paul Feig (Last Christmas), Minx plays up this clear and blatant contrast, and gleefully so, but little that follows is ever as easy and obvious.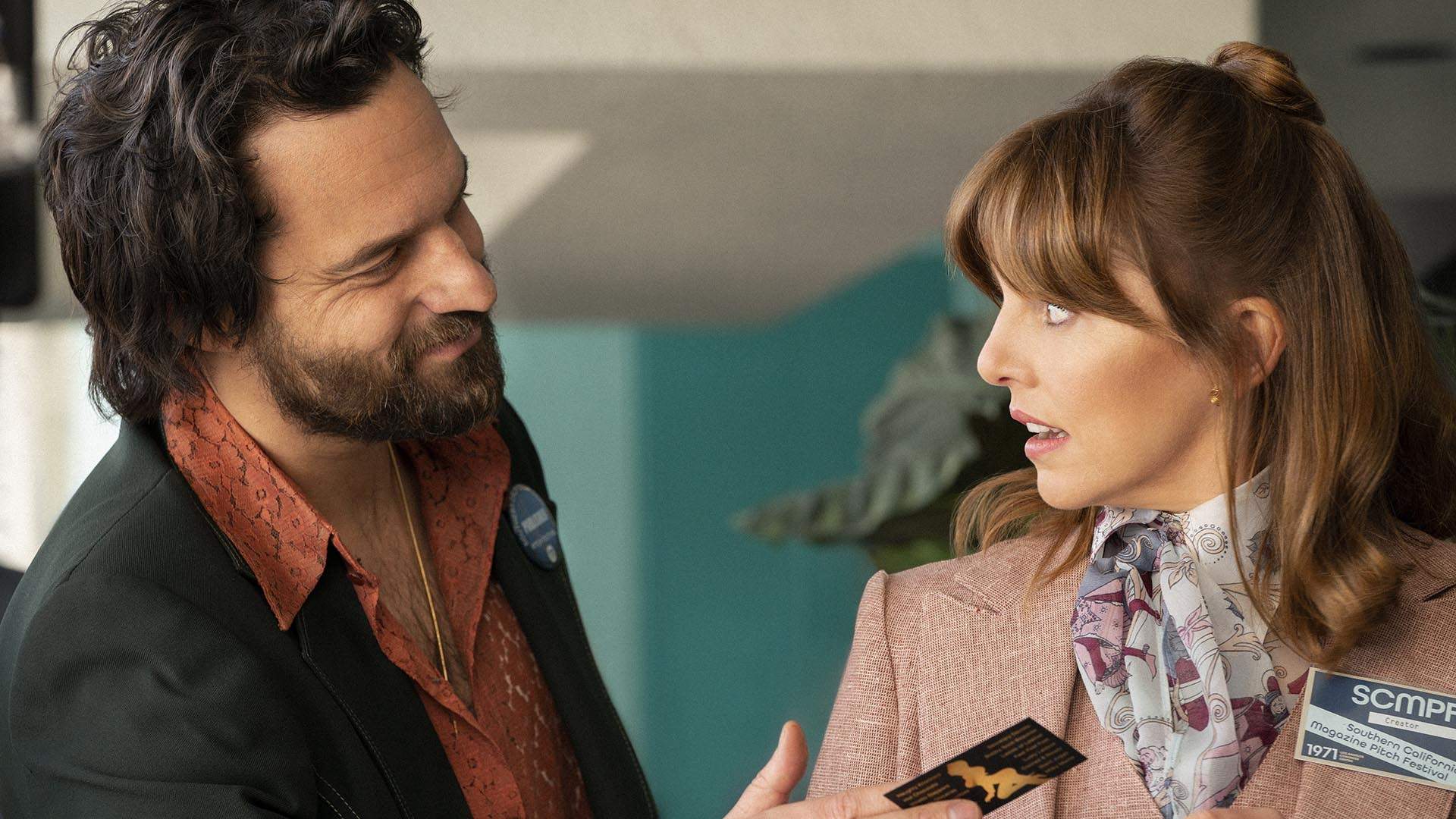 A streaming series about feminism, penises and 70s porn for women: that's Minx. A program about all of the above that unpacks and subverts Joyce and Doug's initial impressions: that's Minx as well. Indeed, it uses that first interaction as a spark for everything it carves into once it truly kicks into gear. Together, the pair pledge to create a feminist erotica magazine, and a savvy yet breezy workplace comedy results. The fact that nothing is ever just one thing — be it people, ideas, or everything that feminism and porn encompass — is a straightforward observation, but it's laid bare in a winning way in this quickly likeable show.
Joyce is many things, in addition to being Minx's editor, driving force and sole doubter about male centrefolds. She worships Gloria Steinem, hands out The Kinsey Report to her colleagues, and is committed to giving the mag depth and intelligence — marital rape and contraception for single women rank among her ready-to-go article topics — but she's also prudish about nudity and sex toys, and incurious about her own desires. And, as the series points out, she benefits from a layer of white privilege and financial comfort that's given her the space to even fantasise about her passion project in the first place. Doug is equally multifaceted; a slacker on par with Johnson's New Girl claim to fame, he isn't. He's laidback, naturally, but he's astute about business, great at reading people, eager to make bold leaps and values having talented folks around him. Just as Joyce isn't merely a patriarchy-smashing go-getter stereotype, Doug isn't a sleazy but charming peddler of porn, either.
Teamwork makes the Minx dream work, of course, and the crew assembled to get the magazine into the hands of women keeps challenging archetypes, too. Blonde and perky, Bambi (Jessica Lowe, Miracle Workers) models for Doug's other publications, has a knack for the creative side of the business and could never be dismissed as a bimbo — and sees nothing wrong with everything the term typically describes. Shelly (Lennon Parham, Veep), Joyce's sister, is more open about sex and its place in print, all while slotting into the conventional homemaker role expected of her gender. There's also Tina (Idara Victor, Shameless), Doug's whip-smart righthand woman, who rightly won't stand for being underestimated because she's Black— but isn't simply around to offer that reminder — and gay Latino photographer Richie (Oscar Montoya, Final Space), who is never a best friend-type sidekick.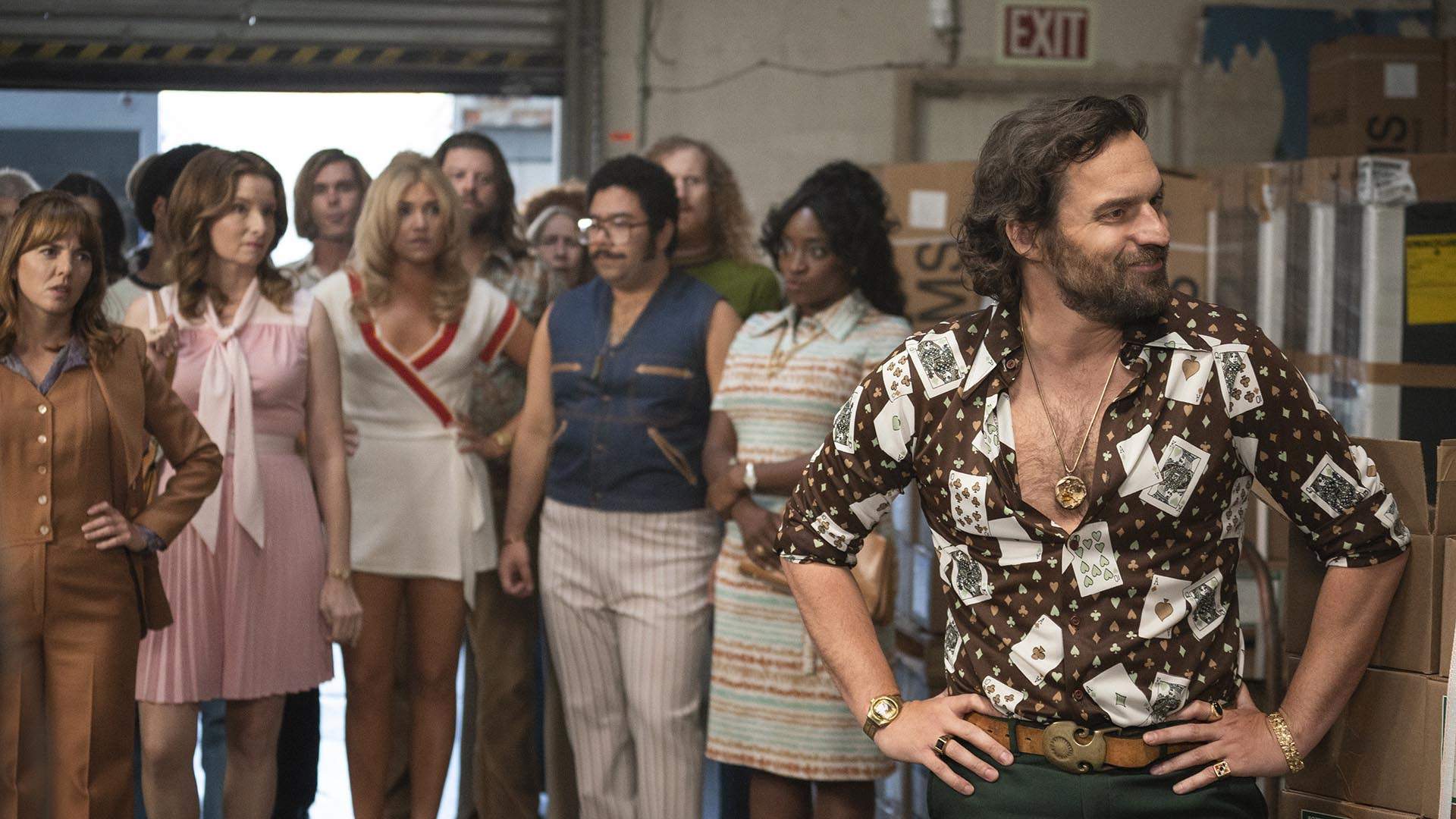 If Minx, the series, sounds a little like The Deuce meets Mrs America — but lighter, sweeter and funnier — that's because the comparison fits. Pick a beloved workplace sitcom, make it about feminism and porn, and Minx would slide in there, too, especially with its pitch-perfect ensemble cast. Of course, TV comedies aren't normally filled with so many phalluses, but this series knows that it can't tell a tale about embracing the female gaze if it doesn't embody the very concept. It's thoughtful about it at every turn as well; when Joyce rationalises the mag's first centrefold by flipping a real-life situation that women have endured too often, it's part of Minx's ongoing conversation on a range of essential topics.
The many forms that feminism takes, how women have been conditioned to view sex, the stigma surrounding porn: they all bubble up in Minx's first five episodes (from a ten-instalment debut season). So too do sexism within advertising and in life in general, boys' club mentalities, censorship, the wowser-driven political war against anything salacious, the way that women judge each other and the power dynamics at the heart of romance. Obviously, the list of subjects that could fall into Minx's remit is lengthy — and, like its two lead characters, it sports the ambition to keep spreading its message far and wide. It's also as determined and unapologetic as Joyce, charismatic and flirty like Doug, and as layered as everyone in its frames.
Minx's dicks don't talk — that's left to Pam & Tommy — but this newcomer is a full-frontal delight.
Check out the trailer for Minx below.
The first two episodes of Minx are available to stream via Stan, with two new episodes dropping weekly.
Concrete Playground Trips
Book unique getaways and adventures dreamed up by our editors