Netflix's New 'Addams Family' Revamp 'Wednesday' Is Enjoyably Spooky, Kooky and Bingeable
Jenna Ortega is fantastic as everyone's favourite Addams teen, who gets caught up in a murder-mystery in a Hogwarts-like school for outcasts in this Tim Burton-directed series.
It's a truth that Morticia, Gomez, Wednesday and Pugsley would treasure: nearly a century might've passed since The Addams Family first graced the pages of The New Yorker in the 1930s, but this creepy, kooky, mysterious and ooky brood will never die. America's first macabre family keeps entrancing and enchanting audiences, luring them in with their unflinching embrace of the eerie, the gothic, and the all-round dark and twisted. Forget bumps, jumps, screams and shrieks, however; this off-kilter crew might pal around with a severed limb and adore graveyards, but they also delight in a gloriously eclectic, eccentric, embrace-your-inner-outcast fashion, as the 1960s TV show, 1991's live-action film The Addams Family and its 1993 sequel Addams Family Values, and now new Netflix series Wednesday understands and adores.
Dropping all eight season-one episodes on November 23 — a Wednesday, when else? — The Addams Family's latest go-around arrives stitched-together as so much is of late. Netflix's algorithm has accurately gleaned that viewers love cartoonist Charles Addams' horror-influenced creations. It knows that people like mysteries and teen coming-of-age tales, two of the platform's favourite genres. And, the service is well-aware that already-beloved big names are a drawcard. Throw in Tim Burton directing like it's his 80s and 90s heyday, current scream queen Jenna Ortega sporting the trademark plaits, 90s Wednesday Christina Ricci returning in a new part, and a supernatural school for unusual children complete with Miss Peregrine's Home for Peculiar Children-meets-Hogwarts vibes, and Wednesday's various pieces are as evident as the sewn-on limbs on Frankenstein's monster.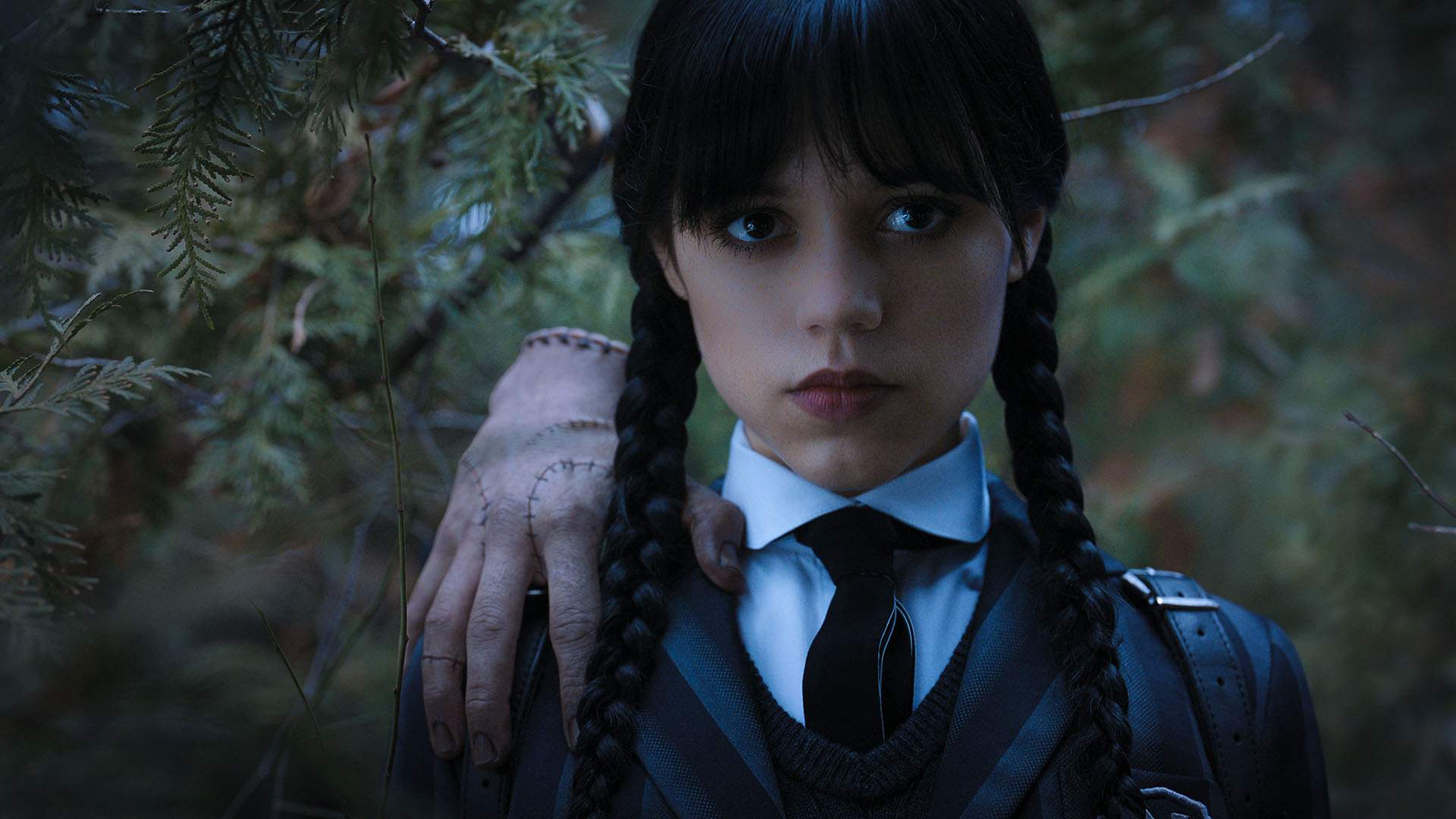 Mary Shelley's famous creature is an icon and a marvel, of course, and more things should want to follow in its footsteps. In the author's game-changing book, it lived, breathed and fascinated despite its seams being oh-so-visible, and Wednesday does the same — and quickly engages and entertains. Seeing why and how Netflix has crafted this series, and which levers it's pulling to electrify its experiment, is as easy as getting a killer glare from Wednesday's teenage protagonist. Enjoying every second because it's astutely, knowingly and lovingly spliced together is just as straightforward, especially with Scream, Studio 666 and X star Ortega leading the show so commandingly and convincingly.
This version of the Addams family's eldest child is indeed full of woe, like the nursery rhyme she's named for. She wouldn't have it any other way. Played by Ortega with a knockout stare every bit as gleefully bitter as Ricci's and 60s TV show star Lisa Loring's, Wednesday has been bouncing around public schools, but she's suddenly out of options. After unleashing a pool of piranhas on Pugsley's (Isaac Ordonez, A Wrinkle in Time) tormenters — torturing him is her job, not the water polo team's — she's enrolled in the haunted house-esque Nevermore Academy. Morticia (Catherine Zeta-Jones, Prodigal Son) and Gomez (Luis Guzmán, The Resort) went there. In fact, they met and fell in love there. But the preternaturally morbid Wednesday is even less thrilled than usual, until she discovers there's a spate of grim deaths to solve.
Harry Potter and X-Men comparisons spring the moment that Wednesday locks eyes on Nevermore, and only deepen when the series reveals that it caters to vampires, werewolves, sirens, gorgons and other paranormal folks. Wednesday's roommate is pastel-loving lycan Enid Sinclair (Emma Myers, Girl in the Basement), who hasn't yet 'wolfed out', for instance. Her immediate nemesis is queen bee Bianca (Joy Sunday, Dog), who has to wear an amulet to avoid unleashing her siren powers. Smartly, series creators and writers Miles Millar and Alfred Gough — who co-created Smallville together two decades ago, so know the ropes when it comes to mining the high-school angst of well-known figures — stick with Wednesday's namesake's withering attitude, and with a wryly comedic mood. She isn't fussed about the whole magical educational institution setup, and the show she's in recognises that it's a setting and a source of plenty of humour rather than the real focus. That centre of attention instead: Wednesday, always.
People in and around Nevermore are disappearing, though. Students and Vermont locals might be getting torn to pieces by a monster, or they might show up again the next day even after Wednesday witnesses their murders. None of the adults — not headmistress Larissa Weems (Gwendoline Christie, Flux Gourmet), new teacher Marilyn Thornhill (Ricci, Yellowjackets), local sherriff Donovan Galpin (Jamie McShane, The Lincoln Lawyer) or Wednesday's court-ordered therapist Valerie Kinbott (Riki Lindhome, Knives Out) — are particularly open to her theories or happy about her investigations. A misanthropic teen black sheep sleuthing around an exclusive school and the insular town it's in, making few friends in the process, and determined to expose deep, dark secrets? Yes, there's more than a touch of Veronica Mars to Wednesday, too. Yes, there's thorny romances as well (enter Your Honor's Hunter Doohan as the sheriff's son Tyler and Pretty Hard Cases' Percy Hynes White as Nevermore pupil , just with a brunette lead, a blacker colour palette and moody woodland surroundings.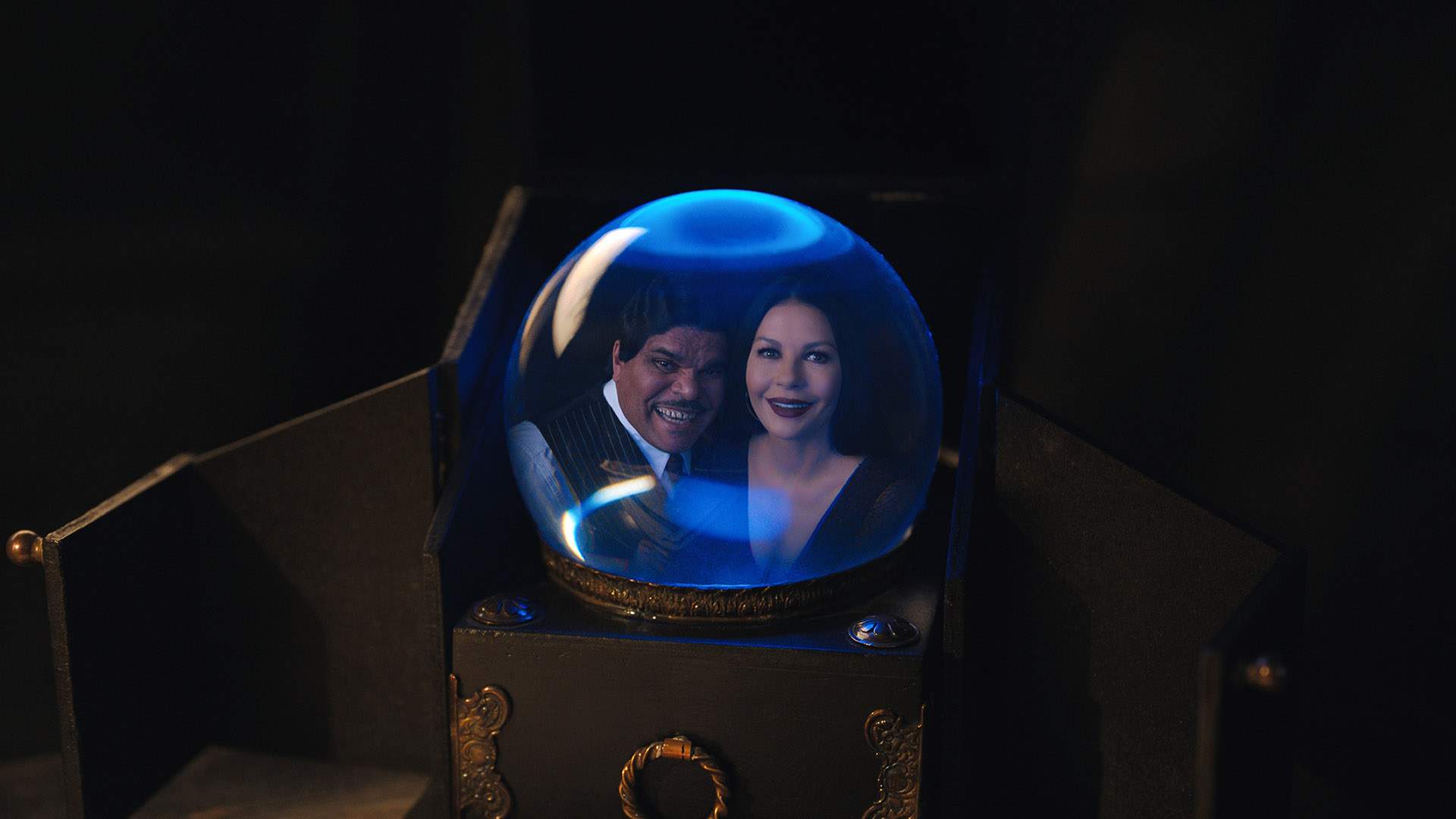 If you're well-acquainted with the formulas behind most high school-set dramas, or whodunnits and detective tales, then Wednesday has few shocks and surprises. Nonetheless, it remains a twisted and easy to binge from start to finish, all thanks to two key factors. First is that standout lead casting, with Ortega slipping into Wednesday's dead-eyed scowl like she's always worn it, never softening it, ensuring that Wednesday lives up to it and perfecting the part's deadpan humour at the same time. Zeta-Jones and Guzman play the lusty Morticia and Gomez with flair, Fred Armisen (Los Espookys) makes a suitably offbeat Uncle Fester, and Christie relishes her authoritative role, but the intense Ortega is the show's blackly and wittily charming heart.
Secondly, although Burton doesn't helm every episode in the series — just the first four — Wednesday is as quirkily mesmerising as the Frankenweenie, Beetlejuice and Edward Scissorhands' greatest work. More than that, it's among his finest output in a couple of decades, in no small part because it looks so bewitchingly attuned to his preferred melancholy aesthetic, complete with wonderfully surprising and seductive design choices. There's Danny Elfman-composed theme music to help perfect the mood, too, continuing a collaboration with Burton that goes all the way back to 1985's Pee-wee's Big Adventure. 
Wednesday doesn't exceed its 60s or 90s predecessors — it swiftly and thoroughly bests the recent animated flick and its own follow-up, though, which isn't hard — but it's exactly what a Burton-style take on The Addams Family was always bound to be. Whether you're popping a witch's shawl on and grabbing a broomstick you can crawl on, or not, it's worth playing a call on.
Check out the trailer for Wednesday below:
Wednesday streams via Netflix from Wednesday, November 23.
Images: Courtesy of Netflix © 2022.
Concrete Playground Trips
Book unique getaways and adventures dreamed up by our editors