Night Feast — March 2023
Brisbane Powerhouse's first neon-lit food market is brightening up New Farm with culinary stalls and arts pop-ups all throughout March.
If you've always thought that Brisbane could use a twice-yearly food market that doubles as a pop-up arts and culture festival, rejoice — you're in luck. Taking place at Brisbane Powerhouse, Night Feast is that event, debuting from Wednesday, March 1–Sunday, March 26 with a neon-lit riverside setup.
First, the food. Longrain's Martin Boetz, e'cco Bistro's Philip Johnson, Lyndon Tyers at Donna Chang and Tuan Nguyen at Ngon, plus Lek Senee from Lek's Thai and Patricio Sarno from Mary Mae's Kitchen & Bar are all on the bill — and City Winery's vino thanks to winemaker Dave Cush. You can also look forward to dishes from Taro's Ramen and Ham on Rye, as well as from Saison Salumi and Wine & Dine Em. Plus, chef Anchalee Kasurin is whipping up poffertjes pancakes.
Operating 4.30–9.30pm from Wednesday–Sunday in its first two weeks — then starting at 2pm on Saturdays and Sundays from Saturday, March 18 — all at the Powerhouse forecourt and its surrounding parks, Night Feast's first-ever run will survey Thai, Vietnamese, Japanese, Middle Eastern, Italian, Greek, modern Australian cuisine and more across 20-plus gourmet food stalls. Communal feasting is one of Night Feast's big focuses — and getting the restaurants taking part in Night Feast to dish up the absolute top thing on their menus is another. That means tucking into their signature dishes, but by the river in New Farm.
Night Feast will also feature an open fire pit for roasting and a dedicated dessert bar, plus cocktails and a top-notch wine list to wash it all down with. But, the food side of the program is just one of the highlights. The arts and music program looks just as ace, giant illuminated humanoids and laser beams that look like intergalactic events included.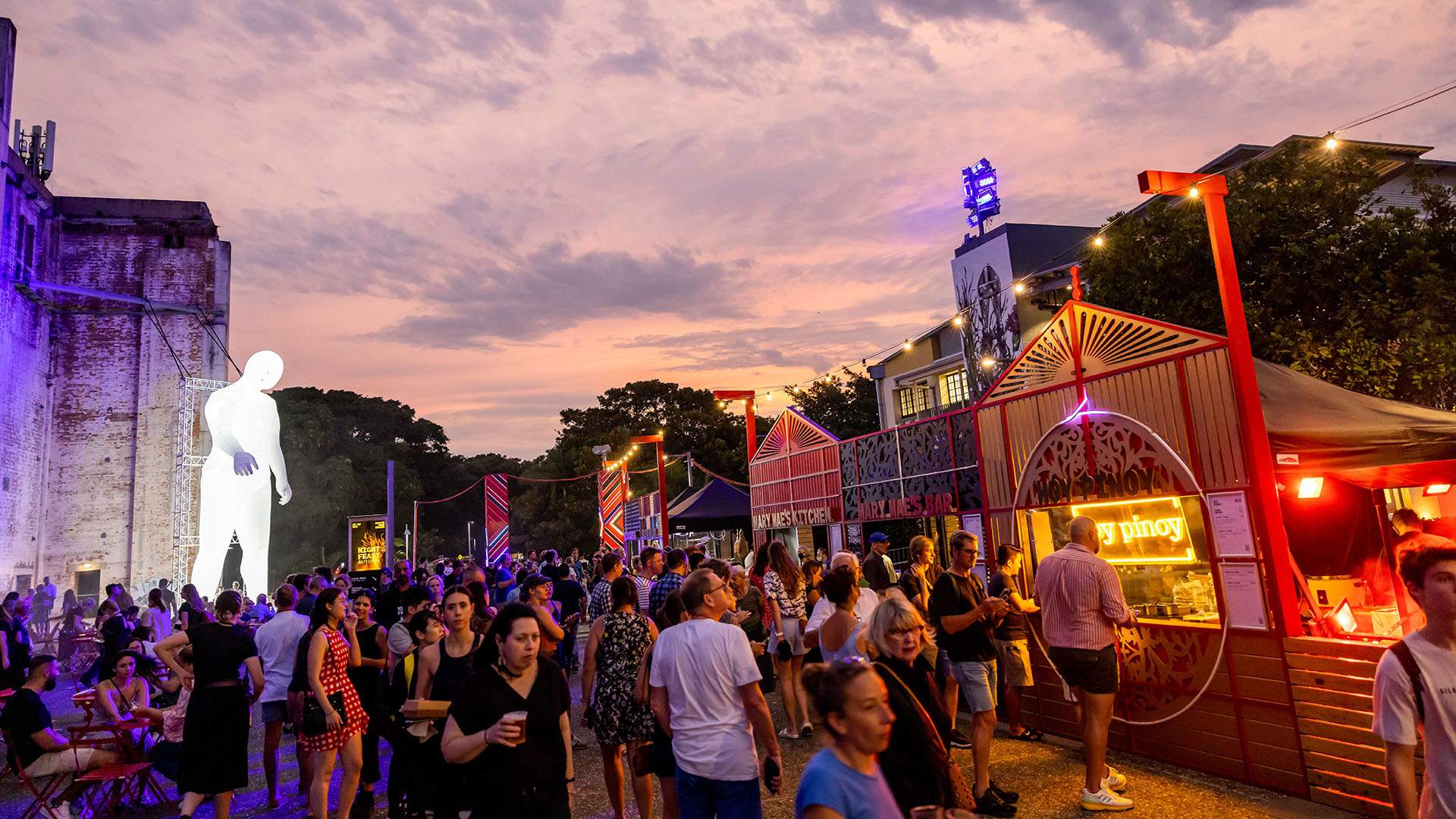 Those towering glowing figures come courtesy of Amanda Parer's Fantastic Planet, which has been to Brisbane before alongside other the artist's past works such as Intrude, What's That and Lost. And those lasers are the product of Australian audiovisual artist Robin Fox. His site-specific Brisbane Constellation is all sound and light, as aided by a matrix of crystal refractors. The aim: to make you hear what you see and feel.
Attendees will also enjoy Zimoun's symphony made with everyday materials; Rising Lotus, a series of large triangular sculptures that'll loom over the venue; the refracted sunlight-focused Tower; Theatre of Thunder's Succulenticca, aka costumed creatures roving around; and an old-school gaming den courtesy of Netherworld. Or, via Swiss site-performance designer and fog artist Tom Mùller, Steam Works will deploy four large industrial fog generators to pump out steam twice a day, in a piece that responds to Brisbane Powerhouse's industrial past.
The music roster features Akala Newman, GLVES, Lucy Francesca Dron, Mark Crotti and Nicole McKinney on different dates, plus Paris Irwin, Paulina and the QUIVR DJS.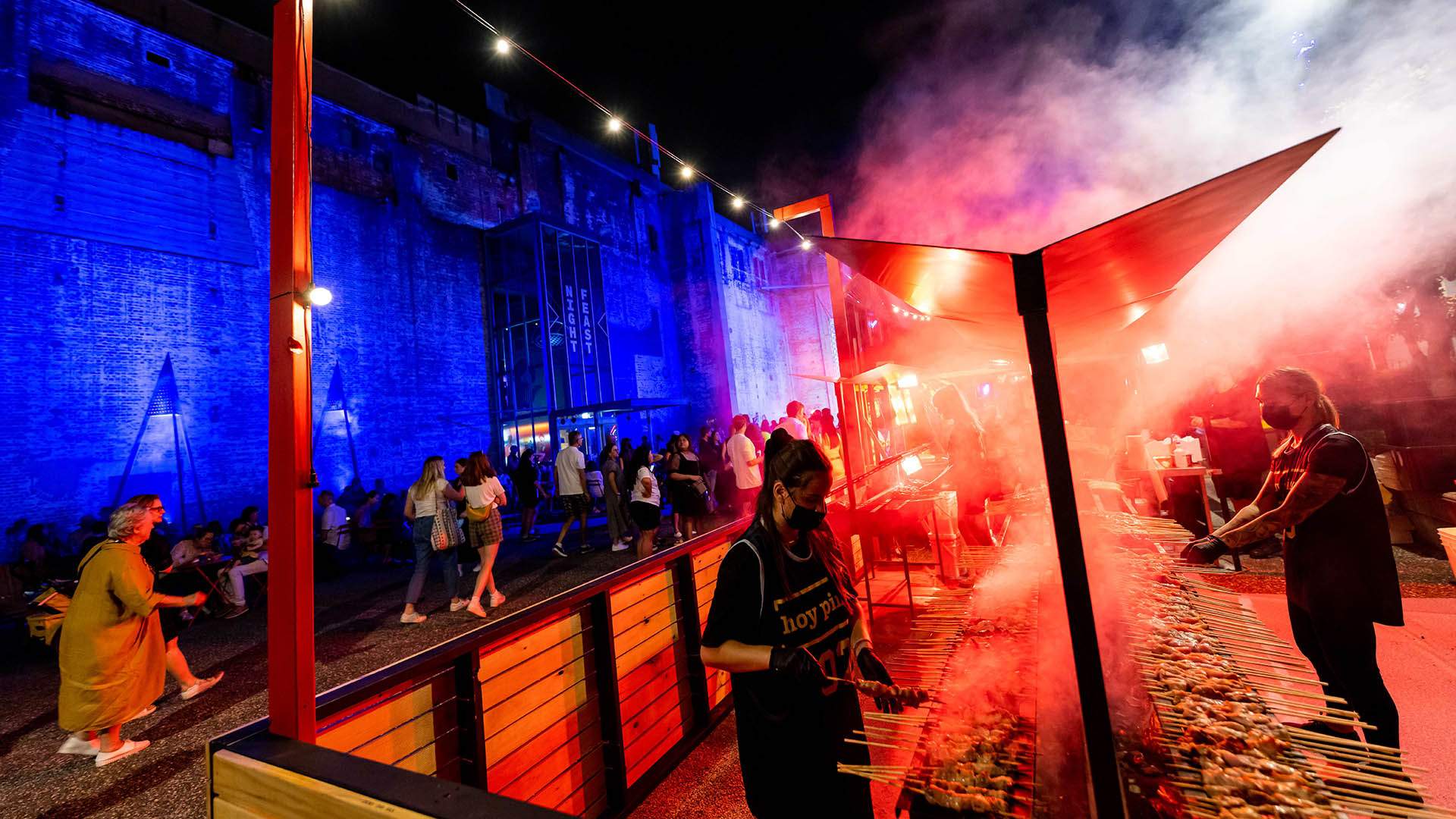 Images: Markus Ravik / Lachlan Douglas.
Introducing Concrete Playground Trips
Book unique getaways and adventures dreamed up by our editors