Night Feast — Spring 2023
Brisbane Powerhouse's neon-lit food market will bring its food, booze, art and tunes back to New Farm in October.
The chef behind of Brisbane's favourite Japanese eateries is opening an izakaya at one of the River City's top new events for 2023. The figure: Taro Akimoto from Taro's Ramen, one of Brissie's best spots to get slurping. The new venture: a pop-up at Brisbane Powerhouse. And the event: Night Feast, the neon-lit night food market that returns for a month of delicious dishes in October.
Akimoto is joining forces with Sapporo for Sapporo Izakaya by Taro, one of the new additions to Night Feast's second season from Wednesday, October 4–Sunday, October 29. The chef responsible for Taro's Ramen's four outposts will be in charge of the menu, while Sapporo ambassador and beer sensei Shinichiro Shimo will pair his dishes with brews, all in a space that's been designed and crafted to bring a classic Japanese restaurant experience to New Farm's riverside.
That's just one of Night Feast's upcoming October highlights. Coming back for season two in 2023 was always in the works, with the event announced in 2022 as a twice-yearly affair. It debuted in March to great success — more than 125,000 people ate and drank their way through the night market's first-ever season, with 67,258 wontons, 28,352 skewers and 6306 oysters devoured in the process — and now aims to beat that with its winning blend of food, booze and art.
One key difference, of course, is celebrating spring instead of autumn. Eateries Donna Chang, Gerard's Bistro, E'cco Bistro, Dalton Catering, Saison Salumi, LouisB, Lek's Thai, Mary Mae's, Hoy Pinoy, Wonderbao, Anchelee and Bugsters don't care about the change of season, locking in their second round at Night Feast after also serving up bites in March. This time, they'll be joined on the food lineup by Essa, Nota, Southside, Bar Alto, The Green and Nosferatu Gin (who'll also be doing dessert), as well as MAYA and La Mano.
Exactly what each eatery will be dishing up hasn't been revealed as yet, but duck, waffles and birria tacos are being teased, along with a mezze spread. Communal dining is one of Night Feast's big focuses — including in the returning garden lounge — plus having the restaurants taking part in Night Feast to dish up the absolute top thing on their menus. In March, that meant tucking into every spot's signature options, just by the river in New Farm.
Entertainment-wise, attendees can look forward to For Whom the Bell Tolls, Bridie Hooper's mix of circus and the sounds of, yes, a bell; a wandering serenade by The Huxleys, who are also on Brisbane Powerhouse's LGBTQIA+ MELT Festival's lineup for spring; and Multitudes by Tin and Ed, aka ten lit-up giants that'll tower over the precinct (and, thematically, offer a fitting successor to Amanda Parer's Fantastic Planet in March).
Live tunes will provide by a soundtrack by a roster of talents that includes Hol Hibbo, Aunty Stan, Benny Chiu, Dameeeela, Josh Armour, Neesha Alexander and more — and QUIVR DJs will bring the beats.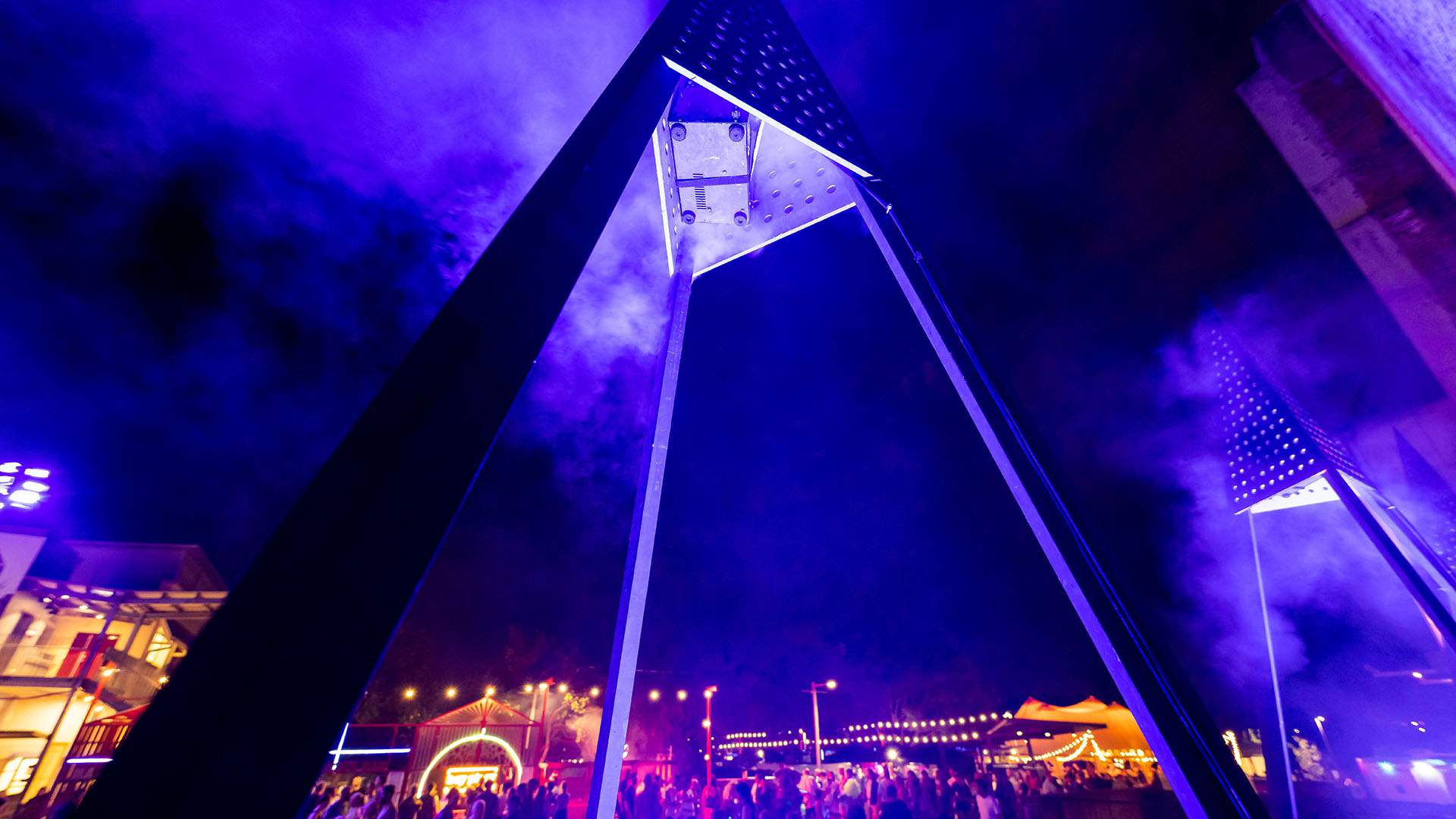 Images: Pixel Frame / Markus Ravik / Lachlan Douglas.
Concrete Playground Trips
Book unique getaways and adventures dreamed up by our editors