Where to Find the Best Ice Cream and Gelato in Brisbane
The temperature is rising and the gelato is freezing — cool down with Brisbane's top tier of iced confections this summer.
For many, it seems that gelato has assumed ice cream's mantle as the height of iced indulgence. Lower fat content, less air incorporated during the churning process and a lower serving temperature all contribute to its smooth, elastic allure. And plenty of folks argue that these differences — especially in the preparation process — give gelato a more intense flavour.
But ice cream will always have its die-hard fans. It's frosty, creamy and sweet — how could it not? So, if you prefer its rich dairy goodness and light consistency, many old-school ice cream vendors also await you.
Indeed, in the gelato, ice cream and sorbet game, there's a bit of variety out there. Below are our favourite purveyors of chilled confectionery in the River City — Brisbane's best ice cream and gelato, in fact — whether you like it in a cone, in a cup, on a stick, in a sandwich or as part of a decadent sundae.
Recommended reads:
The Best Beaches in and Around Brisbane
The Best Waterfront Bars and Restaurants in Brisbane
The Best Beer Gardens in Brisbane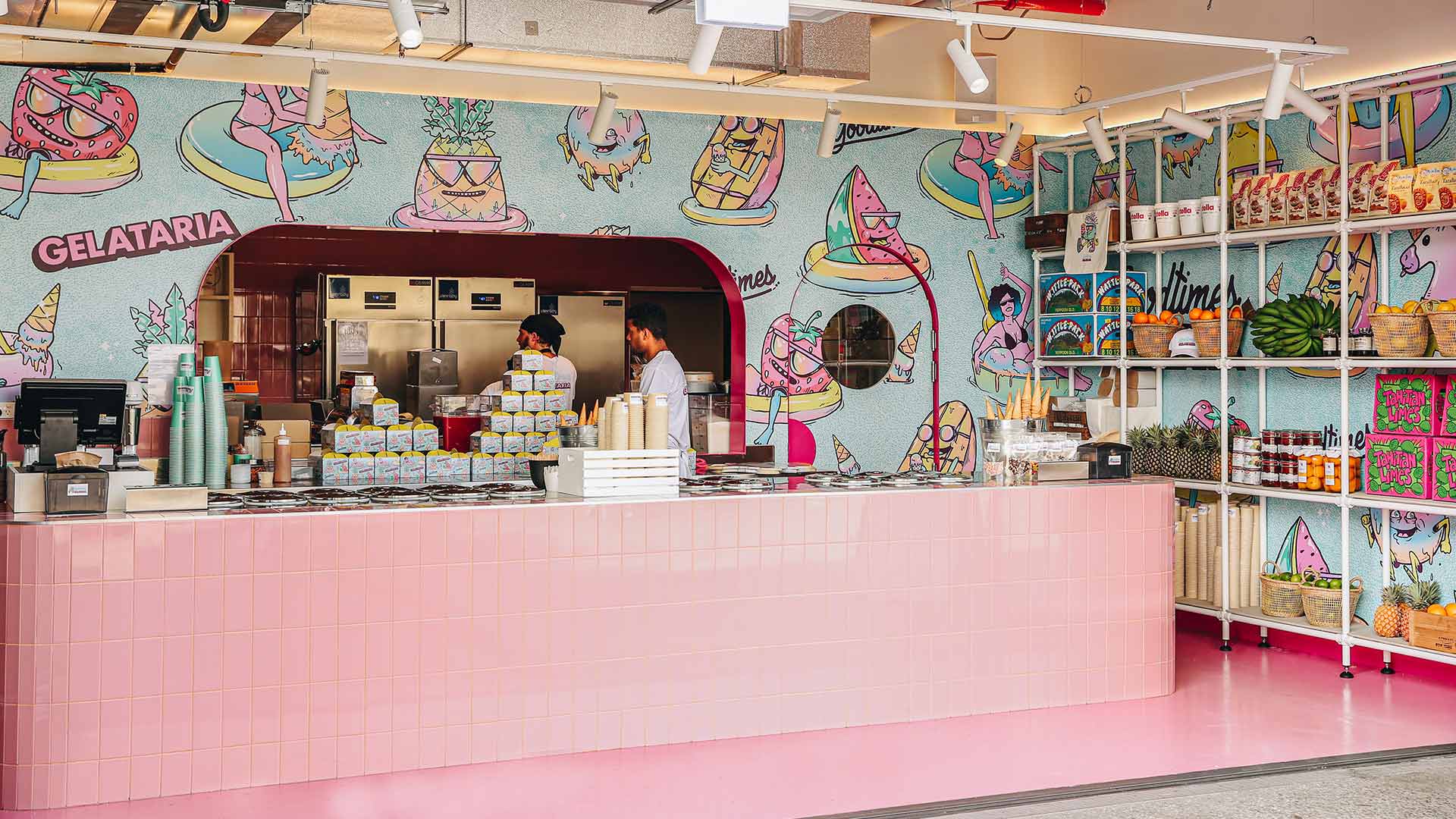 GOODTIMES GELATERIA, CBD
If pastel colours make you think of gelato — and make your stomach rumble — then prepare to indulge at Goodtimes, home to some of the best gelato in Brisbane. The Howard Smith Wharves dessert spot serves its scoops from a pink counter that'll make you crave ice cream aplenty. And that's exactly what you'll get here, with a whopping 22 flavours to choose from at any given time.
A few of our top picks include the cassata (candied citrus fruit), the apple pie (freshly baked pie folded through cinnamon gelato) and the plum and yoghurt. Given that you'll be enjoying this frosty treat by the water, you can't really go wrong. If you want even more Goodtimes in your life, the shop also hires out a gelato cart for private events.

GELATO MESSINA, SOUTH BRISBANE AND FORTITUDE VALLEY
Remember that feeling you had as a kid when Christmas finally rolled around? Excitement, enthusiasm and an inability to decide just what you should do first? That's what walking into Gelato Messina's two Brisbane stores feels like. Inside the chain's South Brisbane and Fortitude Valley shops, you'll find display cases filled with flavours of Messina's finest.
Flavour-wise, the range spans popular best-sellers like salted caramel and white chocolate, the tasty pandan and coconut sorbet, and a mint choc-chip so distinctive, the staff will ask you if you've had it before. Yes, it's okay to want to try everything. You're only human, after all.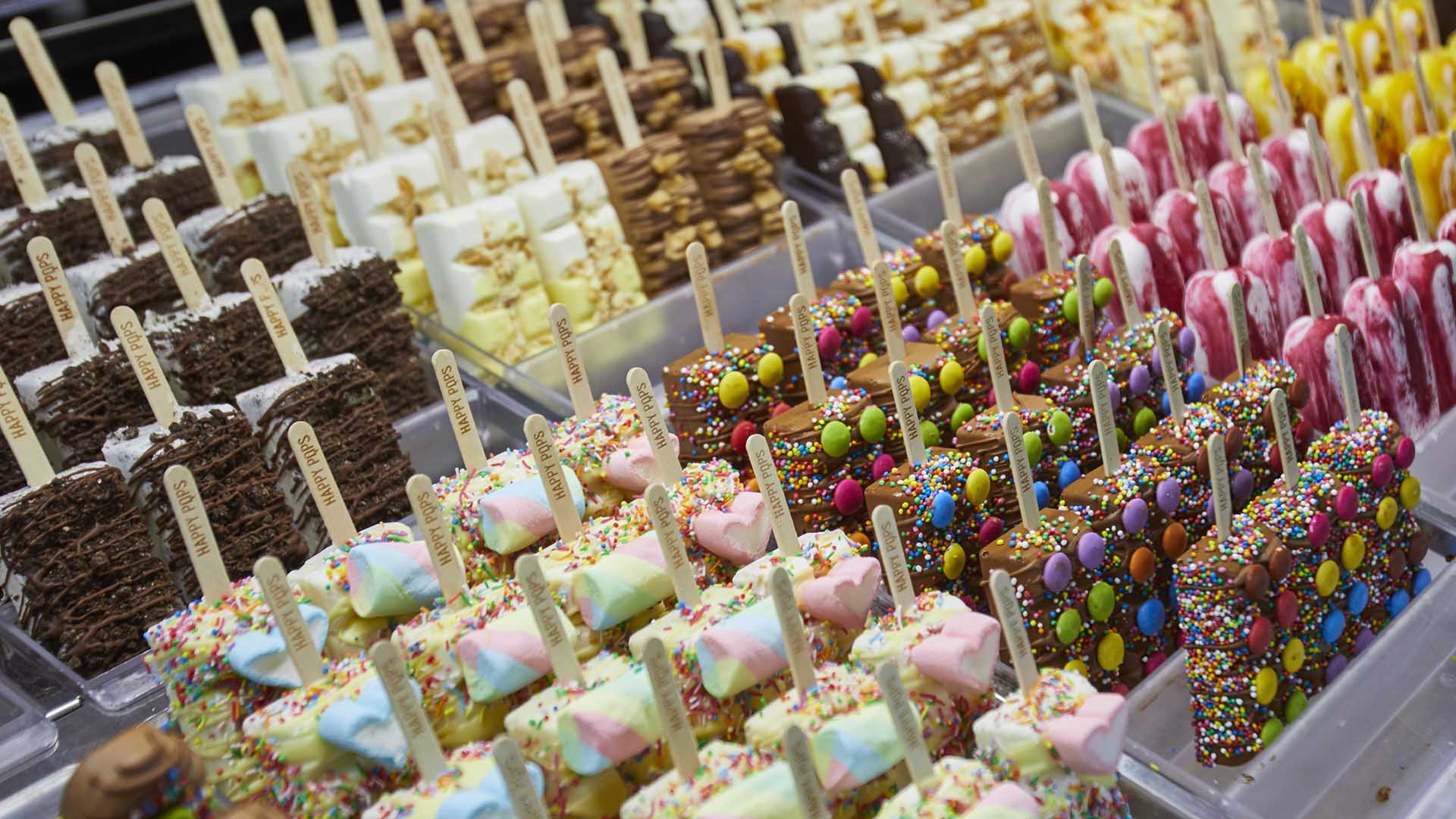 HAPPY POPS, SOUTH BRISBANE
Already a hit in Noosa, Happy Pops made the jump to South Bank in 2019 — and taste buds around Brisbane were pleased. Instead of in a cup or cone, these artisanal gelato creations come on a stick and are available in heaps of flavours. Specials have included rum and raisin, rocky road and white chocolate, cookie dough and macadamia.
If you like to get creative, you can also design your own gelato pop in store. Yep, just think of the possibilities. Apart from all that gelato, Happy Pops also offers warm brownies and choc-chip cookies on a stick, plus gelato shakes to boot.
MILANI HOUSE OF GELATO, HAMILTON
A Hamilton mainstay, Milani House of Gelato is one of Racecourse Road's must-visit spots, whether you're heading by after dinner or making gelato your main meal. The Brisbane gelato spot has picked up a host of awards over the years, nabbing honours at the Australian Dairy Awards, the Australia Dairy Product Competition and the Queensland Royal Food and Wine Show.
The panna cotta ranks among its most decorated creations, though you can't go wrong with dolce latte, pistachio or one of its many chocolate bar-inspired varieties — think Snickers, Mars Bar, Bounty and Crunchie gelato. Milani also dishes up lavish (and customisable) sundaes, if that's your thing. But given the store's prime location, prepare to have plenty of company.

LICK! ICE CREAM, PADDINGTON AND GRACEVILLE
After 11 years as a dessert company, Lick! Ice Cream took the next step in 2015 and opened its own Graceville store — and it also boasts an outpost in Paddington. The Lick! claim-to-fame is its Ekka-style strawberry ice cream, available all year round.
In case anyone is after something different, the Brisbane ice cream store's rotating range currently spans an array of signature creations. Must-tries include peanut butter chocolate chip, cookies and cream, and bubblegum and marshmallow, as well as Nutella. For summer, tuck into one of the refreshing sorbets, with flavours spanning green apple and ginger, mandarin and mint, and passionfruit and lime.

LA MACELLERIA, VARIOUS LOCATIONS
Simply eating gelato is obviously a delight, but what if you learnt how to make your own? As well as serving up delicious scoops, La Macelleria Gelateria in West End hosts regular workshops in the art of gelato. Roll up your sleeves, listen up and become your own gelato-maestro. Best of all, you get to take home the fruits of your labour, which means you'll have gelato for the week (or as long as it lasts).
La Macelleria also has Brisbane ice creameries in Teneriffe and Woolloongabba. Yep, these authentic Italian-style desserts have plenty of fans all over the city.

NOM NOM NATURAL GELATO, BULIMBA
Those fond of sweet, frozen dairy treats best flock to Bulimba, where an array of top-notch flavours await. Combining Maleny dairy milk and cream with the best ingredients, Nom Nom Natural Gelato's nom-worthy range includes all the usual suspects, plus heaps of specialties.
Think salted pistachio, cookies and cream, caramelised macadamia and fresh mint chocolate. There's also vegan gelato on offer — including the soy-based crème brûlée and dark chocolate — plus a wide range of fresh and fruity sorbets to tuck into.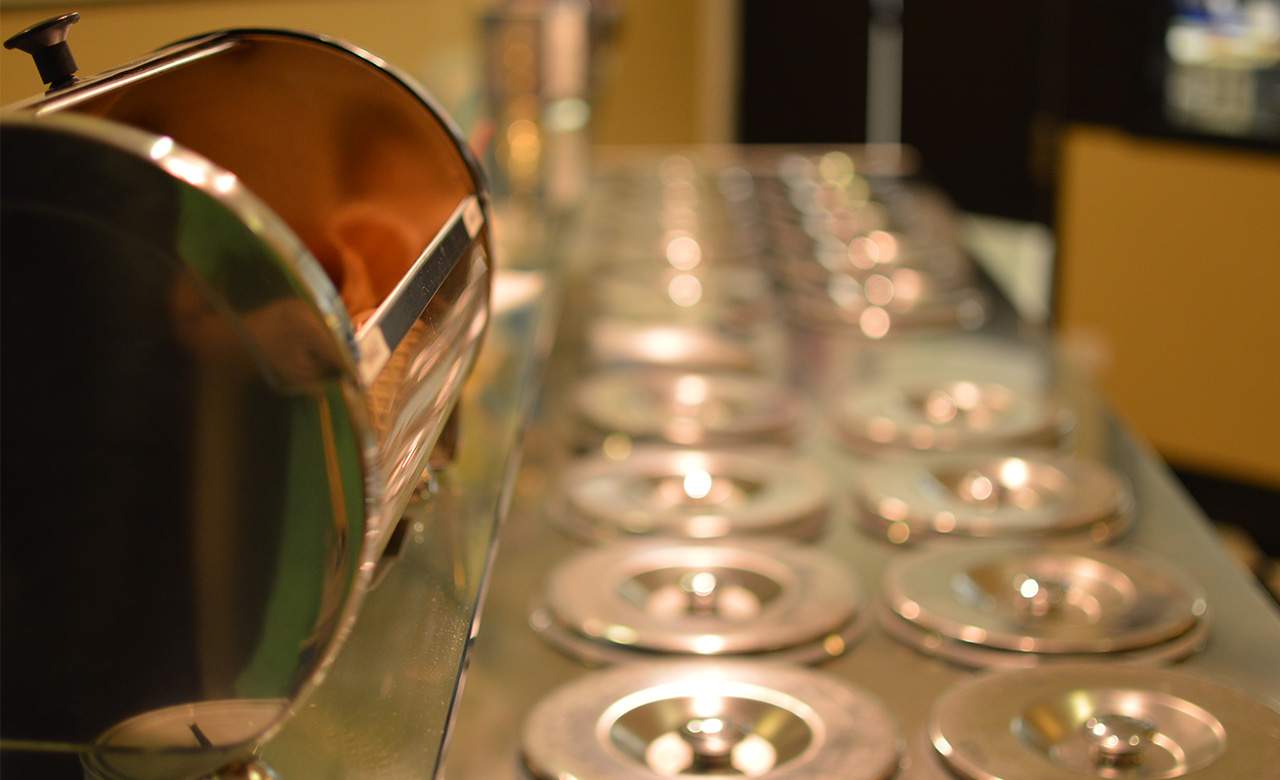 GELATERIA CREMONA, PADDINGTON
A long-term Rosalie favourite, Gelateria Cremona is Brisbane's home of Christmas pudding gelato at the right time of year. But you can also grab everything from cappuccino and liquorice to durian and bush lemon flavours, too. Plus granitas are on offer each summer — think watermelon and chocolate flavours — and refreshing sorbets like mango and blood orange rotate seasonally.
In fact, the highly regarded Baroona Road gelato cafe serves up a constant rotation of out-of-the-box options, so you'll find something different on each visit. The scoops here are silky and delicious and, as for the place itself, it has a charming ice cream parlour vibe.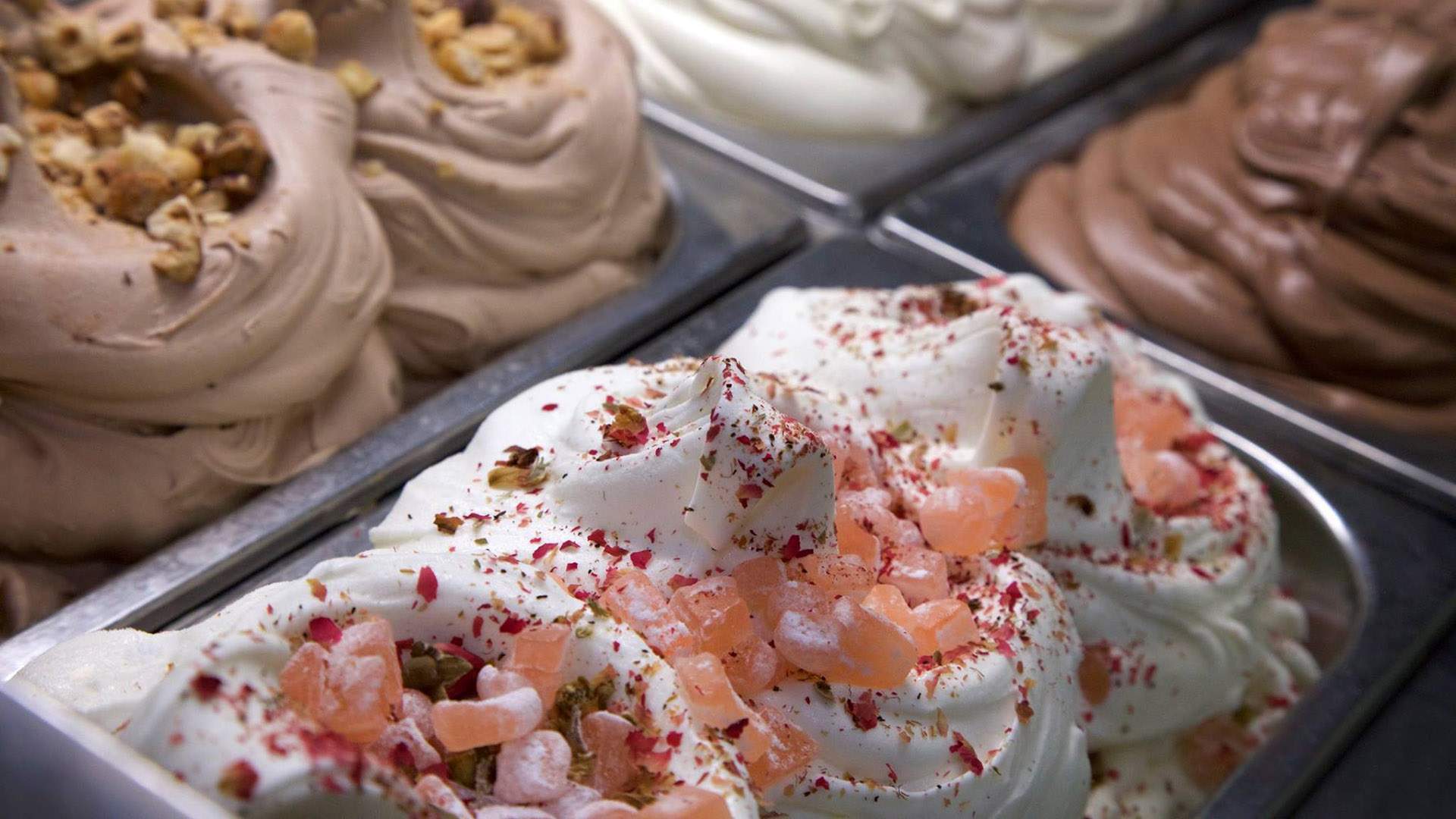 SUGO IT, BULIMBA
Dine in at Bulimba's Sugo IT and you can follow up your pizza or pasta with a bowl of gelato. Keen to simply drop by for a few scoops? You can do that as well. At the back of the restaurant, down a hidden side alleyway, you'll find a deli and ice creamery that's all about gelato and sorbet made the traditional way.
Nab a cone of peanut butter and chocolate or a cup toasted marshmallow — or opt for a tasting bowl of four small scoops if you just can't decide on one flavour. Some flavours stick around, others rotate, and take-home packs are also on offer. It doesn't purely specialise in the frozen stuff, but it is still home to some of the best ice cream and gelato in Brisbane.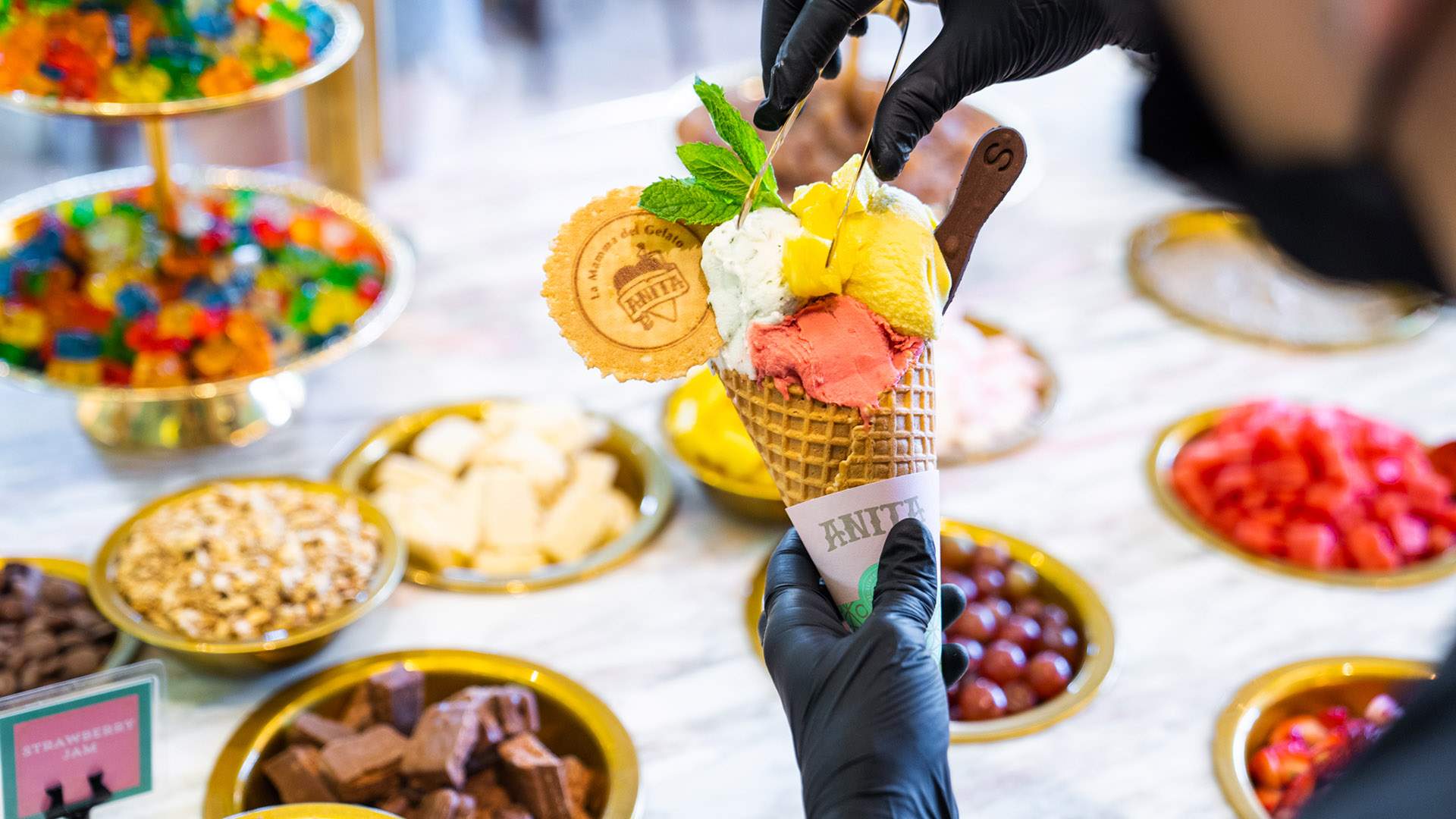 ANITA GELATO, WEST END
When West Village revamped its chosen patch of West End, it took over a site of significance. From 1928–1996, the Boundary Street spot was home to the Peters Ice Cream Factory, which churned out frosty dairy desserts for seven decades. That's why, to mark the precinct's past, West Village hosts an annual ice cream festival — and it's also now home to Anita Gelato.
The international chain already has stores in Barcelona, New York, San Juan, Tel Aviv and Sydney, but its West Village spot marks its first Queensland shop. Its specialty: boutique handmade gelato, with more than 150 flavours in its range. That hefty lineup includes yogurt and sorbets, too, as well as its organic, sugar-free, fat-free, soy-based and real cream-based gelato.
Top image: Gelato Messina
Concrete Playground Trips
Book unique getaways and adventures dreamed up by our editors