Brisbane Powerhouse's Neon-Lit Night Feast Food Market Has Unveiled Its March Culinary Headliners
Chefs from e'cco Bistro, Donna Chang, Ngon and Mary Mae's, plus City Winery's vino maker, lead the debut event's lineup.
Usually when a hungry Brisbanite wants to tuck into dishes whipped up by e'cco Bistro's Philip Johnson, Lyndon Tyers at Donna Chang and Tuan Nguyen at Ngon, then sip City Winery's vino thanks to winemaker Dave Cush, multiple stops around the River City are in order. But for the month of March, a simple trip to Brisbane Powerhouse will do the trick — all thanks to Night Feast, the waterside New Farm venue's new neon-lit food market.
At an event that's as much a festival as a market, the above Brissie culinary names will be joined by Lek Senee from Lek's Thai and Patricio Sarno from Mary Mae's Kitchen & Bar on the inaugural lineup, which'll debut from Wednesday, March 1–Sunday, March 26, 2023 — operating 4.30–9.30pm Wednesday–Sunday. As initially announced in 2022 among a slate of additions and changes to Brisbane Powerhouse, Night Feast will pop up twice a year after its first-ever run, with a second 2023 fest already locked in for Wednesday, October 4–Sunday, October 29, 2023.
The market's just-announced March headliners join the already-revealed Martin Boetz from Longrain, as part of a full bill that's set to span Thai, Vietnamese, Japanese, Middle Eastern, Italian, Greek and modern Australian cuisine — and more. Also included: 20-plus gourmet food stalls, an open fire pit for roasting and a dedicated dessert bar, plus cocktails and a top-notch wine list to wash it all down with.
Communal feasting will be one of Night Feast's big focuses — and getting the restaurants taking part in Night Feast to dish up the absolute top thing on their menus is another.
"Night Feast gives visitors an opportunity to sample the best of Brisbane's gourmet food scene within an immersive, outdoor neon-noir environment," said the event's food curator Lizzie Loel.
"Our handpicked restaurants have been invited to showcase their signature dishes only, meaning you can experience the city's most exclusive gastronomic delights in one location."
Night Feast's autumn kickoff isn't just about enjoying a bite and a sip, however. Also on the menu: installations, DJs, live music and roaming performances, plus work from visual and performance artists. That'll all take over the Powerhouse forecourt and surrounding parks, which'll be decked out with Blade Runner-meets-Queensland theming — with a dash of Cantonese culture.
The entire event is aiming for a dreamlike multi-sensory experience across its own temporary village. As for the design of the site itself, that comes courtesy of Bruce McKinven, with Night Feast capitalising upon his experience at Dark Mofo.
From an arts lineup also overseen by Brisbane Powerhouse Arts Program Director Brad Spolding, Amanda Parer leads the bill so far, which likely means more glowing, towering, eye-catching pieces (see: her past Brisbane works Intrude, What's That, Lost and Fantastic Planet).
Night Feast's premiere overlaps with Powerhouse's also-debuting "festival of other music" ΩHM, and is set to share Australian audiovisual artist Robin Fox on its program with that other newcomer. And, Swiss site-performance designer and fog artist Tom Mùller will also bust out his best for Night Feast.
Night Feast follows Brisbane Powerhouse's new Pleasuredome, a riverside events and performance space with bars and al fresco lounges that popped up permanently in late 2022 — as well as the temporary Kaleidoscope, a 700-square-metre maze of mirrors which stopped by last year.
A permanent outdoor cinema was also announced back in June 2022, initially to launch this past spring and run year-round, screening movies under the stars — and taking advantage of the fact that that's something you can do no matter the season in Brissie, even in winter. Exactly when that'll now arrive hasn't yet been revealed.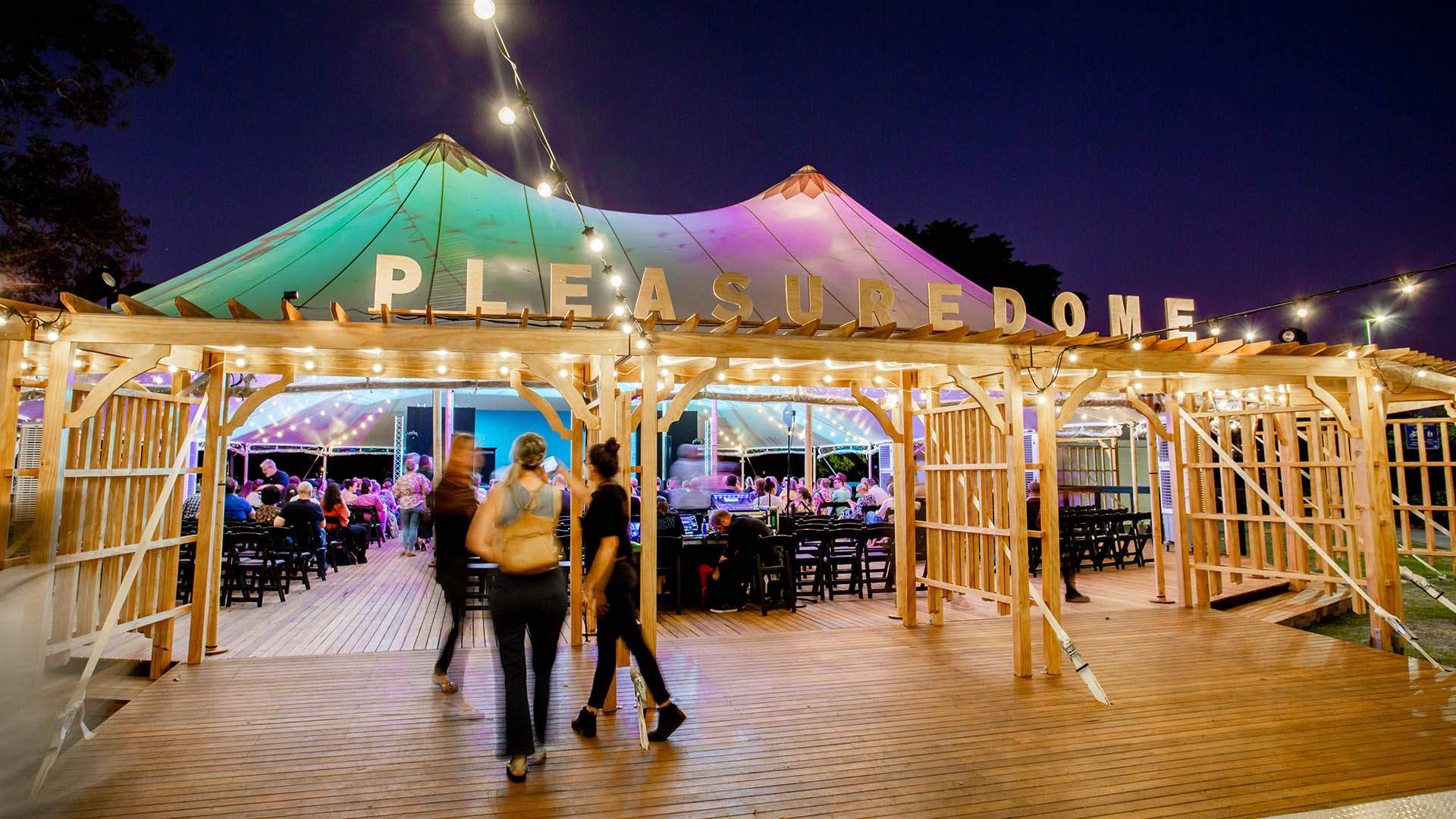 Night Feast will debut at Brisbane Powerhouse, 119 Lamington Street, New Farm, from Wednesday, March 1–Sunday, March 26 — operating 4.30–9.30pm Wednesday–Sunday. For more information, head to the Brisbane Powerhouse website.
Night Feast will then return again from Wednesday, October 4–Sunday, October 29 — plus twice a year after that.
Top image: Bruce McKinven Design.
Concrete Playground Trips
Book unique getaways and adventures dreamed up by our editors