Maya Rudolph-Starring Billionaire Satire 'Loot' Is Your Next Savvy Must-See Workplace Comedy
Created by ex-'Parks and Recreation' writers Alan Yang and Matt Hubbard, Apple TV+'s new sitcom boasts the same mix of humour and warmth.
Aptly given its title, new Apple TV+ sitcom Loot doesn't look cheap — or sound it. It's partly filmed in one of America's biggest private homes, an enormous mansion with 21 bedrooms, five pools, a bowling alley and a cinema. It's filled with well-known needle drops that come quickly and often, with one episode featuring three Daft Punk tracks alone. It couldn't scream louder or drip harder with excess; the series is about a mega-rich tech whiz's wife who gets $87 billion in their public and messy breakup, after all. And, it is inescapably made by a company that's a big technology behemoth itself, and has been splashing stacks of cash to build its streaming roster (see: The Morning Show, Ted Lasso, Severance, Physical, Prehistoric Planet, Foundation, The Shrink Next Door, Shining Girls, Slow Horses, Lisey's Story and more).
Loot is also clearly a satire. Across its ten-episode first season — with the first three episodes dropping on Friday, June 24, and the rest following weekly — it parodies all that wealth, the people who have it and the lives lived in bubbles due to it. It also lampoons the idea that the lavishness that money can and does buy for the one percent can be balanced by giving a fraction of it to worthy causes. Yes, Loot is the latest entry in the eat-the-rich genre, alongside The White Lotus, Succession, Squid Game and Killing It of late. Hailing from creators Alan Yang and Matt Hubbard, both former Parks and Recreation writers, it also spins an immensely entertaining workplace sitcom around its pointed premise.
The setup: amid being gifted a mega yacht for her birthday, then jumping to a party in that aforementioned sprawling home, Molly Novak (Maya Rudolph, Big Mouth) discovers that her husband John (Adam Scott, Severance) is cheating on her. Post-divorce, after that huge settlement and a stint of partying around the globe with her assistant Nicholas (Joel Kim Booster, Fire Island), she gets a call from Sofia Salinas (Michaela Jaé Rodriguez, Pose), the head of the foundation she's forgotten bears her name (and even exists). With Molly's drunken decadence all over the news, the charity is finding it difficult to do its work. So, the organisation's namesake decides to ditch the revelry — and her married moniker, becoming Molly Wells — and put all that dough to better use. She also commits to playing an active role in how her funds can truly help people.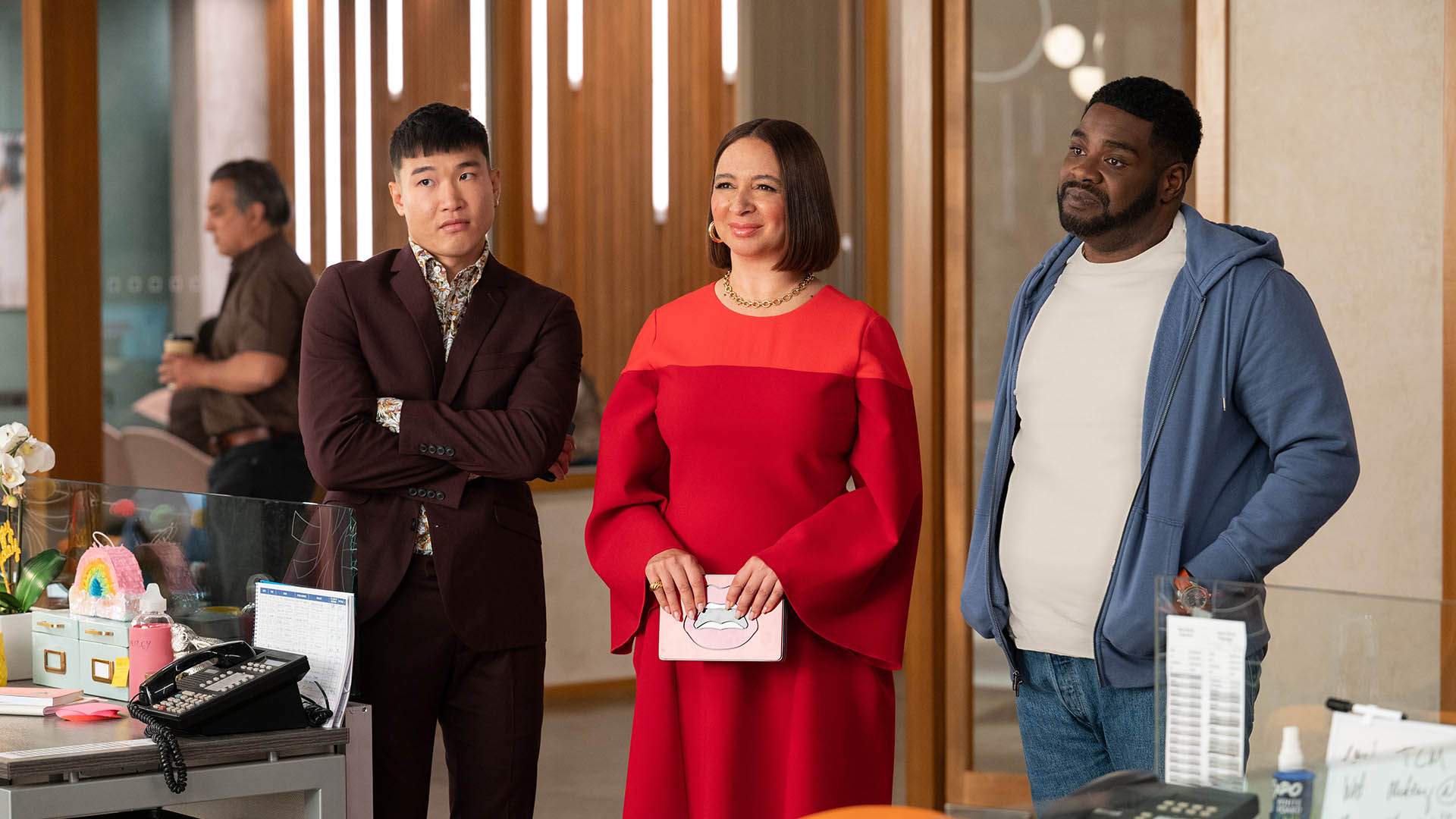 As workplaces in workplace comedies always do — Yang also has The Good Place on his resume, which became a workplace comedy in its own way; Hubbard has written for 30 Rock and Superstore as well — Molly's foundation is staffed by a motley crew. Sofia is tough and wholly dedicated to making people's lives better. Following Molly over to the new gig, Nicholas is cutting in his comments and cut about the change in his lifestyle. Then there's Howard (Ron Funches, AP Bio), the sweet and supportive cousin that Molly barely remembers at first; mild-mannered divorced dad and accountant Arthur (Nat Faxon, Our Flag Means Death), who starts to hope his boss will become something more; and Ainsley (Stephanie Styles, Bombshell) and Rhonda (Meagen Fay, Dopesick), the requisite TV office oddballs. Re-entering the working world after two decades is quite the culture shock for Molly, unsurprisingly, and so is being part of a team again.
Loot is always the show it instantly seems it will be: a workplace sitcom with a clear target in its sights, and a comedy with as much warmth as humour. It directs its scathing digs towards moneyed indulgence and ridiculousness — in Molly's life and the attitudes that come with it, there's obviously plenty to poke fun of — and its heart towards her coworkers and their efforts. It tries to swing both ways with Molly herself, pointing out that the life she's become accustomed to is patently absurd, but also endeavouring to demonstrate how she's trying to learn and grow. Here, a running gag has David Chang playing himself as Molly's overworked personal chef, for instance. Also, when Rudolph breaks out her Beyonce impression again, it's when Molly couldn't be in a more inappropriate, tone-deaf and cringe-inducing setting. But Loot's protagonist is also never one-note; that she keeps swinging between cashed-up extravagance and genuinely attempting to do better makes her a far more fleshed-out character.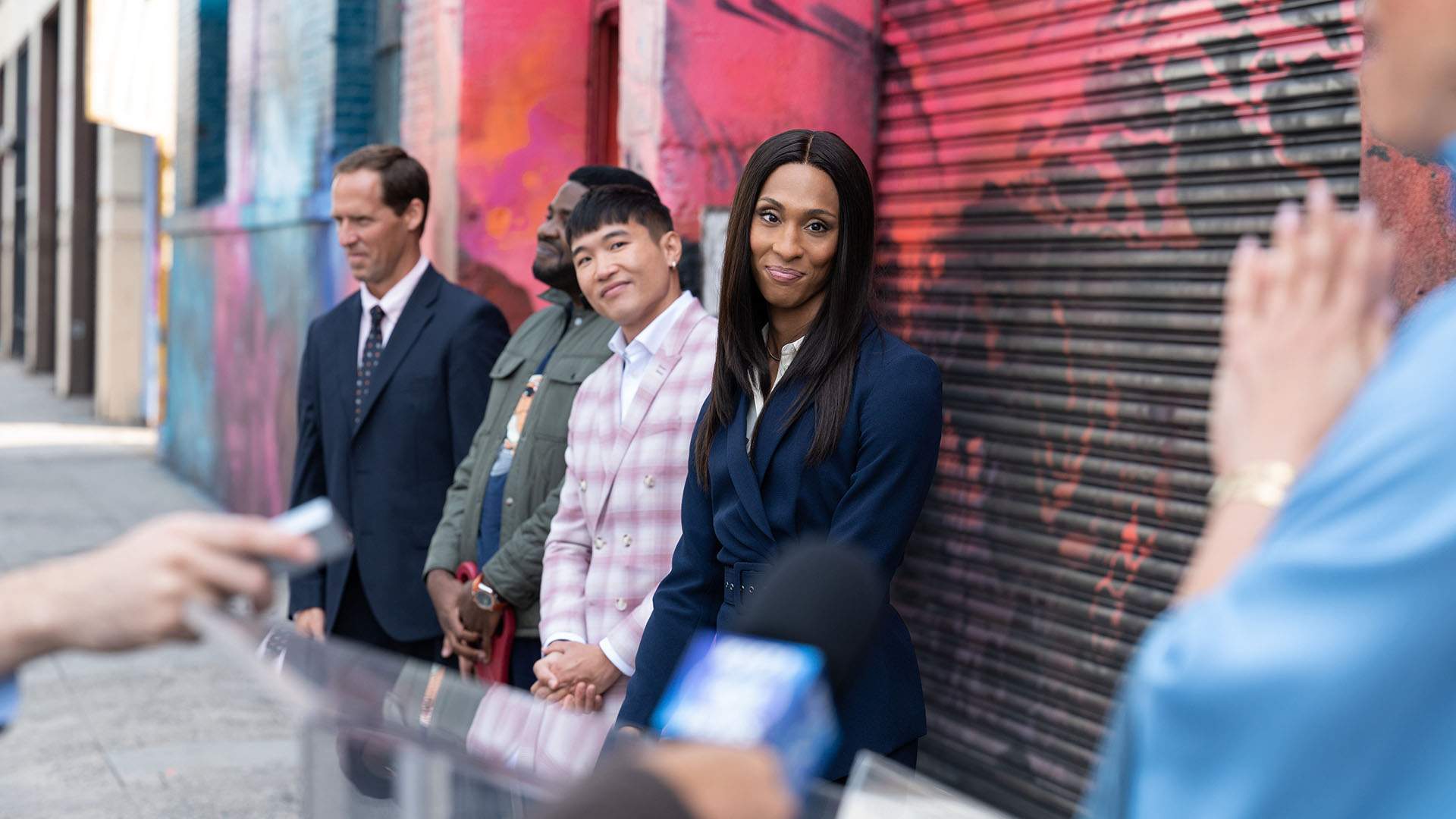 Molly is also a showcase part for the always-wonderful Rudolph, who really should've had a sitcom like this on her resume by now. She's featured in a few in her post-Saturday Night Live career, but in supporting parts, including stealing every scene she's in in both The Good Place and Up All Night. She's also glorious in the exceptional Forever, the 2018 existential comedy that similarly stems from Yang and Hubbard, yet sadly only lasted one season. But while Amy Poehler had Parks and Recreation, and Tina Fey had 30 Rock, this kind of series has eluded Rudolph. TV has been worse for it — and Loot wouldn't have worked for a second without her. It already navigates such a delicate tightrope, satirising the ultra rich while embracing Molly's quest to be more than just an affluent caricature. Indeed, it takes Rudolph's adaptability, her willingness to play the joke and also unpack it, her presence, and her charm to anchor the show's parody and empathy in tandem.
If this entertaining must-see returns for a second season, it might be a different program, though. That's also a great thing. Loot's initial batch of episodes is a little like a Rorschach test: some viewers will see what it's trying to savage while still being a warmhearted workplace comedy, others will mostly notice that it doesn't chomp down as hard as Succession and its wealth-eviscerating brethren. The show is happy to sit in the first category for now but, still with its upbeat vibe, it makes bigger moves towards the other camp by the time its debut run wraps up. Seeing how it builds is one of Loot's thrills — alongside the tour de force that is Rudolph, including in Molly's Hot Ones appearance; Booster and Funches repeatedly proving a joy, playing to their strengths separately and together; Scott at his smug best among a well-rounded ensemble; and the series' deeper skewering and throwaway gags alike, of course.
Check out the trailer for Loot below:
Loot is available to stream via Apple TV+.
Concrete Playground Trips
Book unique getaways and adventures dreamed up by our editors