Ten Must-See Films at the 2019 Sydney Film Festival
It's cold and rainy, time to head indoors to catch a Cannes winner, Olivia Wilde's directorial debut and a flick about a haunted dress with Gwendoline Christie.
In the lead up to this year's Sydney Film Festival, the event's powers-that-be announced a piece of particularly exciting news: the re-appointment of festival director Nashen Moodley for four more years. That'll take his reign through until 2023, marking a 12-year run in the fest's top job. It'll also give Sydneysiders plenty more of his eclectic programming to look forward to.
If you've been to SFF since Moodley took the helm in 2012, then you know why that's exciting — and what that means for your future festival trips. Expect more international festival hits, thoughtful dramas, weird and wonderful delights, local highlights and the like, which are always part of his annual lineup. In fact, that's exactly what's on offer in 2019.
Hitting the big screens at a host of Sydney venues across 12 days, this year's SFF kicks into gear from Wednesday, June 5 to Sunday, June 16, bringing everything from star-studded zombie flicks to an all-night movie marathon to a showcase of pioneering female Australian filmmakers along with it. If you're particularly excited about Jim Jarmusch's The Dead Don't Die, we're sorry to say that all three sessions of the zom-com have already sold out; however, the fest's 300-plus movie program boasts a wealth of other standouts.
Fancy multiple Cannes winners, including this year's Palme d'Or recipient (and latest movie by Okja's Bong Joon-ho)? One of the smartest and funniest high school-set comedies in years? A wise, warm and eye-opening Australian documentary about an Indigenous Australian boy in Alice Springs? Elisabeth Moss as an unhinged rocker? They're all on offer — and they're all on our must-see list. Keep reading for more details, more recommendations and more ways to spend more time in a cinema over the next two weeks.
PARASITE
If we were already eagerly anticipating Bong Joon-ho's latest film at the beginning of the year, then consider us boiling over with enthusiasm now. Just last month, it picked up Cannes' top prize, with the thoroughly deserving Bong becoming the first South Korean filmmaker to earn the coveted award. Even without nabbing the glittering trophy, Parasite is worth ample excitement. Promising a twisty story about two families at different ends of the socio-economic scale, it follows the mayhem and mishaps that arise when they cross paths. Bong's regular star Song Kang-ho (The Host, Snowpiercer) features among the cast, and the movie has been compared to last year's fellow Palme d'Or winner Shoplifters — but much, much, much darker.

IN MY BLOOD IT RUNS
It has been four years since Maya Newell gave Australia one of its most engaging and diverse slices of childhood life in the form of the applauded Gayby Baby. For her follow-up, she's still pondering the country's next generation, their hopes, dreams and everyday existence, as well as the way that today's attitudes and policies may impact their future. This time, it's charming 10-year old Alice Springs boy Dujuan who is in the spotlight, sharing his story with wisdom and passion beyond his years. Dujuan is a healer, highly connected to his culture and deeply concerned about the nation's treatment of its Indigenous population; however, he also struggles with school, and with meeting society's expectations. As it chronicles his plight, Newell's documentary isn't just empathetic — it's also an expressive window into his mindset, desires and experiences.
BOOKSMART
For their entire high-school run, Amy (Kaitlin Dever) and Molly (Beanie Feldstein) have kept their eyes on the prize, working hard (not to mention relentlessly) to get into good colleges. But as graduation approaches, they realise that plenty of their peers managed to party their way through the last few years and still secure spots at prestigious universities. In response to this news, the pair commits to multiple shindigs, one epic night and a taste of the fun the two have been missing out on. Making her directorial debut, actor-turned-filmmaker Olivia Wilde crafts a smart, sharp coming-of-age comedy that's not only equally frank, insightful and raucous, but celebrates the ups and downs of female friendship. Booksmart also boasts winning performances from Dever, Feldstein and Billie Lourd (who happens to be Carrie Fisher's daughter), too.
LES MISERABLES
Forget Victor Hugo's famed novel, the many musical versions that have sprung in its wake and Anne Hathaway's Oscar-winning performance. Ladj Ly's film may also be called Les Miserables and spend its time on the streets of Paris' Montfermeil district, but instead of slavishly drawing upon the familiar source material, the Cannes Jury Prize-winning feature offers its own distinctive vision of the area's downtrodden residents. Specifically, Ly's full-length debut follows an anti-crime police unit patrolling the lawless banlieue, in a movie that doubles as an adaptation of his own short film of the same name and was actually inspired by the city's 2005 riots. With its multi-layered storytelling, sprawling character list and gritty visuals, as well as its subject matter, it has also earned more than a few comparisons to The Wire.
IN FABRIC
Peter Strickland is one of cinema's inimitable auteurs, not only conjuring up narratives that no other filmmaker ever would or could, but bringing them to the screen with a distinctive sense of style and mood. It was true of his latest two festival circuit hits, Berberian Sound Studio and The Duke of Burgundy, and that observation remains just as accurate with In Fabric — the lauded writer/director's haunted dress movie. Yes, really. In London clothing store Dentley & Sopers, bank teller Sheila (Marianne Jean-Baptiste) finds the perfect red dress for her first blind date; however, she soon discovers that the fabulous frock has quite the dark side. Also starring Games of Thrones' Gwendoline Christie, this fashion-focused horror-comedy is a lurid, intoxicating gem. You won't see anything else like it this year, at SFF or otherwise.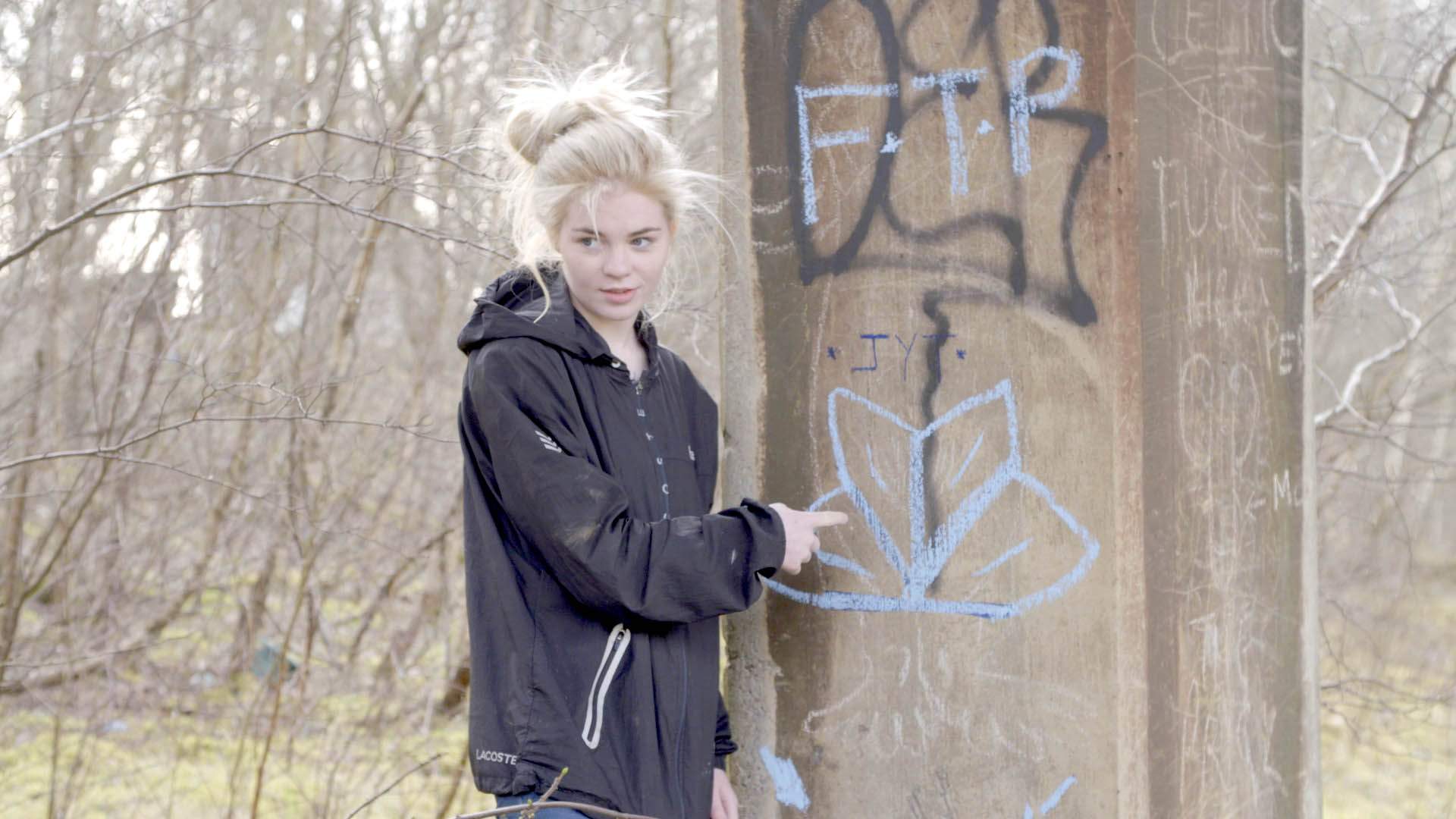 SCHEME BIRDS
Set in the Scottish neighbourhood of Jerviston, Motherwell, Scheme Birds delivers its first dose of heartbreak early. With a matter-of-fact attitude, proud local teen Gemma remarks that everyone in the troubled community either gets locked up or knocked up, but comments that, even knowing the kind of future that likely lies in store, she still wouldn't want to live anywhere else. From here, directors Ellen Fiske and Ellinor Hallin examine what happens next, with their Tribeca Best Documentary-winning chronicle both following the expected devastating path and showcasing Gemma's grit and fortitude. As it hones in on a remarkably candid subject, probes her plight and places her story in the context of the area's recent history, this sensitive and intimate film couldn't be more affecting and memorable.
HER SMELL
When she's not navigating an oppressive dystopian society in The Handmaid's Tale, Elisabeth Moss continues to prove just as stellar in everything else that she's in. Her Smell is the latest example, which sees the actor re-team with her Listen Up Philip and Queen of Earth director Alex Ross Perry — and dial up the psychodrama and tension that were an enormous part of the latter movie. Moss jumps into rockstar mode, playing a Courtney Love-esque punk singer who brings a new meaning to the word 'handful'. The same can be said of the word 'meltdown' too. A savage dissection of the pressures not just of fame and success, but of trying to be and understand yourself, Her Smell turns its five segments into mesmerising real-time mayhem. Many a movie has contemplated music superstardom of late; however, consider this a perfect companion piece to the Natalie Portman-starring Vox Lux.
PAIN AND GLORY
Pedro Almodóvar. Antonio Banderas. Penelope Cruz. Three of Spanish cinema's biggest names reunite in Pain and Glory, which also acts as a fictionalised, highly intimate and reflective autobiography from the acclaimed filmmaker (Almodóvar) — who happened to initially give his two superstar actors their big breaks. In his Cannes Best Actor-winning role, Banderas plays director Salvador Mallo, whose health and creativity are failing in tandem, sparking a trip through his childhood memories. No one excavates the past quite like Almodóvar, with Pain and Glory completing a thematic trilogy that began with 1987's Law of Desire and continued with 2004's Bad Education. Based on their past work, no one directs Banderas and Cruz in such a rich and resonant way, either.
HAPPY NEW YEAR, COLIN BURSTEAD
Given that Happy New Year, Colin Burstead is the latest film from Kill List, Sightseers, High-Rise and Free Fire filmmaker Ben Wheatley, don't take the 'happy' part of the title literally. When the eponymous Colin (Neil Maskell) corrals his extended family into a stately castle to see out the year, their celebrations soon descend into bickering, resentment and spiralling chaos. The hefty ensemble cast, which includes Sometimes Always Never's Sam Riley, Game of Thrones' Charles Dance and I, Daniel Blake's Hayley Squires, are an acerbic delight in this dark comedy — and Wheatley happily swaps one kind of grimness for another. If you've ever been traumatised by being trapped in the same space with your relatives for an extended period, prepare to find this rather relatable.
COLD SWEAT
All that Afrooz (Baran Kosari) wants to do is play indoor soccer, especially when the team that she captains progresses to the Asian Cup final in Malaysia. She's understandably excited. Alas, she's also an Iranian woman — and even though she's estranged from her controlling husband, who happens to be a famous (and famously arrogant) TV host, the choice to leave the country isn't her own. The lengths she has to go to in order to follow her dreams makes for tense, heartbreaking and infuriating viewing in this moving film, which couldn't be more timely in today's social climate. Come for the topical drama that gives a jaw-dropping insight into a bleak daily reality for too many women, and stay for the vivid, textured and spirited performances.
Still have some room on your flexi-pass? Don't worry, we have a few more picks. From our list of films to look out for in 2019, there's Portrait of a Lady on Fire — and The Dead Don't Die, although, as we've already mentioned above, it has sold out. On our rundown of Australian titles to check out this year, The Nightingale, I Am Mother and Emu Runner are all screening at SFF too. And then there's High Life, from our French Film Festival tips — plus The Souvenir, Synonyms, Varda by Agnes, Amazing Grace, Ghost Town Anthology and Skin from our Berlinale recommendations as well.
Concrete Playground Trips
Book unique getaways and adventures dreamed up by our editors