Ten Standout Movies from Sydney Film Festival 2019 You Should Look Out for This Year
Including a Palme d'Or-winning Korean thriller, the Adam Goodes doco and a Bill Murray-starring zombie flick.
How many movies can you watch in 12 days? That's the question that Sydney Film Festival asks every June. Of course, when this annual showcase of international cinema takes over many of the city's theatres for nearly two huge weeks of exciting flicks, it isn't just about quantity, but quality. Indeed, some of the year's best films regularly make the fest's 300-plus title lineup.
2019 proved business as usual in this regard — although, given the diverse array of movies on offer each and every festival, there's no such thing as a usual SFF. Last year, we were all excited about intimate father-daughter dramas, fiery race-relations comedies and bleak Polish love stories. This year, it's all about semi-autobiographical Spanish fare, blistering Aussie documentaries and a rightfully lauded South Korean thriller that plays with genre, class and expectations.
The standouts just keep coming, but we've whittled them down to ten. After an epic fortnight spent soaking up the silver screen's wonders, here's our pick of the best, weirdest and most unexpected films of the fest to keep an eye out for at cinemas and on streaming services.
BEST
PARASITE
In three of the absolute best films of the past 12 months, exceptional Asian filmmakers have explored society's growing class clashes in unique, exciting and moving ways. Two such movies won the Cannes Film Festival's Palme d'Or two years in a row, and two of them also hail from South Korea. That said, while SFF prizewinner Parasite shares its focus on a grifting, struggling family with Hirokazu Kore-eda's Shoplifters, and its tonal flips and slipperiness with Lee Chang-dong's Burning, there's no mistaking Bong Joon-ho's dark, devious and delightful latest feature for anything else. The writer/director behind The Host, Snowpiercer and Okja takes a broad scenario, massages it into an intricate puzzle box of a movie and lets its secrets unfurl — and does so with astonishing performances from the Song Kang-ho-led cast, commanding jumps between genres, incisive visual precision and the kind of purposeful yet artful production design that most films only dream of. Oh, and with an expert blend of laughs, thrills, commentary and horror, too. Make no mistake and believe the hype: Parasite is an all-out masterpiece.
Parasite hits Australian cinemas on Thursday, June 27.
PAIN AND GLORY
Antonio Banderas has a rich, multi-decade filmography across both Spanish and Hollywood cinema to his name, including his previous work with auteur Pedro Almodovar. And yet, he's never been better than in Pain and Glory, which won him this year's Cannes Film Festival Best Actor award. Almodovar hasn't been in as fine a form in years either — not since he took Banderas into completely different territory with The Skin I Live In. With Penelope Cruz also featuring, re-teaming with his original stars and lightly drawing from his own past is clearly working for the celebrated director. There's such a quiet, thorny and tender core to this account of an ageing filmmaker (Banderas) rueing love lost and choices made, all while trying to manage his failing body, reconnecting with an old acquaintance, and falling back into memories of his mother (Cruz). There's such a glorious command of colour and movement in the film's evocative imagery, too. This is a film to get lost in, and in its sumptuously, sweepingly handled titular emotions as well.
Australian cinema release date TBC
PORTRAIT OF A LADY ON FIRE
Every obvious fiery term applies to Céline Sciamma's lush romantic drama. It simmers carefully, burns slowly and, after waiting for its embers to spark, sets the screen alight. Stepping back to 18th-century Brittany, the assured French filmmaker spins a yearning tale of passion and desire — of knowing that your greatest needs can only be satisfied fleetingly, grappling with that fact and relishing what brief happiness you can. Héloïse (Adèle Haenel) is a betrothed woman who refuses to sit for a traditional wedding portrait, much to her mother's (Valeria Golino) dismay. Marianne (Noémie Merlant) is the painter called in not just to commit the bride-to-be's likeness to canvas, but to do so surreptitiously while acting as her companion. As friendship and more blooms between the two, Sciamma's exquisite feel for unspoken emotion and inner awakenings blazes brightly, as it did in Water Lilies, Tomboy and Girlhood. Also evident is the writer/director's masterful way with her actors, and with stirring visual compositions.
Keep an eye out for this on streaming services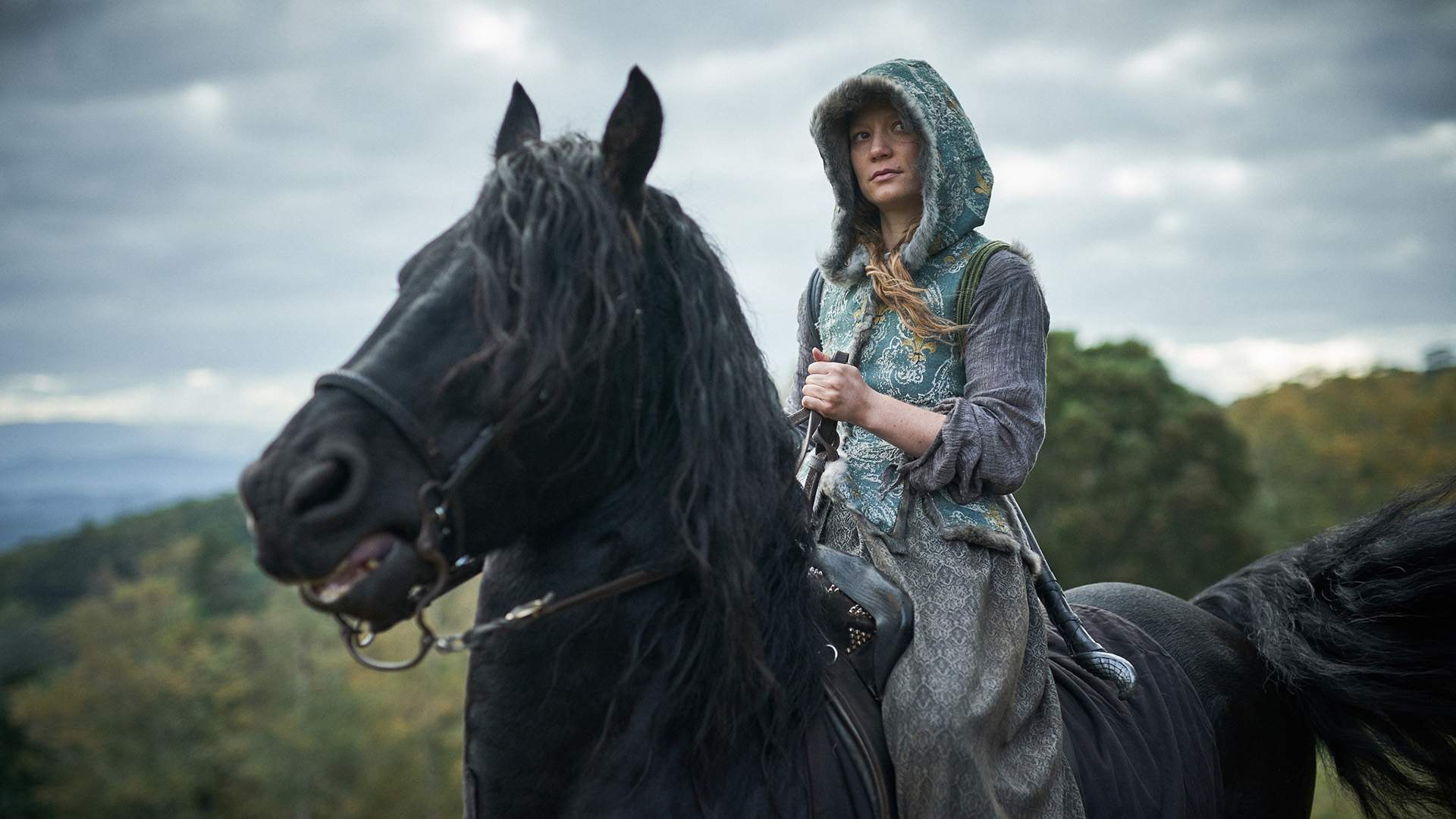 JUDY & PUNCH
Writing and directing her first feature, Mirrah Foulkes gives a violent, slapstick puppet show a flesh-and-blood backstory. The Australian actor-turned-filmmaker also turns her fairy tale-esque affair into a tonal rollercoaster, and it works. Here, Mia Wasikowska and Damon Herriman play the eponymous couple, who win applause for their Punch and Judy marionette performances in her insular hometown of Seaside. While she wants a stable life in their crumbling castle with their infant daughter, he wants fame and fortune — and booze and other women. What Judy must go through, how she reacts and her plans to regain her power all drive a movie that's both comic and tragic, depicts brutal misogyny while championing a thoroughly feminist hero, and proves both delightfully gothic in its look and feel, and completely subversive in its outcome. And while they've always impressed across their respective careers, Wasikowska and Herriman are in particularly fine form in complex roles.
Australian cinema release date TBC
RAY & LIZ
British filmmaker Richard Billingham casts aside sentimentality, leans into grittiness and recreates his past in his debut feature Ray & Liz, which focuses on his mother and father (played by Ella Smith and Justin Salinger), their tumultuous relationship and its impact on his Thatcher-era childhood. Call it a cinematic memoir, or call it a photo album come to life (Billingham is also a photographer) — whichever one you choose, it understates the searing detail of this family portrait. As the Billinghams' woes fill the screen, including much drinking, arguing and questionable parental decisions, the stunningly shot film feels like the work of someone not only observing and excavating but re-evaluating his formative years. There's kitchen-sink social realism, and then there's taking an unfettered look at your own experiences — and this drama journeys through the former to land into the latter category.
Keep an eye out for this on streaming services
THE FINAL QUARTER
A deserving recipient of a standing ovation at its sold-out SFF world premiere, The Final Quarter doesn't cast fresh eyes over a familiar, shameful story. That's part of its point. As directed by Australian documentarian Ian Darling, this AFL-focused film recounts the ordeal endured by ex-Sydney Swans footballer Adam Goodes solely through materials recorded at the time, capturing the backlash to his eloquent pleas against racism, the needless booing that followed him for more than a season, and the vile media commentary that painted him as a villain for embracing his Indigenous heritage. While these incidents throughout the final years of his champion career were harrowing and heartbreaking to watch as they happened, they're just as infuriating now. The same applies to what his treatment says about Australian attitudes towards race, and how little has changed since Goodes hung up his boots, which The Final Quarter doesn't sugar-coat — and nor should it.
The Final Quarter will air soon on Network 10.
WEIRDEST
BACURAU
After winning SFF's official competition with 2016's Aquarius, Brazilian filmmaker Kleber Mendonça Filho returns with a movie of equal passion about the state of the world, including class inequality. After first wowing the festival with 2012's Neighbouring Sounds, he has crafted another layered and wide-ranging look at Brazilian life in a microcosm. But, even with its thematic similarities to the director's past work, Bacurau couldn't be further removed from its predecessors — thanks, in no small part, to its distinctive wild streak. This time, Filho co-helms and writes with Juliano Dornelles, with the pair cooking up a politically potent western-horror mashup that unleashes violent havoc on its titular outback setting. The chaos starts with the passing of the village's matriarch, who local doctor Domingas (a stellar Sonia Braga) gleefully attacks during the funeral; however, this near-hallucinatory film really kicks into gear when a bunch of wealthy Westerners arrive wielding weapons.
Keep an eye out for this on streaming services
COME TO DADDY
Following a map to a remote waterside location, Norval Greenwood (Elijah Wood) knocks on his father's door, reuniting with the man he hasn't seen for more than 30 years. It's a tense, awkward scene, with more of the same following — and, in a movie that segues from reunion drama to unsettling mystery flick to crime thriller, things only get unhinged and deranged from there. Marking the feature directorial debut of New Zealand producer-turned-filmmaker Ant Timpson (The ABCs of Death, Turbo Kid, Deathgasm), Come to Daddy proves an anarchic, unruly and very amusing ride, complete with committed performances not just from Wood, but from Martin Donovan, Michael Smiley and The Breaker Upperers' Madeleine Sami as well. It's also inspired by reality, although to say more would be to reveal too much about a movie that revels in its twists and turns. And in it's ample splashes of gore and blood, too.
Australian cinema release date TBC
MOST UNEXPECTED
DIRTY GOD
How we cope with trauma is one of the traits that truly define us — and in Dirty God, the acid-scarred Jade (Vicky Knight) endeavours to overcome a vicious tragedy in a plethora of ways. Sensitively directed by Sacha Polak, this emotional drama follows the young British mother as she attempts to recover from an attack that not only changed her life, but has changed her appearance and sense of self to a devastating degree. As Jade struggles at home, at work, in court and to find someone to connect with, this isn't a portrait of a woman in free fall. Rather, it's a snapshot of someone trying, failing, picking herself up again and repeating the messy process, all to reclaim her own space in the world. A Dutch director making her English-language debut, Polak has delved into the fragile and tactile inner state of a female protagonist before in 2012's Hemel, and does so again here with delicacy and insight. But the star of the show is the astonishing Knight, who turns in a performance that warrants widespread attention.
Keep an eye out for this on streaming services
THE DEAD DON'T DIE
No matter what Jim Jarmusch decides to take on — westerns, vampires, midlife crises and samurai-influenced hitman included — his films never turns out as anyone could ever expect. That's the case with the Only Lovers Left Alive and Paterson director's star-studded zombie comedy The Dead Don't Die, which corrals Bill Murray, Adam Driver, Chloë Sevigny, Tilda Swinton, Steve Buscemi, Tom Waits and Iggy Pop into an apocalyptic, meta joke-filled satire that leisurely but pointedly takes aim at apathy, aimlessness and the reality that we're all mindlessly shuffling towards our own vices. What surprises most in The Dead Don't Die, however, is its laidback yet rich world and characters. The best sitcoms, such as The Simpsons and Parks and Recreation, build bustling realms overflowing with fascinating major and minor players that viewers just want to spend more time with, which Jarmusch also perfects here. As a result, when Driver's small-town cop tells everyone over and over again that this won't end well, don't believe him.
The Dead Don't Die hits Australian cinemas on Thursday, October 24.
This year's SFF served up plenty of other highlights — and we've covered many of them over the past few months. From our rundown of Australian titles to check out this year, The Nightingale, I Am Mother and Emu Runner all screened at the festival, while The Souvenir, Synonyms, Varda by Agnes, Amazing Grace, Ghost Town Anthology and Skin ranked among our Berlinale recommendations. We also reviewed High Life, as part of its general release. And, pre-festival, we took an enthusiastic look at In Fabric, Booksmart, In My Blood It Runs, Scheme Birds, Her Smell, Happy New Year, Colin Burstead and Cold Sweat as well.
Introducing Concrete Playground Trips
Book unique getaways and adventures dreamed up by our editors