The Upside Down Has Arrived Down Under: A Giant 'Stranger Things' Rift Has Taken Over Bondi Beach
Celebrate the return of Netflix's 'Stranger Things' by wandering past a portal to an eerie alternate dimension at one of Australia's most famous spots.
There are plenty of ways to pretend that it's the 80s, you live in Hawkins, Indiana and vanquishing a demogorgon is your life's mission. Listening solely to eerie synth tunes, devouring pop culture from the era, playing Dungeons & Dragons — they all fit, and so does binging Stranger Things, of course. But for one morning only, if you happen to be in the vicinity of Bondi Beach, you can go a step further. Always wanted to have an encounter with the Upside Down (well, since 2016, when the hit Netflix series first appeared)? Until 12pm today, Friday, May 27 — aka right now — you can.
An IRL Upside Down rift (not to be confused with a Fast and Furious drift) has taken over the famed stretch of sand in front of the skate park, but only for a few hours. Of course, when we say real, we all know that it's a Netflix promotional stunt and not really an opening to a terrifying, monster-filled alternate dimension — but hey, if you've been counting down the years between Stranger Things' third and fourth seasons, you'll be happy to go along with it.
Glowing red in its centre — naturally — and filled with branch-like vines that stick out from that luminous void, this rift isn't small. It measures 20 metres by 16 metres in size, in fact. So, again, if you're in the area, you really can't miss it. And if you're a Sydneysider who now wants to take a detour to work, or a mid-morning trip, that's understandable.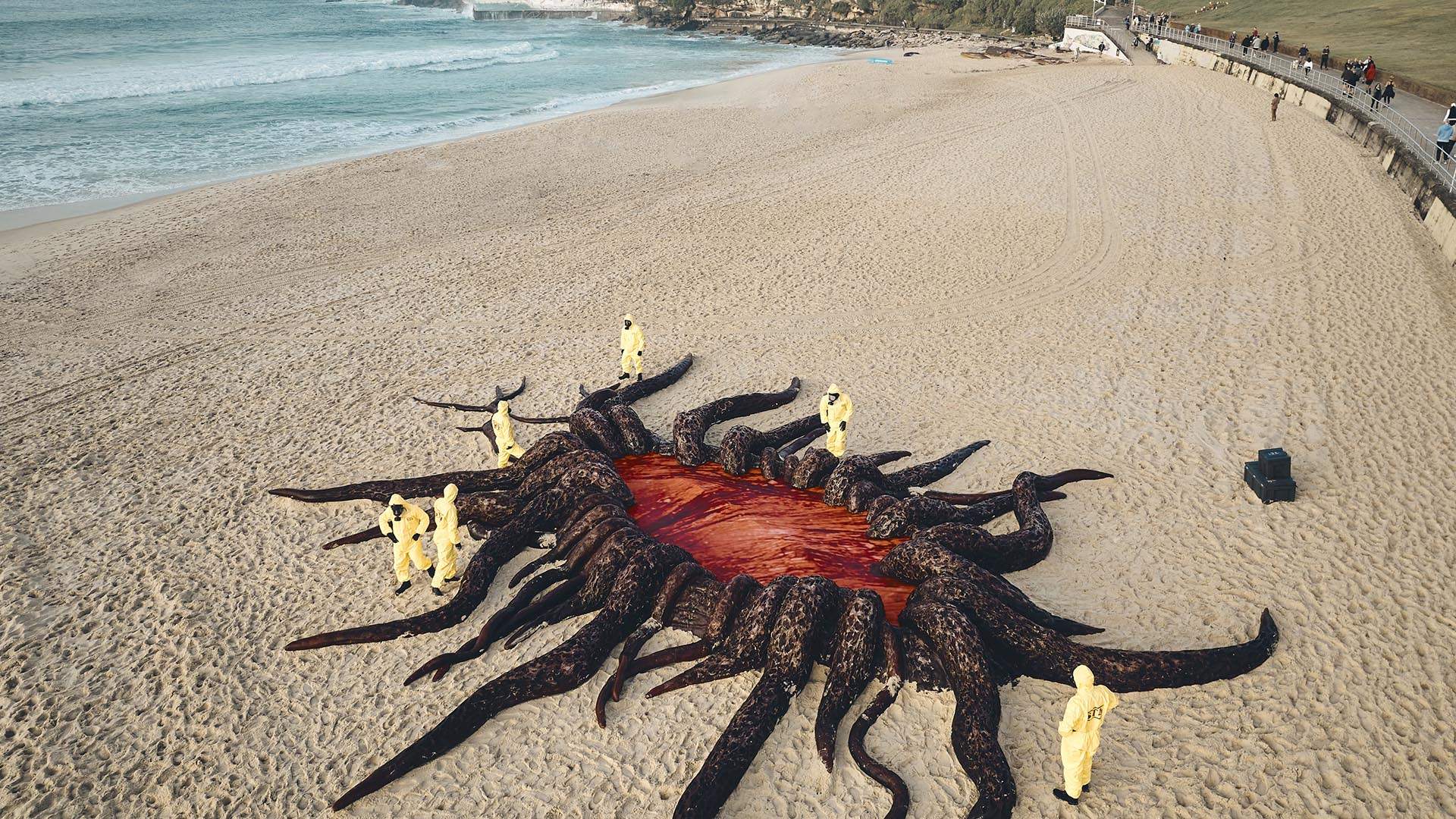 If you follow the Netflix Australia and New Zealand Twitter account, you might've already made the journey — yesterday, on Thursday, May 26, it teased that something spooky was coming between 7am–12pm today, complete with coordinates (written upside down, of course). That means you may have already seen the scientists patrolling the area in hazmat suits, too, and lifeguards setting up a perimeter.
The reason for the Upside Down arriving Down Under: the return of Stranger Things after a three-year gap, with the first seven episodes in the show's fourth and penultimate season hitting Netflix today, at 5pm AEST, as well.
Bondi is one of 15 sites in 14 countries getting a taste of the Upside Down — alongside the Empire State Building in New York City, Duomo Square in Milan, Malecon Barranquilla in Colombia, the Gateway of India in Mumbai, Menara Kuala Lumpur in Malaysia, Al-'Ula National Monument in Saudi Arabia, Cologne Media Park in Germany, XBox Plaza in Downtown Los Angeles, Wawel Castle in Krakow, Medborgarplatsen in Stockholm, the Guggenheim Museum, Bilbao; and the Telefónica building and Plaza del Callao in Madrid. London and Tokyo are also on the list.
It's been a big few years for pop culture-themed pop-ups in Australia, with the Upside Down following in Borat, Nicole Kidman, Homer Simpson and the creepy Red Light, Green Light doll from Squid Game 's footsteps in Sydney. Homer Simpson's huge head made its way to Queensland, too, while Melbourne scored an Everything Everywhere All At Once-style multidimensional laundromat and a massive Timothée Chalamet mural to promote Dune.
Find the Stranger Things Upside Down rift at Bondi Beach until 12pm on Friday, May 27. You can also watch the first seven episodes of Stranger Things season four via Netflix from 5pm AEST on Friday, May 27 — and read our full review. 
Images: courtesy of Netflix and Aquabumps.
Concrete Playground Trips
Book unique getaways and adventures dreamed up by our editors