FOOD & DRINK
Sydney's Best Degustations Under $100
Sample a large chunk of the menu without breaking the bank.
Sydney's Best Degustations Under $100
Sample a large chunk of the menu without breaking the bank.
There's nothing like going all out on an extravagant feast. But when time comes to celebrating with a group of different budgets, or doing something special but not too splashy, you need some great, yet affordable options in your dining arsenal. Just because your payslip may not scream 'Monday night Quay dinner', doesn't mean you can't enjoy a decadent degustation in Sydney. And there are plenty of next-level food experiences that may surprise you (and your wallet).
In fact, several restaurants around our fine city offer tasting menus for less than $100, with many under $70. So we've looked to some of our favourite eateries to gift you this handy guide to the more affordable degustations in Sydney. We know they're not the cheapest dinners in the city, but when it comes to value for money in fine dining, these are top of the crop.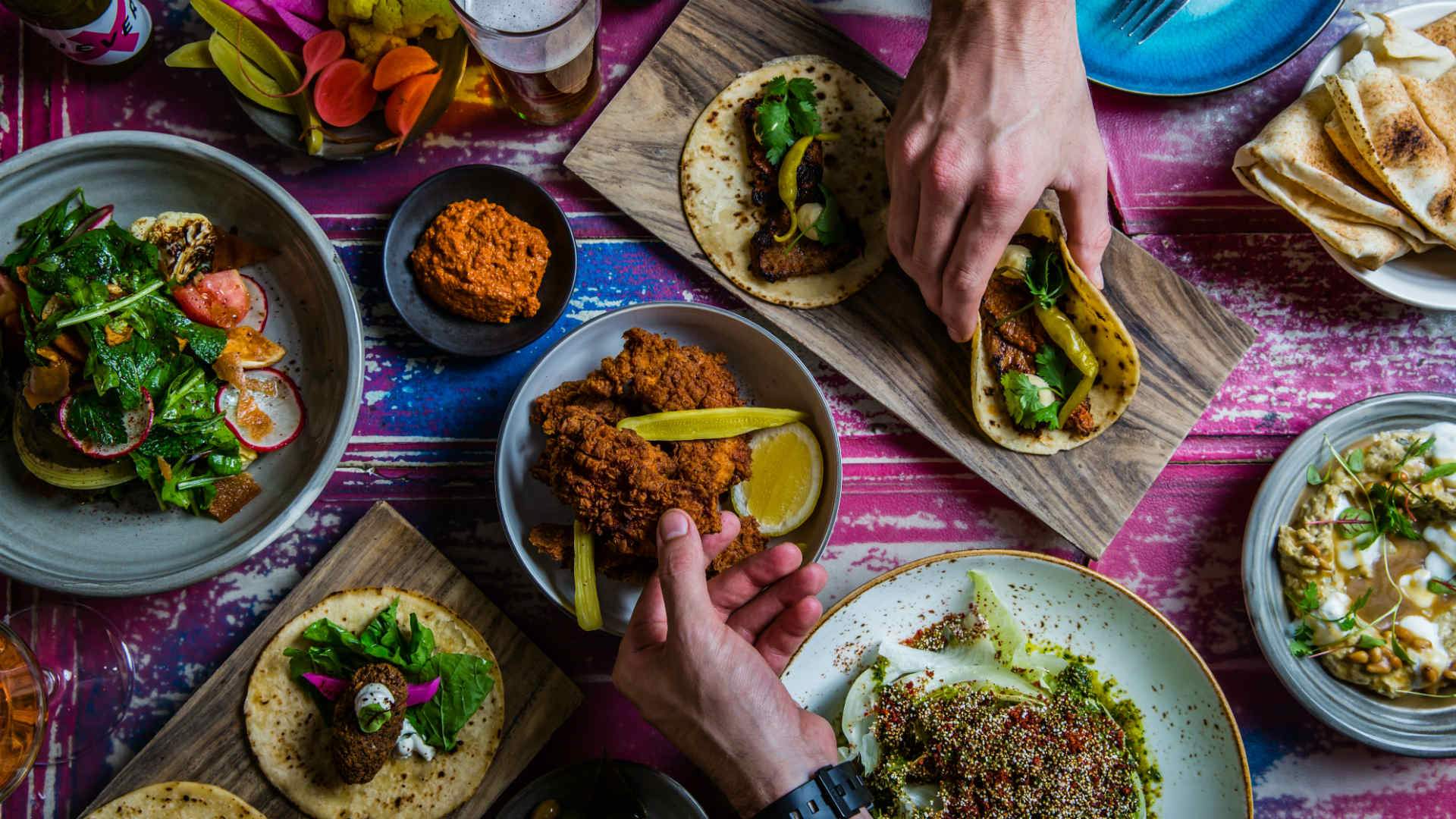 Get in a greedy mood with Thievery's total steal of a tasting menu. At $58, the nine-plate feast is a dedication to the best eats that the Middle Eastern restaurant has to offer. You'll be rolling home after plates of burnt butter paprika hummus, spicy raw beef nayyeh and LFC (Lebanese fried chicken) with black garlic mayo, as well as barbecued broccolini and lamb kofta pancakes. The exact dishes will depend on the night, and a similar vegetarian feast is also up for grabs ($52 per person) — think burnt butter baba ganoush and some of the best haloumi in the city, plus seven other dishes. And milk tea ice cream finishes off both meals.
Cost: Feast one (vegetarian) $52, Feast two $58

Waterloo's innovated plant-based restaurant Paperbark takes the humble vegetable to all new heights. While you can dine a la carte with the bar menu, the real draw-card here is the nightly kitchen degustation ($95). At the moment, it includes dishes like chilli eggplant with sushi rice, broccoli, shiitake and pistachio; and the paperbark mushrooms with potatoes, karkalla and kakadu plum.
All this is set within a stunning venue that's perfect for a special date night — whether you're vegetarian or not. If the full kitchen menu is a bit out of your price range, come in on a Wednesday or Thursday for the four-course tasting menu. This experimental menu changes each week and includes an entree, main and dessert for just $65.
Cost: Kitchen menu $95; Four-course tasting menu $65 (available Monday, Wednesday and Thursday)

Hailing from Strathfield, this authentic Penang-style restaurant recently opened its second branch in Haymarket — and it serves up some of the best laksa in town. It also offers a bang-for-your-buck, ten-dish tasting menu that is hard to pass up ($65). Expect plates of elevated Malaysian fare, including nasi lemak, satay chicken, rendang wagyu and Nyonya-style assam fish. Vegetarians can also eat happily here, with the $55 tasting menu including the likes of mixed vegetable stew and eggplant stir-fried with salted egg yolk, butter and curry leaves. Sure, you could just order from the extensive a la carte menu, but this feast is worthy when you want a finer night out.
Cost: Tasting menu $65, vegetarian tasting menu $55

Two Chaps is the gold star winner on this list. Not only does its degustation ($60) take you through the entire night menu, but it's also BYO (for $10 a bottle). Brush off that nice bottle of wine gathering dust in the back of your closet because this is the occasion you've been saving it for. The seasonal feast changes fortnightly and consists of homemade pastas, local Australian cheeses, house-baked focaccia and fresh salads, plus gelato made from scratch. You'll experience something new and completely delicious every time you go — which, believe us, you'll hope will be often. Dinner is only available on Thursday, Friday and Saturday nights.
Cost: Set night menu $60


Clarence Street's new addition is serving up refined Mexican fare within high-ceilinged, heritage-listed digs. Heading the kitchen is Mexican chef Alejandro Huerta, who trained under Enrique Olbera at Pujol in Mexico City (ranked number 12 in the World's 50 Best Restaurants 2019). If you come with a group of six or more, you can tuck into full on share feast for just $60. There's mackerel ceviche, spicy charcoal prawns and duck carnitas or lamb barbacoa tacos, plus a whole heap of guacamole. This one also includes three desserts, featuring the Alegria (puffed amaranth, buckwheat, quinoa topped with honey foam and candied orange peel) and strawberries with vanilla cream and a biscuit and walnut crunch. Get comfortable — you'll be here for a while.
Cost: Festin menu $60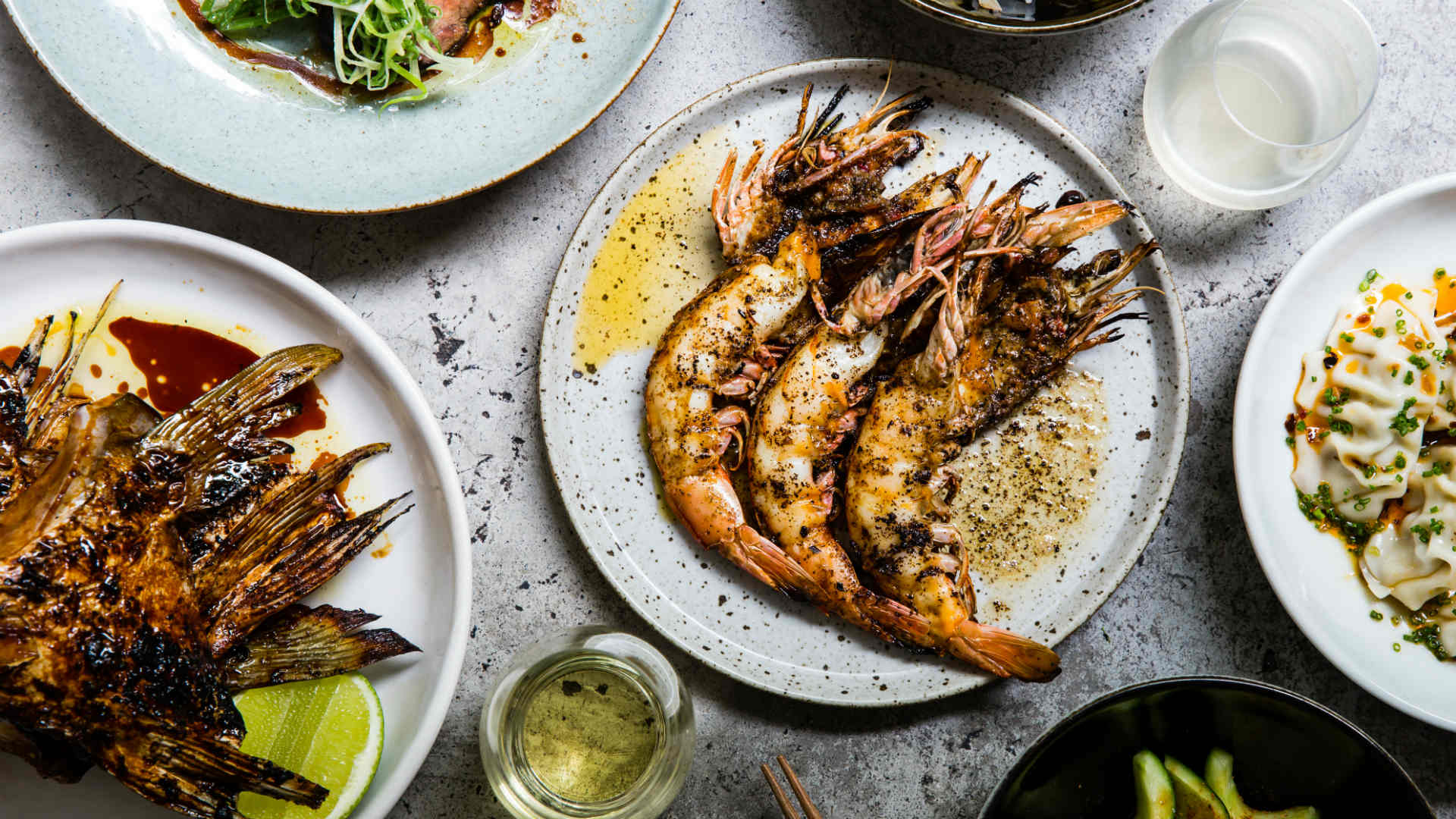 The banquet menu at Potts Point minimalist design heaven Cho Cho San is a thoroughly satisfying affair — culinarily and aesthetically. With a modern approach to Japanese cuisine, chefs and co-owners Jonathan Barthelmess and Sam Christie, along with head chef Nicholas Wong deliver two banquet menus of either eight ($65) or ten ($80) menu hits. Grab a seat at the communal concrete bar, opt in for the sake flight ($30) and you're set for a night of refined eats, drinks and surrounds.
Cost: Banquet one $65, Banquet two $80, with sake flight add $30

There's a lot to love about Merivale's Bondi Italian eatery. Set inside The Royal Bondi, Totti's kitchen is home to chefs Mike Eggert (Mr Liquor's Dirty Italian Disco, Pinbone) and Khan Danis (who worked at Rockpool alongside Neil Perry for 20 years). And, trust us, you'll want to taste their set menu. The four-course meal starts with bread and antipasti, including burrata, olives, 'ndjua and mortadella. Then choose two pastas to tuck into, with the likes of lamb ragu pappardelle and milk-braised pork and chilli rigatoni on the current menu. For mains, there's a whole-roasted fish and a roast chook, served with veggie sides. And, because no meal is complete without dessert, you'll get both tiramisu and orange flan brought to the table, too.
Cost: Share menu $65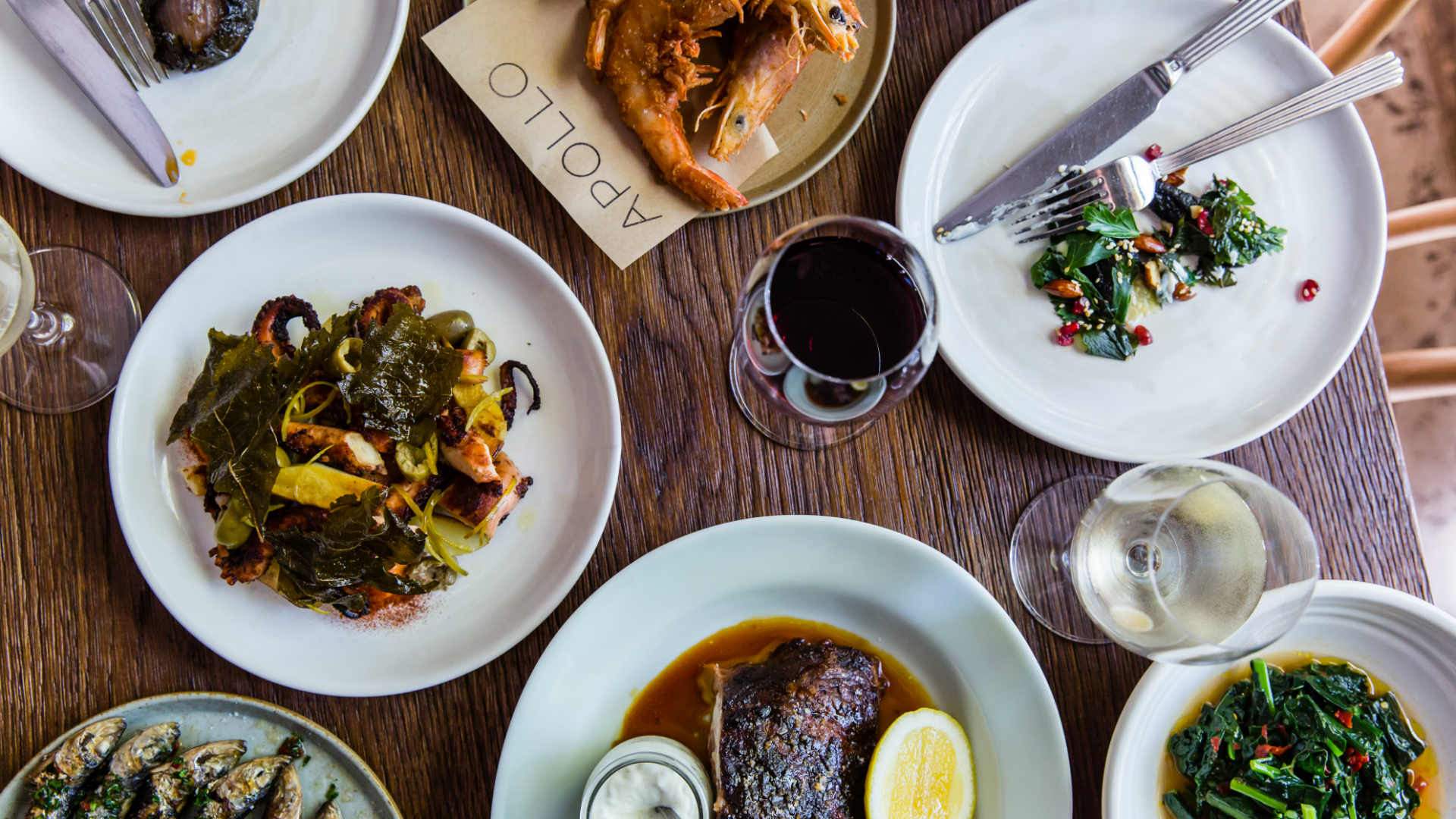 The Apollo also takes a modern approach in the kitchen up the road from sister restaurant Cho Cho San, but here it's all about Greek. The taverna serves up a Hellenic menu, The Full Greek ($65), featuring zesty, tangy favourites like taramasalata, saganaki cheese and oven-baked lamb shoulder with lemon yoghurt. For dessert, there's filo pastry stuffed with walnuts and topped with coffee cream. The only thing missing from this Greek experience is some ouzo, which you can easily add for an additional fiver.
Cost: The Full Greek $65, with ouzo add $5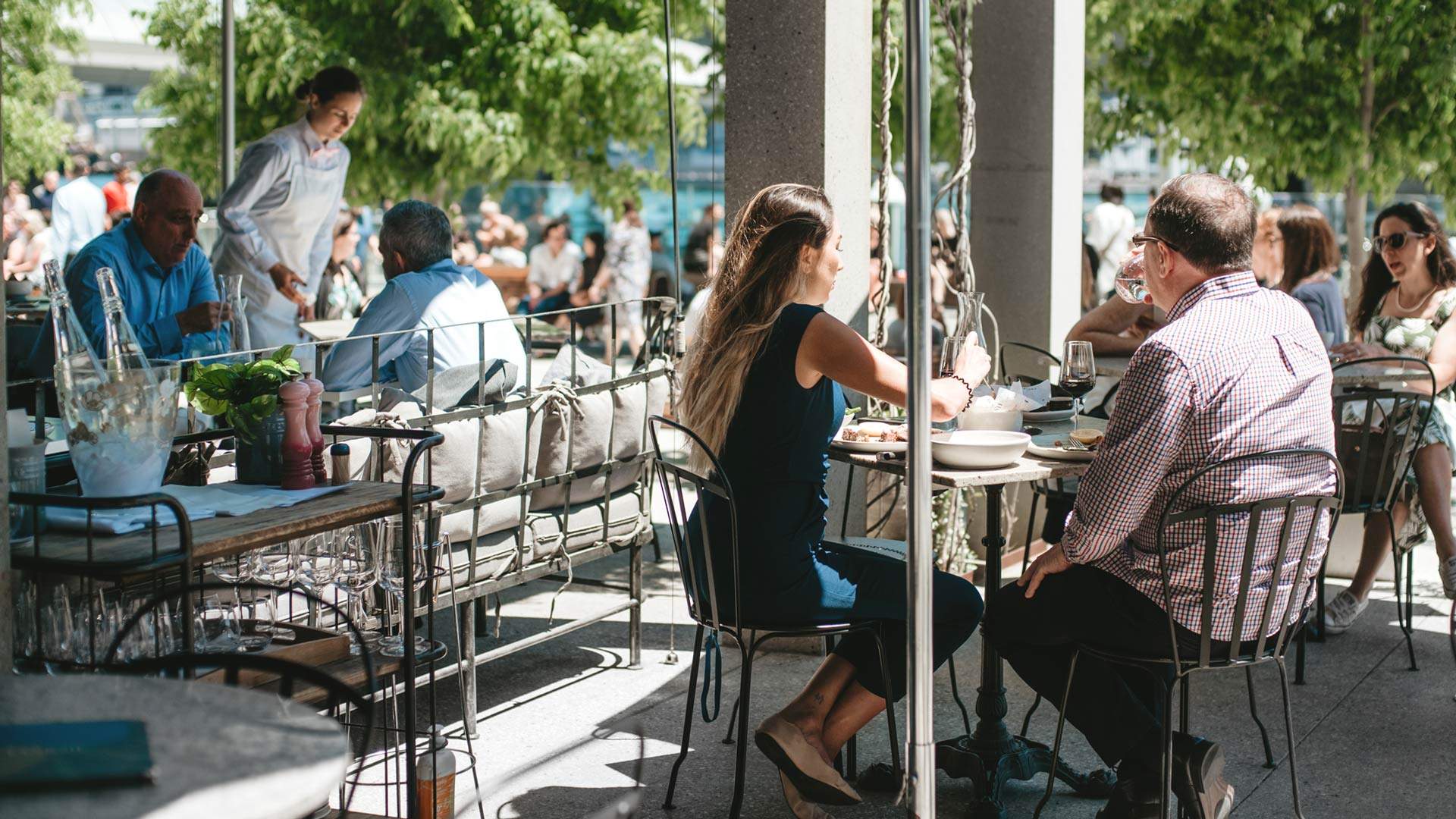 Take a culinary jaunt around the menu designed to share at this vermouth bar in Barangaroo. With the seven-dish banquet ($79), you can indulge in savoury Mediterranean dishes like grilled prawns with pickled turmeric, green pea risotto with snow pea salad and sticky beef brisket with caramelised pumpkin and roasted garlic. The vegetarian and vegan banquets are equally as thoughtful, offering dishes like green olive risotto topped with succulents and chimichurri, brussels sprouts with hazelnuts eggplant in vine leaves. And don't forget to pair your meal with a couple of the forty-ish vermouths on offer, too.
Cost: Banksii seven-course (with vegetarian and vegan options) $79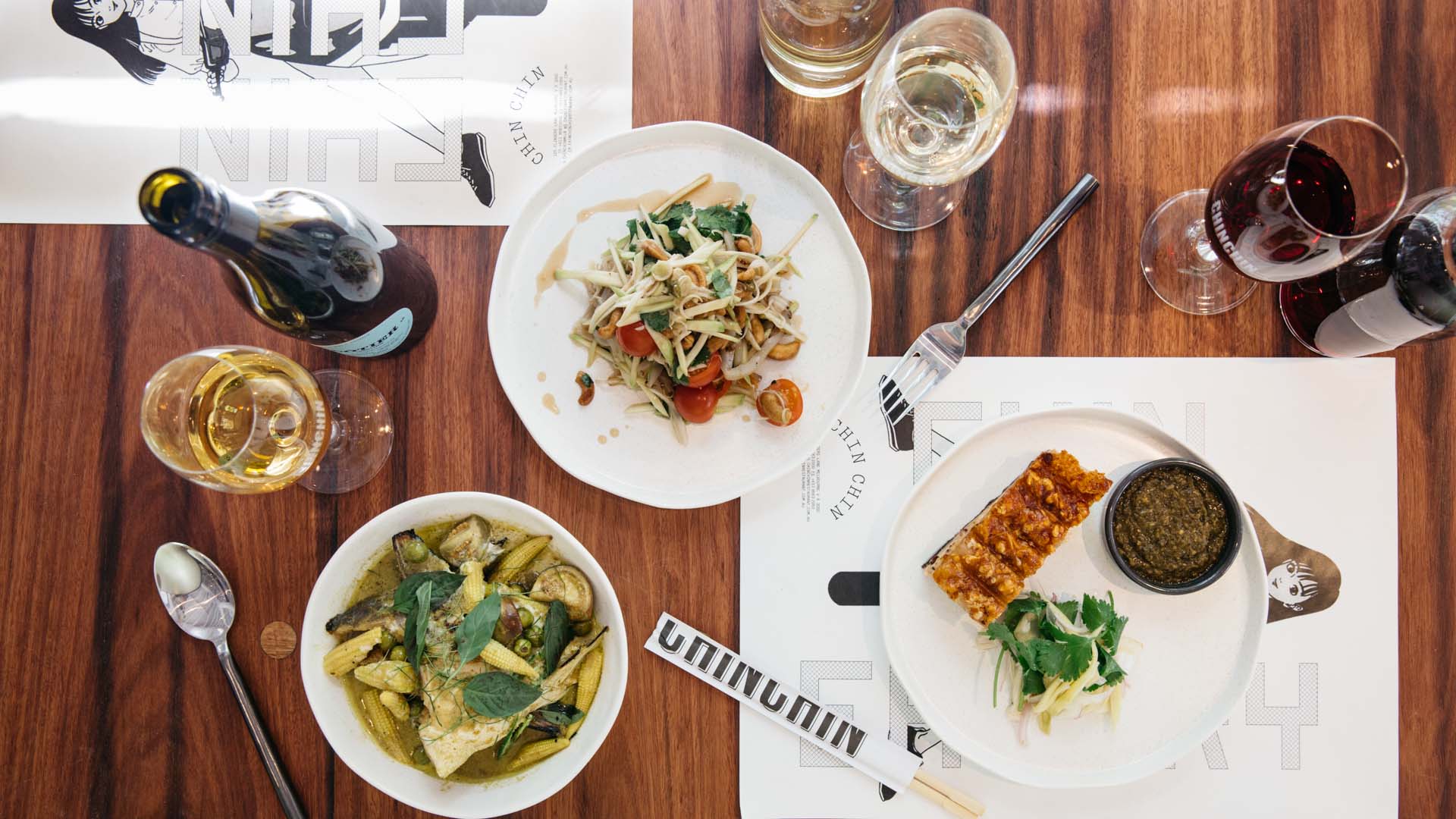 The Chin Chin dining model — which is clearly a success judging by the queue of people snaking out of both the Sydney and Melbourne restaurants — is one that's highly influential in today's restaurant scene. And it's undoubtedly a smart one. Supported by a huge production kitchen downstairs, the well-oiled 'show kitchen' pumps out snappy Asian dishes at lightning speed. Say 'feed me' and for $69.50 you'll feast on a selection of dishes until you're full-up. Think egg noodles with stir fry prawn and 'hellfire' chilli oil, sticky tamarind duck with 'son-in-law' eggs and barbecued lamb with smoked eggplant. Plus heaps of classic stir fries, curries and fresh salads.
Cost: Feed Me $69.50 and Cookbook Feed Me $88

Top image: Totti's by Nikki To
Words by Quinn Connors and Marissa Ciampi
Published on July 16, 2019 by Quinn Connors