Sydney's Best Degustations Under $100
Sample a large chunk of the menu without breaking the bank.
There's nothing like going all out on an extravagant feast. But when the time comes to celebrate with a group with different budgets, or doing something special but not too splashy, you need some great (yet affordable) options in your dining arsenal.
Just because your payslip may not scream 'dinner at Quay', doesn't mean you can't enjoy a decadent degustation in Sydney. And there are plenty of next-level food experiences that may surprise you — and your wallet.
In fact, several restaurants around our fine city offer tasting menus for less than $100, with many under $70. So we've looked to some of our favourite eateries to gift you this handy guide to the more affordable degustations in Sydney. We know they're not the cheapest dinners in the city, but when it comes to value for money, these are top of the crop.
POLY, SURRY HILLS
Helmed by Ester's Mat Lindsay, Surry Hills' Poly has all you need to celebrate a special occasion — without dipping too far into your savings. Fire is the hero of the kitchen here, and its wine list is impressive. And, it has an eight-dish set menu for a very reasonable $89. The menu changes regularly, but at the moment, you'll get to start with Lindsay's famed potato bread, eat your way through red snapper crudo and fried potato with salted egg yolk, then feast on black Angus bavette. For dessert, you'll be treated to an Aussie classic — the pavlova topped with marmalade and lemon curd.
Cost: Set menu $89
HO JIAK, HAYMARKET
Hailing from Strathfield, Penang-style restaurant Ho Kiak now has four Sydney outposts — and it serves up some of the best laksa in town. Each location has its own unique menu, but head to the Haymarket spot for the best bang for your buck with a nine-dish tasting menu that is hard to pass up ($85). Expect plates of elevated Malaysian fare, including bite-sized nasi lemak, satay chicken, eggplant cooked in a coconut broth and Nyonya-style assam fish. Vegetarians can also eat happily here, with the $75 tasting menu including the likes of the same eggplant ya cniau chye, sam wong dan (three types of egg) and a garlic spinach stir fry. Sure, you could just order from the extensive a la carte menu, but this feast is worthy when you want a finer night out.
Cost: Tasting menu $85, vegetarian tasting menu $75
TWO CHAPS, MARRICKVILLE
Two Chaps is the gold star winner on this list. Not only does its degustation ($65) take you through the entire night menu, but it's also BYO (for $10 a bottle). Brush off that nice bottle of wine gathering dust in the back of your closet — this is the occasion you've been saving it for. The seasonal feast changes monthly and consists of homemade pasta, local Australian cheeses and fresh salads, plus rich desserts made from scratch. At the moment, the lineup includes a tomato and mozzarella salad, beetroot and mushroom wellington, sweet potato ravioli and a roasted yellow tomato and ricotta rigatoni. You'll experience something new and completely delicious every time you go — which, believe us, you'll hope will be often. Dinner is only available on Friday and Saturday nights.
Cost: Set night menu $65

LILYMU, PARRAMATTA
If you've ever had a coffee at Cuckoo Callay, a Middle Eastern brunch at Nour or a charcoal chicken feast at Henrietta, you'll find Lilymu familiar. There's pink neon on the walls, memorable eats and friendly staff on the floor. But, it's also markedly different to any of Ibby Moubadder and Jorge Farah's other restaurants. To start: it's in western Sydney's Parramatta Square dining precinct. And, it's not Middle Eastern. This time, the duo has, with the help of ex-Mr Wong chef Brendan Fong and is serving up contemporary takes on Chinese and Southeast Asian dishes. For a special occasion here, we suggest you order the ten-dish set menu ($98). It comes with a selection of the restaurant's signature dishes, including ricotta dumplings, grilled prawn skwers, roated eggplant, scotch fillet and mascarpone parfait. The only catch is that you need a minimum of four people to order the set menu, so round up your mates.
Cost: Set menu $98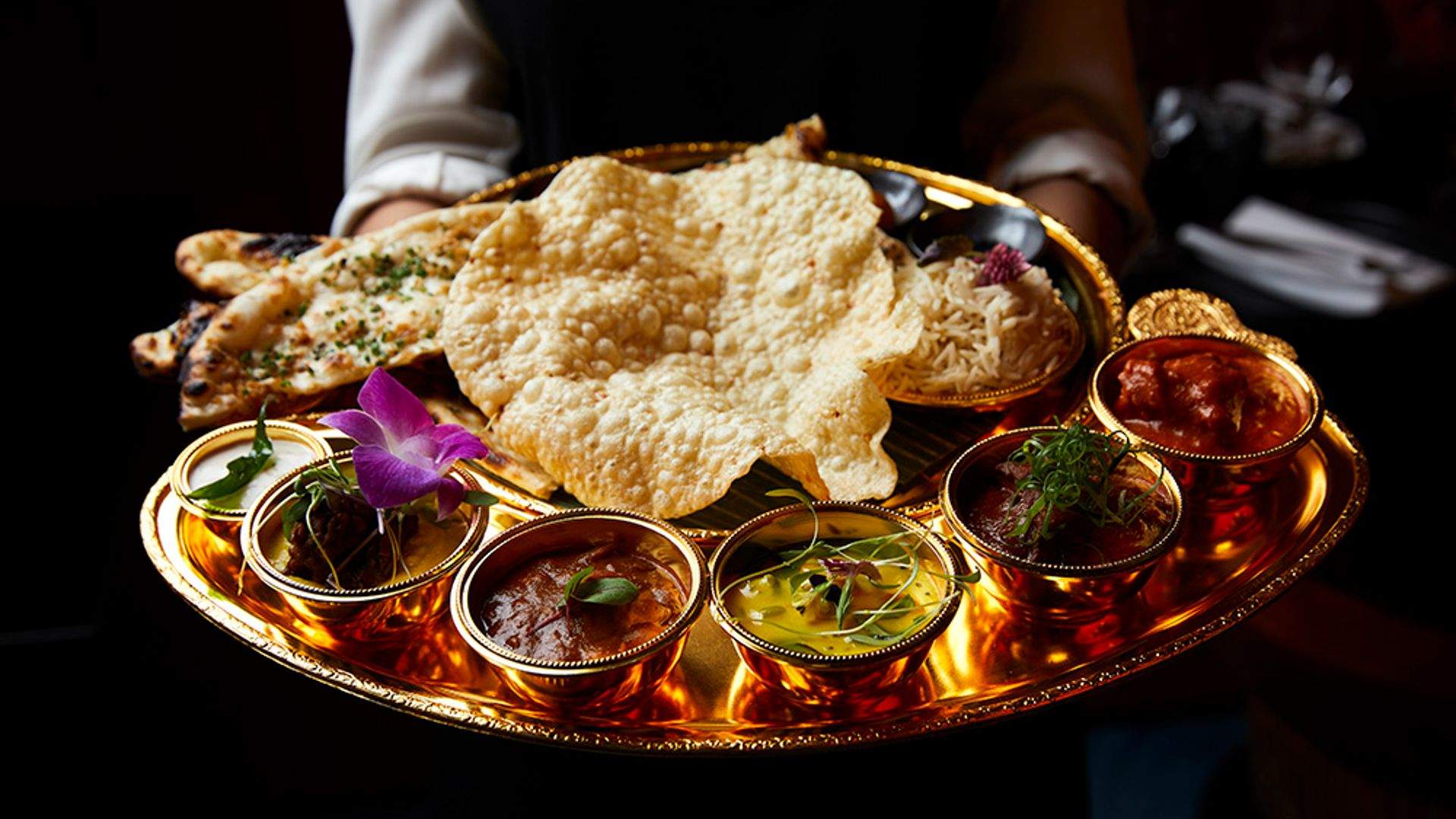 PINKY JI, SYDNEY
Jessi Singh's latest opening Pinky Ji brings his vibrant take on Indian food to Sydney's CBD. At this neon-lit York Street restaurant you can bypass the selection process and hit up the Chef's Selection menu ($65 per person). You'll kick things off with the venue's Balls of Happiness, followed by kingfish ceviche, fired cauliflower, shakarkandi chat and tandoor chicken. From there, your group will get to sample the array of curries on the menu paired with rice and naan, before the meal finishes with a sweet serving of cardamon pistachio kulfi.
Cost: Chef's selection $65
CHACO BAR, POTTS POINT
Chaco Bar Owner Keita Abe had been hoping to focus more on both his ramen and yakitori offerings — so chose to split the concepts altogether. Abe transformed the OG Darlinghurst shop into a ramen-only venue and snatched up the old Jimmy Liks space on Victoria Street, transforming it into a dedicated yakitori joint. At the latter, you'll find a seven-course tasting menu for $95. It features a heap of izakaya classics, including crab chawanmushi (a savoury egg custard), sashimi, a selection of yakitori and chicken lover pate, as well as matcha and white chocolate daifuku for dessert. If you'd to pair your celebratory eats with some celebratory drinks, the bar is pouring a lineup of premium sakes and inventive cocktails.
Cost: Tasting menu $95
TOTTI'S, BONDI
There's a lot to love about Merivale's Bondi Italian eatery. Set inside The Royal Bondi, Totti's kitchen is home to chefs Mike Eggert (Mr Liquor's Dirty Italian Disco, Pinbone) and Khan Danis (who worked at Rockpool alongside Neil Perry for 20 years). And, if you haven't had the chance, trust us, you'll want to taste their set menu. The four-course meal starts with bread and antipasti, including burrata, olives, 'nduja and prosciutto. Then choose two pastas to tuck into, with the likes of lamb ragu pappardelle and milk-braised pork and chilli campanelle on the current menu. For mains, there's a whole-roasted fish and a half-smoked chicken, served with veggie sides. And, because no meal is complete without dessert, you'll get both tiramisu and neapolitan ice cream sandwich brought to the table, too. If Bondi is a trek, you can also experience the banquet at Totti's new Rozelle location.
Cost: Share menu $75
THE APOLLO, POTTS POINT
Long-standing Potts Point favourite The Apollo is serving up a modern approach to Greek food. The taverna serves up a Hellenic menu, The Full Greek ($75), featuring zesty, tangy favourites like taramasalata, saganaki, mullet roe dip and oven-baked lamb shoulder with lemon yoghurt. For dessert, there's filo pastry accompanied by semolina custard and quince. The only thing missing from this Greek experience is some ouzo — which you can easily add for an additional fiver.
Cost: The Full Greek $75, with ouzo add $5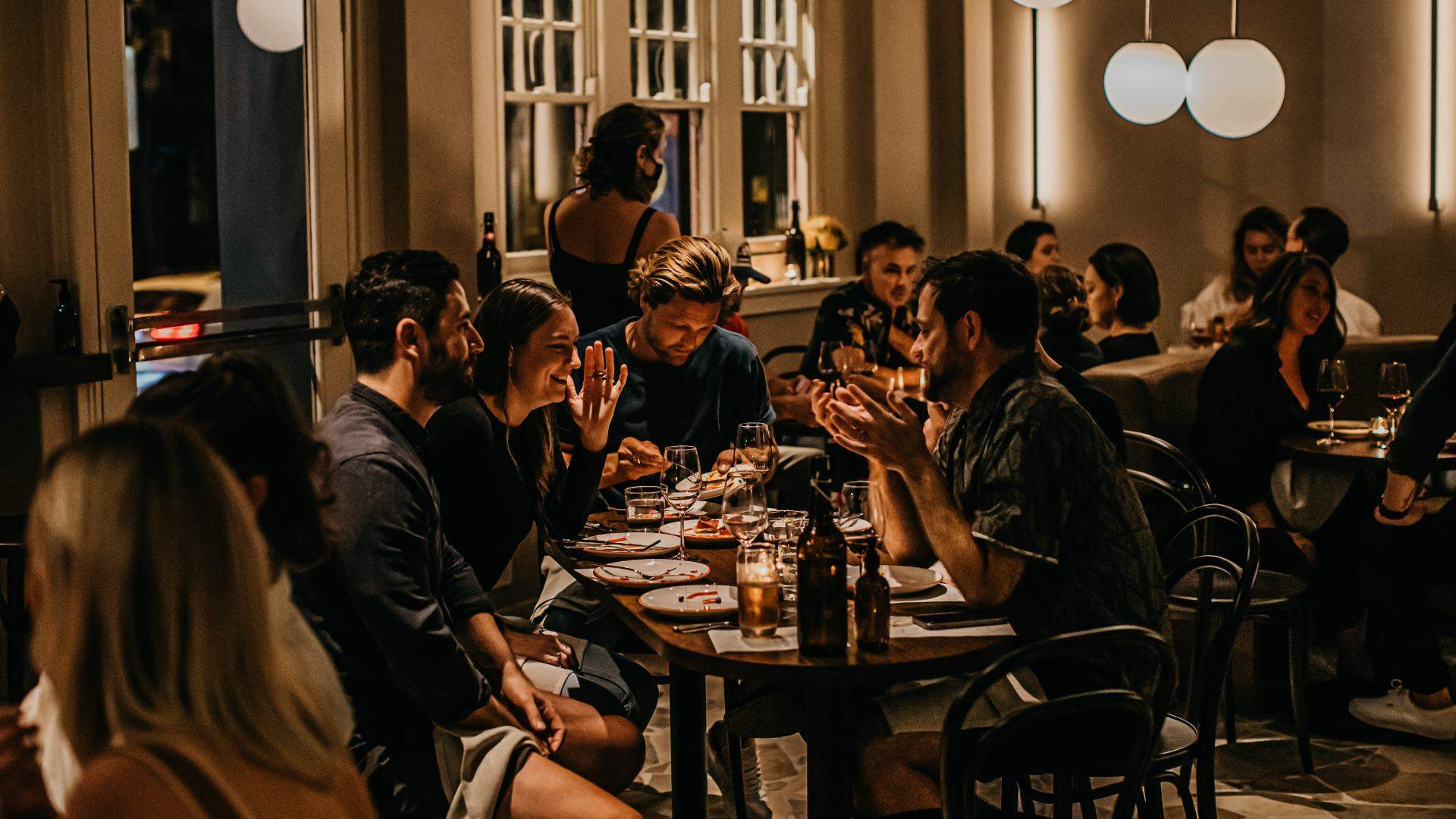 LA SALUT, REDFERN
Redfern's moody wine and vermouth bar La Salut arrived net to the Norfolk Hotel in 2021 from the team behind other Sydney favourites like Ragazzi, Dear Sainte Eloise and Love Tilly Devine. has two set menu options, both clocking in at under $100. For $75 you can fill a night with highlights from the menu like jamon serrano, artichoke croquettes, kingfish, lamb tongue, octopus and turron with a coffee ganche. Taking things up a notch, the $90 set menu features many of the same hits with the introduction of added extras like pork neck pichos, mussels, chorizo and Fabbrica sourdough. Of course, the perfect accompaniment to either of these degustations is a drop from La Salut's 200-strong wine list.
Cost: Set menu $75–90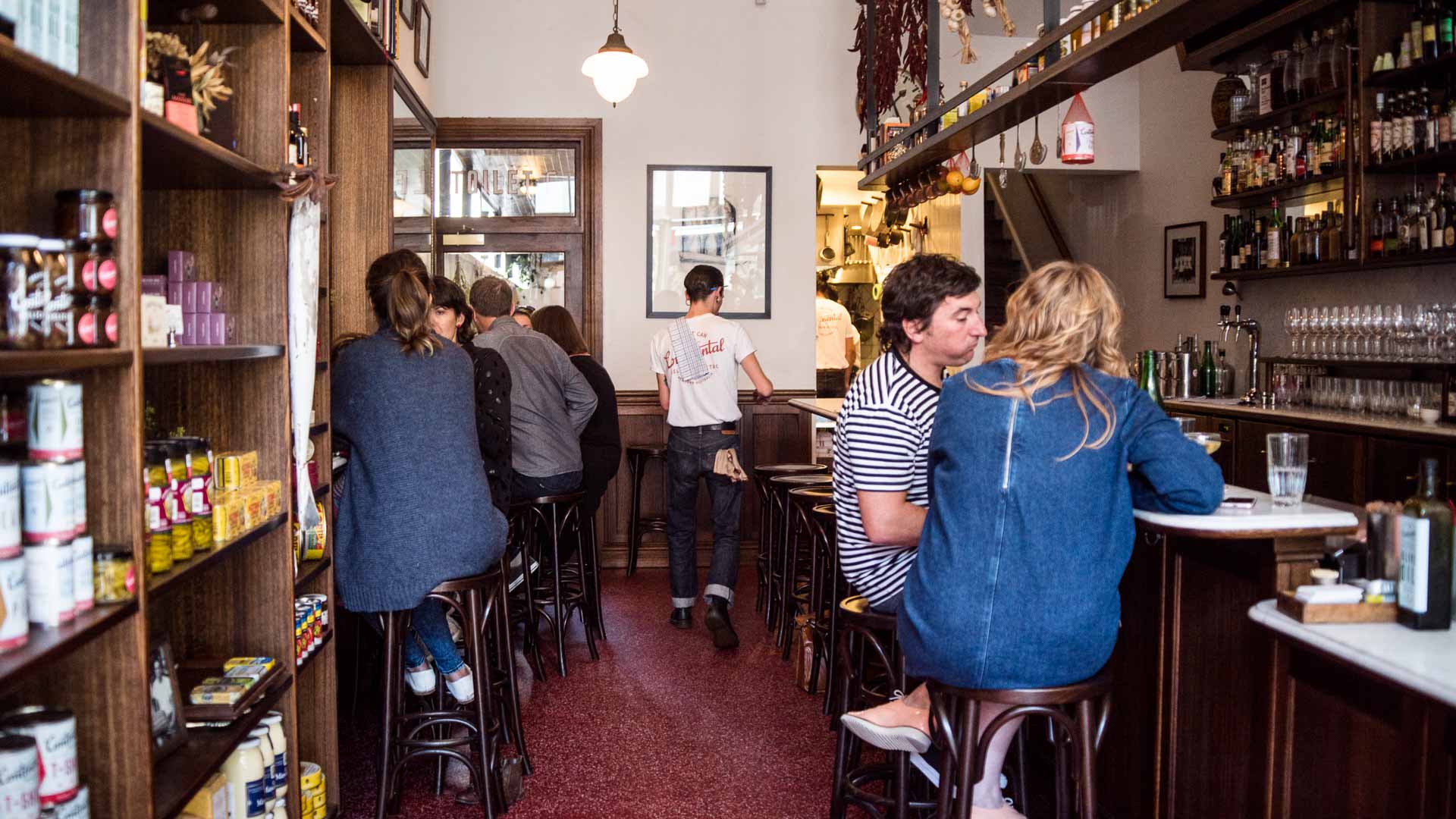 CONTINENTAL DELI BAR BISTRO, NEWTOWN
Known for its canned cocktails and delicatessen spreads, Newtown's Continental Deli also offers an unmissable Chef's menu for $75 a head. Nab a spot in the Australia Street restaurant's romantic dining room and treat yourself to a combination of highlights from the bistro's menu. While what's on offer is constantly changing, you can always expect to start with an array of snacks and charcuterie from the deli like gildas and Nardin White anchovies. Following this, the mains can go a few different ways, from roasted cauliflower puree with broccolini and fried egg to roast lamb rump. Just arrive without expectations, order yourself a mar-tinny and leave it up to the chef.
Cost: Chef's menu $75
Top image: Totti's by Nikki To
Concrete Playground Trips
Book unique getaways and adventures dreamed up by our editors