The Starks are wrong. Winter isn't coming; it's already here. Thankfully this means it's the perfect time to eat the greatest Japanese food of all — ramen.
That's right, it's ramen season and while Campbell's soup may keep us warm and look good in a painting, there's no beating a freshly made, steaming bowl of Japanese noodle soup to keep the cold away. While delicious all year round, Japan's noodle soup dish is most befitting of the colder mid-year months, helping us keep warm on the inside in the tastiest way.
To save you walking around in the cold trying to find yourself a ramen restaurant, Concrete Playground has taste tested the best ramen in Sydney to bring you the best.
ICHI-BAN BOSHI
Ichi-ban is the best-known ramen in Sydney for a reason. It's cheap, it's delicious and you have it in front of you just minutes after ordering — which is handy given the queue you can expect at peak times. While there are plenty of options on the menu, including some of the best gyoza ($6.50) in Sydney, the ramen is the real hero here. With their noodles made fresh and cooked al dente, you'll tuck in straight away, and we recommend the karaage ramen ($13), as the chicken melts in your mouth. Having said that, their miso ramen ($9.90) is also worth your money, particularly if you only have a $10 note (it's cash only). While there are a few Ichi-bans now in Sydney, head to their flagship restaurant at the Galeries Victoria for their best.
Level 2, The Galeries Victoria, 500 George Street, Sydney; (02) 9262 7677; ichibanboshi.com.au.
Hiding away in Crows Nest is Ryo's, a little slice of Tokyo serving ramen as it should be — packed with flavour and in a huge, deep bowl that you'll struggle to make it all the way through. As soon as you step inside the orange ramen house, you'll feel as if you're in Japan. With butcher's paper decorated with kanji adorning the walls and with good luck cats scattered everywhere you turn, it makes your meal feel much more authentic when it arrives. There are a number of pork and chicken broths to choose from, but there is no going past their famous number 8 — ramen in spicy hot flavoured chicken soup with roast pork, egg and shallots ($13.50). To make it even better, add extra garlic and you'll go away with your lips on fire and your belly full of satisfaction. Just make sure that you leave as soon as you're finished, else you'll feel the ire of those queuing outside.
125 Falcon Street, Crow's Nest; (02) 9955 0225.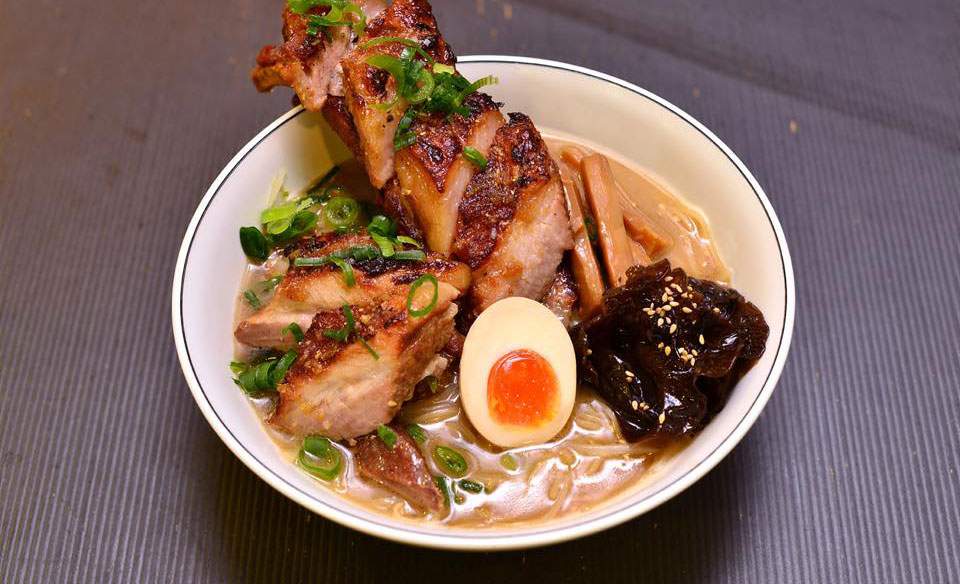 Featuring fresh, wholesome ingredients, Ramen Ikkyu is a winter necessity. Chef Harunobu Inukai is formerly of French-Japanese fusion restaurant Blancharu in Elizabeth Bay, but since 2013, he's been operating out of the Sussex Centre Food Court and brings a fine-dining attention to detail to these humble bowls. Broths are made with pork and chicken bones (no fake stuff), and their handmade noodles are apparently aged for two days. If you're normally the type to feel letdown by your ramen's portion of pork, Ramen Ikkyu has the solution for you. Their pork rib ramen has a hefty portion of pig sticking out of the bowl.
Sussex Centre Food Court, Shop F1A 401, Sussex Street, Haymarket; (02) 9281 0998; menikkyu.com.au.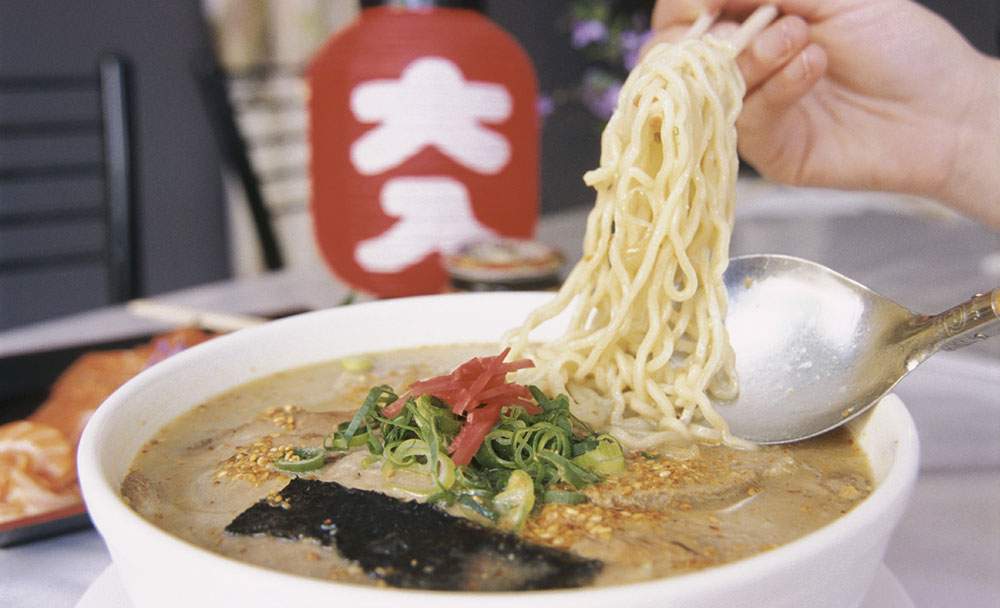 KOMACHI
If you think you can eat a lot of ramen, then Komachi and its ramen challenge is for you. Available anytime but Friday night, book your spot and you have 60 minutes to finish a massive bowl of ramen. How massive? One-and-a-half-kilos-of-noodles-in-two-and-a-half-litres-of-broth-topped-with-meat-and-vegetables-massive. Succeed and you receive a $100 meal voucher. Leave anything in the bowl, though, and you'll pay $100. It's a huge case of risk and reward, but be warned, only 30 people have succeeded to date. If you don't fancy the challenge, there are plenty of less super-sized and more moderately priced ramen options at Komachi, including the chashu chicken ramen ($15.50). Whatever you choose, you won't go home hungry.
426 Cleveland Street, Surry Hills; (02) 9319 6554; www.komachi.com.au.
Uttering 'Gumshara' strikes fear into the hearts of even competitive eaters. That's because the portions are huge in this ramen eatery tucked away in Chinatown's Eating World. Add to that the fact that the collagen-rich pork broth is produced by boiling over 100kg of pork bones on a daily basis, and you have yourself a bowl of ramen quite unlike any you've had before, with a thick and salty broth that goes down surprisingly well. The menu is simple, with two of the dishes being rice-based and the rest being soup-based. Try the special rice ($9) for a combination of spicy cabbage, soft-boiled eggs and specially marinated pork mixed throughout the half-basketball-sized bowl of rice. Otherwise, there's the tonkotsu ramen ($10.50), served with slices of pork and seaweed in the aforementioned broth, which is so thick, it's practically gravy.
211/25-29 Dixon Street, Haymarket; 0410 253 180; facebook.com/Gumshara-Ramen.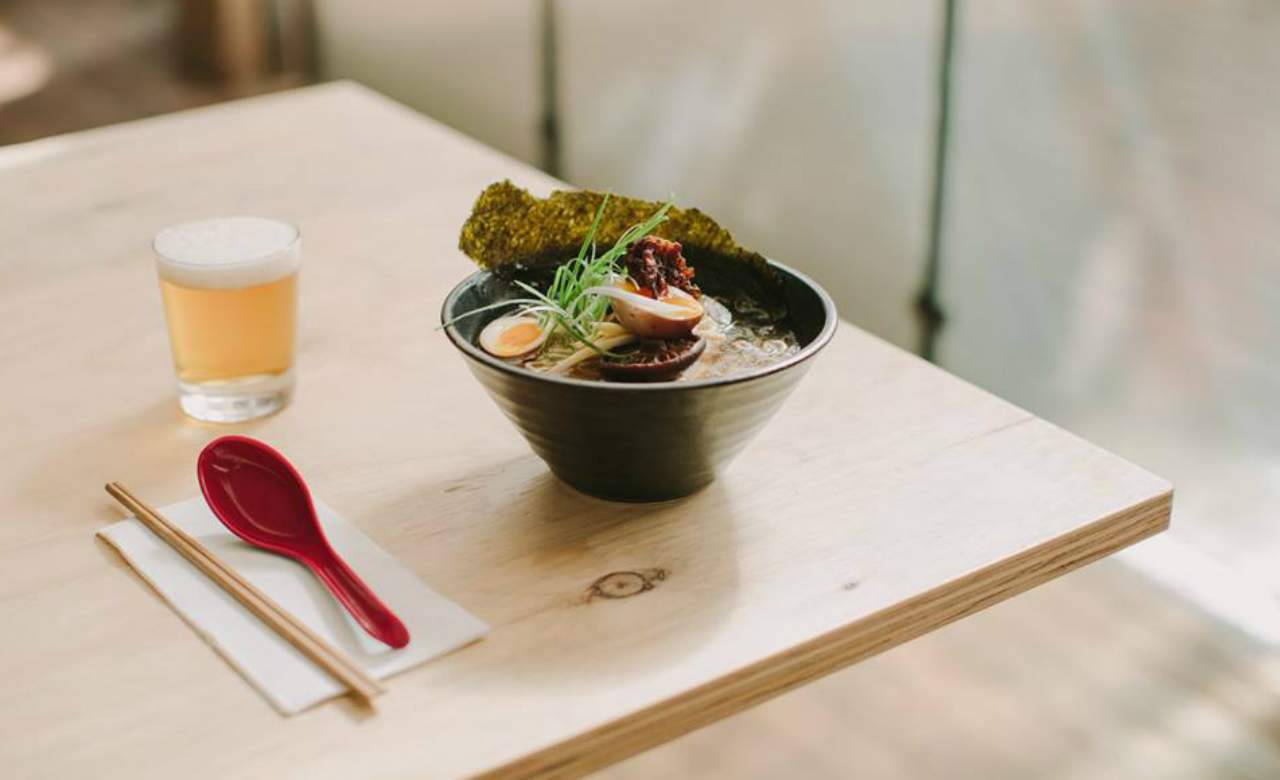 For the uninitiated, Rising Sun is a social enterprise that serves two purposes. On one hand, it provides its motor-revving members with a communal space for repairing and polishing up their bikes. On the other, it's a café, serving coffee, cookies and seriously killer ramen. If you want to try the latter (and you do), you have three options: the dark, the light, or the vego. Our pick is the light, which will see you slurping up chicken and dashi broth seasoned with a salty, gingery, appley tare and chomping on greens, mushroom, bamboo, nori and a big fatty piece of pork belly. As well as being light in colour, it's also light on the stomach, if not a little expensive at $17 for a medium-sized bowl. Having opened just this month in Newtown, the ramen bar is the newest on the list, but judging by its immediate popularity, it will become a bona-fide regular — and so will you.
1c Whateley Street, Newtown; (02) 9550 3891; risingsunworkshop.com.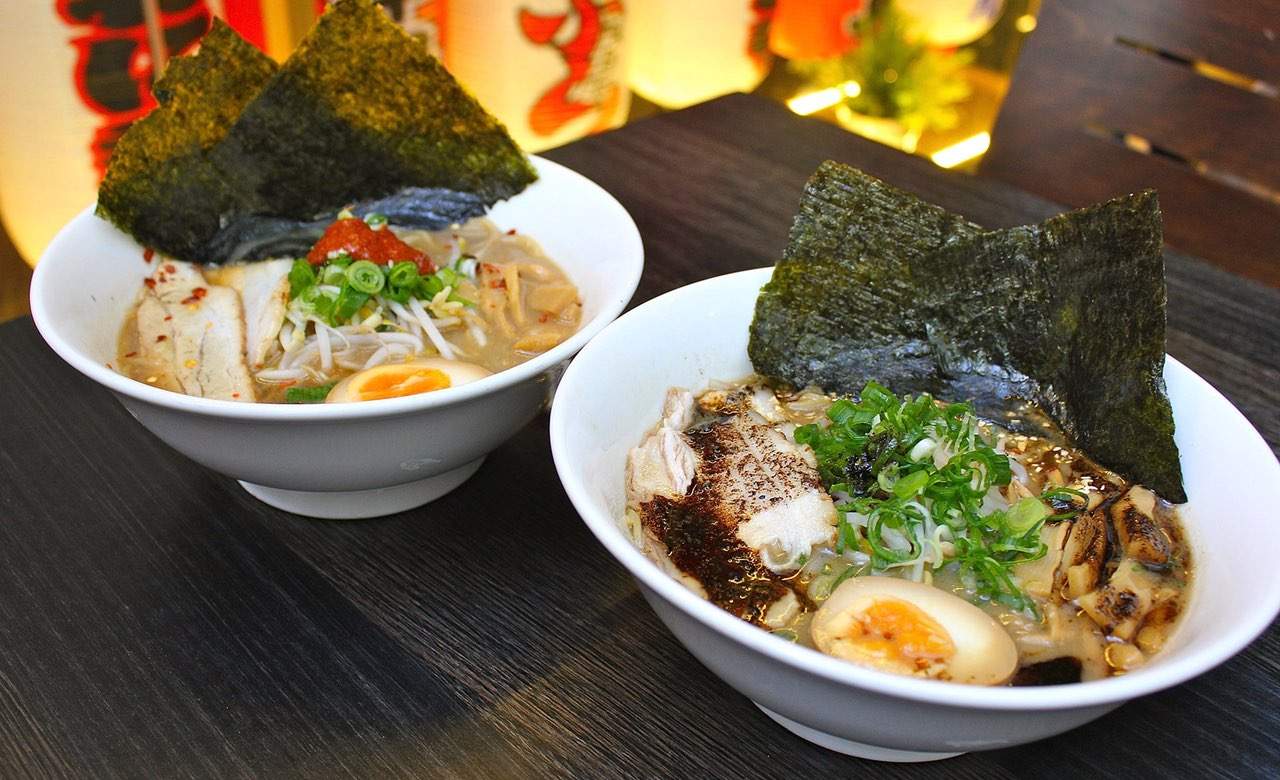 RAMEN ZUNDO
Rich Zundo is the signature ramen at this cute World Square restaurant, using a richly flavoured tonkotsu soup — pork broth boiled over 12 hours — to create a delicious ramen you'll keep coming back for, with pork belly that melts in your mouth like it should. Spice it up and go for the extra chilli kick by ordering the Rich Zundo Red ($12.90) for a full flavour hit. While delectable, this isn't as filling as the other ramens on this list, so take advantage of their set deal where you can order your favourite ramen, the Rich Zundo Red and add a small donburi on the side such as pork chashu mayo rice ($3.90 with ramen).
World Square, 644 George St, Sydney; (02) 9264 6113; ramenzundo.com.au.
Market Street's finest, Menya Noodle Bar, serves not one but two of the most outstanding ramen dishes in the city. The chicken katsu ramen ($13.90) offers succulent, crispy chicken complimented by the glut of sesame seeds floating in the soup. If you can handle the zing, though, then Menya's Dragon Ramen ($12.90) should be the first thing on your mind. Filled with fresh garlic, chilli oil and chilli pork mince, it will make you feel like your mouth is on fire in the tastiest way possible. Just try and resist the urge to yell "I am the Mother of Dragons" when you finish it as the group next to me did — it's weird and makes zero sense.
Shop 2, 1 Market Street, Sydney; (02) 9267 4649; menya.com.au.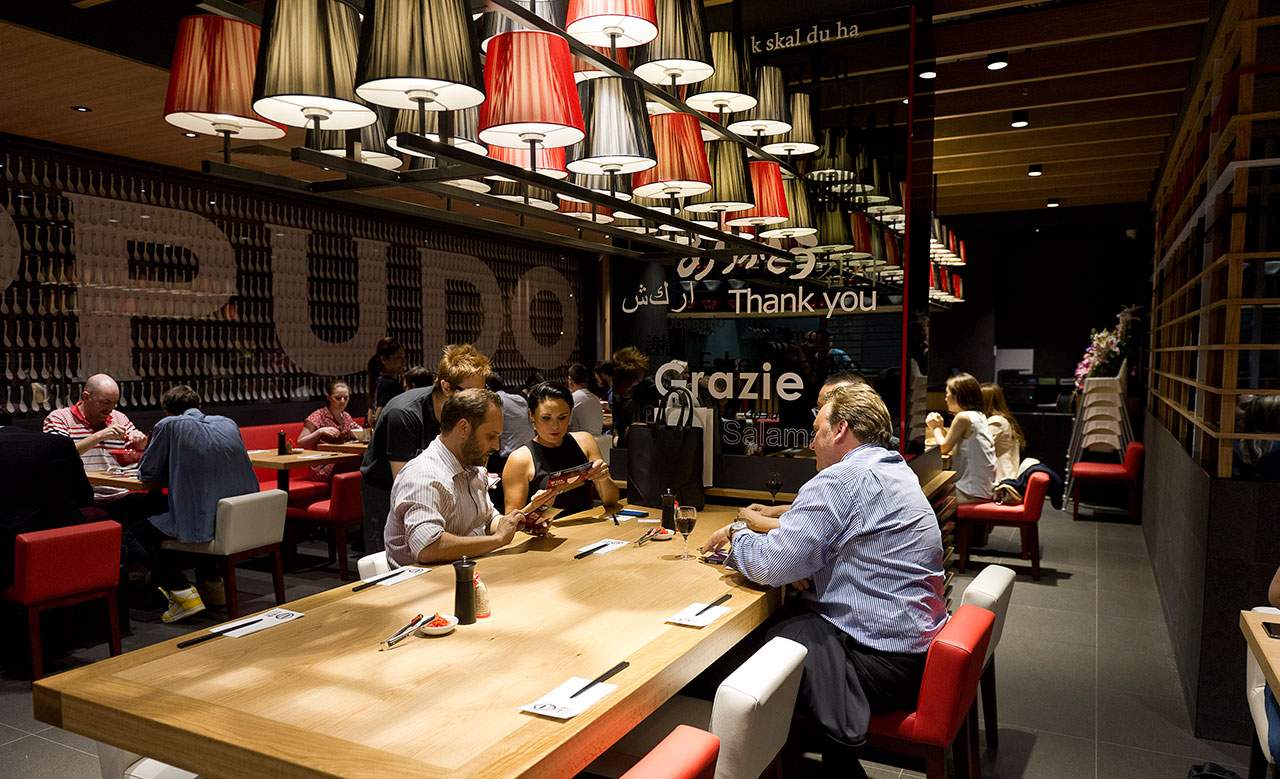 While the austere tables and bustling atmosphere set the scene for a classic Japanese ramen house, Ippudo is no ordinary noodle joint. The now global franchise had its humble beginnings in Japan in 1985 but since its international debut in 2008 has become a ramen mecca, with more than 100 locations worldwide. For first-timers, the shiromaru ($15) — Hakata-style ramen with juicy pork loin, crunchy bean sprouts and silky black mushrooms — is the speciality that put Ippudo at the top of the ramen trade. Add the nitamago ($2), a delicious yet slippery whole flavoured egg, at your own risk. Whatever your ramen preference, order the noodles hard, as recommended. The Ippudo Sydney locations combine local products with Ippudo flavouring and noodle concept; the Aussie patrons are also considered in the unconventional shojin ($15), a vego option with seaweed and whole grain noodles that would not be present on a Japanese menu.
Westfield Sydney, Central Park, Macquarie Centre and Chatswood; ippudo.com.au.
By the Concrete Playground team. Top image: Salaryman by Alana Dimou. 
Published on June 27, 2015 by Matthew Watson