The Ten Best Walks In and Around Sydney
Stretch your legs someplace new, whether that's through WWII batteries, over the Harbour Bridge or through the Royal National Park.
Sometimes, you need to take a break from the city, get out and stretch your legs somewhere new. Sydney's shiny coast is the perfect place to escape the hustle and bustle. Cliffs, caves and coastline are just minutes away from the humdrum of the CBD, so it's easy to escape for the day — or even for a weekend getaway. But you don't want to get stuck visiting the same old spots, either. Why not discover this expansive city on-foot? Here are the ten best walks in and around Sydney. It's time to check them off your list this summer.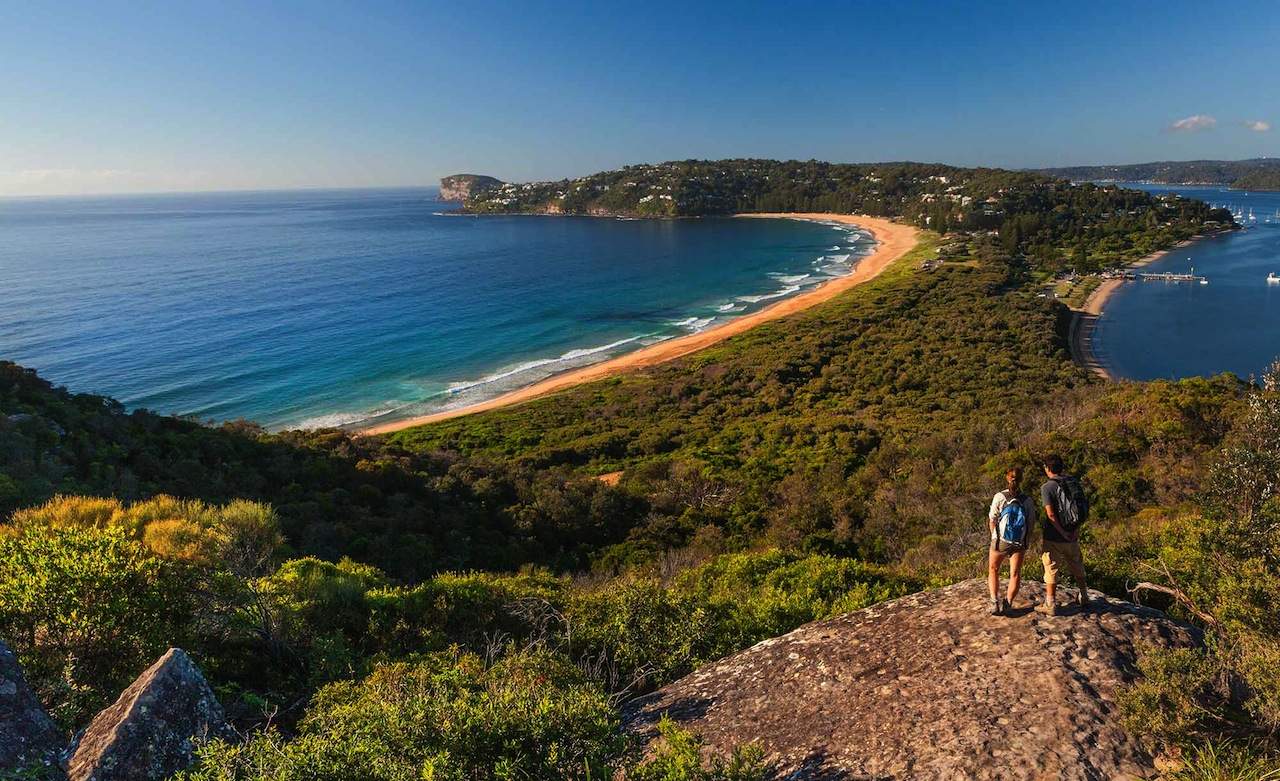 FOR GOING NORTH: BARRANJOEY LIGHTHOUSE
This dreamy, water-encircled walk takes you to Sydney's northernmost point: Palm Beach's Barranjoey Lighthouse, built in 1881. There are two ways to get there. Most people choose the easy route (a gentle, one kilometre climb), but a few adventurous types tackle the Smugglers Track: a shorter, steeper scramble, following a trail built in 1850 to keep an eye out for water-borne smugglers. 91 metres above sea level, the lighthouse has 360-degree views of the Central Coast, Broken Bay and Ku-ring-gai Chase National Park. Extend your hike by starting at the southern end of Palm Beach.

FOR VIEWS OF BOTANY BAY: MAROUBRA TO MALABAR
The Western Escarpment Walking Track in the Malabar Headland National Park is a one-kilometre walkway that connects Pioneers Park in Malabar with Arthur Byrne Reserve in South Maroubra. The track cuts through bushland and, at its highest point, affords some stunning views across the beach, the headland and Botany Bay. It runs along the western edge of the Malabar Headland Rifle Range — but outside it, rather than within it. So, you don't have to worry about shooting days spoiling your fun, and you can go sauntering seven days a week, 365 days a year.

FOR ECHIDNAS AND SECRET BEACHES: NORTH HEAD
The historical, ten-kilometre North Head walk may contain a driving path, but the true beauty of this trail is seen through the dirt road bushwalk. Beginning at North Head Sanctuary, walk through the former North Head Army Barracks before heading out into the bush. Echidnas and bandicoots lurk in the burnt orange and yellow brush before the wild path opens suddenly to a mix of coastal views. The best are located at the Third Quarantine Station Cemetery, which looks across to Middle Head and Manly, and the Fairfax Walk, which looks far out over the Tasman Sea. From here, it is easy to end your afternoon at Manly Beach, stopping at the petite Collins and Little Manly Beaches along the way.
Note: Portions of North Head are currently closed due to fire damage. This includes the Fairfax Walk and parts of the North Head Scenic Drive. For all of the latest updates and alerts, head to the NSW National Parks and Wildlife Service website.

FOR TUNNELS AND TIGER CAGES: MIDDLE HEAD
While the multiple WWII batteries located at Middle Head certainly set this walk apart, it is the expansive views of the eastern suburbs, Middle Harbour and Manly that really make this trek worthwhile. Still, climbing through underground tunnels and gun pits on the edge of the coast is a big part of the thrill. Don't miss the Vietnamese 'Tiger Cages', where trained military men simulated prisoner of war conditions. You'll find these ruins throughout the Middle Head Fortifications, but the surrounding sheer cliffs are what give the remnants their eerie and significant effect.

FOR HARBOUR VIEWS: SPIT BRIDGE TO MANLY
This ten-kilometre walk (one way) is often recommended to tourists but rarely endeavoured by locals. Still, it's one of the best and most easily accessible treks in Sydney and comes so highly endorsed for a reason. This varying coastal walk of bush and ocean views makes the entire trip a compelling, true Sydney experience that shouldn't by missed by even the most seasoned veterans.
Begin at Mosman's Spit Bridge, where you'll follow the Middle and North Harbour shoreline paths along Fisher Bay to Clontarf Beach. From here, you'll enter the Sydney Harbour National Park at Castle Rock and later hit Grotto Point, where you can view Aboriginal rock engravings. Finish off with a dip at Manly Beach before taking that picturesque ferry ride back to Circular Quay.

FOR EVERYTHING: SYDNEY HARBOUR BRIDGE TO SOUTH HEAD
An odyssey of a walk, Sydney Harbour Bridge to South Head gives you everything our coastline has to offer. For 18 glorious kilometres (one way), the trail weaves through the secret beaches, harbour pools, rocky headlands and spectacular viewing points of the eastern suburbs. On the way, you'll catch unmatched views of the Royal Botanic Garden, Mrs Macquarie's Chair, Neilsen Park, Double Bay and Vaucluse House. Finish with a clothes-free dip at Lady Bay Beach — which became Sydney's first legal nudist beach in 1976 — and a sunset picnic next to South Head's red-and-white striped Hornby Lighthouse.

FOR QUINTESSENTIAL SYDNEY: BONDI TO COOGEE
No list is complete without including this six-kilometre trail, which gives tourists and locals alike a true sense of Sydney's coastal beauty. The trek's steep gradients are well spaced between the city's most loved beaches, making this trip part workout, part beach bum afternoon. Apart from the namesake beaches, the trail also hits Tamarama, Bronte and Clovelly. While the walk could be completed in as little as a two hours, it is best enjoyed with long breaks by the ocean. Keep an eye out for the announcement of the next installment of the trail's popular Sculpture by the Sea, which will return sometime in early 2021.

MOST DIZZYING CLIFFS: BUNDEENA TO OTFORD
If you're looking for more than a day trip, this 26-kilometre track around the Royal National Park boasts a combination of rugged bushwalks, sandy beaches and sandstone headlands with views across the Tasman Sea. This two-day hike starts at Bundeena and concludes at Otford, with an overnight stay at North Era campground — be sure not to miss sunrise that morning. Other highlights include the stunning Wattamolla Beach, the views at Eagle Rock lookout and the crystal-clear waters at Curracurrang Cove. And there's no better time to complete this trek than during summer, when the swimming is at its best.

FOR UNSPOILT SCENERY: KIAMA COAST
Make a proper escape from the city on the Kiama Coast walk. Its 22 kilometres of unspoilt, South Coastal brilliance stretches between the Minnamurra River mouth in the north and the cute town of Gerringong in the south. You'll visit wild surf beaches, rock formations, wetlands and, of course, the famous Kiama blowhole. Then there's the volcanic formations at Cathedral Rocks, the basalt columns at the Bombo Headland and the stunning Werri Beach to look forward to. There are train stations at both ends too, so it's easy to get to and from the city. If you feel like making the trip into a little getaway, check out our Weekender's Guide to Kiama.

FOR PICNICS WITH A VIEW: BALLS HEAD RESERVE
Set on the foreshore of Sydney Harbour, Balls Head Reserve affords exceptional views of the Harbour Bridge from the north, along with unbeatable picnic views overlooking the CBD. The reserve offers several bushwalking tracks (including one with wheelchair access) and highlights include an Aboriginal waterhole and foreshore caves cut by squatters in the 30s. Once you're done exploring, head to the secluded park where public barbecues are at the ready. When you've finish grilling up your snags, grab a seat over at the rocky area and enjoy your picnic while watching the harbour boats mosey by.