FOOD & DRINK
Sydney's Best Same-Day Delivery Services Bringing Booze, Food and Plants to Your Doorstep
Whether you're after vegan doughnuts or designer threads for your pup, these services will deliver it all within just a few hours.
Over the past year delivery services have become more important than ever. As we prepare for another week of lockdown, the NSW Government has continually urged Sydneysiders to stay home as much as possible which means many of us have turned online for our shopping needs. Many of Sydney's best are offering same-day delivery, too — and we're not just talking about food, either. Natural wine? Check. Indoor plants? Check. Doughnuts? Check. Designer threads for your pup? Yep, those too. Household items and zero-contact deliveries are also on the docket. Whatever you're stocking up on, these same-day delivery services will have you covered in just a few hours (or less).


Chippendale's Handpicked Wines isn't allowed to invite anyone into its cellar door right now, but it is allowed to bring the wine fun to you. If you live within 25 kilometres of Sydney's CBD, you can now get boxes of wine, charcuterie and cheese dropped right on your porch. Choose from the Home Grown Cheese Box ($59) with three different cheeses from across Australia; the Quiet Night In ($72) with a bottle of cabernet merlot, Spanish cheese, Victorian brie and crackers; and a fancy Starter Pack ($225), with three wines, three cheeses and three meats. You can also mix and match, with cured meats, nuts, wines and even caviar all available to order. If you spend over $100, the Handpicked team can also send a personalised video text (for a friend's birthday, for example) that'll also chat through the best way to eat and drink the items in the box. Same-day delivery is $15 and available between 11am–6pm.
Handpicked Wines same-day delivery is available from 11am–6pm Tuesday–Sunday. Order online here. 

'HARD TO KILL' INDOOR PLANTS AND COLOURFUL POTS FROM PLANT GIRL
If you're stuck indoors and need a little something to brighten your day, Plant Girl has you covered. The Marrickville nursery delivers 'hard-to-kill' indoor plants to your doorstep — and in brightly coloured ceramic pots to boot. Customers can mix-and-match any combo of plant and pot, with the goal of creating a highly styled, personalised gift or cute new green baby for yourself. The door-to-door service is available within a ten-kilometre radius of the Marrickville shop, which includes all of the inner west and the CBD, plus a chunk of the eastern suburbs and a bit of North Sydney and the lower north shore, too. You can check out the map over here. And, if you order before 11am, you can opt for same-day delivery Monday through Friday.
PlantGirl same-day delivery is available across Sydney for orders placed before 11am Monday–Friday. To order, head to the website.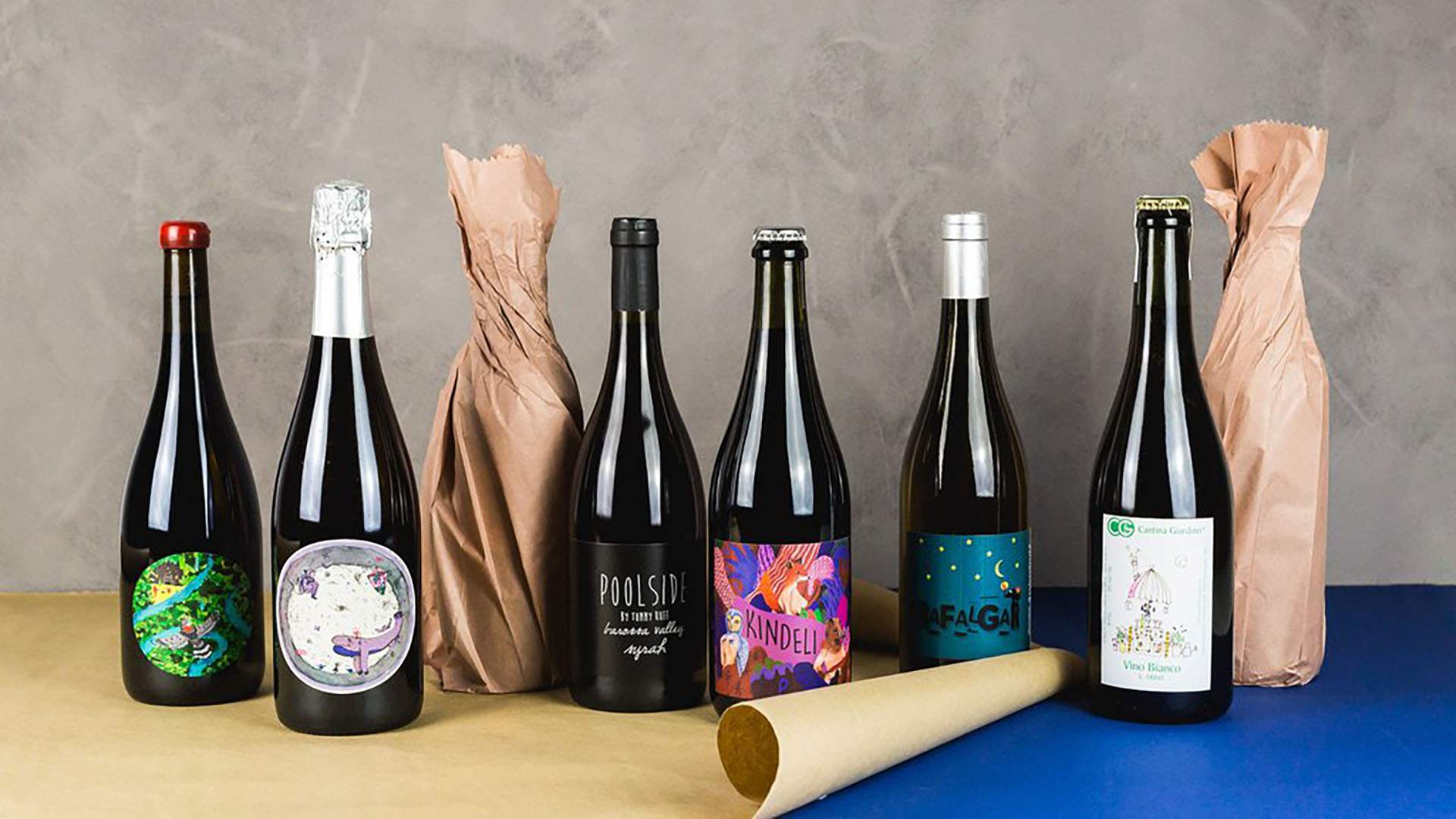 NATURAL WINES AND BATCHED COCKTAILS FROM DRNKS
A long-time purveyor of natural wines online, Drnks has a large collection of biodynamic, organic and sustainable drops. Here, you can nab everything from a wild wattle blossom ale from Marrickville's Wildflower Brewing to coveted magnums by Spanish wine producers Mendall and Escoda. The online shop is also offering up magnums of sake (imported from a famed Japanese brewer) and other specialty spirits like pisco and batched cocktails from Melbourne's Bar Americano. If you're looking to stock up, orders over $99 receive free shipping, and six-packs of wine receive a ten-percent discount to boot. And, if your address is within 15 kilometres of the Sydney CBD, same-day delivery applies Monday through Saturday.
Drnks same-day delivery is available on orders placed before 2pm Monday through Saturday. Order online here.


HOUSEHOLD AND KITCHEN ITEMS FROM DELIVEROO
Even before the World Health Organisation (WHO) declared COVID-19 a pandemic earlier this week — and before the Australian government banned non-essential events with more than 500 people — visiting an Australia supermarket to buy groceries had become a rather fraught affair. To help — and to help you stay home if you're social distancing or self-isolating — Deliveroo announced that it has added kitchen and household products to its delivery range. You can now order from local stores and supermarkets, and basic supplies dispatched to your door via the service. Deliveroo has also implemented a 'no-contact' drop-off service, which lets you request that your rider leaves your order on your doorstep.
To order via Deliveroo, visit the service's app or website. 


ALCOHOL IN 30 MINUTES FROM JIMMY BRINGS
If you're avoiding that midweek bottle shop run, you can still rely on 30-minute alcohol delivery service Jimmy Brings. It's been a go-to for its range of wine, beer and spirits since way back in 2011. Here, you can nab organic drops, wine bundles and party packs, plus mixers and other extras — like chocolates, bags of crisps, Panadol, Berocca and condoms. The online bottle-o takes 'same-day service' to the next level, with door-to-door averaging at just 24 minutes. Jimmy Brings delivers seven days per week until late, too. And, in response to Australians panic-buying toilet paper, the service even began delivering toilet paper to your doorstep earlier this month — but has since sold out, so keep an eye out for possible restocking.
Jimmy Brings delivery hours Monday through Saturday from 11.30am–midnight and Sunday from 11.30am–11pm. Order via Jimmy Brings via the app or website.

SIX-PACKS OF DOUGHNUTS FROM GRUMPY DONUTS
If its comfort food you're after, Camperdown's Grumpy Donuts is happy to oblige. The shop offers up same-day delivery six days per week, with the doughies reaching your door within two hours of ordering. And these aren't just any doughnuts we're talking about, either — Grumpy's is closer to a religious experience than a dessert. Choose from rotating flavours like maple syrup, creme brûlée, blueberry fritter, nutter butter, cake batter and pineapple custard. You can order a random assortment of six, with weekly specials also up for grabs. And, for those plant-based peeps, the shop also offers an entire range of vegan doughnuts to boot.
Grumpy Donuts delivery hours are 9am–3pm Monday–Friday and 10am–3pm Saturday. Check out Grumpy's Instagram for the latest doughnut flavours and order delivery here.


CHEAP-AS PIZZAS WITH NO-CONTACT DELIVERY FROM DOMINO'S
Our fair city obviously has plenty of pizza options that we'd recommend over Domino's. But, when it feel like the world around you is crumbling, sometimes all you want is a filthy thin-crust barbecue meatlovers. Not to mention: it's just so damn cheap. Right now you can nab any large pizza from $15 and any three pizzas for $32.95. Cheesy garlic bread, popcorn chicken and vegan pizzas are also on the menu.In light of the COVID-19 pandemic, Domino's is also now offering zero contact delivery — choose this option (on the app or the website) and the delivery person will leave your pizza on your doorstep.
Order Domino's via the app or online.


CLOTHES FOR YOU AND YOUR POOCH FROM THE ICONIC
Sure, designer threads may not feel like an express necessity at the moment. But a little online shopping can help improve your mood drastically, and we could all use a little pick-me-up right now. For Sydneysiders who welcome the distraction, online fashion hub The Iconic is here. Any items that are shipped directly by the brand will be delivered to the Sydney Metro area within three-to-five hours, Monday through Friday — and there's no minimum purchase for this same-day service, either.
Choose from men's and women's apparel and accessories, with over 20,000 products on the virtual shelf. Expect a special 15-percent discount for runway inspired looks post Fashion Week, too. And The Iconic has also just launched a stylish pet fashion range this month, so you and your pup can both look good from home.
The Iconic same-day delivery hours are Monday through Friday from 7am–5pm and 6pm–10pm. Place your order online here.


ON-DEMAND FOOD DELIVERY FROM DOORDASH
The US's biggest on-demand food platform for door-to-door delivery from a bunch of Sydney restaurants, In Sydney, you can order from the likes of Grill'd, Johnny Bird, Restaurant Moon, Huxtaburger, Lukumades, Mr Crackles and Thirsty Bird. Yes, that means dinnertime decision-making just got a little more interesting. Which can't be a bad thing, given that stats show a lot of us — two million of us to be exact — use meal delivery services at lease once every three months. And even more so now. During the COVID-19 pandemic, DoorDash is waiving delivery fees for a heap of restaurants, so they can generate a little more money in these uncertain times.
Image: Huxtaburger

Top image: Plant Girl
FYI, this story includes some affiliate links. These don't influence any of our recommendations or content, but they may make us a small commission. For more info, see Concrete Playground's editorial policy.
Published on March 31, 2020 by Concrete Playground