Matinee Coffee
Marrickville's bold NYC-inspired cafe heroes local producers and big flavours.
If there's one place that trumps Australia in the brunch stakes, it's good ol' NYC. For the uninitiated, the city's take on the famed hybrid meal is, quite simply, on another level. It's decadent, lengthy and perhaps (note: definitely) a little boozy. As a self-confessed 'New York tragic', it's little surprise that Charles Cameron lists the city as a source of inspiration for his venture Matinee Coffee. This Marrickville eatery takes cues from NYC in a number of ways: it's open all-day, it serves booze — including neighbouring brew Grifter on tap — and it has an unabashedly bold fit-out.
Noting that he feels both Scandi and industrial styles have been serviced in the cafe scene — and he would know as a former owner of industrial haven Brewtown — Cameron had very different intentions for Matinee. To create the space, he teamed up with interior masters Luchetti Krelle. A jewel-toned colour palette tracks through orange table-tops, a crimson-tiled communal table, green velvet chairs and a mural on the back wall. There are references to old-school milk bars in the blue marmoleum flooring and a neon-lit menu above the coffee machine.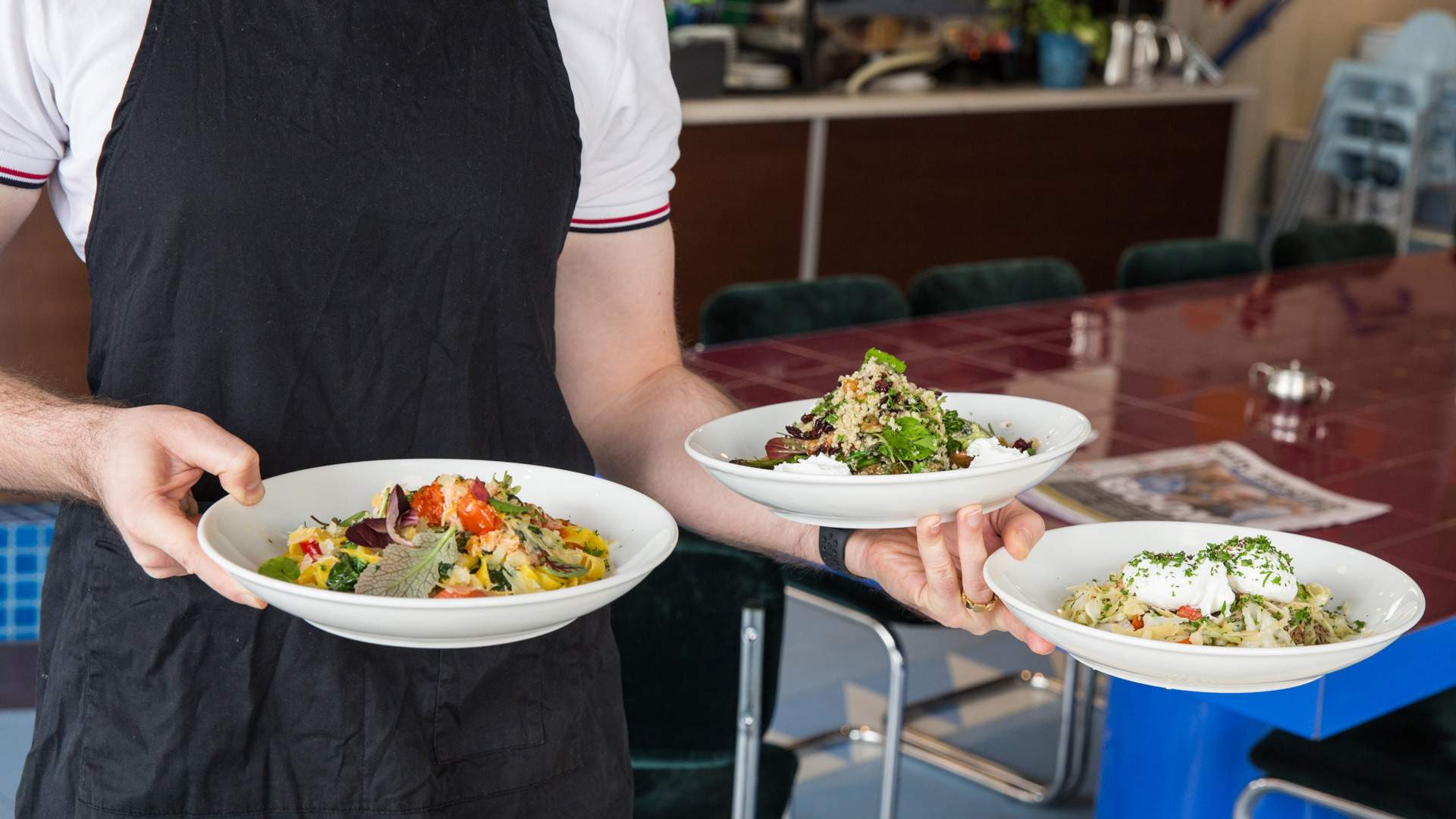 The venue takes full advantage of its corner location on Addison Road. An L-shaped counter provides Cameron a panoramic view of his domain, from the kitchen and timber banquette stage right to the large communal table and outdoor seating stage left. The theatre-speak is intentional: the eatery's moniker is one of several nods to show business, such as the red velvet-roped entrance and fringe chandeliers above the communal table. But it's not gaudy, it's considered — as is most of Matinee's make-up.
There are two menus, one for drinks and treats, plus one for eats, to explore. For drinks, coffee is a custom in-house blend —  which is available to purchase, plus there are vegan shakes and the aforementioned alcohol. The majority of sweets — including a delectable passionfruit tart ($9) and caramel slice ($5) — are vegan and gluten-free. In fact, tell-tale symbols for vegetarian, vegan and gluten-free appear all over the menu, again signalling a well-thought out approach, rather than a tokenistic one.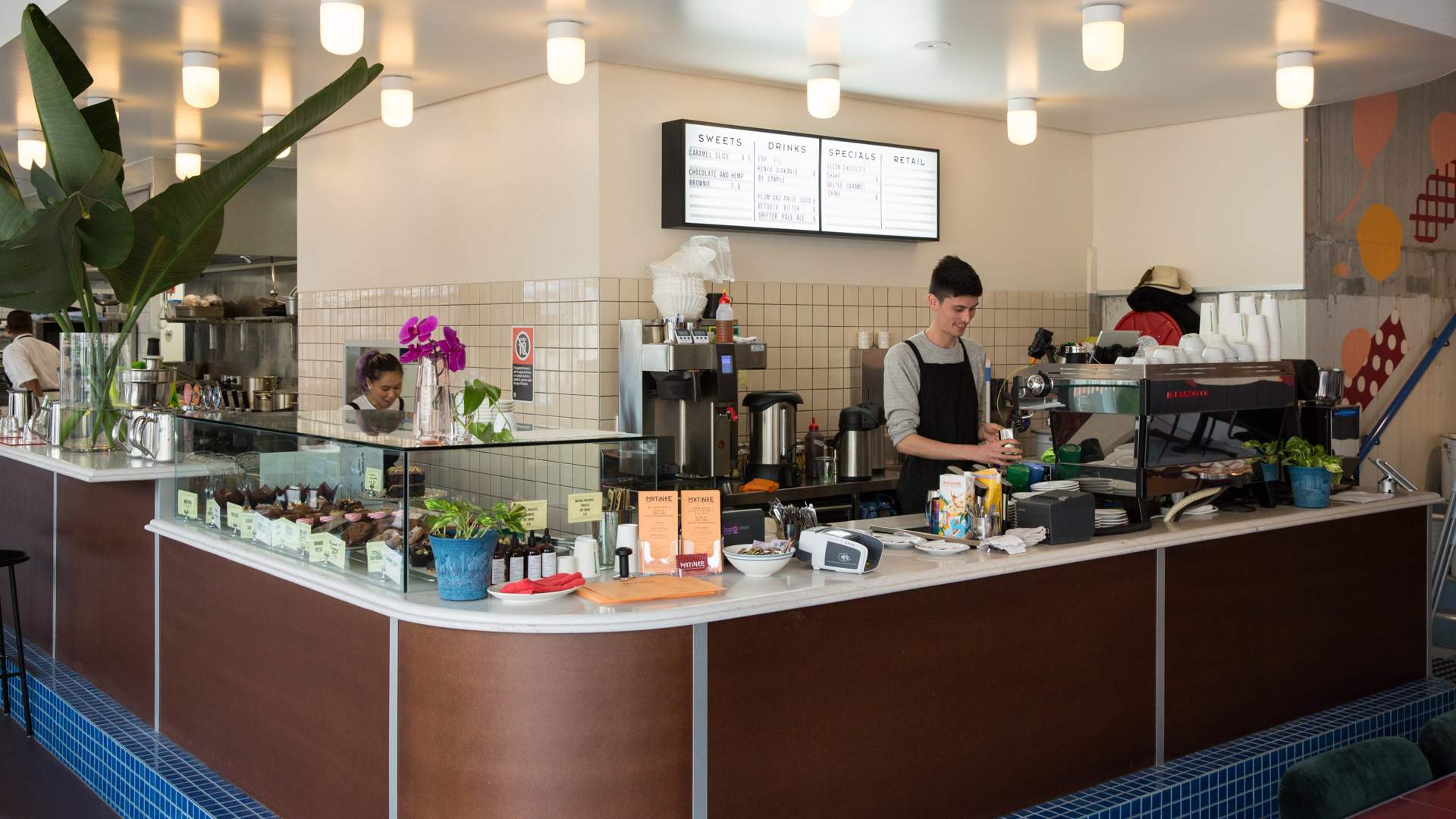 For the most part, the kitchen has avoided fads (à la cronuts) and instead does fresh takes on well-worn cafe favourites. The karaage chicken burger ($23) with shoestring fries is flavoursome and the sweet potato fritters ($24) are a winner, particularly when hacked with haloumi ($7). As a bacon fiend, the menu staple thick cut bourbon bacon ($7) is a welcome addition to both dishes.
On the sweeter side, you've got a perfectly balanced buckweet brekkie trifle with passionfruit curd and coconut yoghurt ($18) and the tiramisu waffle ($19). If you're feeling adventurous, you can also ask for the current specials. All of these menu items, and more, are available all day.
Modern attention spans mean that Sydney folk often get bored quickly with new cafes. Let's hope the curtain stays risen on Matinee.
Images: Letícia Almeida
Appears in:
The Best Cafes in Sydney
The Best Cafes for Working or Studying in Sydney
Concrete Playground Trips
Book unique getaways and adventures dreamed up by our editors