The Bayview Park Section of the Parramatta River Is Reopening for Swimming for the First Time Since 1969
Swimming hasn't been permitted at Bayview Park for more than five decades, but that'll change in November.
Inner West residents looking for a new favourite swimming spot can rejoice, with summer dips returning to Bayview Park. Sydney has some of the world's most picturesque bodies of water, whether it's our white sand beaches or some of the more unconventional swimming holes. Despite this, we're always on the lookout for new places to submerge ourselves — with city councils proposing ways to make the harbour swimmable, new pools opening up and, now, the City of Canada Bay revealing plans to reintroduce swimming to a section of the Parramatta River.
"After years of hard work, I'm thrilled we're finally able to see visitors safely swimming at Bayview Park again for the first time since the 1960s," City of Canada Bay Mayor Angelo Tsirekas said.
The announcement arrives just in time for a wave of warmer weather that's hit Sydney, with swimming set to return to the section of the river on Sunday, November 13. This will mark the first time it has been permitted at Bayview Park in 53 years. The Inner West beach first became a popular swim spot in the 1930s, but was closed and has remained unswimmable since 1969.
Accompanying the reopening is a range of new facilities. Bayview Park is currently being fitted with a netted swimming enclosure, picnic facilities and outdoor showers, all of which will be ready to go for the November 13 launch date.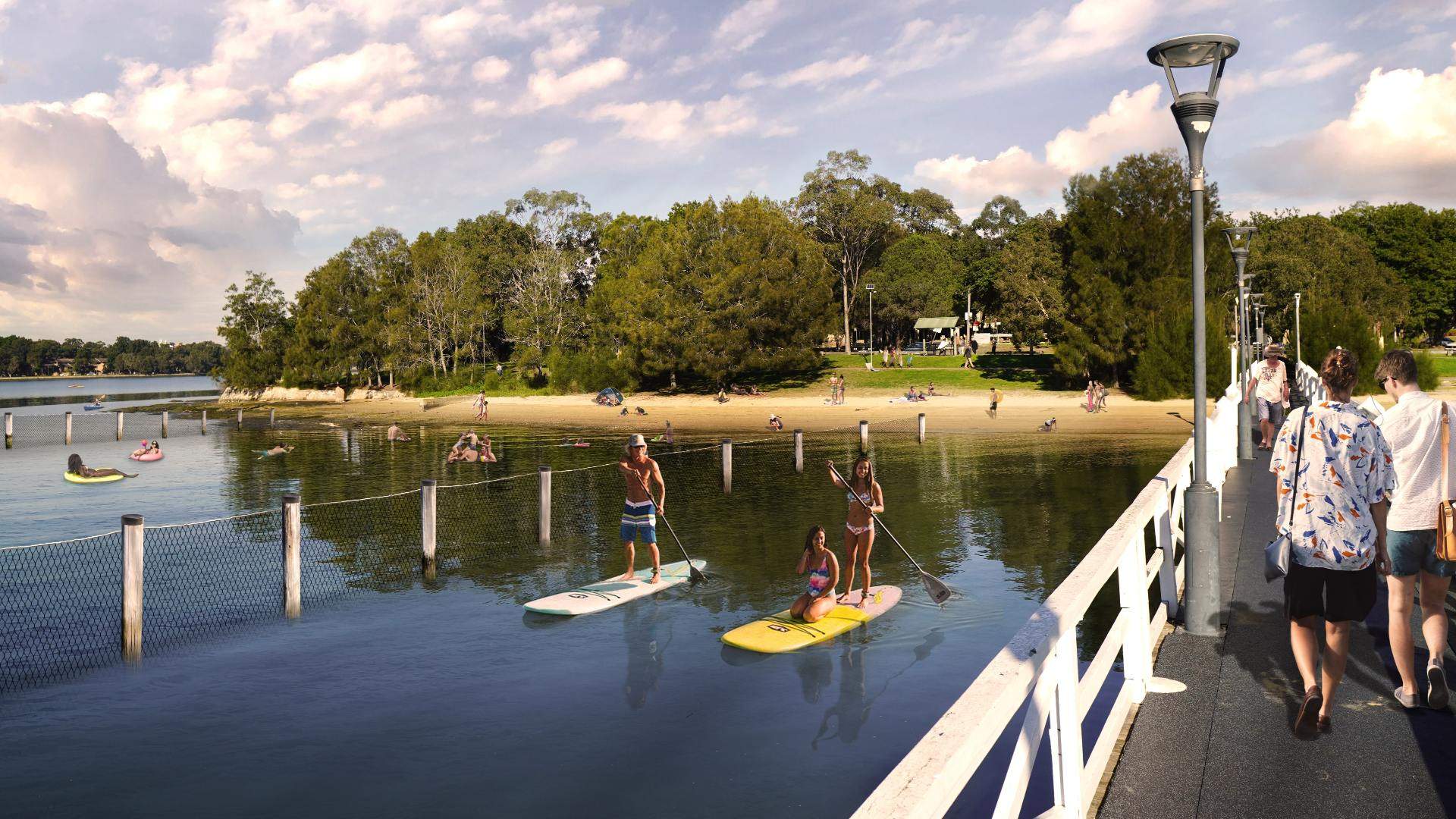 "Our older residents have fond memories of taking to the Parramatta River on hot days, and younger residents would have heard the stories of their grandparents' days. This summer, we are taking these moments out of the old black-and-white photo albums and bringing them back to life," Tsirekas continued.
The reintroduction of swimming to Bayview Park is the result of a $700,000 revitalisation project from the City of Canada Bay, Sydney Water and the Parramatta River Catchment Group (PRCG), with help from NSW Government funding. Following this extensive work, tests have shown the site is safe for swimming — but if you're still a bit sceptical about diving into Parramatta River head first, you can check daily water quality updated on the PRCG Our Living River website.
A community open day will be held at the park on Sunday, November 13 to celebrate the project's success. Plus, a more extensive upgrade of Bayview Park will be commencing in 2023 to complement the swims. This facelift will include improvements to parking, expanded picnic facilities and upgrades to the park's landscaping.
Bayview Park will become one of five Parramatta River swimming spots, alongside Dawn Fraser Baths, Cabarita Park Beach, Chiswick Baths and Lake Parramatta. PRCG has also earmarked the likes of Bedlam Bay, McIlwaine Park and Putney Park as possible new swim sites along the river.
Swimming will be reintroduced to Bayview Park from Sunday, November 13. Find out all of the details via the City of Canada Bay's website.
Concrete Playground Trips
Book unique getaways and adventures dreamed up by our editors