TRAVEL & LEISURE
The Most Unusual Swimming Holes to Try Around Sydney
Don't stick to the rivers and the lakes that you're used to.
Of all the watery cities in the world, Sydney has one of the longest coastlines. By the time you count up all the beaches, the entire harbour and the scattering of islands, you've got a serious stack of kilometres behind you. So far, we've brought you secluded beaches, outdoor pools and waterfalls. Now we're adding a dash of adventure to the mix, with eight of the most unusual swimming experiences to be had in and around our city.
A quick dip above a waterfall, with sweeping national park views? Check. An adrenaline-pumping frenzy in a wild, exposed ocean pool? Check. A deep plunge into a limestone gorge, bordered by steep marble cliffs? Check. Whether you want rapids, waves, rock scrambles, views, art, secrecy or nudity with your swim, we've got them all. Right here.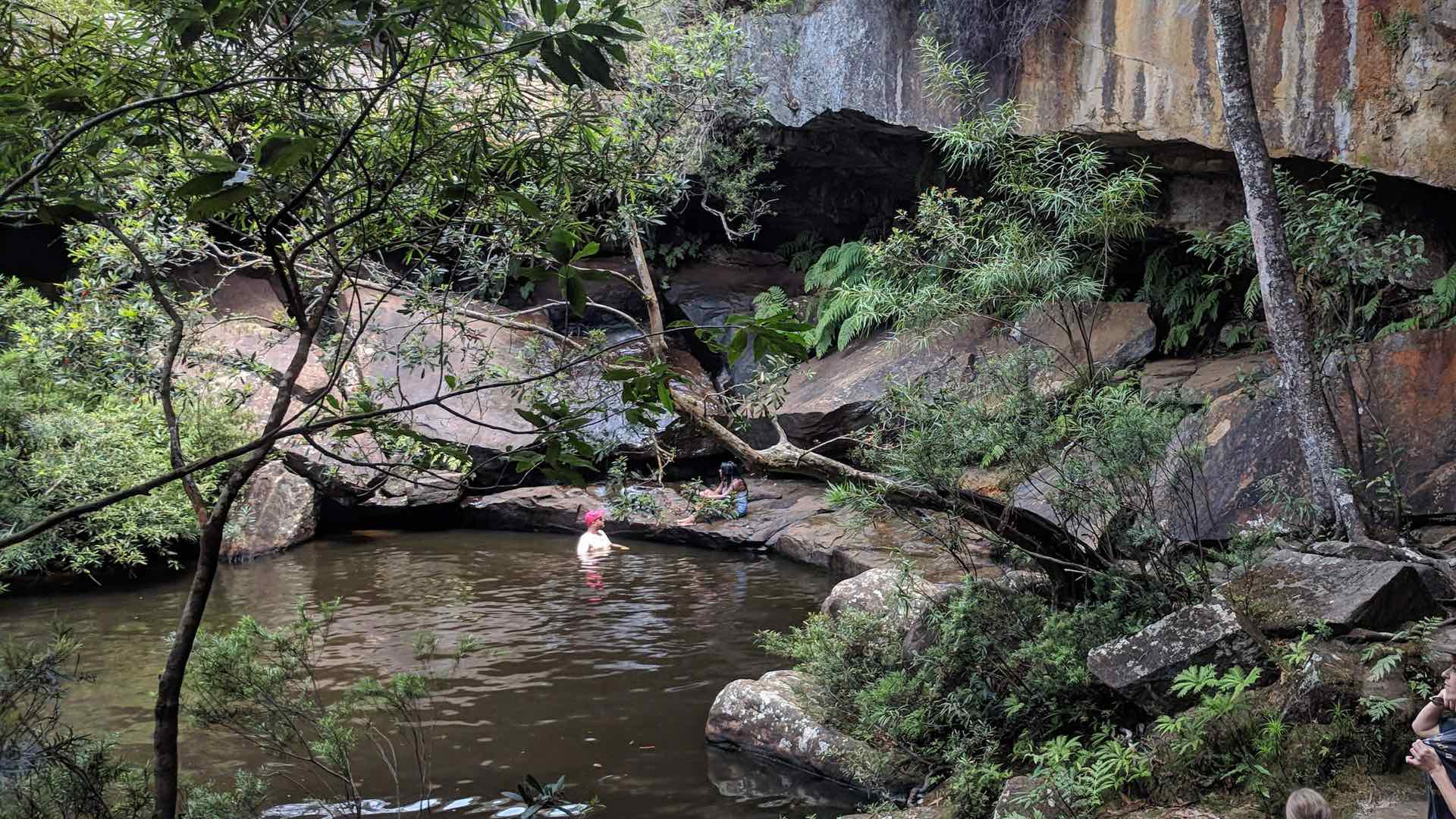 FOR SECRETIVENESS: GLEDHILL FALLS, KU-RING-GAI CHASE NATIONAL PARK
For a long time, the Gledhills were like ghosts. A few people said they'd seen them, but finding proof was difficult. These days, there's more information floating about, but the forest-encircled falls — and the ten-metre-wide pool into which they tumble — are still tricky to find. Set in the Ku-Ring-Gai Chase National Park, you'll need to do your research before you head out. First, pack your rock climbing shoes. Then, drive your car from Mona Vale Road, onto McCarrs Creek Road, until, after about 4.5 kilometres, you reach the teeny-tiny, easy-to-miss bridge that crosses McCarrs Creek. Initially, the track is clear, but, nearing the water, prepare to scramble.

FOR WAVES: MAHON POOL, MAROUBRA BEACH
Of all the rock pools wedged between the city and the mighty Pacific, Mahon is the most adrenaline conducive. It's set at the base of the Jack Vanny Reserve along Maroubra Beach. From Maroubra's northern clifftops it's hard to spot, but make your way down the staircase from the Marine Parade carpark and you'll soon spy it among the exposed rocky outcrops. An inter-tidal position often means fierce invasions from the ocean, so adventure seekers should visit when the water's high and the wind's a-blowing for the biggest waves and the most fun. It goes without saying, though, to be careful.

FOR SECLUSION: RESOLUTE BEACH, KU-RING-GAI CHASE NATIONAL PARK
Despite its five million-strong population, Sydney is home to a number of secluded beaches. But Resolute Beach takes isolation and wildness to the next level. That's because the only way to reach it is by taking on the six-kilometre Resolute Loop Track, which turns off many a lazy beach-goer. Those with the stamina to handle it are, however, amply rewarded with an unspoiled, empty stretch of sand that's surrounded by Ku-Ring-Gai National Park and affords uninterrupted views over Pittwater. The hike, which begins at Resolute Picnic Ground, also takes in a few other remote beaches, as well as the Red Hands Cave.

FOR FRESHWATER: LAKE PARRAMATTA, PARRAMATTA
Back in the 1930s, Lake Parramatta was one of Sydney's go-to watering holes. But, decades ago, thanks to rising pollution levels, swimming and boating were banned. Major clean-up programs have, however, restored the lake to its former pristine glory, and, as of January 2015, it reopened for bathing. Located just two kilometres north of the Parramatta CBD, a visit to this leafy, sandstone-enclosed freshwater spot is a must during the summer months. The 10.5 hectare lake is set within 73 hectares of bushland where boat hire, walking trails, picnics and barbecue facilities are also on offer alongside your swim.


FOR NUDITY: LADY BAY BEACH, SYDNEY HARBOUR NATIONAL PARK
Thanks to Lady Bay's existence, you can be completely suited up in the middle of a work meeting at Circular Quay at 5pm, yet utterly naked amid all kinds of wildness by 5.30pm. Tucked into a calm cove near Watsons Bay, it's one of Australia's oldest nudist beaches — which first became legal in 1976, thanks to Neville Wran's blessing. Located within the Sydney Harbour National Park between South Head and Camp Cove, Lady Bay Beach offers views across to Manly and Middle Head, as well as top notch vistas of the city skyline. Be sure to pack a picnic to enjoy pre-or-post swim, and keep an eye out for whales (seasonally).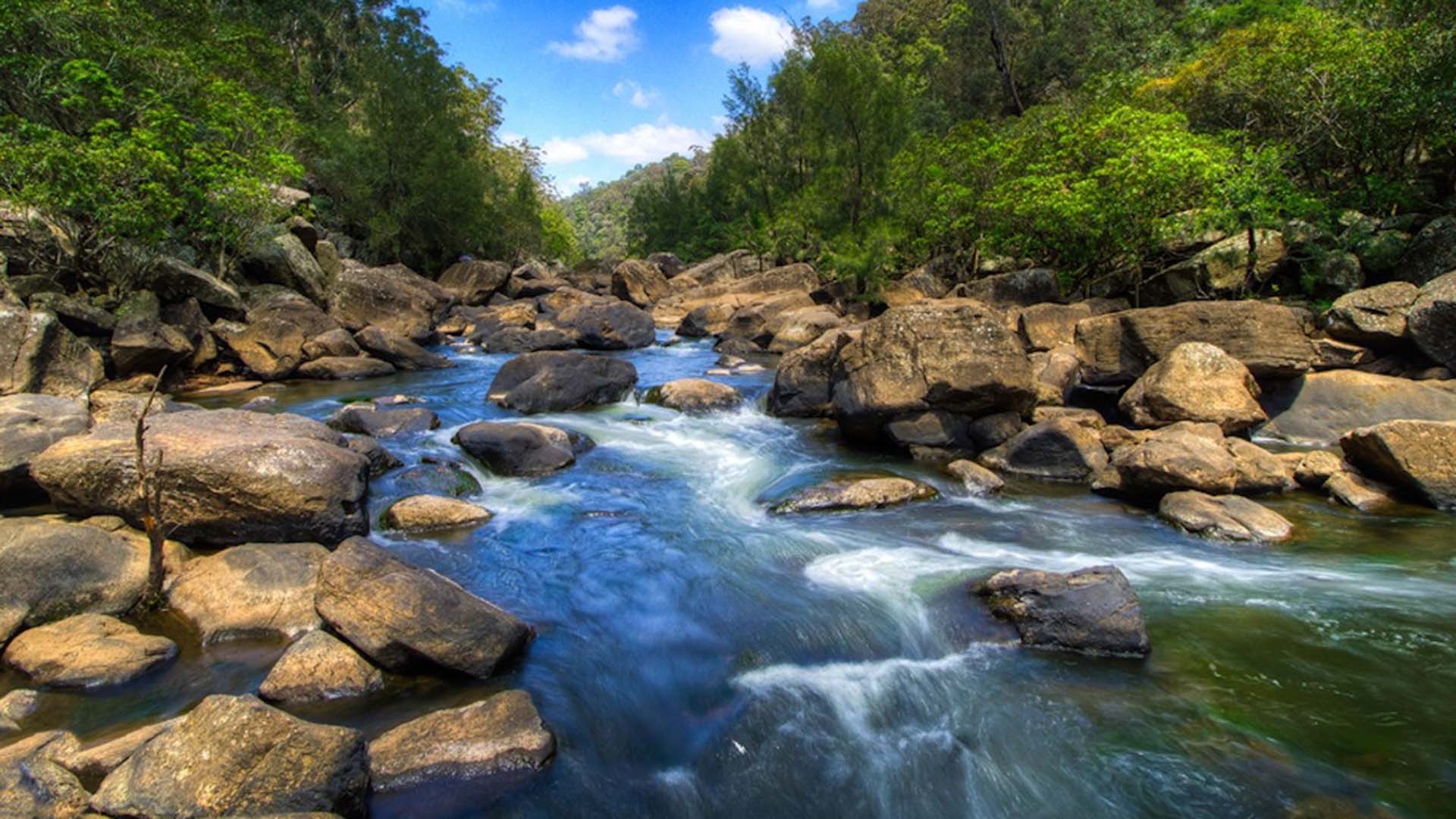 FOR RAPIDS: BENTS BASIN, BENTS BASIN STATE CONSERVATION AREA
Pack your lilo — Bents Basin has rapids. Spend your day throwing yourself down them if you're the type that likes a slightly out of control swim. Otherwise, keep to the still water — it's one of the deepest swimming holes in New South Wales. A dramatic, wooded escarpment provides the backdrop, which means there's ample views for picnickers, too. Bents Basin is part of a Nepean River gorge and lies between Penrith and Camden, about 70 kilometres from the Sydney CBD. If you don't want to limit yourself to just one afternoon by the basin, opt to camp overnight in the State Conservation Area.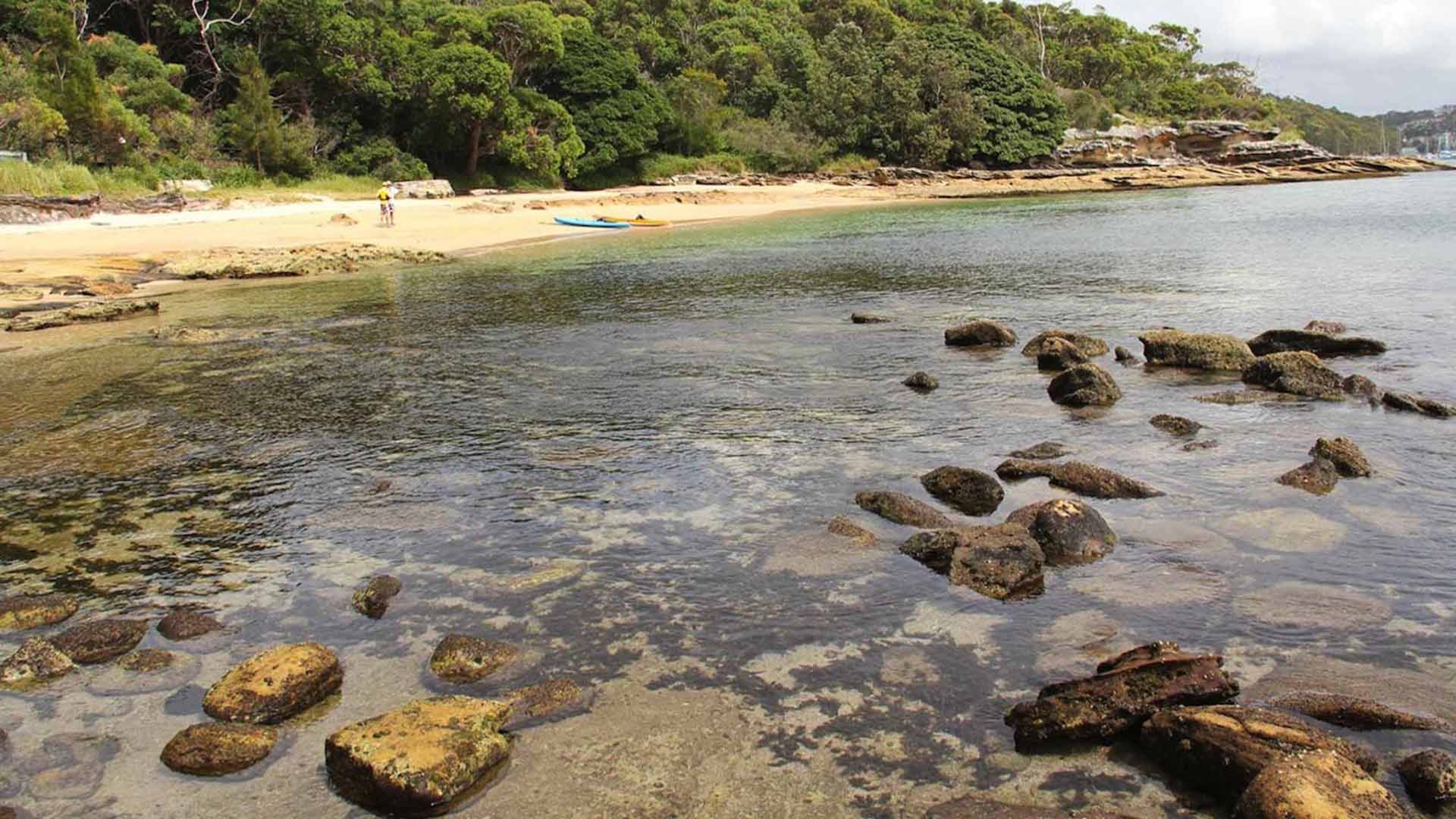 FOR INDIGENOUS ROCK ART: REEF BEACH, BALGOWLAH HEIGHTS
You'll pass heaps of beaches along the Spit Bridge to Manly Walk, but one of the most secluded is Reef Beach in Balgowlah Heights. It's best to make your way here after the tide has gone out, because that's when Indigenous Australian carvings becomes visible in the rocks. This beach is also just an incredibly tranquil section of Middle Harbour, offering excellent views of Manly and Sydney Harbour's northern section. If you don't feel like trekking the ten-kilometre track just for a swim, you can alternatively drive to Beatty Street — Reef Beach is just a short walk from the car park.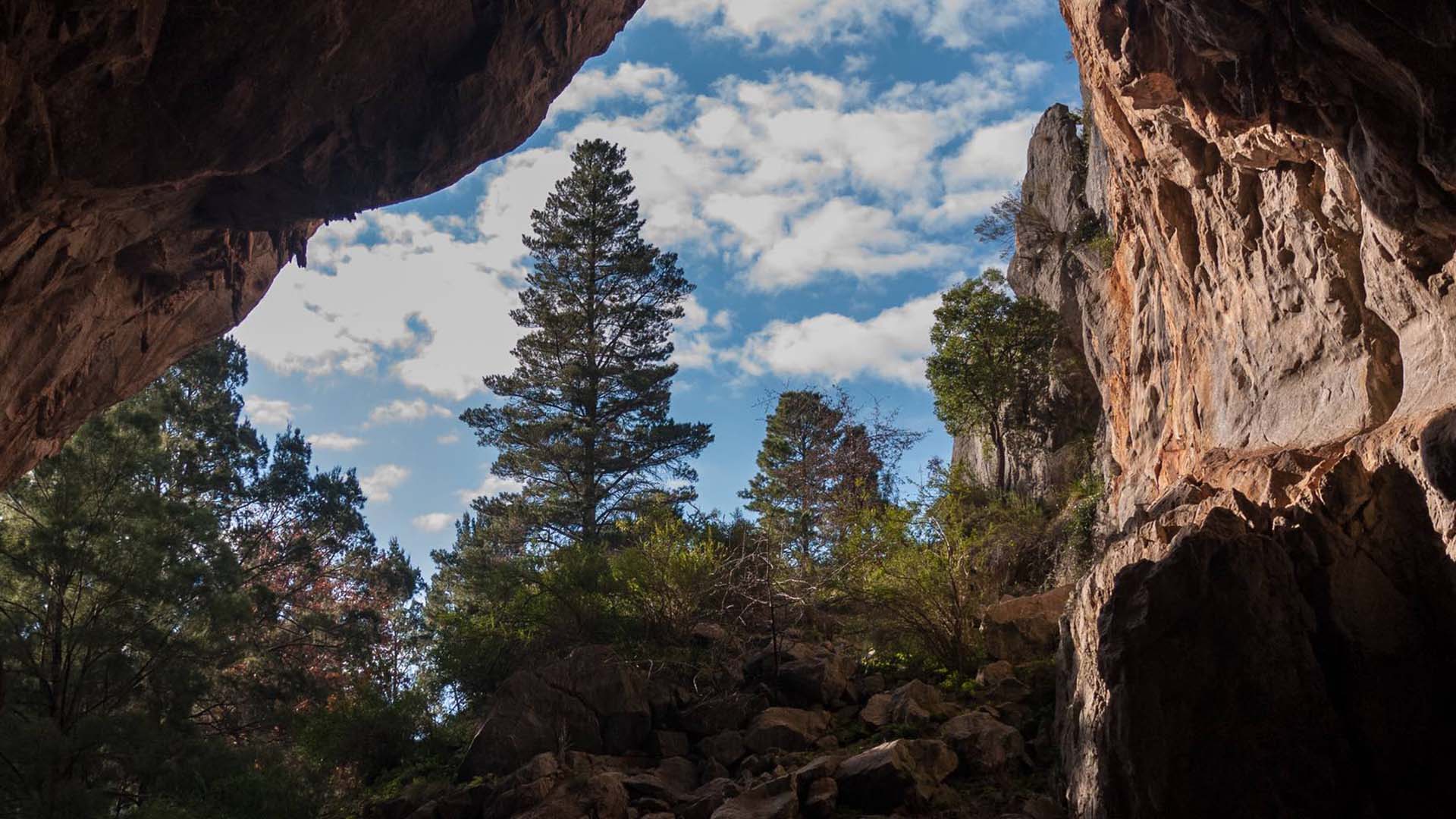 FOR BEING INDIANA JONES: WOMBEYAN GORGE, WOMBEYAN KARST CONSERVATION RESERVE
If you've always fancied you could have done Harrison Ford out of a job, show us how it's done at Wombeyan Gorge by plunging into the deep, emerald swimming holes surrounded by sheer marble cliffs. If that's not adventure enough, canyon your way 1.5 kilometres upstream, where you'll reach a secluded waterfall. Or keep out of the water altogether by heading up to Tinted Cave, where you can view the action in comfort from a naturally formed balcony. Make sure you leave time to investigate at least some of the subterranean limestone network that makes up the Wombeyan Cave, too. You'll find all of this near the Wombeyan Karst Conservation Reserve, about 180 kilometres southwest of Sydney.
Note: Part of the Wombeyan Karst Conservation Reserve is currently closed, with only pre-booked campers allowed at this time. Before you venture out, check the NSW National Parks and Wildlife Service website for the latest alerts.
Published on January 19, 2021 by Jasmine Crittenden