TRAVEL & LEISURE
Ten Country Towns Near Sydney You Should Day Trip to This Winter
These picturesque spots offer everything from cosy cafes and artisanal markets to hot mineral springs and hatted restaurants. Plus, they're only a hop, skip and a jump away.
Ten Country Towns Near Sydney You Should Day Trip to This Winter
These picturesque spots offer everything from cosy cafes and artisanal markets to hot mineral springs and hatted restaurants. Plus, they're only a hop, skip and a jump away.
---
Friendly pubs with crackling fireplaces, cosy cafes with comforting winter dishes, dramatic sunsets and brisk walks — it's time to wrap yourself in your warmest winter coat, crank up the car's heater and escape to the country. If you've only a day to spare, fret not. These ten pretty, winter-embracing towns are only a hop, skip and jump away.
For hot mineral springs, hatted restaurants and cool climate wines, head inland to the Southern Highlands or the Blue Mountains, for whale watching and sparkling ocean vistas — without the hassle of summer crowds — make tracks to the coast.

BERRIMA, SOUTHERN HIGHLANDS
Dotted with sandstone buildings and, some say, haunted by ghosts, this historical village lies a short drive from Sydney in the Southern Highlands. Start with a coffee and baked goodie at Gumnut Patisserie, before heading to Eschalot for hatted fare made with local produce from the onsite kitchen garden. Alternatively, you'll find hearty pub classics and two fireplaces at the Surveyor General Inn. Opened in 1839, it's the oldest continuously licensed pub in Australia. Also worth exploring are the Berrima River Walk (look out for platypuses), Harpers Mansion and Berrima's many independent shops.
How far? A two-hour drive


BOWRAL, SOUTHERN HIGHLANDS
Another Southern Highlands settlement that isn't shy of winter is Bowral: a 12,000-person town on the Mittagong River that's surrounded by rolling farmland and wineries. On arriving, refuel with a coffee at Rush or Flour Water Salt, before strolling around town checking out Dirty Jane's epic collection of antiques and vintage clothing, as well as Browns Bookshop and the Bowral Art Gallery. Come lunchtime, settle in for a tasting menu at two-hatted Biota or a feast at The Mill. For an afternoon wine or coffee beside a roaring fire place, there's Briars, Peppers Craigieburn or Bendooley (home to Berkelouw Books and a massive second-hand book collection).
How far? A two-hour drive


MOUNT VICTORIA, BLUE MOUNTAINS
Of the many indulgences that make winter worth enduring, a long soak in hot mineral springs is one of the best. You can do exactly that at the Japanese Bath House in South Bowenfels, two hours' drive west of Sydney. Once you're completely relaxed, make tracks to Mount Victoria, a village 15 minutes' drive away. Here, you can catch a film at a 1930s cinema, while slurping up homemade soup (and homemade choc tops), before swinging by Mount Victoria Manor for a craft beer by the fire. This heritage-listed mansion was built in 1876 by John Fairfax, founder of the Sydney Morning Herald. If you're keen to hang around and catch a wintry sunset, drive to Sunset Rock Lookout, which you'll find at the end of Beaufort Avenue.
How far?  A two-hour drive


KATOOMBA, BLUE MOUNTAINS
To experience a Blue Mountains winter without travelling as far as Mount Victoria, stop at Katoomba, which is 90 minutes' drive west of Sydney. Make your first destination Yellow Deli, where you can rest among handcrafted wooden furniture and an open fire. Just be aware that the cafe is run by a cult. If you'd prefer to avoid, grab a freshly baked pie up Katoomba Street at Hominy Bakery. Next up, stretch those stiff legs with a bracing walk along the Prince Henry Cliff Walk, which journeys along cliff tops taking in incredible views for seven kilometres, before reaching Leura. The best spot in town for lunch is Leura Garage, its warming winter menu includes 12-hour braised lamb shoulder with pomegranate glaze, confit garlic and rosemary. Catch the train back to Katoomba for a fireside wine in The Carrington's grand 19th-century bar.
How far? An hour-and-a-half drive

BILPIN, BLUE MOUNTAINS
Located along the Bells Line of Road, which runs to the Blue Mountains from Sydney's northwest, this idyllic village is famous for its apple-growing powers. They're not the only fruit that flourishes here, however, and if you're keen to get all country you can pick your own fruit at Bilpin's Fruit Bowl. Alternatively, find out how local apples taste when transformed into cider at Hillbilly, then check out the winter menu at Bilpin Afire — where local produce is turned into imaginative dishes, such as spicy hot chicken popcorn. Another cosy spot, ten minutes' drive away in Kurrajong, is Lochiel House, which serves up Asian-influenced creations. Before returning to the big smoke, be sure to take a wintry stroll around Blue Mountains Botanic Garden and grab an apple-charged treat from the Cottage Orchard Cafe.
How far? A two-hour drive

WOLLOMBI, HUNTER VALLEY
This cute village, found two hours' drive north of Sydney, is the gateway to both the Hunter Valley and World Heritage-listed Yengo National Park. Begin your adventure with a comforting brekkie at Mulla Villa in the form of french toast with cinnamon sugar, whipped cream and berry coulis — then take a wander around Wollombi's historical buildings or get your bearings at Finchley Lookout, with 360-degree views over Yengo's rugged wilderness. Meanwhile, at the Wollombi Tavern, you'll find friendly folks and a fire place. Just six kilometres down the road is Laguna, where the Great Northern Trading Post serves up generous fare packed with local produce and hosts an array of events, from live gigs to spoken word performances to artisanal markets.
How far? A two-hour drive



MORPETH, HUNTER VALLEY
In the Hunter Valley's northeast corner is Morpeth, a picturesque 1500-person village on the banks of the Hunter River that's filled with 19th-century buildings. One of the tastiest, winter-friendly brekkies in town is at Common Grounds, where offerings include house-made spicy beans with black sesame crusted avocado. After that, take a relaxing walk along the river bank or check out Campbells Craft Store Centre, home to 15 independent shops dedicated to various arts and crafts. Among the town's other warming experiences are the Australian Alpaca Barn and Mortels Sheepskin Factory, where you can learn all about the making of Ugg boots. Finish up with a fireside brew at The Commercial or venture into the Hunter Valley for wine tasting galore.
How far? A two-and-a-half-hour drive


ST ALBANS, HAWKESBURY
Half the fun of day tripping to St Albans is getting there. So don't rush. For the most part, you'll be travelling along the Old Northern Road, which leaves Sydney at Dural before making its way through rolling farmland and national parks. Next comes the ferry crossing at Wisemans, followed by the twists and turns of pretty MacDonald River. The main attraction at St Albans is the Settlers Arms Inn, a Georgian coaching inn — and pub — built by convicts and backdropped by mountains. While away the afternoon eating and drinking beside the open fireplace before gearing up for the drive home — or stay the night.
How far? A two-and-a-half-hour drive

KIAMA, SOUTH COAST
When winter rolls around, beach-going folks swap swimming, surfing and sunbathing for the wonder of whale watching. From July to October, Australia's East Coast hosts a continual spectacle of breaching, blowing humpbacks. For a day trip that involves splendid views of these magnificent creatures drive to Kiama, a 90-minute trek south of Sydney. The best vantage points are Blowhole Point, Bombo Headland and Marsden Headland — or head out to sea on a tour with Dolphin Watch Cruises. Should you work up an appetite, visit Flour Water Salt for coffee and freshly baked goods, Milk and Honey for cafe fare with a coastal view or the Hungry Monkey for burgers.
How far? An hour-and-a-half drive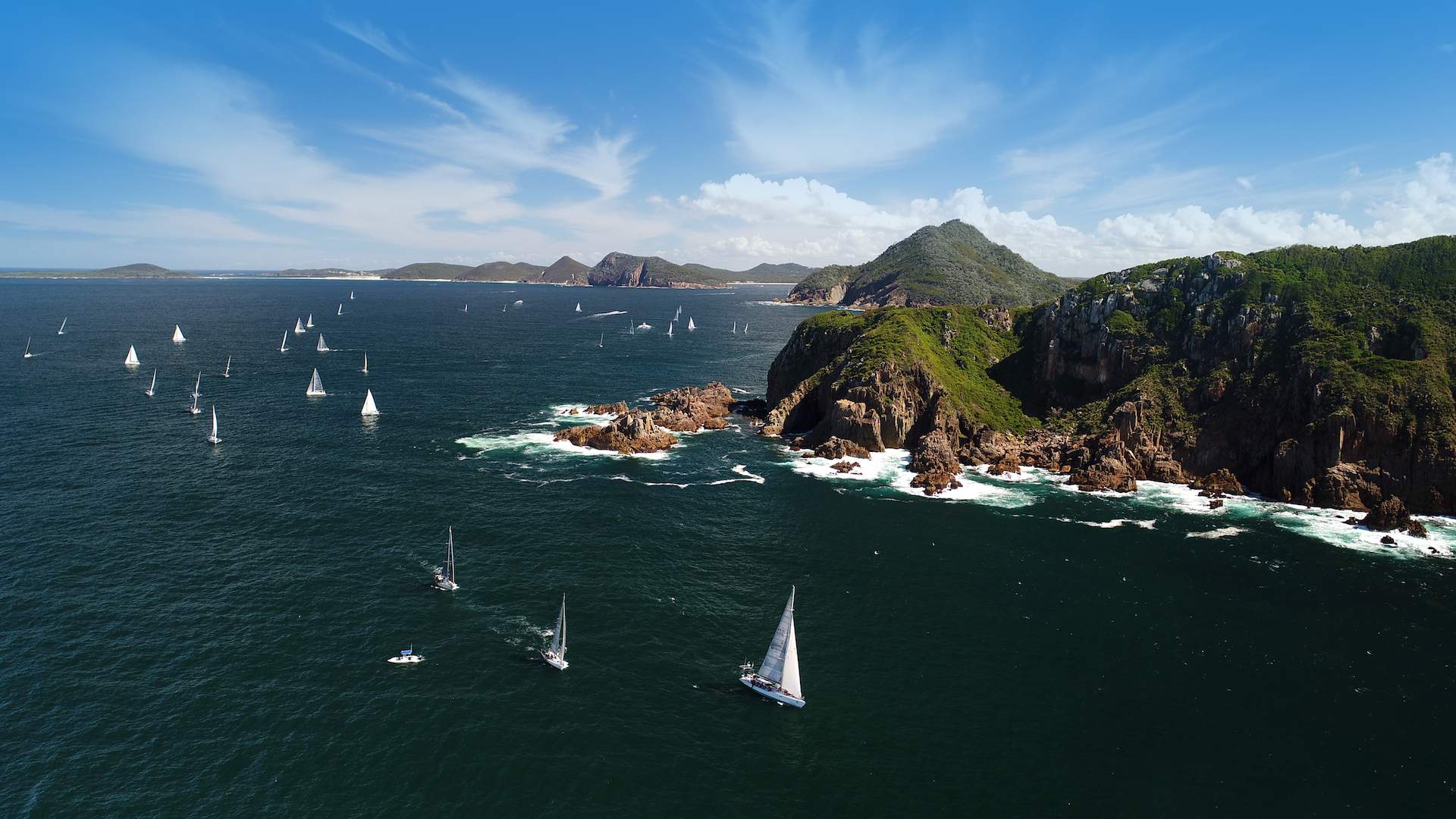 PORT STEPHENS, NORTH COAST
Another top-notch location for whale watching is Port Stephens, on the mid-North Coast. You'll have to get up early for this one, though, as it's a 2.5-hour drive from Sydney. Warm up with a steep, 45-minute walk to the summit of Tomaree Head, where you'll be rewarded with sweeping views — including whales. To see them close up, book an eco-tour with Imagine, whose trusty craft Envision holds just 18 people. Re-energise with a feast at one of Port Stephen's many cracking eateries, be it Little Beach Boathouse for premium seafood overlooking Nelson Bay, the Point Restaurant for outstanding laksa, or Little Nel Cafe for its outstanding terrace that's perfect for soaking up winter sunshine.
How far? A two-and-a-half-hour drive

Top image: Leura Garage, Katoomba
Published on July 27, 2018 by Jasmine Crittenden