TRAVEL & LEISURE
The Best Summer Day Trips Out of Sydney
Blowholes, bush walks, cycle trails and vineyard picnics are only a short drive away.
in partnership with

You've got two days of rest — how are you going to spend it? When your starting location is Sydney, you've got a wealth of places to visit within a few hours' drive. Whether you fancy lounging the afternoon away at a pool, working up an appetite on a countryside cycle trail, or seeking out the freshest seafood on the coast, here are ten day trip suggestions that deliver those and more.
From pristine beaches and bountiful wine regions to alpine hideaways and bustling country towns, Australia has a wealth of places to explore at any time of year. We've partnered with Tourism Australia to help you plan your road trips, weekend detours and summer getaways so that when you're ready to hit the road you can Holiday Here This Year.
While regional trips within NSW are now permitted, some of the places mentioned below may still be closed due to COVID-19 restrictions. Please check websites before making any plans.
Some of the beaches on this list are not patrolled by lifeguards. To ensure you stay safe, head over to Tourism Australia for its latest tips on water safety.

FOR ART AND SURF: NEWCASTLE
Downtown Newcastle is like a mini Melbourne by the sea. The CBD has independent retailers, small bars and restaurants that rival the likes of most Australian capital cities. If you arrive early, settle among the bright tiles, artworks and plants of Ground Up Espresso in Carrington, a waterfront suburb on Newcastle Harbour's north shore — or save yourself for a five-course meal at hatted restaurant Subo. Booze your afternoon away at Newie's local brewery, The Foghorn, or soak up some sun at one of the beachside pubs, like Mereweather Surfhouse. Wherever you end up, the waterfront is never more than a nip away, with the tranquil stillness of Newcastle Harbour on one side and surf beaches on the other. Go for a dip at the famed Newcastle Ocean Baths and, if you're able to hang around until sunset, finish your day with a stroll along the spectacular ANZAC Memorial Walk.
Newcastle is two hours' drive or three hours by train north of Sydney.

FOR SEAFOOD AND SWIMS: WOY WOY
When you want to get out of the city — but don't want to drive too far — the Central Coast is your best bet. And, just 75 minutes in a car or the train will get you to the quaint seaside town of Woy Woy. Here, you can have a seaside feast at Woy Woy Fisherman's Wharf then head over to Frankie's Rooftop for a spritz. If you've got a car, make a detour to the nearby Bouddi Coastal Trail — the eight-kilometre hike winds pass plenty of lookouts and beaches. Pack your snorkelling gear, too — we recommend heading to the sheltered Lobster Beach and keeping an eye out for dolphins. But, if you're sticking around for dinner, we suggest you try the pasta at Young Barons.
Woy Woy is an 75-minute drive or 80-minute train ride from Sydney.

FOR POOLSIDE RELAXING: PORT STEPHENS
Port Stephens lucked out when Bannisters arrived back in 2018, bringing a luxurious hotel and, most importantly, a Rick Stein restaurant. And what better way to shake off the big smoke than by sitting in a breezy space, overlooking still water, and working your way through grilled Nelson Bay tuna with red capsicum salpicon, or steamed whole fish with soy, ginger and spring onion? Beyond that, Port Stephens offers plenty of outdoor escapades, from its 26 beaches to camel riding and sandboarding down the Southern Hemisphere's biggest sand dunes.
Port Stephens is a three-hour drive north of Sydney.

FOR BOATING AND BUSH WALKING: BEROWRA
The beautiful hamlet of Berowra is literally encircled by natural beauty: it's within Berowra Valley National Park, and Cowan Creek and Berowra Creek run either side of the suburb. If you're driving, get your bearings with a stop at Barnetts Lookout. After a wander around Berowra Village, head to Berowra Waters for ferry rides, a spot of kayaking, nature walks or some lazy riverside reading. Cheap and cheerful fish and chips are on offer at the Berowra Waters Fish Cafe or go fancy with a hatted feast at Berowra Waters Inn.
Berowra is 45 minutes' drive or an hour by train from Sydney CBD.

FOR HIKES AND BRUNCH: PEARL BEACH AND PATONGA
Unlike so many coastal areas, Pearl Beach is fiercely protected from development. Just 400 or so residents live here and, because the village is National Trust-listed, further construction is banned. It truly is a world of its own, perched on a picturesque beach and surrounded by bushland. You can spend your days dissolving into sand and sea, or, if you want a work out, take on the Pearl Beach to Patonga walk. At the other end, you'll find the Boathouse Hotel, where you can tuck into seafood plates, crumbed dory burgers and buckets of prawns (and even stay the night if you don't feel like driving home after all that). Meanwhile, back in Pearl Beach, there's hatted restaurant Pearls on the Beach and, for more casual fare, the Pearl Beach Cafe and General Store.
Pearl Beach is a 90-minute drive north of Sydney.

FOR CASCADES AND BLOSSOMS: LEURA AND KATOOMBA
If Katoomba is the busiest village in the Blue Mountains, Leura is the prettiest — making the neighbouring towns the perfect places to visit on a day trip. For great coffee, head to the community-minded Leura Garage or try newbie Frankly My Dear on Katoomba's main drag. A little later on, you can treat yourself at 8 Things — a small restaurant with just eight dishes on the menu, each one representing a different country. You've got to see the sights, too — the fairy-like Leura Cascades are lovely for cooling off on a warm day, and be sure to take a final peek of the Three Sisters at sunset.
Leura is a 90-minute drive or two-hour train ride from Sydney.

FOR A COOL COUNTRY CHANGE: BOWRAL
When you fancy a cooler climate, jump on a train to Bowral. Found in the Southern Highlands — 600 metres above sea level — this pretty country town is usually a few degrees cooler than Sydney. Over the past few years, several new eateries have opened up, including The Mill Cafe, set inside an 1885 building shared with start-ups and small businesses, and Harry's on Green Lane, a welcoming bar, where you can sit in a citrus grove, while sipping on local cool-climate wines and sharing fancy plates. While you're there, head into the mega antique store Dirty Janes, which is an emporium of vintage fashion, homewares and collectables. You'll discover something new-to-you on every visit.
Bowral is a 90-minute drive southwest of Sydney.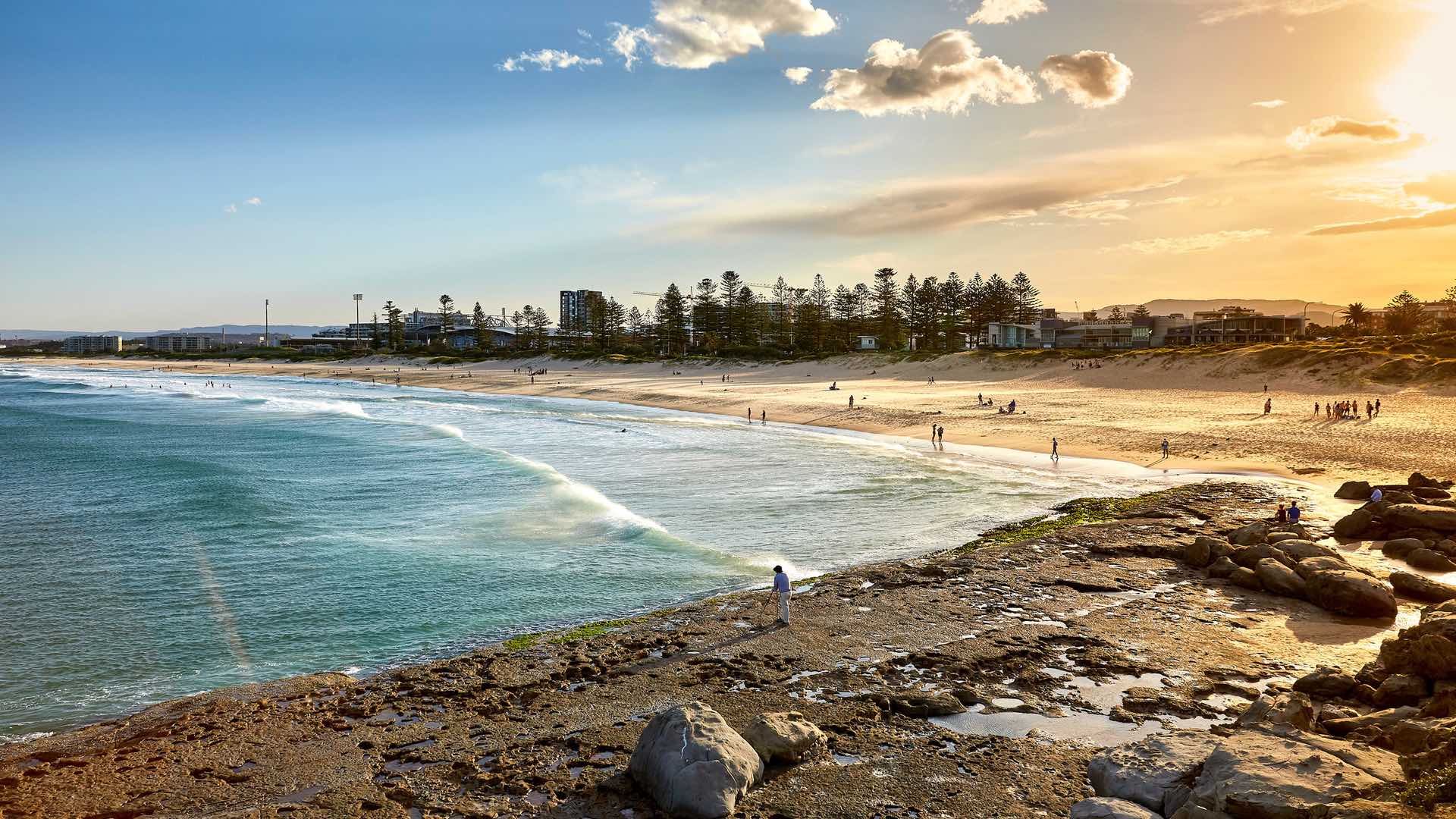 FOR LOOKOUTS AND CYCLING: WOLLONGONG
If diverse, sandy adventures are crucial to your day tripping joy, Wollongong's your destination. No fewer than 17 beaches line the coast. To get some invigorating perspective, visit one or all of the six local lookouts. If you're keen to work up a sweat, the waterfront Thirroul to Port Kembla cycle path will keep you busy (and you can have a swim at the end). When you're ready to eat and drink, head to Illawarra Brewing Company's brewhouse for a cold one and Babyface Kitchen for a fancy feed.
Wollongong is a 90-minute drive or a two-hour train ride directly south of Sydney.

FOR BLOWHOLES AND ROCK POOLS: KIAMA
When the southeast wind is blowing strong, Kiama's blowhole is at its most powerful. The wind sends waves into the rock aperture, compressing air and sending a spectacular spout into the air. Few people know there's a second, albeit smaller, blowhole found a few minutes' drive south, in Tingira Crescent, aptly named Little Blowhole. Swimmers and surfers, you have your decision-making cut out for you, from the two stunning rock pools located either side of Kiama Harbour to the long, wild stretch of Bombo Beach. Kiama's main street is laden with cafes, ice creameries and restaurants and, if you have enough time, side trips to the satellite villages of Gerringong (to the south) and Jamberoo (inland) are worthwhile.
Kiama is a two-hour drive or two-and-a-half hour train ride from Sydney.

FOR WINE AND RIVERSIDE PICNICS: POKOLBIN
For a day trip that involves wine tasting, rolling paddocks and maybe some cycling, make tracks to Pokolbin in the Hunter Valley. The locality is dotted with cellar doors, vineyards and restaurants. If you're keen to get on two wheels as soon as possible, hire an e-bike from Sutton Estate and conquer the Hunter Valley Cycleway, which tours a dozen wineries and a microbrewery. Alternatively, just settle in for a long lunch at the wine lover's playground, Brokenwood Wines, or linger over a salumi and cheese platter in a converted church at Usher Tinkler Wines.
Pokolbin is a two-hour drive northwest of Sydney.

Whether you're planning to travel for a couple of nights or a couple of weeks, Holiday Here This Year and you'll be supporting Australian businesses while you explore the best of our country's diverse landscapes and attractions.
Top image: Patonga Boathouse. 
Published on July 03, 2020 by Jasmine Crittenden