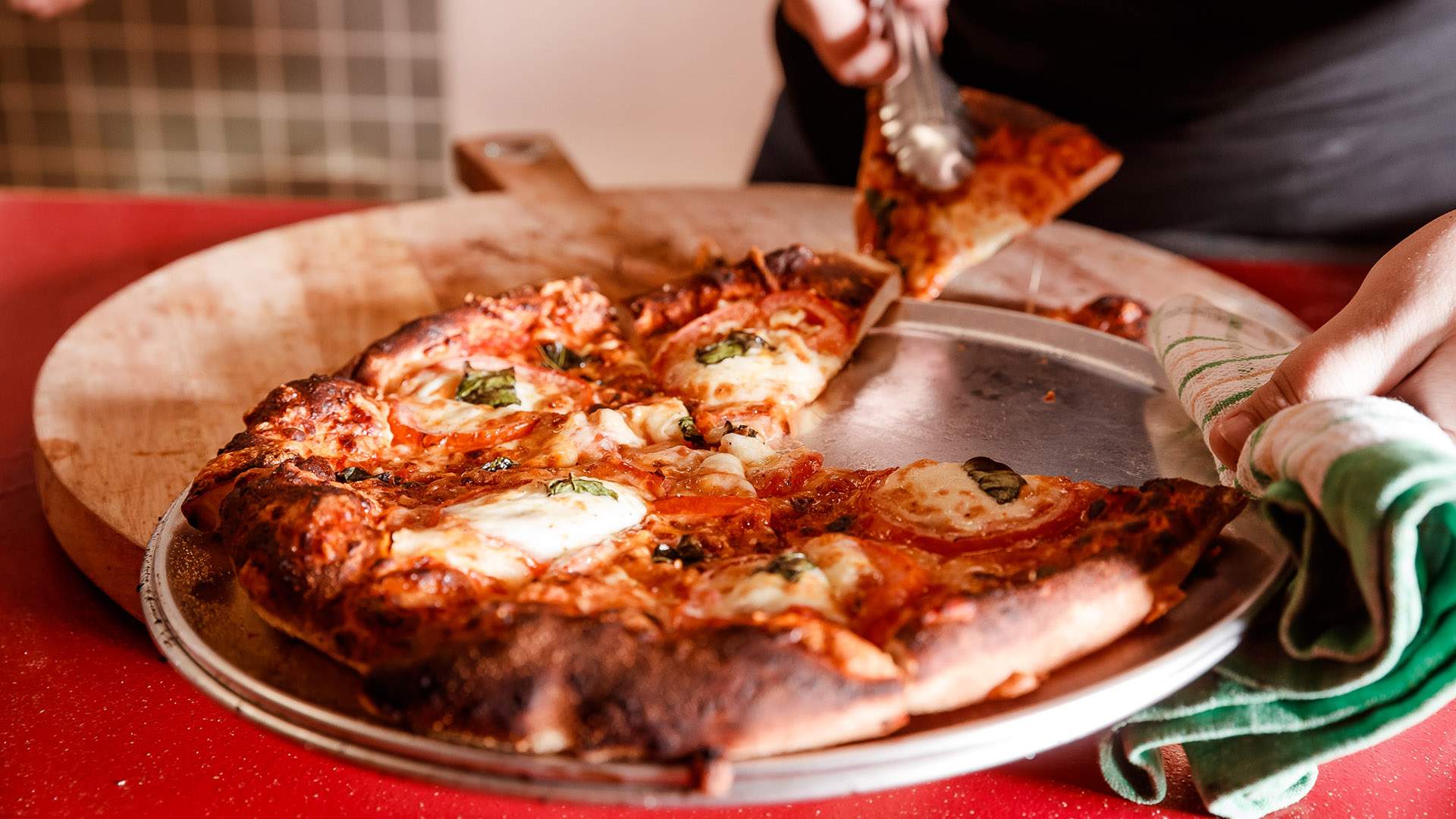 We're getting to the pointy end of 2018, but Brisbane's still delivering when it comes to all things boozy and delicious. The city's abuzz with new waterside hangouts, revamped favourites and luxe underground bars. Call the apple of your eye and make a dinner date, or round up your best foodie friends and get a reservation at one of these newbies.
FOOD & DRINK
New Brisbane Openings You Should Visit This Month
Make a dinner date with your favourite foodie friends.
New Brisbane Openings You Should Visit This Month
Make a dinner date with your favourite foodie friends.
Arts & Entertainment

Despite being many kilometers and continents away from the country of Croissants, berets and good wine, Brisbane has its fair share of Francophiles. Thankfully once again, from 16 March to 3 April, this group of accent loving people can head to Palace Cinemas to enjoy the annual French Film Festival presented by the Alliance Française.

Arts & Entertainment

Max Doyle is one busy dude. In between photographing the bold and the beautiful for leading publications such as Vogue, Nylon and Elle, he is also the editor in chief of Doingbird, plays in the Sydney band Songs, coaches girl's soccer, and is even set to venture into film making.

Arts & Entertainment

If you've attended on of Steve Aoki's highly energetic, highly memorable shows, you'll know very well that just about anything and everything goes.

Arts & Entertainment

The alarming amount of surf bands coming out of the music industry's woodwork these days has left many wondering where the hype and love for all things surf, sand and stoned has come from. Turns out Californian band Wavves has a lot to do with it.

Arts & Entertainment

A horde of local and international joke makers will be descending on our fair city over the next few weeks as part of the 3rd annual Brisbane Comedy Festival.

Arts & Entertainment

Imagine if you got to take photos of your musical icons for a living. Wouldn't that be the life? Yeah, well, Tony Mott does that every day, and there's plenty more to be jealous of.

Design & Style

This Saturday you can catch the Chronicles in the Valley, where they'll be setting up shop for sample sale madness.

Arts & Entertainment

Brisbane's Queer Film Festival is back at the Powerhouse for its twelfth annual running, bringing along a large collection of the world's most entertaining and diverse queer films.

Arts & Entertainment

Children Collide are the kind of band that don't quietly tap-tap-tap at your door and wait for you to pay them some attention.

Arts & Entertainment

Next on the Nine Lives agenda is Nine Wives – an exhibition that borrows its name from the old riddle, I Went To St. Ives.

Design & Style

It's always inspiring to hear about the successes of our local Brisbane folk. When it comes to inspiration, 24-year-old fashion designer Ana Diaz takes the cake.

Arts & Entertainment

As if a five day weekend wasn't enough to cheer up these gloomy days, respected record label Modular is treating the folks in Brisbane to an intimate night of dreamy melodies from their latest discovery.

Arts & Entertainment

This exhibition has been a favourite with the crowds because it is fun, accessible, and, at times, mind-boggling.

Arts & Entertainment

Shit Robot really isn't as shit as he claims to be. His seductive electronic melodies can make almost anyone feel like a sexy super model.

Arts & Entertainment

When you see my face – is it like sunlight drippin? Because it is for Jack Glass and Chris Stracey.

Arts & Entertainment

The rock stars of old may be living the quite life these days but there was a time when they prowled the stage with reckless abandon, and GOMA have the footage to prove it.

Arts & Entertainment

An average quiet morning means eating cereal in pyjamas while making sarcastic jokes about morning TV, but for Tim and Jean, it can mean creating and recording a hit song.

Arts & Entertainment

Under doctor's orders, head down to the Powerhouse to receive your dose of whimsical folk, prescribed by us and administered by Holly Throsby and The Hello Tigers.

Arts & Entertainment

At this luau launch, you can share a scorpion bowl or dance a little bit of hula, all while meeting and greeting some of Brisbane's most exotic and tropical creatives.

Arts & Entertainment

An opportunity to celebrate the birthday of a famous religious leader and founder at one of his renowned, infamous parties only comes around once a year.

Arts & Entertainment

Brighton-based experimental sextet The Go! Team are touching down in Australia to promote their most recent long-player, Rolling Blackouts.

Arts & Entertainment

To see The Drums in concert is to enter into a frenetic hip shaking haze for a few hours.

Arts & Entertainment

In celebration of the artist, and coinciding with his 75th birthday, QUT is hosting a retrospective of Robinson's work across two installation spaces.

Arts & Entertainment

Brisbane's (nay, Australia's!) undisputed queen of boutiques, Blonde Venus, is turning 21 this year and she wants everyone to know she's coming of age.

Arts & Entertainment

Are you a radar detector? What does that even mean? Does it matter? Darwin Deez is in town! If you've forgotten already, Mr Smith (seriously) was here for Parklife last year and is back for a headline Australian tour. The man/machine/lead singer describes Darwin Deez's sound as a combination of 'Thriller and Dismemberment Plan' and […]

Arts & Entertainment

It's always good to do something a little different every now and then to shift from the traditional norms society feeds us.

Arts & Entertainment

The Women of Letters road show is returning to Brisbane this Sunday with a line up of lovely ladies to share their letter lovin' with us all.

Arts & Entertainment

We're told to think of it as happy hour for people who don't have real jobs or are interested in that stuff.

Arts & Entertainment

Iconic Brisbane band Gentle Ben And His Sensitive Side are known as icons for a reason. Their dark howls and smooth crones have long struck a chord with audiences who are thirsty for their unique style of cabaret rock. Which is why their latest album Magnetic Island may come as a surprise to most. It […]

Arts & Entertainment

Genres are superfluous in No Anchor's case though as they don't even consider what they do to be music – in fact, it's a punishment.

Arts & Entertainment

If you didn't know The Secret Whisper earlier, then this is the best time to get acquainted.

Arts & Entertainment

For those of you concerned that you might be falling into the deadly throes of old age and abandon with every year that passes, never fear because the good folks at Vinyl are bringing back Nanna Nights.

If playing ping-pong and winning a carton of beer gets your competitive juices flowing, then you might like to set your sights on the Charlie Sheen Cup.

Arts & Entertainment

Joining collective forces, the Australian artists explore the captivating textures, vivid colours and kaleidoscopic patterns found when the land meets the sea.

Arts & Entertainment

Melbourne indie-pop act Strange Talk has Brisbane set in its sights and to help make the night just that extra bit fun, local rising stars Mitzi will also be performing.

Arts & Entertainment

The silky, woody, Ron Burgandy form of alcohol is much cause for celebration, which is why every Wednesday at The Sean Connery is affectionately known as Scotch Night.

Arts & Entertainment

Way before The Wiggles were ever hopelessly convincing us to eat fruit salad, Peter Combe was telling us to throw caution to the wind and wash our faces with orange juice.

This new production blends all the action, romance and pace of the greatest Hollywood westerns with a treasure trove of Puccini's melodies.

Design & Style

Be prepared to scrounge, scavenge and strip in the middle of the warehouse because it's all worth it in the name of cheap Ksubi denim.

Arts & Entertainment

The ideas festival is focused on uniting community involvement through inspiring people to delve a little deeper into their thinking.

Arts & Entertainment

If you're trying to "make it" as a journalist this talk will bring you some insight into the seemingly difficult and cruel industry.

Arts & Entertainment

Drawing on the aesthetics of 60s and 70s psychedelia, the UAM's New Psychedelia exhibition is a contemporary take on the idea.

Arts & Entertainment

This show will have you throw caution to the wind of political correctness to chuckle at naughty Catholic Priest jokes along with other controversial quips.

Arts & Entertainment

Cut Copy are back on home soil and keen to show off their latest album Zonoscope in all its winning glory.

Arts & Entertainment

The Edge is hosting a debate on this hot and heavy topic, where both teams will be armed with their best one-liners on one-nighters and the like.

Arts & Entertainment

For those of you who are unsure of the Brisbane locals track record, let me spell it out for you: these guys are kind of a big deal.

Arts & Entertainment

You don't have to travel the world to find fine art - just pop on over to QUT and get introduced to the art world's future greats.

Arts & Entertainment

Architecture in Helsinki are back, and set to make the folk at the Hi-Fi dance through their shoes in their first headline tour in three years. To celebrate the release of their fourth album Moment Bends, the band who are renowned for live shows bursting with energy and sweaty fun are coming to Brisbane. Architecture […]

Arts & Entertainment

There ain't no burn book, but you can expect a tumultuous and bloody rollercoaster of high-school social politics.

Arts & Entertainment

After a solid year of national and international tours, Hungry Kids are famished from their journeys, so they're packing up the live shows and trading in the tour van to take some time to hit the studios.

Forget any implied offensive nuances you might usually associate with the word, the friendly walk is to protest against the blaming of victims of sexual assault.

Arts & Entertainment

Lunch Tapes are playing The Zoo this Saturday, launching their new single 'Barefoot Daze'. This is the first chance you'll be able to hear the single live before they flit off for their national tour.

Arts & Entertainment

If you, like me, skated as a child, rode your roller blades up ramps and stacked it so many times your knees ran dry of blood, head down to the Brisbane Convention Centre this Saturday and support the lovely ladies who are stickin' it to the man, roller style.

Arts & Entertainment

So, Toy Balloon are making a new album, right? But they need to raise some dosh to get them into the studio.

Arts & Entertainment

Saviours of The Lost Arts and Craft Fair is hosting markets, workshops, demonstrations and industry talks over twelve days across a few niche venues across Brisbane.

Arts & Entertainment

Making sounds that are much more soothing to the ear than ye olde plastic binne, MAAP Republic are hosting the first in a series of events for the New Primitive Festival (curated by SPEC).

Arts & Entertainment

I'm sure you've heard of pop-up clothes stores, pop-up movies and pop-up concerts, but I guarantee you've never even heard of, let alone attended, a pop-up Art Fair.

Arts & Entertainment

Lucky for those who missed out last time, Trashbags is back on Saturday 4 June with GTRONIC headlining and it's sure to be a big one.

Arts & Entertainment

Watch Quilty work his magic on the blank canvas with aerosols – an interesting contrast to his usual thick impasto style

Arts & Entertainment

Lying somewhere in the void between music festival and club night, Track and Field will be held several times a year.

Is the art of photojournalism dead? Certainly not. Want proof? Find it at World Press Photo '11.

It's party time people! The crafty folk at Etsy are throwing their second annual global craft party and you're invited!

Arts & Entertainment

Separately they've been hard at work for the past six-to-twelve months on their own projects, over 20 of which will be shown at Nine Lives. However, the crux of When The Dead Heart Beats is a collaborative piece titled When The Demon Knife Weeps, themed around Japanese demonology and the world of the Samurai.

Melbourne Schmelbourne! Sydney Schmydmey! We can do it all, and right here in Bristown.

Arts & Entertainment

Don't you hate when there's an imminent party in your city, that you may not have been informed about?

Design & Style

There are many celebrations during Queensland Week, but for the fashion-savvy, there's only one that matters: The Brisbane Women's Club Fashion Show.

Design & Style

If you're looking for some inspiration to kick-start your creative flair, the Textiles Fair is the place to find it. Embellished fabrics, cloth, quilts and all the knitting supplied you ever needed.

Arts & Entertainment

Come celebrate the official arrival of winter in Brisbane. It'll melt your heart.

Arts & Entertainment

I can say one thing about Lambda: they know how to throw a good party week in, week out.

This musical is bound to have you [tos]sing about with laughter and breaking out your Jazz Hands in no time.

Arts & Entertainment

Paris, oh Paris. What with your cobblestone streets, your heavenly, heavenly bakeries, your old men playing the accordion on the street, your ridiculously difficult but seductive language… you're pretty good at, well, everything I guess.

Arts & Entertainment

This is a once in a lifetime opportunity to meet the 14th Ocean High Priest (according to Wikipedia, that's the English translation of Dalai Lama) and ask for his advice in your personal ventures.

Design & Style

If you've been looking for something really out there, something that might even overshadow Gaga, then ThreadTech 3 is for you.

As we know, most good ideas generate somewhere strange, and Strutten is without exception. It was a cool summer night on a netball court, or so the story goes, and seven friends on the same team decided competitive sports weren't all they were good at, and imagined up a webzine with style.

Arts & Entertainment

Metro Arts in Brisbane is running a year-long program called inbetweenspaces, which aims to change everyone's opinion on the art world through a rotation of artists.

Design & Style

For three days only, Willow's setting up shop in the city's June Dally-Watkins building, faring end-of-season wares from past and recent collections at massively reduced prices.

Arts & Entertainment

Fete de la Musique is the one event this year that you literally cannot miss - you won't be able to.

Arts & Entertainment

This month's featured Love Love artists are Timothy Lovett, Tommy Cole and Juliet in Six Of One Half A Dozen Of The Other.

Arts & Entertainment

Put all your eggs into one basket this Monday and Tuesday, but without the guilt of cage-laid ideas – remember: it's all FreeRange.

Arts & Entertainment

Remember watching the skaters and thinking you could compete with the cool kids? It seems you may have a chance when I Used to Skate Once returns for 2 nights starting June 23.

Arts & Entertainment

The album's not quite finished yet, but if you wanna get a taste of it before it's released, head to Alhambra Lounge on Friday, where they'll be wailing down the walls with tracks old and new.

Arts & Entertainment

Both Woollen Kits and Bed Wettin' Bad Boys have 7"-ers that they're launching this Saturday at Woodland, and they're being joined by Bristown's own Blank Realm!

Arts & Entertainment

Setting a precedent for change are three of Brisbane's finest in post-rock: Nikko, Screens and Big Dead.

Arts & Entertainment

The display that opens this Friday will use film, print, objects including ceramics and dance objects, all with the aim to not only strengthen the grip Torres Straight Islanders have on their culture but also to expose that rich and diverse culture to a much wider audience.

Kerbside is paying homage to The Artist, who turned the superfunkycalifragisexy age of 53 this month.

Arts & Entertainment

Kicking off at 9am in the former woolstore district, the second annual Teneriffe Festival is guaranteed to leave you wondering why you'd never donned woollen clothes and run down the street before.

Arts & Entertainment

The Art of Story is a chance for you to see Shaun's illustrations for free, and unlike my library dilemmas, you'll be able to see these uninterrupted for 2 weeks.

Arts & Entertainment

This week Epithets will be the star of Lambda as they officially release their first single taken from a new album due later this year.

Arts & Entertainment

The 62nd Annual Redcliffe Show is back for the first 3 days of July and while it's no Ekka, it's a chance for you to visit and possibly love the place so many people have tainted (including me haha).

Arts & Entertainment

The Park is a thought-provoking documentation into a world that exists not only in Tokyo, but in many cities around the world, but is so taboo it is rarely ever discussed, much less documented in a permanent format.

Arts & Entertainment

The eleven-hour festival has a lineup of 25 of garage's best from Bristown and beyond.

Arts & Entertainment

Science: noun. The intellectual and practical activity encompassing the systematic study of the structure and behaviour of the physical and natural world through observation and experiment. Art: noun. The expression or application of human creative skill and imagination, producing works to be appreciated primarily for their beauty or emotional power. If the definitions don't seem to help all that much you might find solace in the synthy-crunchy-insistent-electro-pop of this Sydney three-piece. Recently ascending to platinum heights on the back of their self-titled debut EP, their second album The Experiment has also garnered wide appreciation and made ears happy both here and abroad. The first tour since their return from the US, Art vs Science will take to the stage at the Tivoli, supported by the big-beats and high-flying vocals of Strange Talk. It's enough to make Galileo and Picasso friends.

Design & Style

Bang Lassy represents the expression of Stein's third world journey, with Stein's trademark psychedelic touch.

Arts & Entertainment

See one of the best Emmy Lou's out there this Saturday at the Visy Theatre, and make your appreciation for our species known!

Arts & Entertainment

Two is a very vital age. Make sure you get down and enjoy the party so lovingly thrown by the birthday boy/girl (hey, they have both chromosomes), it'd be almost a shame to miss out on such a momentous occasion!

Arts & Entertainment

Fellow aspiring acrobats, pencil this in your diary: for a limited season, one of the Cirque's most loved shows, Saltimbanco, is arriving in Brisbane.

Arts & Entertainment

The latest to join Jugglers' arsenal of emerging and established artists are Rachel Bartram and Warren Handley, working on their first joint show, Assembling Worlds.

Oh, the forward march of the aging process. It is unrelenting. Just as one birthday passes, another, bigger one is just around the corner.

Arts & Entertainment

The Harbinger, which means an 'omen' or a 'herald' of future goings on, explores storytelling and history-making in a gothic style.

Arts & Entertainment

If you also have a luscious face-fro/glasses or enjoy those with them and a fine palette for the very best, you should join the crew at Kerbside this Wednesday. It'll be your favourite day soon, too.

Arts & Entertainment

Mitzi, Tiger Beams, Little Casino, Saw Tooth and more round off a lineup that's going to have you purring all night. Leave your ailurophobia at the door.

Design & Style

If you're yet to own a Shakuhachi piece, no need to panic – current and previous collections will be on sale in the Valley at massively reduced prices, and for three whole days.

Arts & Entertainment

It'll be your only chance to catch Parades before they go into hiding again, plus it'll be your only chance ever to catch them while watching Un Chien Andalou or ogling a Man Ray piece at the same time. Ah, GoMA.

Arts & Entertainment

While a lot of us won't have the chance to claim a French passport in our lifetime, we can still celebrate Bastille Day with our froggish friends.

Weddings: on one side, they are events of great joy, love and happiness.  On the other side, there's drama – great, great drama. If you've ever been a bridesmaid you'll know that you get to experience the best and the worst of both worlds, but mainly the drama-filled side: worrying about the bride's hair, make […]

Arts & Entertainment

On Sunday night, you will be enlightened by the folk stylings of Clare Quinn and posse, the acoustic jams of The Local Residents, the talented Steven Turner-Jones' unique sounds and bluesy Tim Brennan's country rhythms.

Arts & Entertainment

Leaving no stone unturned, Perfect investigates breast implants, football and obvious choice, Kerri-Ann Kennerley.

Arts & Entertainment

Hitting up the Contortionist Studios Warehouse on the 23 July, the boys from down south will be bringing their fabled party power to Brisbane,

Arts & Entertainment

This annual celebration of Brisbane's fashion culture is showcasing pieces from Tiffany & Co, Mitchell Ogilvie, The Frock Shop, Samantha Ogilvie, Nancy King and Richards and Richards, as well as some amazing international labels.

Lloyd Beckmann, Beekeeper is a show that turns the classical concept of theatre on its head.

Arts & Entertainment

Not everyone can flamenco. It's an artform unto itself, fusing music, dance and performance all in one.

Arts & Entertainment

Expand your dance peripheral outside of the dark and dirty dancefloor, teach the hipsters something new next time you go out.

Arts & Entertainment

This snowy installation's only at The Block for two weeks, so squeeze into your hiking boots, rug up warm and make the trek to QUT's Cultural Precinct soon.

Arts & Entertainment

Turns explores the lives of Marjory Joy and her son, Alistair, as they come to terms with their lives; their emotions attempting to understand who they are.

Arts & Entertainment

Sometimes I need a reminder of childlike grace. Enter The Alphabet Two Ways – a picture book developed and shot by four-year-old Cody King and her mother, Tricia King.

Arts & Entertainment

I managed to scrape together the measly $500 (now $390!) for a ticket and I have my bags packed for 3 days time when such acts as Kanye West, Coldplay, Jane's Addiction, The Hives, Kaiser Chiefs and Modest Mouse grace the Woodfordia site.

Arts & Entertainment

Chocoholics and Coffee addicts: ready your bibs and prepare your body for what is sure to be a sensation overload!

Arts & Entertainment

You don't need a tonne of money to appreciate good music. Head on down to the poor man's (and woman's) Splendour this Saturday.

Arts & Entertainment

Hole Hearted is one of those unmissable exhibitions that people always talk about and you wish you went to.

Moth tells the stories of Sebastian and Claryssa, two teenage outsiders, each the other's only friend. That is, until they spend a normal Saturday night at the local park drinking together and wake up altered.

Arts & Entertainment

The Marie Ellis OAM was established to recognise the contribution of Marie Ellis, a long-term resident and dressmaker in Fortitude Valley, located in the exact spot where Jugglers now sits.

Arts & Entertainment

The exhibition by the Sydney duo will showcase a diverse array of their recent impressive works, spanning from band posters (Ty Segall, Best Coast, Les Savy Fav – to name a few!) to film and anything else Sonny Day and Biddy Maroney can get their hands on.

Arts & Entertainment

So if you always dreamed of being a ballet dancer, or, on the opposite end of the scale, you're not the greatest fan of the genre, the International Gala is a great way to be introduced to what ballet can be like when it's done well.

Arts & Entertainment

Running throughout August as a Semi Permanent side show, Etcc will be in Brisbane for its second exhibition its series, featuring new works that explore the realities of copyright in the visual arts.

Arts & Entertainment

New wave Brisbane band The Cairos have certainly done the slog, but it seems now that it all paying off, and this awesome foursome looks on their way to joining that shining list of top-notch Brisbane bands.

Arts & Entertainment

There is a lot more to dance than Sonia Kruger and the soap stars of Home and Away have to offer.

Arts & Entertainment

Even if pin-up chicks and muscle cars aren't your type of thing, you can at least guarantee you will be entertained by the sweet greaser hairstyles and the sure to be large amount of tattooed ladies and gents.

Arts & Entertainment

One of the ways the 4ZZZ institution stays afloat is via their annual radiothon, which this year spans across 10 days with $70,000 worth of prizes up for grabs.

Arts & Entertainment

If anyone was to answer the question of is fashion art? it's definitely Valerie Steele.

There's a delicate balance between two human instincts in times of disaster – the instinct to save yourself, and the instinct to help others – so what happens next?

Design & Style

Do it for yourself or do it for the prizes involved – whatever the reason, the Brisbane Running Festival is an exciting event for all who participate.

Arts & Entertainment

Make sure you skip uni to see the legend that is Dylan Moran when he's in town for his third and final show.

Arts & Entertainment

The Flood is happening August 13 and aims to raise much-needed funds whilst also providing attendees with a 'flooding' great time

Arts & Entertainment

You've heard about The Beards right? The four men from Adelaide whose lives are solely dedicated to the preservation, care and upkeep of their fabulous facial hair.

Arts & Entertainment

Head down to Metro Arts from Wednesday to experience a self that varies from the usual – if you can bring yourself to tear yourself away from your computer.

Arts & Entertainment

Created by Sydney performance trio post, Who's the Best is the troupe at play, but with the very serious issue of determining who is in fact the best amongst them in any way they can.

Arts & Entertainment

Le Cercle is born of a collaboration between skateboard expert/photographer Benjamin Deberdt and poet/skateboarder Mark Gonzales.

Arts & Entertainment

Celebrate new beginnings in the Brisbane entertainment scene for cheaps – make sure you buy a drink to say thanks!

Design & Style

From August 20 to 26, South Bank will be transformed into our very own Bryant Park.

Arts & Entertainment

Everyone loves to get dressed up and wear cute hats and fascinators, or ties and vests, without the added pressure of being formal despite their attire, and the Ekka races is precisely the place to do that.

Arts & Entertainment

See, Grug is just like you and I: young and trying to find his place in this crazy world, even after suffering such massive blows like falling off trees, but whatevz, Grug's aiight.

Arts & Entertainment

Look out Steve Jobs, Regurgitator and their new attire attachable album are back in town with their Annual Sale tour and they're a damn lot cooler than the iPod.

Arts & Entertainment

Yes, the ever-lovable 'Gurge are returning to the Brisbane stage, quite an exciting moment.

The Ride to Conquer Cancer is a major fundraiser for the Queensland Institute of Medical Research (QIMR), which is a world leader in cancer research.

Arts & Entertainment

Running alongside the Surrealism exhibition, GoMA Talks is a discussion program with the topic: what makes creative minds tick?

Arts & Entertainment

The exhibition runs every day from August 26 to October 16, giving you 51 chances to ogle and dream about a Chanel collection of your very own.

Arts & Entertainment

It is a new world order and the pigs have taken over! I know what you're thinking, 'yeah, when pigs fly!', but you're just denying that you really know what I'm talking about. Yes, it's Animal Farm.

Arts & Entertainment

He likes the way you move, apologising to Mrs Jackson, ghetto musik, people following him and shaking it like a Polaroid picture. He may be half of Outkast, but Big Boi is now a star in his own right.

Arts & Entertainment

What kind of venue in Brisbane has jugs of Passion Pop at the ready (don't pretend like the adolescent in you doesn't still love that sweet sweet spumante), Mortal Kombat and Space Invaders arcade machines and amazing bands and DJs playing all night long?

Arts & Entertainment

The world of poetry is far from limited to relationships, as the Queensland Poetry Festival is sure to attest.

Design & Style

For two days Chronicles of Never are setting up shop on Ann Street for an AW11 end of season sale, boasting seconds, samples and rarities.

Arts & Entertainment

The Sartorialist, Cobrasnake and Streetpeeper have nothing on Henri Cartier-Bresson.

Arts & Entertainment

In a marketing ploy that is so good Don Draper could have thought it up himself, QueensPlaza will be exclusively hosting a collection of original costumes from the television show.

Arts & Entertainment

Reviews for this show are rave to say the least, with reviewers strongly encouraging audiences beyond the dance realm to attend this rare and moving performance.

Black Lung Theatre and Whaling Company are really being touted as the bad boys of the Australian theatre scene, and now they are bringing their brand of cutting edge, unpredictable performance to Brisbane with a new work especially commissioned by the Queensland Theatre Company.

Arts & Entertainment

From the 3rd to the 24th, you won't be able to get away from all the ridiculously amazing events that our little river city has to offer.

Arts & Entertainment

Enter through the velvet curtain and be immersed in a wonderland of heart and soul, whilst sipping on a quiet few and indulging in a showcase like no other.

We here in Brisbane are blessed with a glorious river (albeit browned in the January floods) and aren't afraid to show it off. Riverfire is back as usual to kick off the Brisbane Festival, and is ready to show that the Brisbane River hasn't lost any of its sparkle.

Arts & Entertainment

Get out of your Wiki spiral (we've all been there, and it's hard to escape) and catch the Raptors in action at Woodland this Saturday for the gig that kickstarts their tour.

Arts & Entertainment

Writers under pressure are, at present, tense, so take a break and make sure the Brisbane Writers Festival punctuates your week.

Arts & Entertainment

As the 'Dos said, "you gotta face facts, he's a little wizard. He mixes s-s-s-sound and v-v-v-video. I effing hate most wizards, but he's a top bloke'.

Arts & Entertainment

It's a two-night showcase allowing more than twenty up-and-coming musicians currently without label/management/agent backing to flaunt their wares to audiences old and new.

Arts & Entertainment

BIGSOUND Live will bring the shred and a whole lot more when it takes over eight venues throughout Fortitude Valley this week

Although Brisbane's version of the festival is not in autumn or in sync with the earth's solar calendar, it would be un-Australian to let the lack of rare phenomena stop us from partying.

Design & Style

Pioneered by Klein Dytham Architecture, the concept of Pecha Kucha is simple: Presenting designers get twenty slides for their presentation of work and/or ideas, with twenty seconds of airtime per slide.

Arts & Entertainment

In the fast-paced nature of urban sprawl, you don't always get a second glance at the things happening around you. More Seeing is an opportunity to do just that.

Arts & Entertainment

While you can't control the cards you're dealt, you can control how you approach the aftermath.

Arts & Entertainment

Make sure you destruct any other plans you have and see boy girl wall before the wall comes down on you.

Essentially it is a play that explores the fickleness of memory, and the fact that the truth can very easily be lost.

Arts & Entertainment

Before they fly (heh) down south, they'll be playing Alhambra Lounge this Saturday and so I highly recommend heading along.

If studying Shakespeare in year 12 made you want to pull out your hair, I feel seeing this production would change you into a lover of The Bard.

Arts & Entertainment

It's a free and relaxing afternoon at the beautiful Princess Cruises Lawn where you can grab a deck chair or spread out your picnic basket and yell at the bastardly Stinky Pete and laugh with Bullseye and the round-up gang.

Arts & Entertainment

It may have been an eon before any of us were born, but the swingin' sixties have made a massive comeback of late.

Arts & Entertainment

What's better than having an espresso bar in an old loading dock? Adding a gallery space out the back, obviously.

Arts & Entertainment

Parklife has gone from an all-out fluoro fest to an actual legit event with some actual legit names.

Arts & Entertainment

Three of the four dates have sold out, so get your two shoes on and get in quick.

Screw German beer and schnitzels, there's a new pun in town of the canine variety. Oh yeah, OctoberFETCH is here! If you tune in to Channel 7 every weeknight for Harry's Practice like everyone else, then this is the doggie day of your dreams.

Design & Style

Having studied beside a cobbler, saddler, lapidarist and silversmith, Ms Morgan has got the skills to back up her dark vision.

Arts & Entertainment

Though Thursdays are usually reserved for quality Operation Repo viewing while eating cheese in my uni best (read: whatever I went to sleep in), this Thursday I think I'll amuse myself within the polka-dotted doors of Oh Hello.

Arts & Entertainment

Brisbane Oktoberfest is back at the RNA Turniergelände (show grounds) for another year of schnitzels, beer and zeitgeists galore.

Arts & Entertainment

There ain't no party like a Valley street party, and I don't care what S Club 7 has to say about it. T

Arts & Entertainment

If you're unlucky enough to be unacquainted with Mr Hitchcock and his fabulous realm, cheer up because GoMA and the Australian Cinémathèque are putting on an entirely all-encompassing retrospective and screening all of his 56 films and 17 television shows.

Ruben Guthrie, like a lot Australians, enjoys a drink. And, like a lot of Australians, believes that it is 'un-Australian' not to join in the festivities on every occasion, large or small by downing a drink - or twelve.

Arts & Entertainment

Who is this act, you may ask, and do they know that they're in Brisbane? The answers to those questions are: Mono, and probably not.

Arts & Entertainment

This year, Mr. Grylls is travelling down under again. However, instead of being dropped in the Kimberleys to encounter snakes and crocodiles, he'll be braving a tougher and much more foreign environment: a live audience and show.

Arts & Entertainment

Announcing their second Brisbane Underground Film Festival to the public only proves that they know how lazy the youth of today are, instead of discrediting the festival's cult status.

Arts & Entertainment

Featuring an extraordinary cast of Brisbane independent artists, Video Set spotlights the professional's manipulation of image.

Design & Style

Assiere will be joining with MODA Creative to present this season's best in intimate apparel. Step to Zuri for a cocktail and night of decadence with Assiere – I promise there'll be no fluorescent lighting or bargain bins involved.

Arts & Entertainment

My first Oh Hello experience was great. The place is better, the people are better, the music is better and god damn the bar tenders are SMOKIN'!

Arts & Entertainment

Brisbane is representing its hood, bringing together the best of the local hip-hop scene with the freshest festival out, Sprung.

Design & Style

But if you know your way around a pen and paper added with the comfort of Kerbside, you might be saved.

Arts & Entertainment

Most musicians tour and write songs while they have a clean bill of health, but unbeknownst to Danny, leukaemia was wreaking havoc on his body while he was away doing gigs in Berlin.

Arts & Entertainment

Looking like they just stepped off the set of Shaun of the Dead, the swarm of zombie drags their limbs around the city in a somewhat orderly fashion before finishing up at Centenary Place then doing the Thriller dance to the official after party.

Design & Style

Scoop up your old clothes and let Kelly Doust turn those no-hopers into show-stoppers.

Arts & Entertainment

The weather's warming up and I couldn't think of a better way to celebrate the change in seasons than to soak in some sweet Island Vibes.

Arts & Entertainment

Entries in this year's Prize are once again varied in style and subject matter, from photographic triptychs to sculpture and traditional indigenous works.

Arts & Entertainment

Born in Australia but based in Brooklyn, Eleanor Logan - or Happy New Year - is back in the motherland for the summer and is playing a show at X & Y to celebrate.

Arts & Entertainment

I'm still not too sure on the exact reason why we celebrate Halloween in this country but it's probably because everyone under the age of 30 secretly enjoys dressing up as a zombie/piece of pizza/Superman/slutty cheerleader but doesn't have a good enough reason to in their day-to-day life

Arts & Entertainment

This Filthy World is a celebration of his film career, the path he took and the things that influenced him – true crimes, art crimes and even fashion crimes.

Design & Style

Too long has there been a gap in Brisbane's arts scene for a creative little indie magazine that lives and breathes the culture and imagination that exists in our little city.

Arts & Entertainment

In 2011, Brisbane will host world-class chefs, cooks, food lovers and wine connoisseurs for a three day feast.

Arts & Entertainment

Bring back, bring back the BIFF. Thankfully, the time has come again for the best kind of BIFF – the Brisbane International Film Festival.

Arts & Entertainment

The Christchurch quintet have been bringing the dub since 1999 and have been hailed as the pioneers of modern music due to their unique approach to the genre – most likely stemming from each members varied musical background, mixing funk, electronica, metal, jazz and hip-hop to create that unique Shapeshifter sound.

Arts & Entertainment

So tease your hair, put on your flares and get ready for Rock of ages to rip out your inner Gene Simmons.

Arts & Entertainment

Burlesque Balls always sound like the best fun: dressing up, being a little naughty and going to a themed, glamorous party.

Arts & Entertainment

Before they left us broken hearted, Sigor Rós let Vincent Morisset film two of their final shows at Alexandra Palace in London for a documentary and thus, Inni was born.

Arts & Entertainment

I have only recently heard of Gold Fields but when I did hear them, they blew my mind.

Arts & Entertainment

Mixing live music, storytelling and amazing visuals, it will be a night of delights, exploring the underground culture of Seoul.

Arts & Entertainment

In this day and age, writing – not the act of writing itself, but the pen to paper sort of writing – is becoming obsolete.

Arts & Entertainment

It's the Australian (or, in this case, Brisbane) way to take a good thing and claim it as our own.

Arts & Entertainment

It's always a good thing when the little festival that could gets a leg up on the big 'uns. I

Arts & Entertainment

It would be very silly if you missed Bright Eyes twice when they were in town. C'mon, they are right in front of you, you just need to look.

Arts & Entertainment

Her brilliant 80 year-old mind has created some of the most significant art in the last hundred years.

Arts & Entertainment

It's all happening at Woodland this Friday night – head in, buy both CDs and see the two best bands of the summer before it's too hot for you to ever leave the pool again.

Arts & Entertainment

Southbank Institute of Technology's visual arts students are opening Breaking Heads this Thursday, with over thirty students of varying disciplines exhibiting.

Arts & Entertainment

Covering far reaching topics that all manage to fall under the new versus old media umbrella, attendees are in for a treat as professionals outline what they think will happen to their beloved industry.

Arts & Entertainment

Brought to Australia by Silo Arts and Mistletone, the Daedelus tour has been a long time coming and as such the vibe by my friends – and all electronic music lovers - is fairly euphoric.

Arts & Entertainment

Instead of getting stressed about this time of year, relax and go with the flow, enjoying the fab events that pop up all over the city, including the Avid Reader Christmas Party

Arts & Entertainment

To That Which Is is the name of this year's exhibition of graduating Fine Art and Media and Visual Art students from the Queensland College of Art.

Arts & Entertainment

Walk the magical pathways and squeeze into peepholes to parallel worlds – there'll be a magical forest of odd flowers, vines, mushrooms and animals on the other side.

Design & Style

They've spent the past few months holed up in studio, cutting patterns, pick-unpicking, shooting lookbooks and more to tie up the ends of their graduate collection… and the results are glorious.

Arts & Entertainment

If you're an emerging artist or producer it can be pretty daunting when you're trying to establish your practice.

Arts & Entertainment

Forget the stocking fillers, seeing Julia and co in the flesh will tide me over until next year.

Arts & Entertainment

Renown for their cheeky performances that include both the aforementioned circus and burlesque, they are also fused with plenty of crass humour and a lot of bared flesh.

Arts & Entertainment

For those like me, wanting to reminisce about old titles or introduce them to a new audience, you're in luck.

Arts & Entertainment

The empty set, therefore, is the possibility of something; the endless possibility of something impossible.

Arts & Entertainment

The new summer exhibition at GoMA, 'Matisse, Drawing Life' is the most comprehensive exhibition of Henri Matisse's drawings and prints ever mounted.

Arts & Entertainment

Walking through the centre of the city, Mayo's work is all around you: from the tympanum (carved bit) over the entrance to City Hall, to the Queensland Women's War Memorial in Anzac Square and the statue of Major General Sir William Glasgow in Post Office Square.

Arts & Entertainment

This is the first dedicated exhibition to Eugene von Guerard since 1980 and includes not only his paintings of the Australian landscape, but also landscapes from New Zealand and Europe.

As part of the Christmas holiday entertainment this year, Brisbane City will be playing home to a collection of barnyard babies for a week.

Arts & Entertainment

They don't make people emotional in a Beatles frenzy sort of way either – these sprawling tracks actually hit deep into your soul.

Arts & Entertainment

If you're sick of being repressed in this sleepy town, then it's time to wake up with Regurgitator and their Funtimes Friends: it's gonna be one hell of a ride.

Arts & Entertainment

You won't want to miss seeing this unique display, and if you do, in hinesight you will know you should have.

Arts & Entertainment

Small Town is the final show for the year from the Valley's best-loved gallery.

Design & Style

I will be observing potential presents with champagne and canapes in hand amongst a sophisticated crowd.

Arts & Entertainment

For those still looking to capture the magic of Christmas just before the big day arrives, you're in luck as you don't have to seek further than Woodland on Friday night.

Arts & Entertainment

This a great opportunity to enjoy your Christmas with friends, or with complete strangers, either way; you know it is the perfect way to get merry.

Arts & Entertainment

This year's program is set to delight, with Ferris Bueller's Day Off, Life Of Brian and a Grease sing-a-long scheduled.

Arts & Entertainment

2011 has been an epic year by all counts, and now is the time to relive the best times with the best company.

Arts & Entertainment

The works featured in this exhibition reflect on the public dimension of private experience, surveying a range of approaches used by artists to record private and personal aspects of human experience.

Arts & Entertainment

Step out of the standard music festival mode, and check out some of the lesser known, but no less amazing non-commercial musical acts from all over the world.

Arts & Entertainment

If you're looking to bring in the New Year without really doing 'New Years', then No Years is the answer to your question. Literally.

Arts & Entertainment

Playing a Queensland exclusive for Oh Hello, Yuksek will be helping Brisbane's party-ers bring in the new year the best way he knows how.

Arts & Entertainment

They are the conflicting voice that sang 'ooh la' to you, then told you you were so naïve, but that you should shine, shine, shine on, and they are in Brisbane for one night only.

Arts & Entertainment

This will be a super fun production for kids, but also for all of the older ones amongst us!

Arts & Entertainment

Before they have to start playing stadiums to accommodate their fans, Brisbane audiences should get along to the Tivoli

Arts & Entertainment

The famous ears, the distinctive theme song, and not to mention the wide variety of cartoons.

Arts & Entertainment

He is definitely in a league of his own and you will be too if you get along to see him blow your mind with his skillz.

Arts & Entertainment

Over the next four Sundays, you will be able to enjoy specially chosen Australian films from different genres, each with their own story and exception film work.

Arts & Entertainment

Happening at the Fireworks Gallery in Newstead, this collection is one to write home about, or brag incessantly that you've seen it.

Arts & Entertainment

They are coming from far and wide to tell the story of how the Great Lakes of Canada and USA came to be.

Arts & Entertainment

A thought-provoking and visually beautiful portrayal of something very real; quite an antidote to the shimmer and sparkle of mainstream cinema.

Arts & Entertainment

Ira Glass is a name that resonates with anyone and everyone in the media industry, and with good reason.

Never has stocking up on your favourite entertainment material been so easy and so cheap!

Arts & Entertainment

At their essence Beirut play indie pop music, but the truth is they play so much more and have re-engaged with the idea of world music in a genuinely exciting way.

Arts & Entertainment

Australia's tattooed will be flocking to the Gold Coast for the Tattoo SURF n' Ink Convention, held over three glorious days.

Arts & Entertainment

Whether you love them or you 'ate them, there's no denying the infectious music and lyrics of the Arctic Monkeys.

Arts & Entertainment

It sounds like less of an after party and more of an actual party all on its own!

Arts & Entertainment

Despite popular opinion, commercial art galleries are among the best places to browse and Percolator Gallery is no exception.

Now in its eleventh year, the Nikon-Walkley Photographic Exhibition includes over a hundred 'images that prick.'

Arts & Entertainment

If you haven't heard of Das Racist, you need to stop what you're doing right now and go on YouTube.

Arts & Entertainment

If you need any reason to get to this year's BDO last minute, Yeezy should be that reason.

Arts & Entertainment

Known for the stand out single that made them stars, 'Pumped Up Kicks', Foster The People are a trio from LA, and who have shown no signs of slowing down.

Arts & Entertainment

tUnE-yArDs may be a name foreign to an uneducated few, but it's definitely adored by a much larger number. It's a name that brings to mind visions of a big, noisy warehouse party full of eclectic people dancing to loud and raucous music, which is convenient as that's exactly what her shows are like. And lucky for us, tUnE-yArDs, the acclaimed project of Merril Garbus, will finally be heard live for the first time in Australia this month.

Arts & Entertainment

Don't get lazy just because current temperatures are in the high 30s - this exhibition has everything you need; air con, food, drink, art, music and Matisse.

Arts & Entertainment

Now in its fourth year, the Festival of Tibet at the Brisbane Powerhouse is a celebration and exploration of Tibetan history, culture and life.

Arts & Entertainment

Anyone who has seen Tim Minchin live but missed his show with the Queensland Symphony Orchestra last year is in for a big surprise when they head to the Brisbane Convention and Exhibition Centre this Saturday. The very talented one-man piano comedy act takes musical comedy to a whole other level when symphony is added to the mix.

Arts & Entertainment

Our favourite saint, St. Jerome, is delivering with gusto this Saturday – taking place once again at the RNA Showgrounds, this year's Laneway Festival is sure to impress.

Arts & Entertainment

Here to satirise a bleak tale are Dean Bryant and Mathew Frank, who have carefully crafted a cabaret performance around the life and times of Britney Spears.

Arts & Entertainment

Great minds create great things, but what happens when you combine two great minds and get them to create a body of work together? By pairing fourteen artists of varying disciplines, Seven With Another doesn't seek to create fine art, but to inspire and delight audiences with something completely unique.

Arts & Entertainment

Papergirl is a project that invites anyone to submit a work of art that can be rolled up and delivered by various paper girls and boys throughout the city.

Arts & Entertainment

In a highly and widely praised new cabaret show, Cosgriff takes her audience on a hilarious journey of life lessons.

Arts & Entertainment

Performing for one night at The Powerhouse, Colin Hay will be playing songs from Gathering Mercury, as well as old favourites.

Arts & Entertainment

La Dispute's music draws fans in with their exegesis of life struggles that identify pretty much anyone going through the rite of passage from adolescence into adulthood.

Arts & Entertainment

For the first time, the well-loved Flickerfest is in Brisbane showcasing the best shorts films from some of the world's most acclaimed filmmakers. The festival will be held over three nights, testing out bite-sized reels on keen Brisbane audiences.

Arts & Entertainment

The story's the same, but the whole feel of the script is awakened in full colour and with amazing energy thanks to the Harvest Rain Theatre Company.

Portable Presents brings together three intensely creative individuals for a conversation about 'making it' on a very 21st century career path.

Arts & Entertainment

They say the best things in life are hard to find, but you'll find that events like the Brisbane Emerging Art Festival are making it easier to repeal that saying. Once a visual arts-only event, this year the Brisbane Emerging Art Festival is encompassing emerging artists specialising in visual art, music, film, performance, fashion and spoken word, all coordinated by a group of Brisbane's best creative practitioners.

Arts & Entertainment

The World Theatre Festival is back at the Powerhouse, with a guarantee that they'll intrigue and inspire audiences old and new.

Usually a term reserved for comics destined to go from printer to trashcan, Ashcan comics is all about getting their self-published independent comics to the masses.

Design & Style

The Edge is bringing artists Priscilla Bracks and Gavin Sade in to teach you how to make an interactive 'pet' – no prior experience required!

Arts & Entertainment

Described as an orgy of flippers, strippers, songs, comedy, magic, freakshow, burlesque and double acts the legendary couple pose a show not to be forgotten.

Arts & Entertainment

Roaring back into town this Thursday with the album launch party that's got everyone excited, catch our Brisbane boys at Cobra Kai Club Night with special guests The Jungle Giants.

To clarify, it's not the sort of black market where you sell your kidney, though if you think your kidney would make a great necklace, this is the place to sell it.

Maybe it's the collective nostalgia or the desire to reuse and recycle that draws people to vintage attire? Whatever your reason, Brisbane's vintage aficionados can get their fix of fashion at Eagle Farm Racecourse this weekend.

With the usual 20+ stalls of eclectic goodness, there is sure to be something that tickles your fancy at Kerbside's Birthday Bash.

Arts & Entertainment

Richard Phillips and Lindsay Lohan may sound like an unlikely artistic pair, but the more you think about what they collectively represent, the more you realise it makes sense.

Arts & Entertainment

Cult favourite Ariel Pink is bringing his gritty lo-fi band to The Zoo this Thursday for a night of entertaining and intriguing music.

Arts & Entertainment

Love TV is a big pink mobile theatre gallivanting around your town. Presenters and performers include Benjamin Law, local photographer Paul Rollo, author Krissie Kneen and actress Melanie Zanetti.

Arts & Entertainment

For the next few weeks, the Transparency Collective will create installations and performances that deal with the ways in which humans collide, avoid and attack each other.

Arts & Entertainment

It may seem as if the infantile, angelic past she had is repressed, but in her most recent work, it is a haunting backbone and a must see.

Arts & Entertainment

Fall deep inside an intimate and sensory experience at Metro Arts and take a seat at Poe's table as the poet shifts through splintered memories forged with his beloved wife.

Arts & Entertainment

Ross Noble will grace the not-so-quaint stage of QPAC theatre with his new show Nonesensory Overload for four highly anticipated nights.

Arts & Entertainment

Bombshells features the strikingly talented Christen O'Leary gracing us with her cheeky and vivacious presence on the Cremorne Theatre stage.

The West End Markets are an eclectic paradise with handmade wares, second-hand goodies, scrumptious food and one-off clothes to please lovers of quirk. Every Saturday evening you can find your own hidden gem amongst good food, good tunes and good people.

Future of Fashion features a panel of industry professionals including social strategist Susannah George (ëssgeorge), Mikki Brammer (Map Magazine) and Teresa Gomez.

Arts & Entertainment

Brisbane is presented with over forty of the best films to come out of France with the annual French Film Festival.

At the Queensland Cricketers' Club Traditional High Tea you can eat dainty sandwiches, sip tea and indulge in pretty cakes to your heart's content.

Arts & Entertainment

Sorry Socrates' 'Rome' launch party kicks off at Lambda with supports Myth and Tropics and Cake Shop.

Arts & Entertainment

Cameron Eaton, a successful Brisbane draftsman, has taken a break from his day job to create art inspired by the built environment with his first solo exhibition, 'Sum Random'.

Arts & Entertainment

The Blanks are a character quartet of friends who sing cute, quirky a cappella covers. Very soon the group will arrive in Australia, and everyone is getting excited.

Arts & Entertainment

This exhibition features stunning pieces of artwork while exposing a historical snapshot of a society undergoing a serious shakeup.

Arts & Entertainment

Originally from Brighton, UK, these British ladies had us all worried when they called it quits in 2007, but their recent announcement has had fans frothing at the mouth with the thought of their return.

Arts & Entertainment

Expressions Dance Company and Cathy Sharp Dance Ensemble have teamed up to provide this rare opportunity to experience European-styled contemporary dance at its very best.

Arts & Entertainment

Sweeney Todd the musical is celebrated for its flawless fusion of the whimsical and the macabre. Its songs, cleverly crafted by writer Stephen Sondheim, black humour and tragic story are sure to leave audiences unsettled, without appetite, and still longing for second helpings. This dark tale is not for the faint-hearted or hemophobic.

Arts & Entertainment

Home 2 represents a comedic need to seek harmony and human connection while finding a home in the worlds of others.

Arts & Entertainment

Don't be late for this very important date at QPAC Playhouse. Take the beautiful and uncanny journey to the magical world of Wonderland.

Arts & Entertainment

To explore the work of Anton Bruehl, QUT have created a panel of national fashion photographers, artists and curators to discuss his art and fashion photography.

Perfect for any vintage connoisseur, don't miss three consecutive days of pre-loved fashion at The Way We Wear Vintage Fair. Featuring stalls from dealers all over Australia, this travelling fair will pale every other vintage market place in comparison with its fashion filled racks spanning over two hundred years.

Design & Style

If past reviews are anything to go by, A Frock Affair is a treat for both wardrobes and wallets as the stock available is both high in quality and quantity.

Arts & Entertainment

Marisa Purcell's newest collection exists on the premise of pervasive conditions, using atmospheric and changeable images incognito and ready to emerge.

Arts & Entertainment

The concept of The Beards is a simple one - a folk-rock band that perform songs exclusively about one subject: Beards.

Arts & Entertainment

Responding to the high demand of her Australian fan base, Kina will grace The Powerhouse this Wednesday with special guest, 'Australia's Best Busker', Ollie Brown.

Catch the late night screening of Black Swan at Limes Hotel Rooftop Bar - the perfect place to enjoy nibbles and cocktails under the stars.

Arts & Entertainment

One of the most adored musicals of all time is returning to the Brisbane stage this April and is sure to delight eagerly awaiting audiences.

Arts & Entertainment

Combining artistic elements in a surrealist manner, Vera Moller will transport you to another world with its creative detail, fluidity and natural imperceptible energy.

Arts & Entertainment

Brady's career to date features his creative involvement in over twenty local and national exhibitions. The Faktorei exposition is the next major instalment in his journey.

Arts & Entertainment

Now in its twenty-first year, Emergenza is back at the Hi-Fi for another round of cutthroat musical performances.

Arts & Entertainment

Having toured the world with bands like Wavves, Best Coast, Smith Westerns and Unknown Mortal Orchestra, everyone is getting exited over Bass Drum Of Death's first ever Australian venture. To celebrate the loss of their Aussie virginity, it's only appropriate to show them a good time and illustrate all the reasons for their future return.

Arts & Entertainment

There's something therapeutic about watching rubbish films, but even more so when you get a drink included in the entry fee. Experience Plan 9 From Outer Space at Room 60.

Arts & Entertainment

This Saturday's Twilight Markets will feature performances from local favourites Inland Sea and Pear and the Awkward Orchestra to celebrate the arrival of the new 4ZZZ Brisbane Music Stall. This one stop shop for independent music lovers will feature a variety of products from local artists including CDs, vinyls, and other musical merchandise goodies.

Arts & Entertainment

The annual Holiday and Travel Expo will be taking up residence at the Convention Centre, ready to meet your every travel need.

Arts & Entertainment

Contemporary dance company, Prying Eye Productions, bring you A Likely Distrust, exploring the theme of trust and its affects on close personal relationships.

Arts & Entertainment

Catch Brisbane's favourite garage duo before they scoot back overseas. Don't miss DZ at The Zoo this Friday.

Arts & Entertainment

Celebrate the diversity, recognition and cinematic experience of Brisbane Queer Film Festival where multi-award winning international and local films explore queer life around the world.

Arts & Entertainment

Two strangers. Two days. One ridiculously large wad of money. This is the unmissable, musical play, Midsummer.

Arts & Entertainment

Eight witty actors skilled in the art of improvisation are split into two performance teams to battle it at the West End Stage Fight this Thursday.

Arts & Entertainment

X is Sunny Drake's one-man show encompassing a range of different elements including stop-motion animation, puppetry and live performance.

Arts & Entertainment

Star-crossed lovers, belonging to warring families in fair Verona, playing out that balcony scene… this could only be Bill Shakespeare's Romeo and Juliet. The classically dramatic play features universal truths of love, justice, human passion and sacrifice. It's no wonder audiences throughout history have been enthralled by it.

Arts & Entertainment

From the songwriters that brought you Cabaret, Chicago is a sharp and seductive tale that transports its audience to the sinister streets of 1920s Chicago.

Arts & Entertainment

Silo Art's fifth event features Galapagoose, a Melbourne-based artist renowned for his ability to mix a million different creative disciplines into one.

Arts & Entertainment

Romantics Anonymous tells the story of Angélique, a gifted chocolate-maker whose incredible shyness prevents her from acknowledging her talents.

Design & Style

Two super sweet local labels team up for a gorgeous night of fashion fun at Kerbside.

Arts & Entertainment

Celebrating the wide range of female artists, these collected works span diverse, energetic and innovative topics, sure to inspire all who visit.

Design & Style

Catch the iconic fashion blogger in the flesh for this rare opportunity to gain insight into the life and experiences of Susie Lau.

Arts & Entertainment

An End To Dreaming promises to be a warped fairytale so fantastically unnatural, it will leave you in a spell long after the stage is cold.

Design & Style

Making The Green One Red showcases a modern, technological approach to Shakespeare's historical classic, Macbeth.

Arts & Entertainment

The Fashioning Self exhibition questions the relationship between our attire choices and self-representation.

Arts & Entertainment

When Bastian discovers a dusty old novel called The Neverending Story, he becomes so caught up in the mystical world of Fantasia and its fantastical creatures that the borders between story and reality begin to blur into one. Keep your inner child alive and entertained with the stage production performance of The Neverending Story at QPAC.

Arts & Entertainment

Natalya Hughes' current exhibition explores the stories of the significant males from her life, in her unique decorative and abstract style.

Arts & Entertainment

Daydream Believers is an exhibition of works by artists who explore history in all its horror, detailing abstract mythical beasts, dark landscapes and strange behaviours of earlier times.

Arts & Entertainment

After spending time abroad to record new sounds for our ever waiting ears, An Horse are back in Brisbane for their hometown reunion tour.

Arts & Entertainment

Every second month BrisStyle bundles up their talented Queensland sellers and pops them into King George Square for an evening of market madness.

Arts & Entertainment

In association with Sprinkl,( a local favourite for creative networking), Inkstamp presents the Imbalance exhibition, featuring works and performances from a bunch of local artists, musicians and producers.

Arts & Entertainment

As a follow-on from the Queensland Ballet's whimsical production of Alice in Wonderland, Paddington's Plaza Theatre Café is putting on a tea party you won't want to miss.

Arts & Entertainment

This Sunday, Paddington's Caxton Street will be transformed into what has been pegged as Queensland's biggest street party in celebration of the Caxton Seafood and Wine Festival's coming of age.

Arts & Entertainment

Given Zen Zen Zo's quirk for re-inventing classical tales, there's no doubt their latest production of Vikram and the Vampire will give anything less.

Arts & Entertainment

Viva La Femme is a great opportunity for viewers to catch up on the happenings of the art industry and get a female's perspective on all the current activities of the world.

Design & Style

Alpha's Swap and Shop for Charity is for fashion lovers seeking gorgeous pieces you won't find anywhere else. The goal of the day is to raise $100,000 for the children's charity, Variety.

Arts & Entertainment

Every year, the Garage Sale Trail takes the hard work out of finding quality garage sales in your area by encouraging everyone to have their own sale on the same day and posting the details online for you to track. Helping you to reduce landfill by passing unwanted items along or collecting someone else's, the day can turn into a real community event with art shows, backyard bands and a good ol' BBQ. This Saturday get out of the house, meet your neighbours and embark on a treasure trail.

Arts & Entertainment

No stranger to the limelight is local band Last Dinosaurs, who have had more than their fair share of Triple J airplay, with a feature album recently on the airwaves that broadcasted their unique and raw rock sound to all corners of the nation.

Arts & Entertainment

Catch the latest darlings of the British rock scene this Wednesday night at The Hi-Fi.

Arts & Entertainment

Inspired by drunken nights out in the Valley, Fortitude Valley's Winn Lane will be transformed into a laneway version of Shakespeare's Globe Theatre.

Arts & Entertainment

Crossbows prides itself on the diverse bunch of musicians that will be performing. Highlights include Katie Noonan, Tripod, Emma Dean, the New Zealand Quartet and Greshka.

Arts & Entertainment

Originally founded by super talented Brisbane designers Monique Kneepkens and Jessica Huddart, Seven With Another is now debuting its fifth edition. The project takes fourteen creative leaders from completely different arts fields, pairs them together and challenges them to combine their talent to produce an original artwork.

Arts & Entertainment

Back in Brisbane on a pit stop from their festival tour, don't miss the boys that are causing riots across our nation.

Arts & Entertainment

Public Enemy have been making incredibly profound rap for 25 years and to celebrate this milestone, they're here on a sideshow to their run of dates with the Groovin' The Moo tour.

Arts & Entertainment

With heaps of activities to enjoy and information to absorb, this event is a great learning (and tasting) opportunity for the coeliacs and food-conscious minds of Brisbane.

Arts & Entertainment

Anywhere Theatre Festival is back in Brisbane for another year of impressive, imaginative and spontaneous performances.

Arts & Entertainment

Dancing on the edge of wartime, a troupe of vaudevillian performers are suspended in the year 1914. Underground Productions' second mainhouse show of 2012, Goodbye Vaudeville Charlie Mudd explores the end of an era.

Arts & Entertainment

He conjures purple rain and has the odd ability to make doves cry. This absolute, ultimate musician is going to be in our city this week and next.

Arts & Entertainment

Shoobridge has taken the core of digitally reproduced artworks, cropping and dragging the timeframe and hierarchies of the initial painting to expel any original meaning.

Arts & Entertainment

People from all backgrounds are invited to participate in the Brisbane SlutWalk to promote the belief that a woman's appearance and her dress choice should not be an excuse for rape, assault or being branded a 'slut'.

Design & Style

After a three-year hiatus, we are to be once again graced with the Brisbane Indesign Festival. By bringing Brisbane a bevy of local and international talent from a diversity of fields, Brisbane Indesign aims to showcase all that is great in the world of design. Entry to the festival is free! Simply visit the official website and register your intent to attend. For anyone seeking design inspiration, or for those seeking to inspire, this is your time to shine.

Arts & Entertainment

You've never seen Queen Elizabeth quite like this before. This is your chance to see her as a foul-mouthed, lustful, and neurotic narcissist.

Design & Style

The often quirky but always fabulous label cemented its place in the hearts of ladies around the globe. Get in quick, it's first in best dressed - literally!

As a group of individuals working in advertising, media, marketing and communications, QLD Youngbloods host their re-worked Bloody Bingo.

Arts & Entertainment

Your entry ticket includes an outstanding evening, plus a signed copy of The Medics recent debut, Foundations.

Arts & Entertainment

Everyone's favourite stars, John Travolta and Olivia Newton-John will be setting the scene as this year's Pine Rivers Festival with this with a unique drive-in movie event.

Arts & Entertainment

The monthly Deadly Nightshade Cabaret aims to showcase Brisbane's most daring artists who specialise in bringing old school glamour and charm back to the stage.

Arts & Entertainment

Dalby can now lay claim to being one of the select few towns nominated to host the annual Triple J One Night Stand.

Design & Style

A market like no other, Brisbane's Suitcase Rummage brings the op-shop to you. Rummagers set Reddacliff Place abuzz on the first Saturday of every month.

Arts & Entertainment

Australia's leading lady of sassy, smokey and sultry blues, Lanie Lane is in Brisbane for her Bangity Bang National Tour.

Arts & Entertainment

If you're after another chance to see your old favourites on the silver screen and are keen on an interesting new take on a classic, then this is definitely the show for you.

Arts & Entertainment

Now in its 5th year, Italian Week is just that – a week's insight into modern Italy. It is your chance to enjoy Italy without the airfare.

Arts & Entertainment

This year's 55th annual World Press Photo exhibition profiles the globe's top press photographers and showcases the world's best press photos of 2011. It's hard to compare the quality of work to anything else you might have seen before. As an independent, not-for-profit organisation, the world's most esteemed photography contest is the press equivalent of the Olympics.

Arts & Entertainment

Now in its seventh year, Free Range will be supporting the next crop of emerging artists in a month long workshop.

Arts & Entertainment

NOWstalgia is outlining the intrinsic relationship between humans and their need to constantly celebrate their life online.

Arts & Entertainment

The Australian Music Prize winners stop off at home ahead of a busy world tour.

Arts & Entertainment

The production of Oliver by Queensland Musical Theatre is only performing six shows this season. Catch it while you can.

Arts & Entertainment

Support a wonderful cause by finding a few pre-loved books at the Brisbane Lifeline Bookfest.

Arts & Entertainment

This Friday, Old Mate will be launching their new EP, 'Word is Bond', to a rapturous audience.