The Trailer for Wild NZ Comedy 'Nude Tuesday' Pairs Naked Hiking with All-Gibberish Dialogue
Jemaine Clement plays a charismatic (and often undressed) guru in this new film, which is spoken entirely in an improvised language.
When New Zealand comedy Nude Tuesday hits screens Down Under this winter, it'll be business time. Despite what star Jemaine Clement has sung in Flight of the Conchords, however, few folks on-screen will still be wearing their socks. Birthday suits are the preferred attire here, as made plain in the new movie's name. It does follow an unhappy couple who are gifted a trip to a remote couples' retreat to help save their marriage — a spot where getting in the buff often is recommended — after all.
Playing that duo: fellow NZ treasure Jackie van Beek, who co-starred with Clement in What We Do in the Shadows, and Australian The Tourist actor Damon Herriman. And no, the latter isn't portraying Charles Manson, as he did in both Mindhunter and Once Upon a Time in Hollywood.
Laura and Bruno, the pair's characters, find scenic sights awaiting at their mountainside getaway — and also Clement as Bjorg Rassmussen. Laughter workshops, tantric dance, sexual liberation and emotional animals all pop up, too, as does baring all to truly work out how they are. See: the just-dropped and very funny trailer.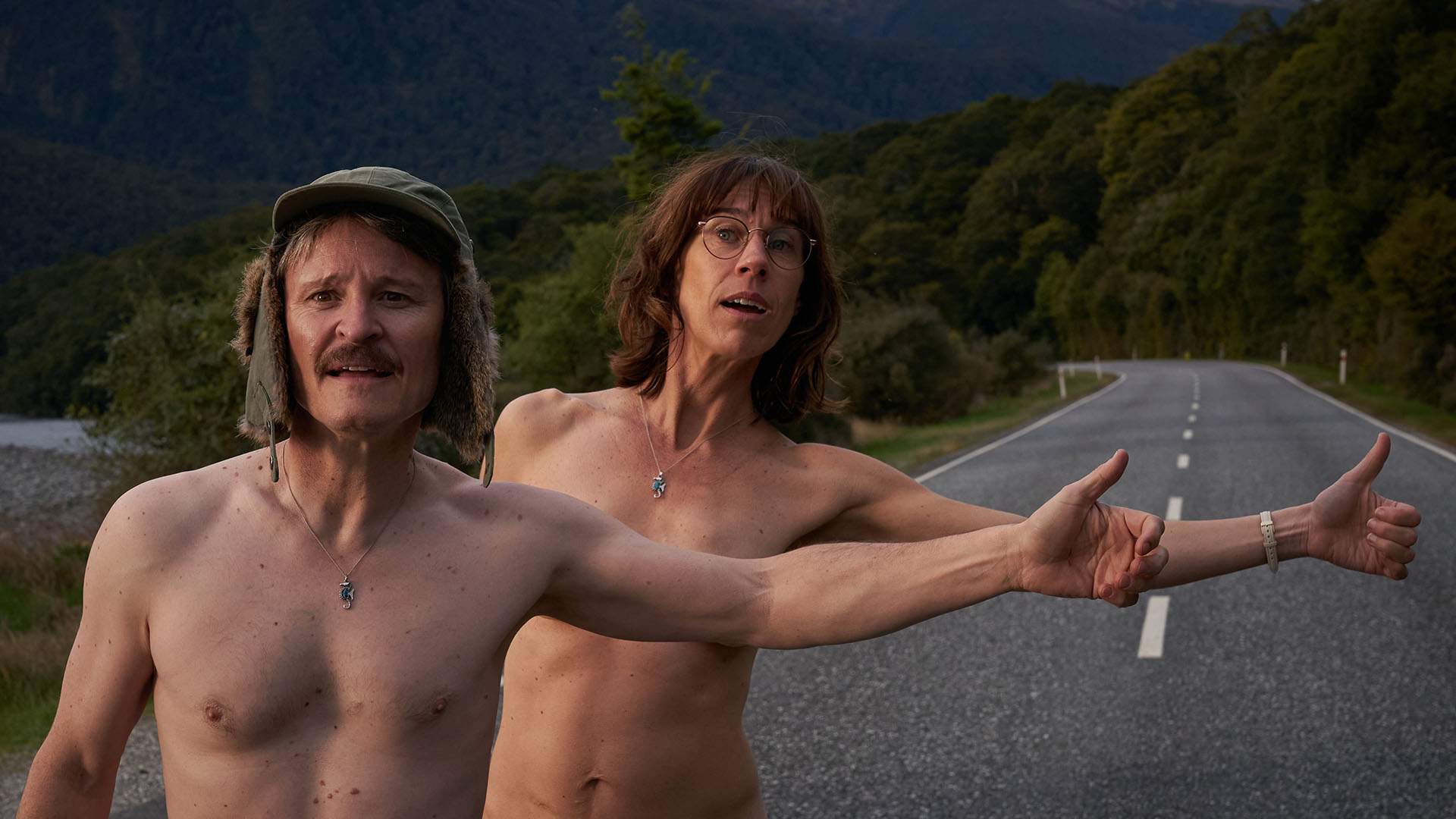 All that flesh, and that cast, is one reason that Nude Tuesday stands out. The other: it's entirely spoken in a made-up language. The cast improvised gibberish as they filmed, and British comedian and writer Julia Davis (Camping) then came up with the subtitles for the movie afterwards.
There was a script behind the narrative, though — penned by van Beek, who also co-wrote and co-directed fellow NZ comedy The Breaker Upperers. Here, van Beek came up with the story with filmmaker Armağan Ballantyne (The Strength of Water), who is on helming duties.
New Zealanders will be able to see how it all turns out in cinemas on June 16, while Nude Tuesday hits Australian cinemas on June 23 — and will also stream in the latter via Stan from July 7.
In Australia, multiple versions of the movie will make their way to streaming, including one subtitled by Aussie comedians Celia Pacquola and Ronny Chieng.
Check out the Nude Tuesday trailer below:
Nude Tuesday opens in New Zealand cinemas on June 16, in Australian cinemas on June 23, and will stream via Stan in Australia from July 7.
Concrete Playground Trips
Book unique getaways and adventures dreamed up by our editors