FOOD & DRINK
The Rise (and Revival) of Vermouth in Sydney
Not just something you find in your Negroni (or your grandma's liquor cabinet).
The Rise (and Revival) of Vermouth in Sydney
Not just something you find in your Negroni (or your grandma's liquor cabinet).
---
Any cocktail drinker will be at least vaguely familiar with vermouth. It's been swirled around and tipped out of your martini glass, mingled with gin and Campari in your Negroni, and brought in to help balance out the bourbon in your Manhattan. But it's rarely the star of the show.
However, this aromatised wine (yes, it's made from wine — but more on that later) is gaining some overdue attention of its own of late. Melbourne has already seen a bit of a vermouth revival at bars like Bomba and Heartattack and Vine, and Sydney's catching up to the party. Not only is Sydney's first dedicated vermouth bar Banksii set to open later this year at Barangaroo, but CBD bar Since I Left You is rolling out Vermouth Hour later this month and several high quality producers of Australian craft vermouths — like Regal Rogue, Maidenii, Margan and Causes & Cures — continue to gain popularity. 
Similar to sherry, vermouth has somewhat of a bad rep in Aussie culture. But Rebecca Lines, Banksii's sommelier and vermouth expert, says that's something we need to get over. "I'm keen to shake off the 'oh that dry oxidised stuff my grandma had in her pantry' mentality," says Lines. "There are incredible quality styles on offer now and plenty coming out of Australia."  So we thought vermouth needed to be newly tasted — and appreciated — by us, your willing participants.
WHAT'S THE STORY?
Vermouth is made up of at least 75 percent wine. It's then fortified with a neutral spirit like brandy, then distilled or 'aromatised' with botanicals — one of which is the bitter herb wormwood (wermut in German), which is where the name comes from. Botanicals used vary hugely but can feature herbs, spices, bark, roots and seeds. It can be red or white, sweet or dry (or in some cases semi-dry) — but generally red is sweet and white is dry.
Around the time of its invention in Italy it was "the popular aperitif of the 18th Century with Europeans sipping it in the fashionable cafes," says Lines.  Vermouth is still popular in Europe as part of the aperitif culture, particularly in Spain where vermuterias (vermouth bars) are seriously fashionable.
WHY DO I CARE?
Much of the appeal of vermouth lies in its hybrid nature. It has a lower alcohol content than spirits (around 15-24 percent), yet has more character than wine from the aromatisation process, similar to that of gin. Mark Ward is the founder of Australia's first native vermouth Regal Rogue, which has been on shelves since 2012. He suggests its popularity is reflective of broader social movements. "People are moving away from hard spirits and have become a lot more conscious of lower alcohol and lower sugar drinks," Ward says. "They're looking at digestives and aperitifs as the go-to." 
Like most new craft vermouths, Regal Rogue is made for drinking on its own, preferably chilled or over ice. But Ward says it's the diversity of the drink that makes it so fantastic. "You can have it neat, chilled, have it long with a tonic, aperitif-style, or in a cocktail."
Its versatility is part of its unique character, agrees 2015 Australian Bartender of the Year, Lee Potter Cavanagh. "The great thing about vermouth is that it'll last longer in the fridge than a normal wine and also has a more impactful flavour," he says. "It's great for home consumption because of this, and it tastes great by itself or in simple mixes."
WHO'S DOING IT?
Vermouth is not geographically classified, which means it can be made anywhere and still be called vermouth (unlike, say, Champagne). Margan Family Wines in the Hunter Valley recently announced the release of a Semillon-based vermouth, and Australian brand Maidenii is widely celebrated, with Lines even choosing to team up with them for a custom vermouth on tap at Banksii.
Ward was particularly inspired by native Australian botanicals when creating Regal Rogue's red, white and dry varieties. "When we're infusing spices and things like that, people can sometimes think it's going to taste like cinnamon or something, but it's more like pepperberry and wattleseed," he says. Around 15 other things also go into the wine, with botanicals like basil, grapefruit, native thyme and star anise giving vermouth its characteristic complexity. Ward has seen the rise of craft vermouths all over the world — including the US, which is now a major producer. 
ACME's new one, Bar Brosé in Darlinghurst, is similarly embracing vermouth, says Ward. "They're a an example of guys doing great food, but also pushing and educating about vermouth-based cocktails and aperitifs," he says. According to Ward, the addition of Bar Brosé and the soon-to-be Banksii to the Sydney bar scene is both "great for category and for Sydney itself".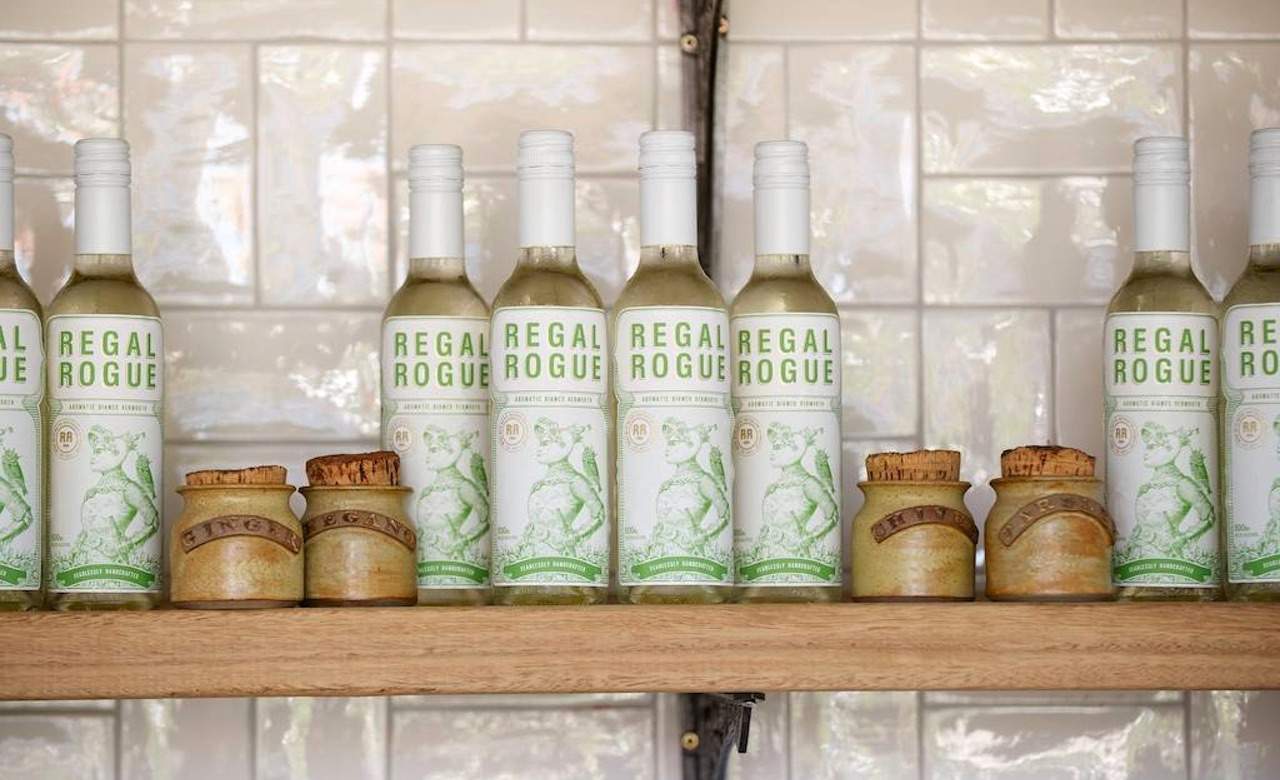 IS THIS PART OF SOMETHING BIGGER?
We certainly hope so. The art of the aperitif, (or, as we like to call it: how to have a few drinks before dinner without turning up hammered) has taken way too long to truly take hold in Australia. And vermouth looks set to bring some personality to the aperitivo disco; it suits crispy, salty, crunchy snacks like anchovies, olives and potato crisps.
However, as Potter Cavanagh points out, vermouth is often still "lumped with the bar and often sits open and oxidised on the back bar, when it should be listed and cared for the same as any other wine — even if this one has been aromatised".
And until vermouth is fully embraced by restaurants and wine bars alike, Lines suggests going to any good cocktail bar (one where they stock and care for their vermouths) and ordering one on the rocks. Vermouth suits Australia's laidback nature and warm sunny climate, says Lines. "Vermouth is made for relaxing and sipping in my mind."
CHALLENGE ACCEPTED. WHERE CAN I GET IT?
Most good cocktail bars will stock and properly care for vermouth. But here's where you're guaranteed to get a good drop.
Since I Left You (they'll even be running Vermouth Hour from June 20-30)
Cafe Sydney
Banksii (opening September 2016)
Top image: Thomas E. Graham.
Published on June 15, 2016 by Monique Lane