FOOD & DRINK
Sydney's Best Spots for a Bottomless Boozy Brunch
Swap your muesli for a mimosa, your coffee pot for endless espresso martinis, and ruin all regular brunches forever more.
Sydney's Best Spots for a Bottomless Boozy Brunch
Swap your muesli for a mimosa, your coffee pot for endless espresso martinis, and ruin all regular brunches forever more.
---
Nothing says baller status quite like free-flowing bubbles, fluffy eggs topped with caviar and a cart of cocktails — particularly when it's all enjoyed before midday. But thanks to Sydney's obsession with bottomless brunches and lunches, us mere mortals can live like Queen B and Jay Z, even if just for a couple of hours. Whether you're planning your weekend around it or treating your hungover self, here's the lowdown on Sydney's best bottomless brunches. Just remember to behave yourself or you won't make it to midday.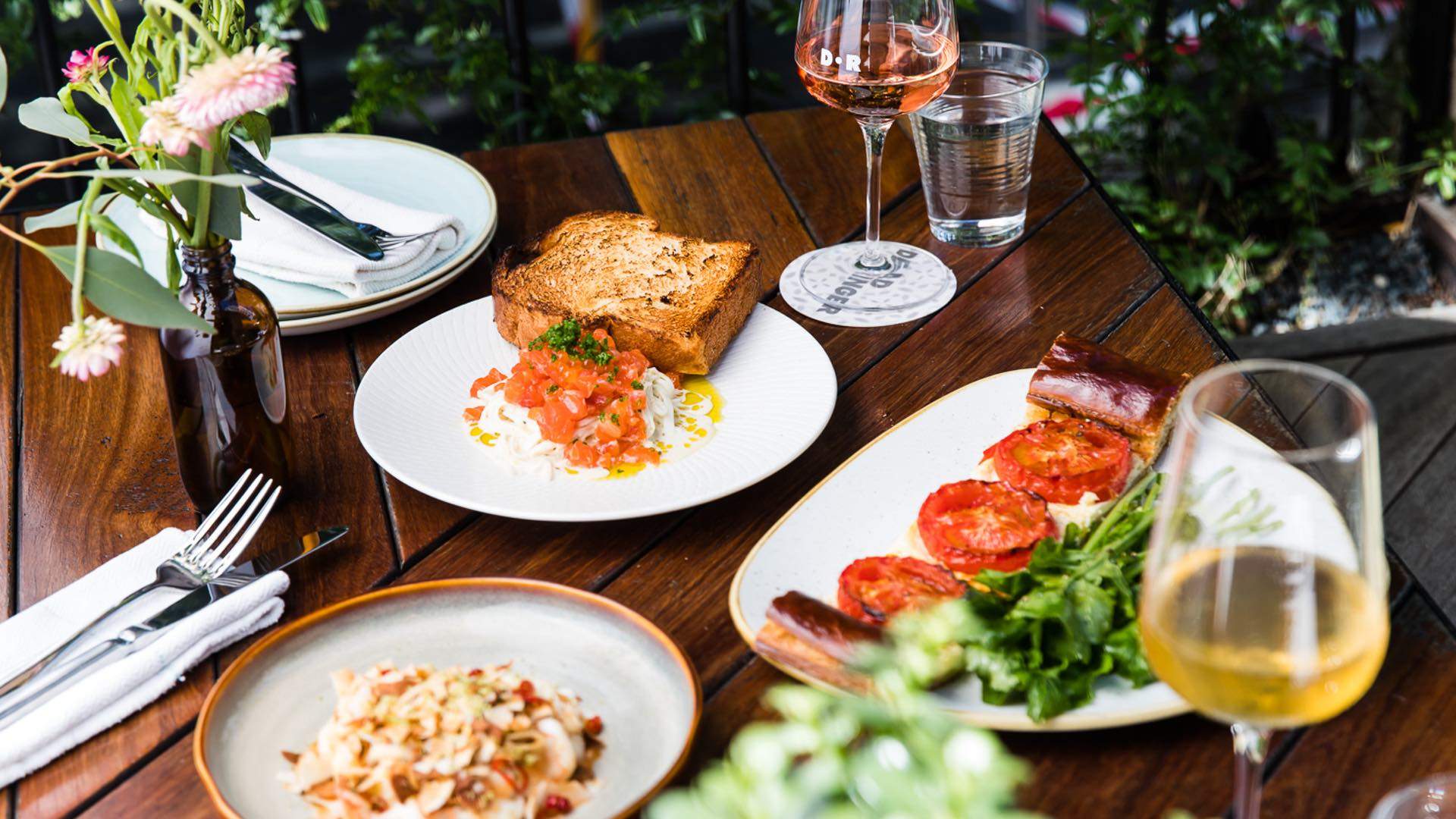 Dead Ringer lets you go all-in with two hours of fresh orange mimosas ($30 per person) or prosecco ($50). Intent on offering a brunch with a difference, Dead Ringer has declared its menu free of Sydney's beloved eggs and smashed avo. Instead, it's focused heavily on seafood and lunch-style fare. Start with cured salmon, labneh and pickles on toast ($20), consider a bloody mary intermission ($18) and then move on to the caramelised onion frittata ($18) or slow-roasted chicken with lemony yoghurt ($28) as your main. Be sure to get your serving of fruit for the day and order the spiced rhubarb pavlova ($14). If decisions aren't your strong point, go for the very reasonably priced six-course set menu for $45 a pop (not including booze).
What's the deal? $30 a head for two hours of mimosas or $50 for prosecco. When? Saturday and Sunday, 11am–3pm.

Baby Coffee Co in Waterloo is really capitalising on current trends: luxe junk food that is ready for a close up, strong branding with splashes of neon and pastel, and boozy brunch. The latter comes in the form of bottomless mimosas (for a very reasonable $22 a head), which can be paired with a 'bacon' and egg roll ($19.90) that's been junkified with pork belly, corn fritters with smashed avo ($22.90) or cinnamon hotcakes with berry mascarpone and almond praline ($22.90). If you'd like to branch out from mimosas, you can — choose from fancy sips like the Pink Shandy ($10) and the Mimi ($16) with gin, chartreuse and pear.
What's the deal? $22 for two hours of mimosas. When? Monday–Sunday, 10am–3pm.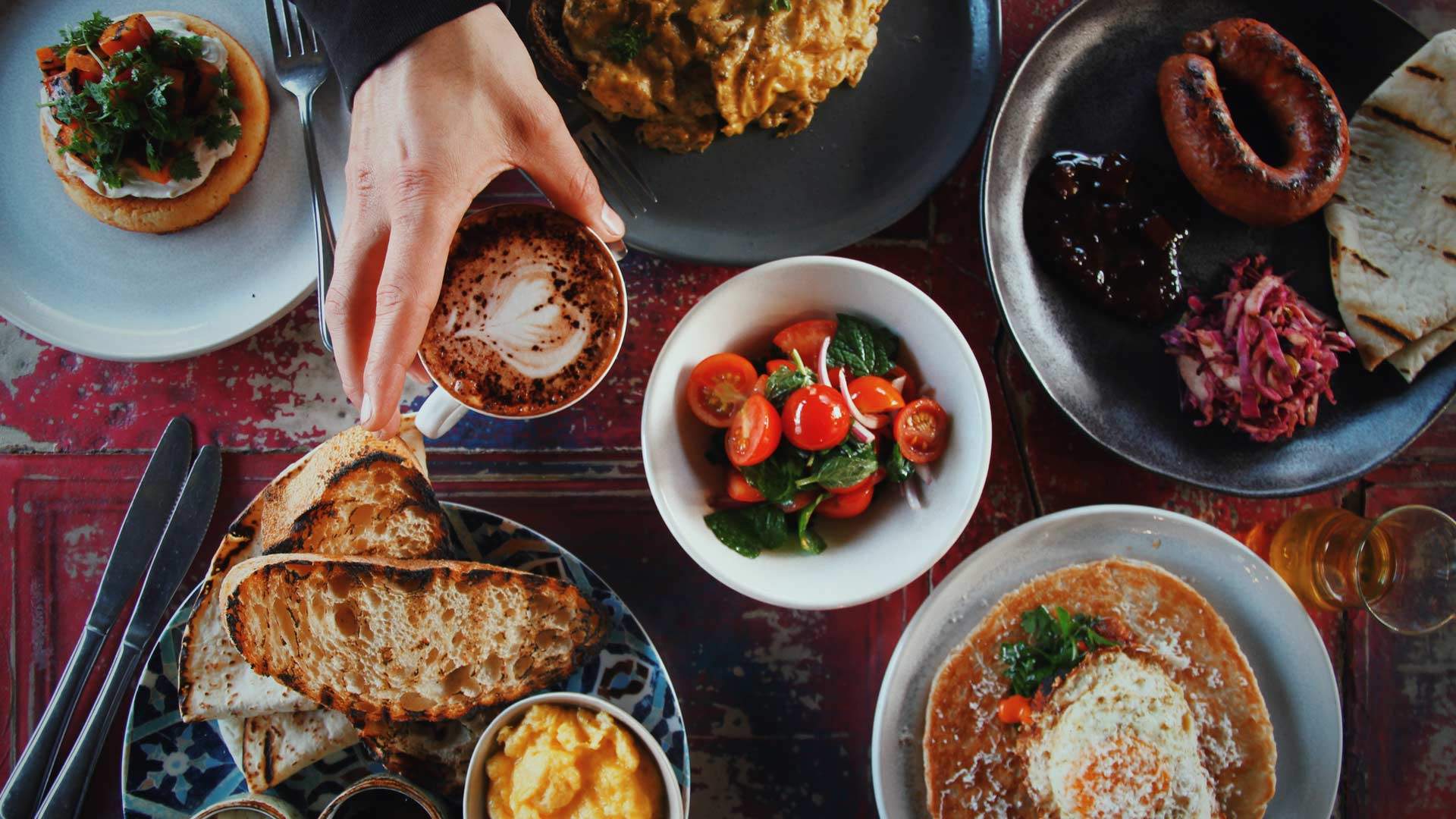 Big communal breakfasts and lunches are an integral part of Middle Eastern culture and Thievery's Executive Chef Julian Cincotta has pulled a menu of his favourite modern twists on regional dishes. Think shakshuka with goat's feta, tahini panned cakes (like pancakes but crispy on the outside) with halva, fermented chickpea crumpets and breakfast kebabs with spicy sausage. You can add bottomless booze to brunch or lunch, too, for an additional $32. This gets you 90 minutes of endless mimosas and  cocktails (which change each week). If you head into Thievery between October 9 and November 10, however, the brunch and lunch menus will look a little different — the restaurant will be serving up its popular Middle Eastern-inspired yum cha (with bottomless green tea sangria). You can check out the menu over here.
What's the deal? $32 for 90 minutes of bottomless cocktails. When? Saturday and Sunday, 10am–4pm.

If you're going to go anywhere for a bottomless brunch, The Winery in Surry Hills is a safe bet. Choose from peach, raspberry or lychee bottomless bellinis and the rest is done for you. Along with a cheese and salami board to nibble on as a start, the three-course menu ($79) has some standouts, including gnocchi with stracciatella, garlic polenta fries, veal and chorizo sausage rolls and (to finish) a board of sweets.
What's the deal? $79 for three courses and three hours of bellinis. When? Saturday and Sunday, from midday.


The Royal Paddington has kept it classic when it comes to its brunch, pairing three courses of delicious breakfast fare with two hours of bottomless cocktails ($85), including mimosas, spritzes and sangria. For an extra $10, you can add on bottomless espresso martinis, too. Covering off all your staples, you'll start mini croissants, followed by two shared brunch boards: one topped with baked camembert and another with chorizo, avocado, salmon, eggs and flatbread. Then, you'll end with a selection of sweets. Showcasing sweeping city views from the verandah level, the Royal Brunch series is reminiscent of an inner city garden party, just a few floors up.
What's the deal? $85 for three courses and two hours of bottomless cocktails. When? Saturday, 11am–1pm.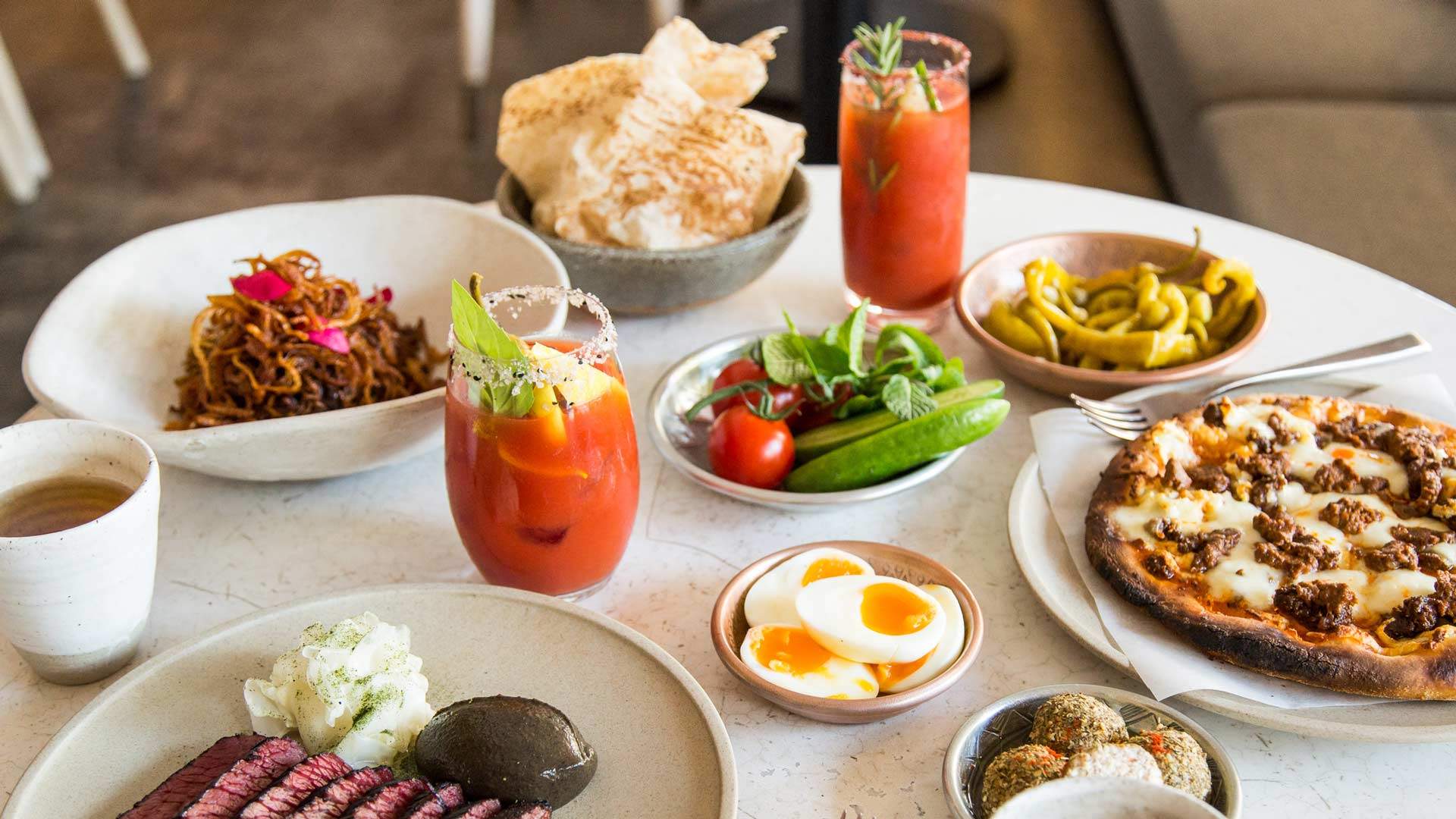 NOUR, SURRY HILLS
The Crown Street palace of pastels and plants — and boundary-pushing Middle Eastern fare — has a brunch offering with cocktails in teapots, breakfast pizza and possibly one of the best (and smokiest) bloody marys in the city. Oh, and bottomless cocktails, of course. Executive Chef Ben Williamson (from Brisbane's Gerard's) together with Head Chef Griff Pamment (Longrain) have pulled together a tasty brunch lineup with dishes like falafel crumpets ($14), a fun take on the McMuffin with merguez sausage ($17), halva hotcakes ($23) and a lineup of manoushe: a popular Lebanese pizza typically eaten for breakfast. For the decision-averse, Nour's brunch menu also includes two banquet options for $45 (four courses) or $69 (seven), with optional bottomless booze add-ons available for both. For an extra $29 a head you can choose from 90 minutes of endless rosé or beer — or for an extra $39, you can add on 90 minutes of espresso martinis, Aperol spritzes and Persian spritzes (with elderflower, cucumber and lime).
What's the deal? $29 for 90 minutes of bottomless rosé or beer or $39 for cocktails (must be ordered with $45 or $69 set menu). When? Saturday, midday–2.30pm and Sunday, 10am–2.30pm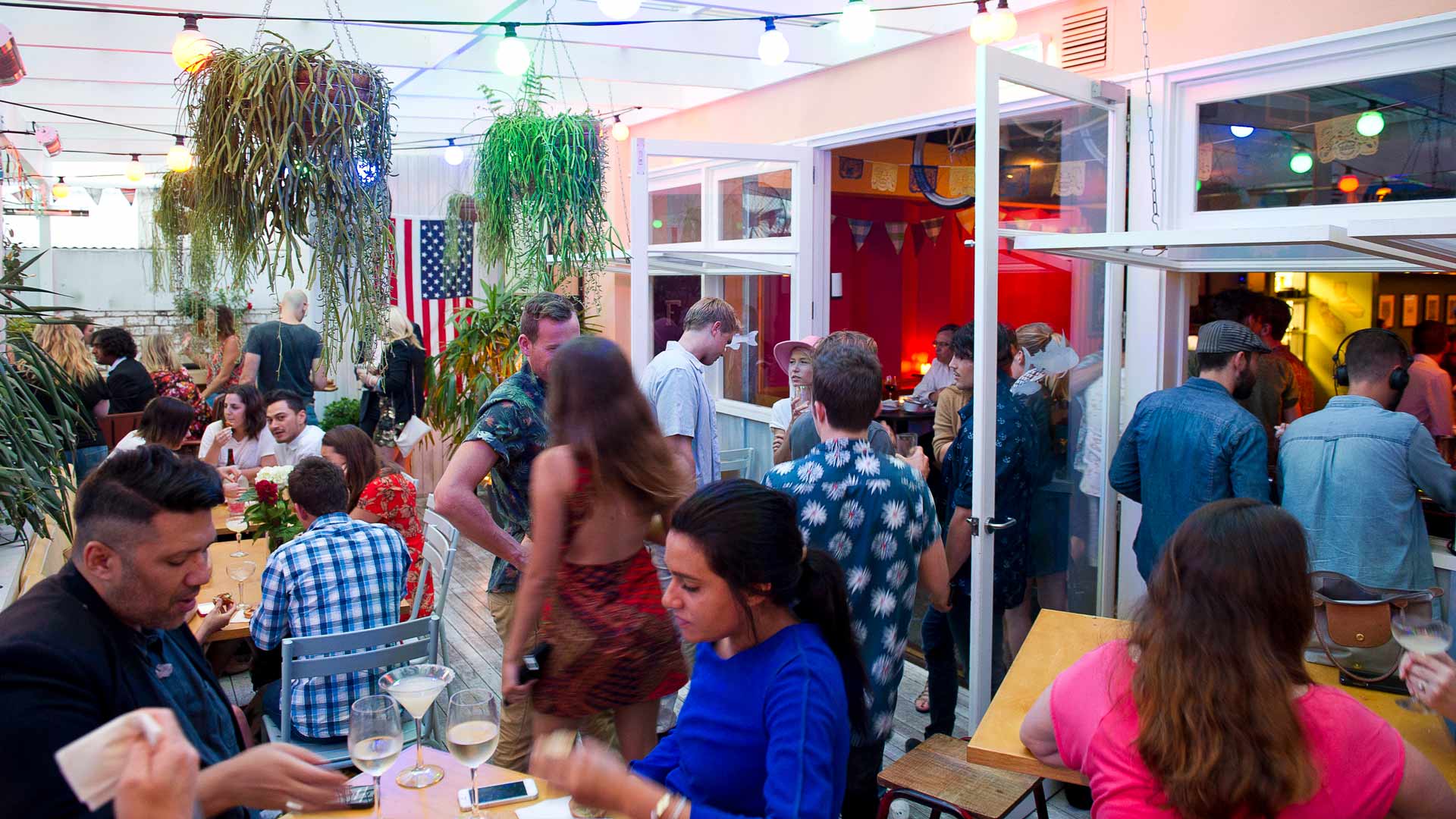 SOCAL, NEUTRAL BAY
At the California-inspired Neutral Bay eatery, you can get endless rosé or rosé sangria with a tasty banquet for just $65 a person. Hopefully you won't find the bottom of the rosé, but either way it's the budget option for enthusiasts. All you need to do is grab three other rosé-loving friends (and make sure you order food) to meet the four-person minimum for two hours of free-flowing rosé. It's on offer from Wednesday through Sunday between midday and 3pm. So what can you pair with your sweet, sweet rosé? The six-dish banquet includes guac (of course), your choice of taco (fish, brisket, octopus or mushroom), smoked pork empanadas, ceviche and enchiladas.
What's the deal? $65 for six courses and two hours of bottomless rosé and sangria. When? Wednesday–Sunday, midday–3pm.

Every Saturday and Sunday, head to this inner city hideaway for unlimited mimosas and a selection of meze — all for just $49 per person. Head Chef Arman Uz (Efendy) is cooking up treats like labneh with peppers, chilli butter and house-made bread; smoked eggplant salad with woodfired capsicum; lentil kofte with pomegranate, parsley and lemon; and hummus topped with wattleseed dukkah. While the food is not bottomless, the booze sure is — you'll be treated to two full hours of mimosas, poured to your heart's content. The deal is available from 11am–1pm every weekend — with no end in sight — and bookings can be made via email. Once 1pm rolls around, you can extend the day with Middle Eastern-inspired cocktails and live music.
What's the deal? $49 for two hours of bottomless mimosas and a selection of meze. When? Saturday and Sunday, 11am–1pm.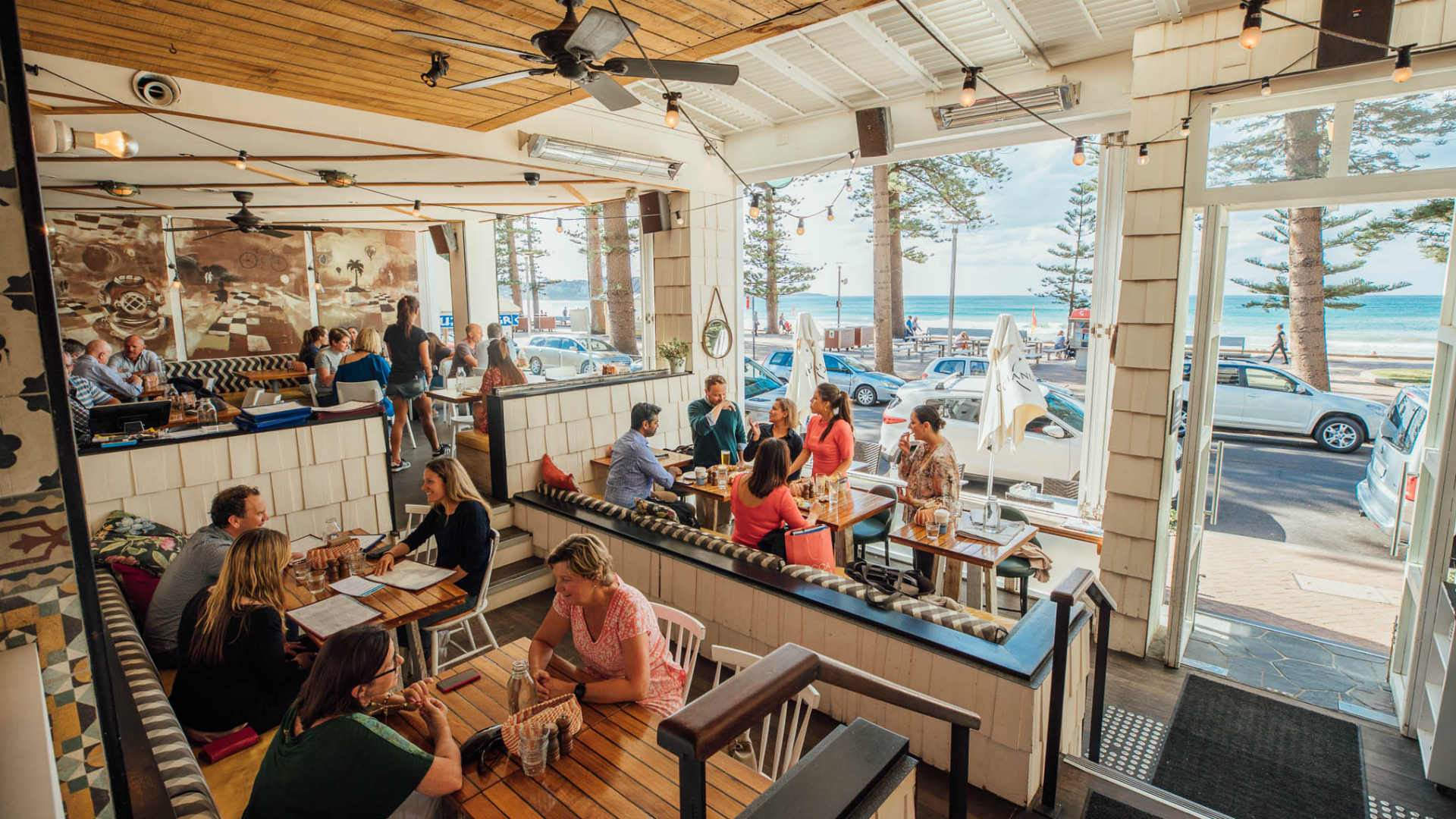 Got your mind on a boozy feast with a bunch of buddies? Manly Wine — the breezy Hamptons-inspired all-day eatery — has a deal with you in mind. Every Saturday and Sunday, it's serving up a bottomless brunch with three whole hours of endless bellinis, available in peach, raspberry or lychee. You'll be enjoying a three-course brunch with these bellinis, too, which includes cheeses, chicken terrine and salt and pepper squid to start; poke bowls, fish sandwiches and pulled pork sliders for mains; and a selection of sweets to round things out. Thanks to its proximity to the beach, this is a great spot to head after a morning dip with your mates.
What's the deal? $79 for three courses and three hours of bellinis. When? Saturday and Sunday, from midday or 3.30pm

Every Friday–Sunday from midday, this northern Sydney spot is slinging brunch with two hours of endless drinks to match. It's not your usual brunch fare, either. You'll feel like you're in Europe enjoying a summertime spread with this lineup, which includes garlic bread, mixed olives, burrata with tomatoes and basil on sourdough, spiced and salted squid, scallops and beer-battered chips with aioli. (And, if you're vegan or allergic to gluten, your dietary needs can be catered for as well.) Two food options are available: a $35 package and a $48 version, with the latter including tuna tacos as well. From there, it's a build-your-own kind of deal. Add dessert for $6, an espresso martini for $14, or choose from four bottomless booze packages —spanning mimosas for $30, wine for $48, cocktails and spritzes for $55, or everything for $75.
What's the deal? $30–75 for two hours of bottomless booze (must be ordered with either $38 or $48 set menu). When? Friday–Sunday, from midday.
Top image: Dead Ringer.
Published on October 09, 2019 by Alexandra Middleton