The Best Picnic Hampers to Order in Sydney to Level-Up Your Next Park Session
You'll find dry-age meats, creamy burrata and miso caramel brownies in these hampers for your next luxe picnic spread.
From Monday, September 13, outdoor gathering restrictions in NSW are easing to allow fully vaccinated Sydneysiders to gather in groups of five outdoors. This means if you've had both jabs, you can meet up with your equally vaccinated friends and family to enjoy a picnic in the park.
To help you celebrate this little slice of freedom, we've rounded up five of the finest picnic hampers available for pick-up or delivery around Sydney. And, if you haven't been able to nab a vaccination appointment just yet, we're all about treating yourself to a hamper anyway — and spending a sun-soaked afternoon with your household in your backyard, balcony or living room digging into the goods.

THE STINKING BISHOPS
Newtown favourite The Stinking Bishops takes selections from its far-reaching cheese range and puts them together with crackers and meats into hampers ideal for sunny days. Choose between the 3 Cheese Hamper ($65), Cheese and Meat Hamper ($95) or Ultimate Hamper ($110), all featuring mixes of different handpicked cheeses ranging from the soft and melty to the blue and stinky variety. Depending on which hamper you choose, you'll also be treated to the likes of quince paste, grapes and smoked wagyu. If you like a bit of mystery and surprise in your life, or you just hate choosing, you can opt for the Stinking Mystery Hampers ($50-200) which can include anything from cheeses and cured meats to bottles of wine. The shop offers delivery throughout Greater Sydney and free delivery for orders within five kilometres. Same-day and next-day delivery are both available depending on how far away you live and how early you order.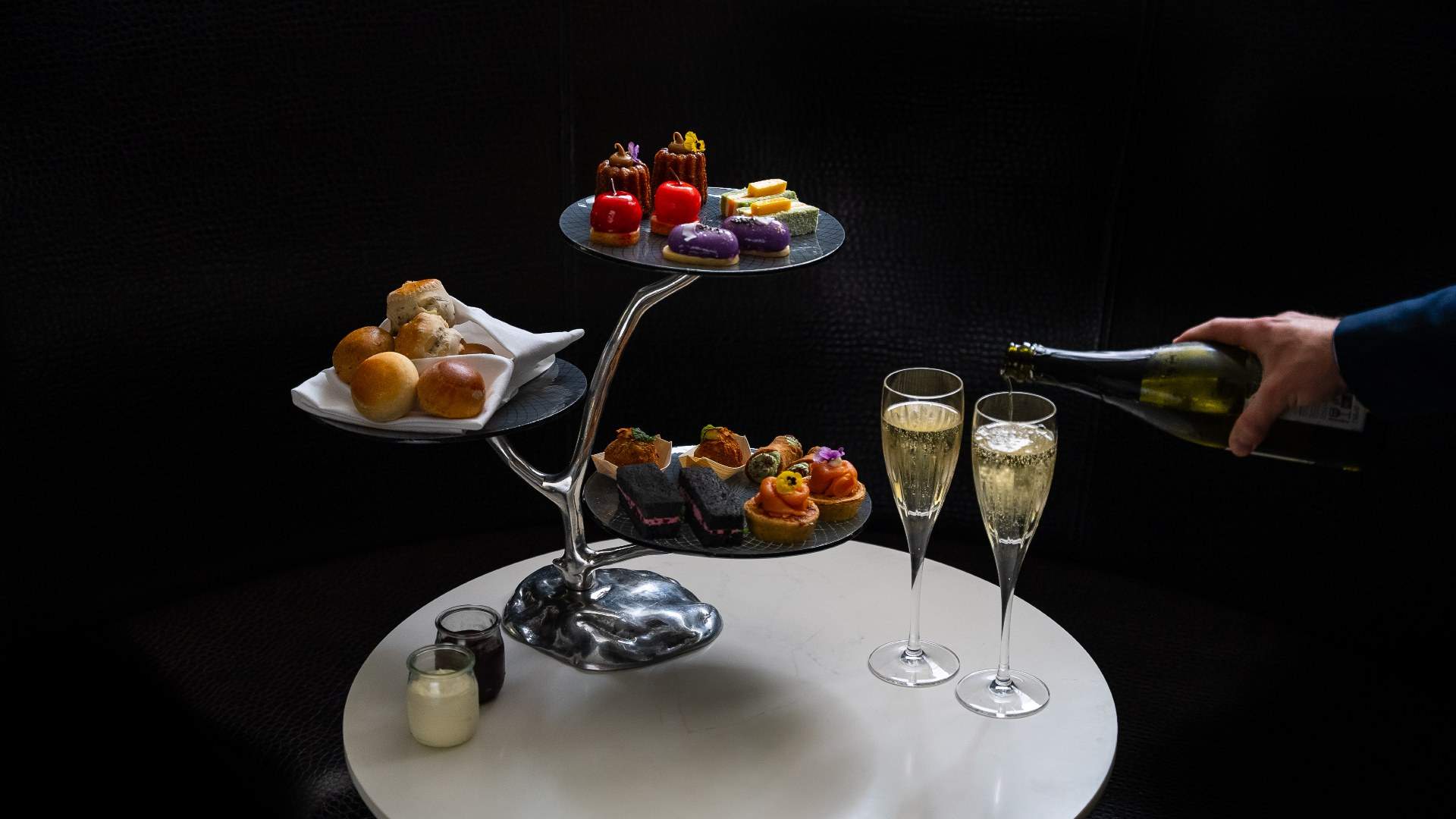 SHERATON GRAND
Throughout lockdown, Sheraton is bringing its indulgent high tea feasts into your home with a series of fancy boxes filled with cakes, meats, cheese and an array of next-level treats. On offer is the High Tea Box ($69), the Cheese and Charcuterie Box ($79), the Feeling Feasty At Home Box ($189) and the Picnic Indulgence Box ($125) — perfect for a stint in the park with friends or a Saturday afternoon at home with a housemate. In the picnic indulgence box you'll find a selection of seasonal fruit pots, locally sourced cheeses, chicken coleslaw sandwiches on house-made focaccia, pastries, roast veggies and charcuterie. To take things up a notch, you can add a bottle of Moet to any of the boxes for $50. Orders can be collected between 11am–3pm Friday–Sunday from Sheraton Grand Sydney Hyde Park. Delivery is organised through Uber's Package Delivery via the Uber app.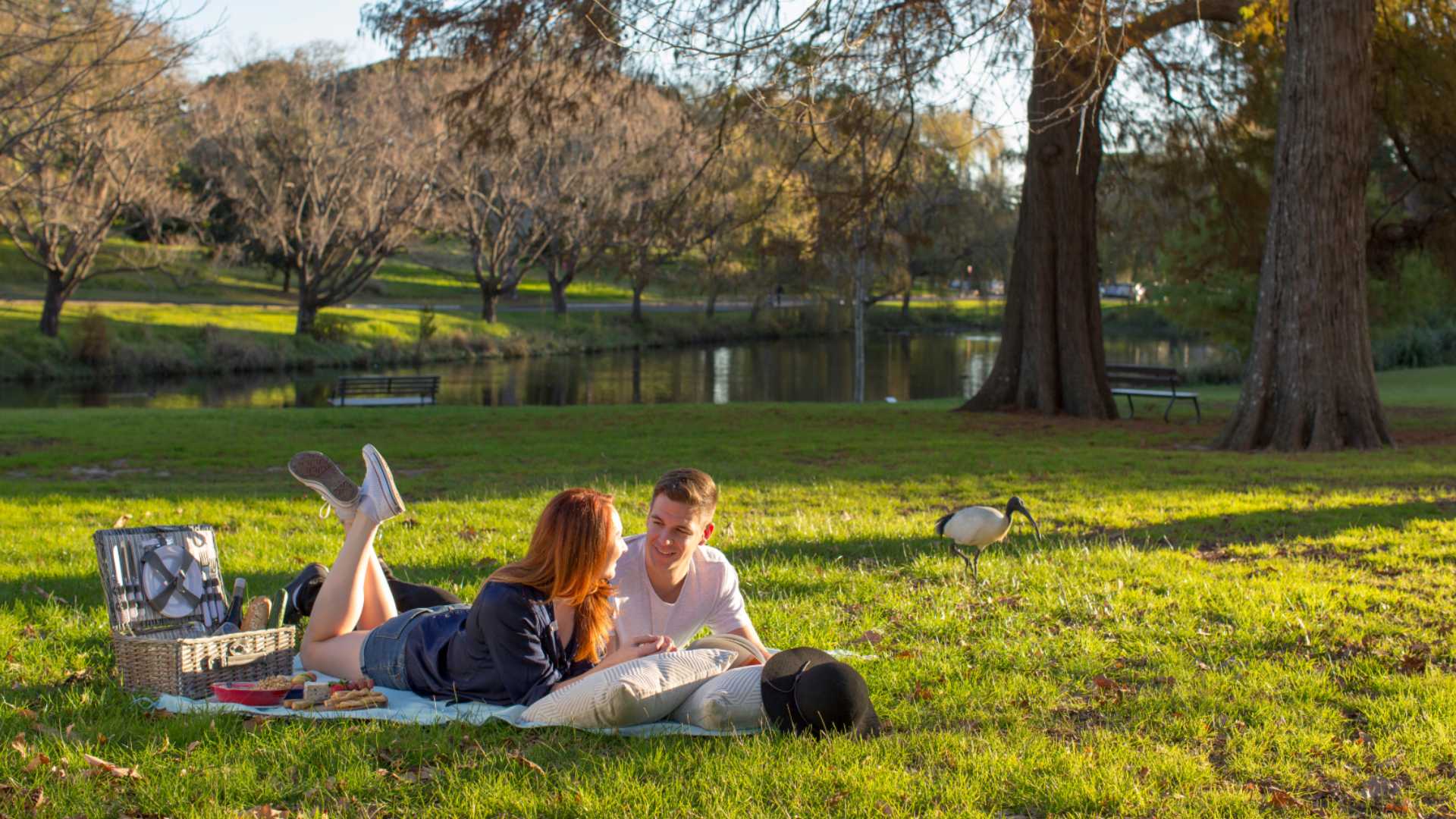 CENTENNIAL HOMESTEAD
Located inside Centennial Park, Centennial Homestead offers picnic hampers for you to enjoy in the green surroundings of the inner city parkland. The hampers are $40 per person for a minimum of two people and come with a spread of dry-aged prosciutto, salami, pickles, olives, grapes, triple cream brie, vintage cheddar and sweet potato hummus. Alongside the cheese and meat spread, you'll receive your choice of sandwich from the cafe and a rocket, witlof, red cabbage, beetroot, grapefruit and orange salad, before finishing things off with a belgian chocolate mousse and fruit salad. The picnic hampers are available for pre-order via the Homestead's website and can be picked up from within the park.


SYDNEY PICNIC CO
Sydney Picnic Co founders Simon and Natalie Thomas pride themselves on filling your picnics with tasty hand-prepared food. Their picnic hampers range from $160–225 and come with everything you need for a memorable meal in the great outdoors. On the more affordable side of things is The Wind and the Willows pack ($160) which comes packed with marinated olives, spiced chickpea puree, buffalo mozzarella seasoned with lemon, chilli and mint, a couple of cheeses, a stack of veggies from charred asparagus to roasted beetroot and decadent chocolate brownies. However, the star of the hampers has to be The Secret Garden ($175), which offers up a spread of burrata with charred zucchini and shallots, vintage manchego, heirloom tomatoes and La Boqueria charcuterie, alongside hot smoked trout and roast chicken with kipfler potatoes and pickled peppers, and miso caramel brownies for dessert. Sydney Picnic Co is currently closed for orders but is reopening on Wednesday, September 15, so be sure to bookmark these hampers for then. You can order delivery to your home or chosen picnic location within the majority of Sydney's CBD, eastern suburbs, inner west and north shore, or you can pick up from its Surry Hills base.

BUILD YOUR OWN
There are plenty of Sydney spots that have everything you need to tailor-make your own picnic hamper. Pick and choose from Continental Deli's list of canned goods, cheeses and sandwiches. You can even order yourself some canned cocktails to really complete the experience. Cornersmith has an abundance of pickled goods, relishes and cocktail syrups that will elevate any picnic, and offers at-home pickling classes so you can DIY your own tasty treats for your next park session. Or, Fabbrica has just about everything you could possibly need for a luxe spread. Wagyu bresaola, Ortiz anchovies, Pepus clams, house-made quince jam, blocks of gruyere, goat's and buffalo blue cheese and mortadella sandwiches are all available for delivery via UberEats. Finally, if you're keen to go all out (after all, you deserve it), The Star's at Home menu includes takeaway sushi boxes from Sokyo featuring 16 delicate pieces of fresh seafood from salmon to kingfish; ocean trout and snapper. Go all out and choose a selection from each. The sky's the limit when you're putting the hamper together yourself.
You can stay up to date with the developing COVID-19 situation in Sydney, as well as current restrictions, at NSW Health.
Top image: Anna Kucera