Sydney Bars and Restaurants That Are Undeniably, Unabashedly Romantic
Low lighting, jazz playlists, opulent cocktails — these date spots will help you to start planning the perfect Valentine's Day.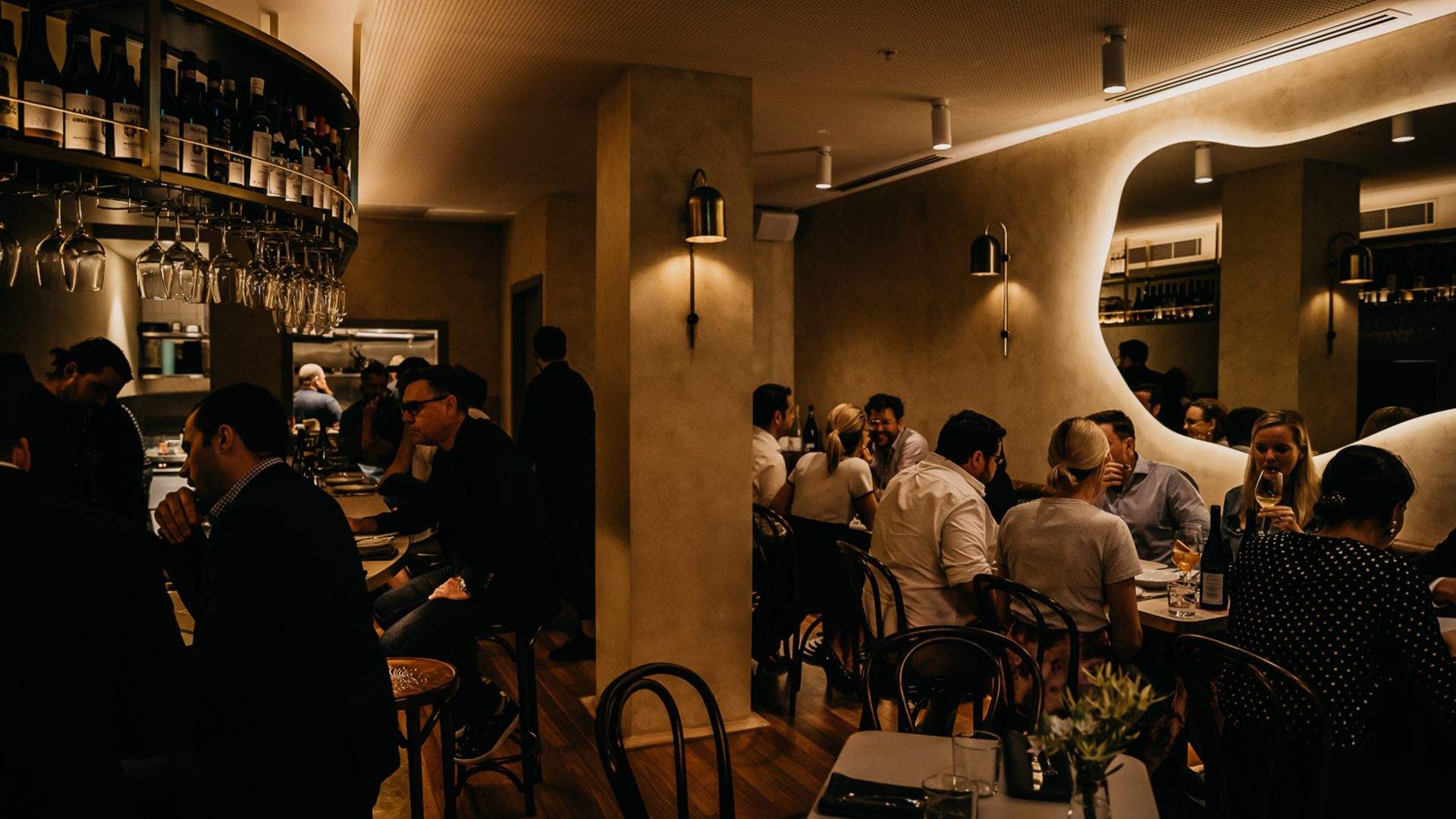 Alright, alright. So we've sat here all day grumbling about Valentine's Day, manufactured romance, disingenuous 'love' related holidays and the atrociously high price of roses. Words like 'phoney' and 'consumerist scam' have been bandied about. Pay no attention to the phones under our desk, messaging that special someone, planning a little get-together later on.
Sometimes you just have to lean into the gooiness of an occasion and if you're on the hunt for a dimly lit restaurant or bar to spend the night, Sydney's got plenty to offer. If we run into you at these undeniably romantic, unashamedly snuggly venues, don't be too harsh on us. We love love. These are the most romantic bars and restaurants you can book this Valentine's Day.
Image: Nikki To
Food & Drink

Hidden away above Quay Quarter Lanes, this decadent French restaurant specialises in steak frites with its secret sauce and ultra-cheesy soufflé.

Food & Drink

A wine bar with A-plus snacks in a historic Glebe Point Road building.

Food & Drink

A Japanese cafe, bar and restaurant inside a historic CBD sandstone building.

Food & Drink

The Surry Hills institution has relocated to Oxford Street.

Food & Drink

A go-to for great Japanese food in Sydney is now in a sleek new subterranean home on George Street with much to love.

Food & Drink

This underground cocktail bar is serving up romantic cocktails and plenty of negronis in the basement of Hinchcliff House.

Food & Drink

Dig into rustic dishes and divine cocktails set amongst dark timber and candlelight in the style of an Italian farmhouse.

Food & Drink

This two-storey wine bar in the former digs of This Must Be The Place hosts weekly wine tastings and boasts food from a former Ragazzi and 10 William Street chef.

Food & Drink

The Challis Street restaurant is serving up boudin noir spring rolls, fried lamb's brains and snail pasta.

Food & Drink

Surry Hills' new late-night bar is serving Swedish snacks and house-made apple wine.

Food & Drink

Where drinking cocktails gets that much better because they're served in cans.

Food & Drink

This revamped screening room and small bar brings a little old-school charm to 'going to the movies'.

Food & Drink

The Tequila Mockingbird team's two-storey Mexican restaurant is home to Australia's biggest collection of premium tequila and mezcal.

Food & Drink

You'll find this retrofuturistic cocktail bar on the 83rd floor of Sydney Tower.

Food & Drink

This restaurant at Coogee Pavilion serves bumps of caviar and hand-rolled pipi pasta — and has its own cocktail bar.

Food & Drink

This underground CBD restaurant specialises in just one cut of steak.

Food & Drink

Enjoy incredible views, a luxe 30s-inspired fit-out and a covetable Champagne collection.

Food & Drink

Snack on mussels on toast and choose from over 350 wines at this Potts Point bar.

Food & Drink

A CBD wine and pasta bar from the Love, Tilly Devine crew.

Food & Drink

This Manly cocktail bar is hidden behind a fridge — with 250 different whiskies, creative cocktails and plenty of snacks.

Food & Drink

One of Sydney's first small bars, this Darlinghurst wine bar never gets old.

Food & Drink

High-class French food in a subterranean space on Bligh Street, where the steak is the stuff of legend.

Food & Drink

The cosy basement bar at Fred's with exposed sandstone, seasonal cocktails and killer bar snacks.

Food & Drink

In a minimalist, well-designed setting, you'll enjoy Japanese cuisine in a reimagined izakaya style.

Food & Drink

A 70s-inspired Italian enoteca from the Restaurant Hubert crew.

Food & Drink

This lively Paddington stalwart is a portal into some of the best wine, pasta and snacks this city has to offer.

Food & Drink

Bennelong's food is somehow just as show-stopping as its views.

Food & Drink

A decadent new dining room attached to Merivale's northern beaches pub.
Tap and select
Add to Home Screen
to access Concrete Playground easily next time.
x