The Ten Best Dog-Friendly Hotels Around Australia
Spots where both of you can sit and stay.
UPDATE Thursday, June 17: Under current COVID-19 restrictions in Australia, there are various interstate border regulations in place. Check out the latest details on the travel information page relevant to your destination state. Of course, even border closures don't mean you can't start dreaming — bookmark this for when you can explore freely once again.

A weekend away has perhaps never been needed more. We're all feeling pretty cooped up after months of quarantine and are, quite frankly, desperate for a getaway. But, for those fur parents out there, it isn't quite the same without bringing your pooch along — not to mention the pain of finding a dog-sitter. Which means, the best holiday is one where both your two-legged and four-legged mates are there. Luckily, there are heaps of accommodation options all over Australia where you don't need to choose between the two. Each spot catering to your pup in its own way — think special beds, treats, beaches and walks, all for your furry pal. Looking for a spot where your dog is welcomed as much as your human friends? These hotels are here for you.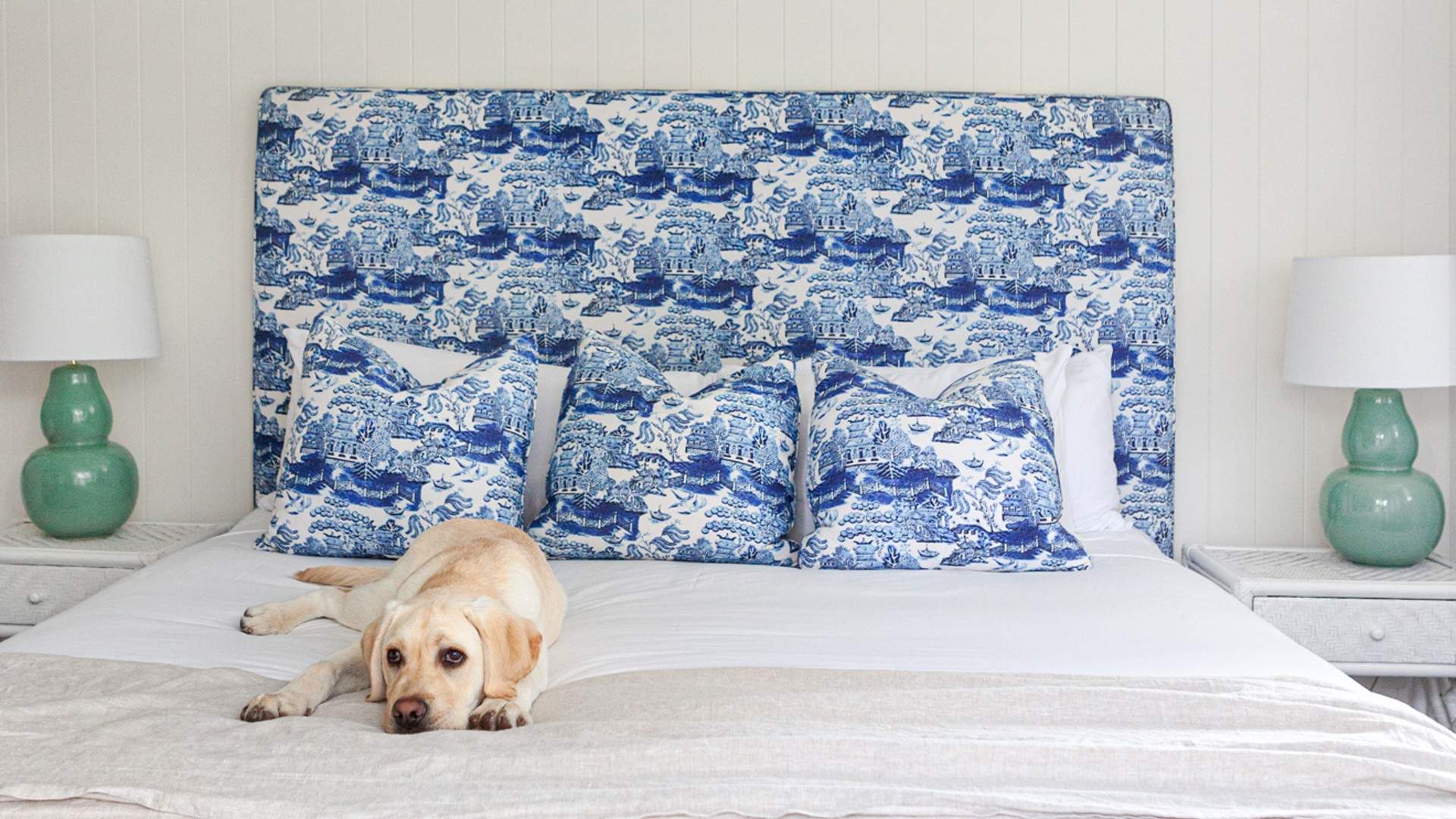 Bannisters Port Stephens is an opulent escape that welcomes your dog with open arms. It has three dog-friendly rooms, including two ocean deck rooms and the ground floor luxury suite. All three rooms open out onto the garden and are walking distance to Wanda Beach where your pup can roam free. Doggos can also enjoy the Terrace Bar deck, where humans have the added benefit of an infinity pool (not for dogs, sorry). Your four-legged friend can also accompany you for a bite in the Cheeky Dog beer garden. These rooms understandably book out quickly, so be sure to plan in advance.
How much? From $300 per night.


Sydney CBD boutique hotel Little Albion welcomes both you and your pooch into Surry Hills. All of the pet-friendly rooms are located on the ground floor and offer direct outdoor access. They each boast a luxuriously soft mattress for you and your dog alike, so everyone can sleep well. And water and food bowls are on the docket, too. For humans, expect designer interiors and a rooftop garden that offers an outdoor shower, sweeping city views and an 'honour-system' bar, where guests help themselves to food and drink. Rooms are an extra $50 a night to make pet friendly.
How much? From $210 per night.


YONDAH BEACH HOUSE, SOUTH AUSTRALIA
At Yondah Beach House (a 3.5-hour drive from Adelaide), owners Michele Bain and Nick Cureton take the term 'pet-friendly' to a whole new level. They know animals are part of the family — so, they let your dog on every inch of the expansive 150-acre property, including inside the award-winning house, where a special gift will be awaiting your pooch. The beachside home is also fenced on three sides and is one-kilometre from the road, so it's safe for your pup to roam around the York Peninsula coastline on your doorstep. The place isn't just for dogs, either; in the past, Yondah has also welcomed cats, birds and even a turtle.
How much? From $440 per night.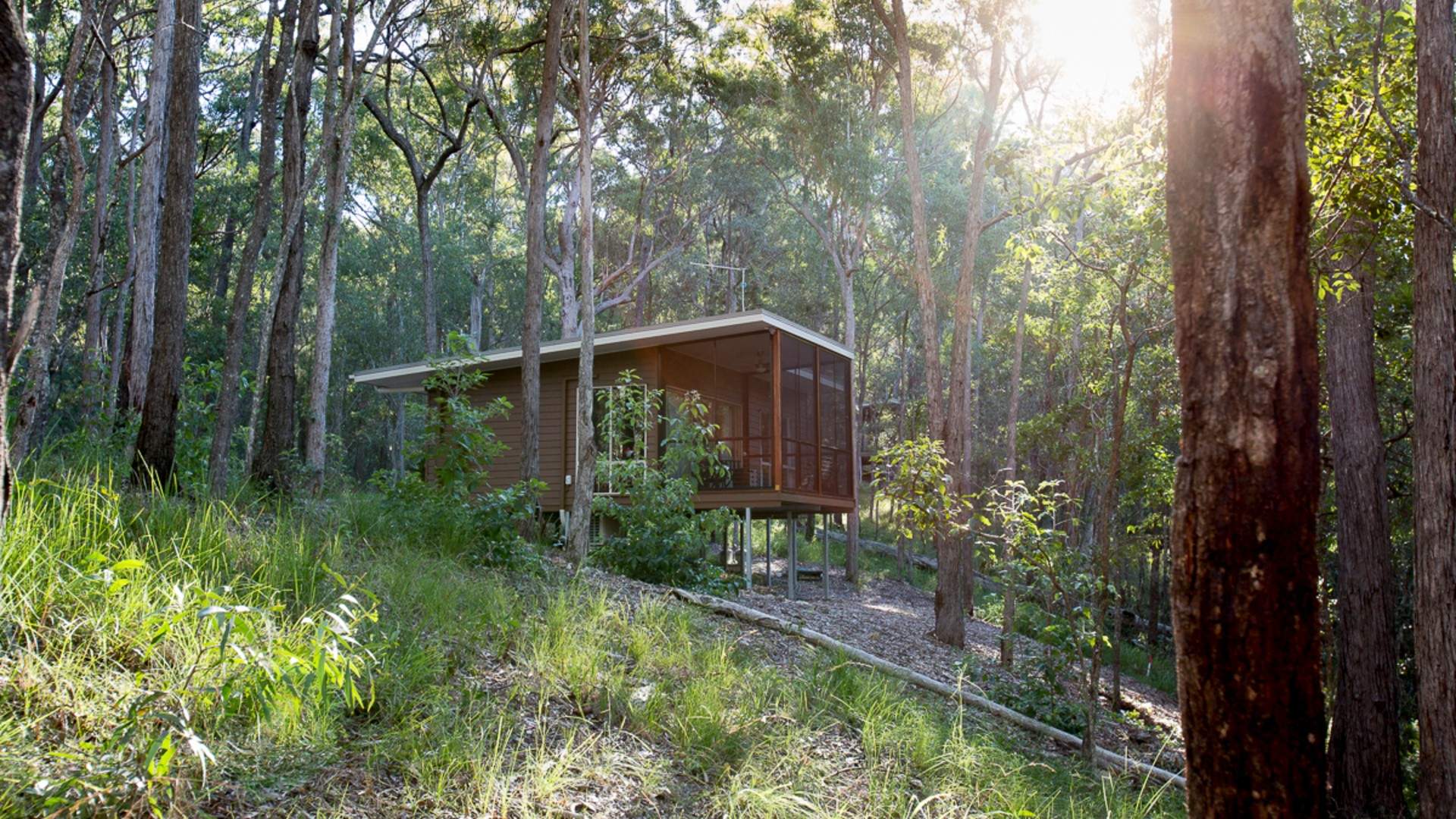 MT COTTON RETREAT, QUEENSLAND
Mt Cotton Retreat's self contained cabins are located just 30-minutes from the Brisbane CBD, yet offer a real bush retreat for you and your pup. Choose from lakeside or treetop accommodation, with select cabins specifically reserved for pets (and prior approval needed). The property spans 20 hectares and is situated within a private nature refuge — expect to see koalas aplenty, along with wallabies, possums and goannas. And Venman National Park is just a short one-kilometre walk or drive away. So you and your fur baby can't possibly run out of things to do, and will have nice warm cabins to come back to.
How much? From $280 per night.


A great city escape for fur parents is Element Richmond. It's an eco-conscious accommodation option that welcomes guests of both the human and four-legged variety. The hotel expands over 168 suites and offers a contemporary design by award-winning local architects Rothelowman. Up to two pups can share your room, which comes equipped with extra comfy dog beds. Element Richmond also boasts a dog-friendly mini-bar that has featured treats like the Quarter Hounder (pan-fried steak served with green vegetables) and The Good Dog (market fish with steamed carrot). It's safe to say your dog won't want to leave this lap of luxury.
How much? From $209 per night.


SHAMBHALA BYRON BAY, NEW SOUTH WALES
Set along a private stretch of Belongil Beach in Byron Bay, Shambhala is a true oasis for you and your pet. The cottages are located right on the sand, and also back onto stunning rainforest. Each offers sweeping ocean views, specifically across the Coral and Tasman seas. Some of the cottages also include a separate deck that comes complete with an outdoor barbecue and an eight-person dining table, and the resort features a giant steam room and a hot rock sauna. But your doggo isn't forgotten here, either. The hotel provides food and water bowls for your pooch, as well as offers a map of the off-lead and dog exercise areas within range. So, humans and animals alike can soak up all this luxury.
How much? From $295 per night.


LILIANFELS BLUE MOUNTAINS RESORT & SPA, NEW SOUTH WALES
Located in the foothills of the Blue Mountains in the small town of Katoomba, Lilianfels offers luxury and pampering for you and your pup. Here, you can book a special BYO dog package, which includes a deluxe view room that comes equipped with a bed, bowl and treats just for your fur baby. The room overlooks the gorgeous surrounds, which also include a tennis court, a spa, two pools — one of which is a heated outdoor infinity pool — and a fine-diner. Plus there are heaps of easily accessible bushwalks to enjoy with your pooch.
How much? From $350 per night.


OVOLO NISHI CANBERRA, AUSTRALIAN CAPITAL TERRITORY
Bush and beach retreats aren't the only options for your dog-filled holiday, either. Heaps of Australian cities are now extending accommodation to doggos as well, including Canberra's Ovolo Nishi. The city centre hotel is dedicated to luxury, nature, sustainability — and your four-legged friend. Opt for the VIP Pooch Package, which takes care of dogs just as much as humans. For starters, it includes a special doggy bed, food mat and bowl. Plus, both you and your fur baby will get goodie bags on arrival — your dog's will include toys and treats exclusive to the hotel. And to take it to the next level, the pet-loving staff will also act as dog-sitters, ready to provide assistance as needed.
For those looking to venture elsewhere, Ovolo's other hotels in Sydney and Brisbane have VIP pooch deal, too.
How much? VIP Pooch Packages start at $419 per night.


HAWLEY HOUSE, TASMANIA
A self-proclaimed 'animal paradise', Hawley House is set on a 150-hectare homestead on the northern coast of Tasmania. Your four-legged friends are welcome free of charge — and that goes not only for dogs but also for ferrets, rabbits, horses and cats. Here, you are surrounded by Tasmanian wildlife, as well as kilometres of private bushwalking trails and a dog-friendly beach that's set just below the property's garden. Dogs are specifically allowed to stay in the Stables Spa Rooms and the Aquarius rooms, as they are ground floor and have easy access to the outdoors. But if you want to get away with all of your best human and furry mates, book out The Hill House — the four bedroom, two bathroom home sleeps up to ten guests and also includes an outdoor deck with barbecue.
How much? From $365 per night.


THALIA HAVEN, TASMANIA
Located just an hour from Hobart airport, Thalia Haven is set on a private 130-acre peninsula that's surrounded by the Great Oyster Bay. Tassie's wild east coast is at your doorstep, and there are a whopping five kilometres of secluded coastline, plus a private beach for your entire group to enjoy. The ancient stone cottage contains four bedrooms, so it's the best option for you and your entire crew of dog-loving mates. The place is also solar and wind powered and includes an outdoor bathtub, shower and woodfired sauna. It's safe to say that this would be an incredibly fancy getaway for you and your pup.
How much? From $900 per night.

Top image: Bannisters Port Stephens
Introducing Concrete Playground Trips
Book unique getaways and adventures dreamed up by our editors