'Scott Pilgrim Takes Off' Is an Anime Remix of the Beloved Page-to-Screen Tale to Fall in Love With
The page-to-screen tale about the twentysomething bassist battling Ramona Flowers' seven evil exes is back; however, this isn't the same story but animated.
When word arrived that a new version of Scott Pilgrim was on its way, it felt as inevitable as the person of your dreams having a complicated romantic past. That nothing ever truly dies in pop culture is old news. So is the fact that nothing fades into memory, especially when respawning can capitalise upon a fanbase. Turning Scott Pilgrim into a TV show is the latest example on an ever-growing list of leaps from the big screen to the small; however, sight unseen, making a Scott Pilgrim anime series felt more fitting than most similar jumps. Thanks to manga-style aesthetic that filled Bryan Lee O'Malley's graphic novels, the video game-esque plot about battling seven evil exes and the cartoon vibe that Edgar Wright brought so engagingly to his 2010 big-screen live-action adaptation, imagining how O'Malley and co-writer/co-producer BenDavid Grabinski (Are You Afraid of the Dark?) — plus Wright (Last Night in Soho) again as an executive producer — could bring that to an eight-part animation was instantly easy.
Called Scott Pilgrim Takes Off rather than Scott Pilgrim vs the World, the Netflix series that streams from Friday, November 17 begins as a straightforward Scott Pilgrim anime, introducing the same tale that's been spread across pages and cinemas — and played through via a video game, too — right down to repeated shots and dialogue. Meet Scott Pilgrim again, then. The Michael Cera (Barbie)-voiced twentysomething bassist is once more fated to fall in love with literal dream girl Ramona Flowers (Mary Elizabeth Winstead, Ahsoka), who first appears to him as he slumbers, then fight the seven folks who dated her before him. When sparks fly, he also has his own amorous mess to deal with, including that he's dating high-schooler Knives Chau (Ellen Wong, Best Sellers) and remains heartbroken over being dumped by now-superstar singer Envy Adams (Brie Larson, The Marvels).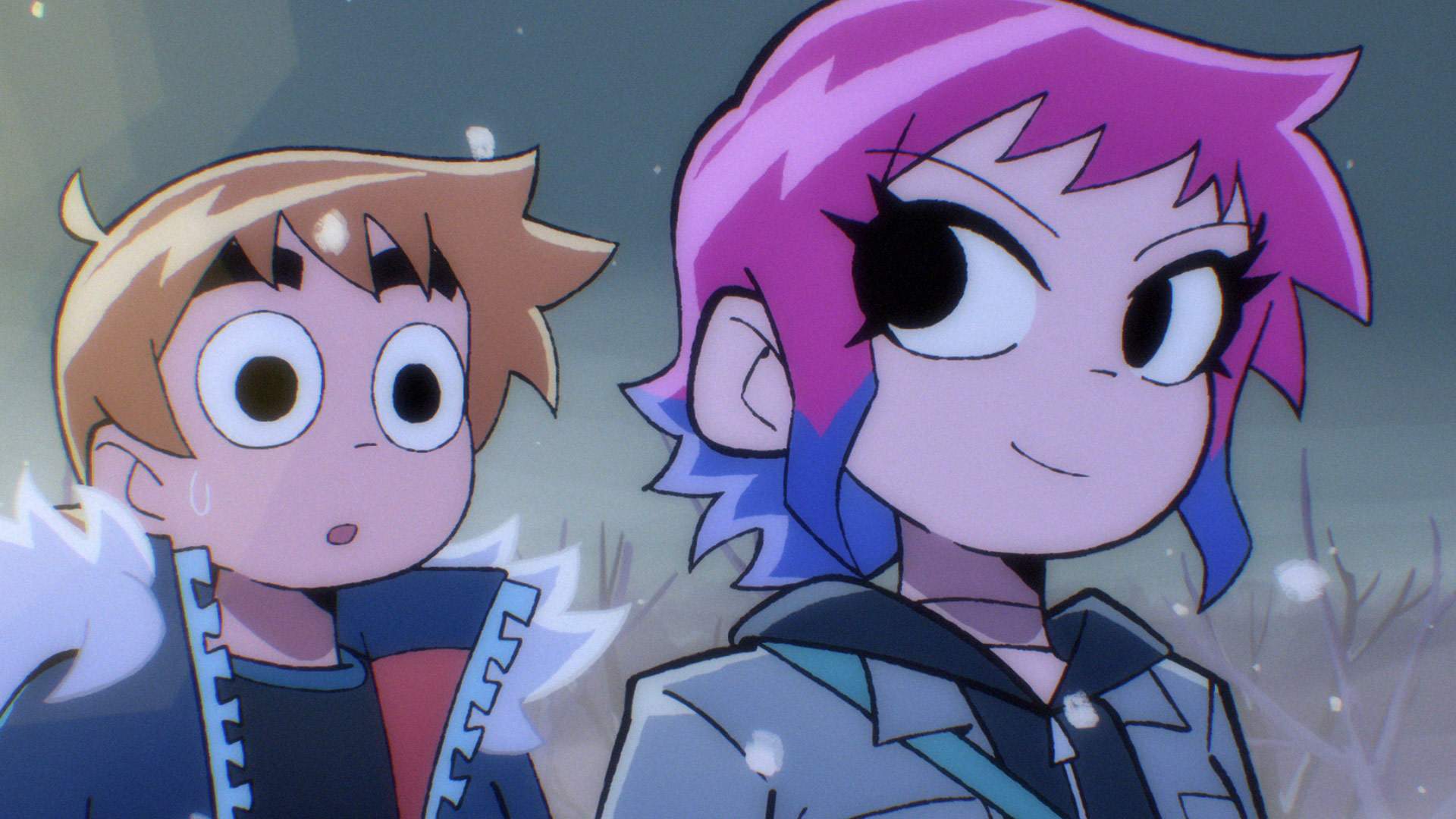 Scott Pilgrim Takes Off's debut episode still has its namesake living with Wallace Wells (Kieran Culkin, Succession) in a one-room Toronto flat, and regularly having the ins and outs of his life recounted by his roommate to his sister Stacey (Anna Kendrick, Alice, Darling). Scott is reliably one third of Sex Bob-Omb! alongside his friend Stephen Stills (Mark Webber, SMILF) and ex Kim Pine (Alison Pill, Hello Tomorrow!), with Stephen's housemate Young Neil (Johnny Simmons, Girlboss) always watching on. And, when he first talks to Ramona IRL, it's at a party thrown by the acerbic Julie Powers (Aubrey Plaza, Operation Fortune: Ruse de Guerre). Then, the band plays a gig that Scott invites Ramona to, and the first of her evil former paramours interrupts Sex Bob-Omb!'s set to throw down — with Matthew Patel (Satya Bhabha, Sense8) still hung up on the girl he dated for a week and a half in seventh grade.
Beating Matthew will mean needing to vanquish the rest of Ramona's past loves next: movie star Lucas Lee (Chris Evans, Pain Hustlers), vegan fellow bassist Todd Ingram (Brandon Routh, The Flash), Ramona's college roommate Roxy Richter (Mae Whitman, Good Girls), twins Kyle and Ken Katayanagi (Julian Cihi, Only Murders in the Building), and record-label head Gideon Graves (Jason Schwartzman, The Hunger Games: The Ballad of Songbirds & Snakes). Accordingly, just like Kim shouting "we are Sex Bob-Omb!" at the beginning of a set, Scott Pilgrim Takes Off starts with comfortable familiarity. But at the end of the initial instalment, after every detail looks like the graphic novels and film given the anime treatment to the point of feeling uncanny, in drops the first twist. There's reimaginings, and then there's this playful take that adores the comics and movie, pays homage to them, riffs on and even openly references them, but charmingly shirks the idea of being a remake.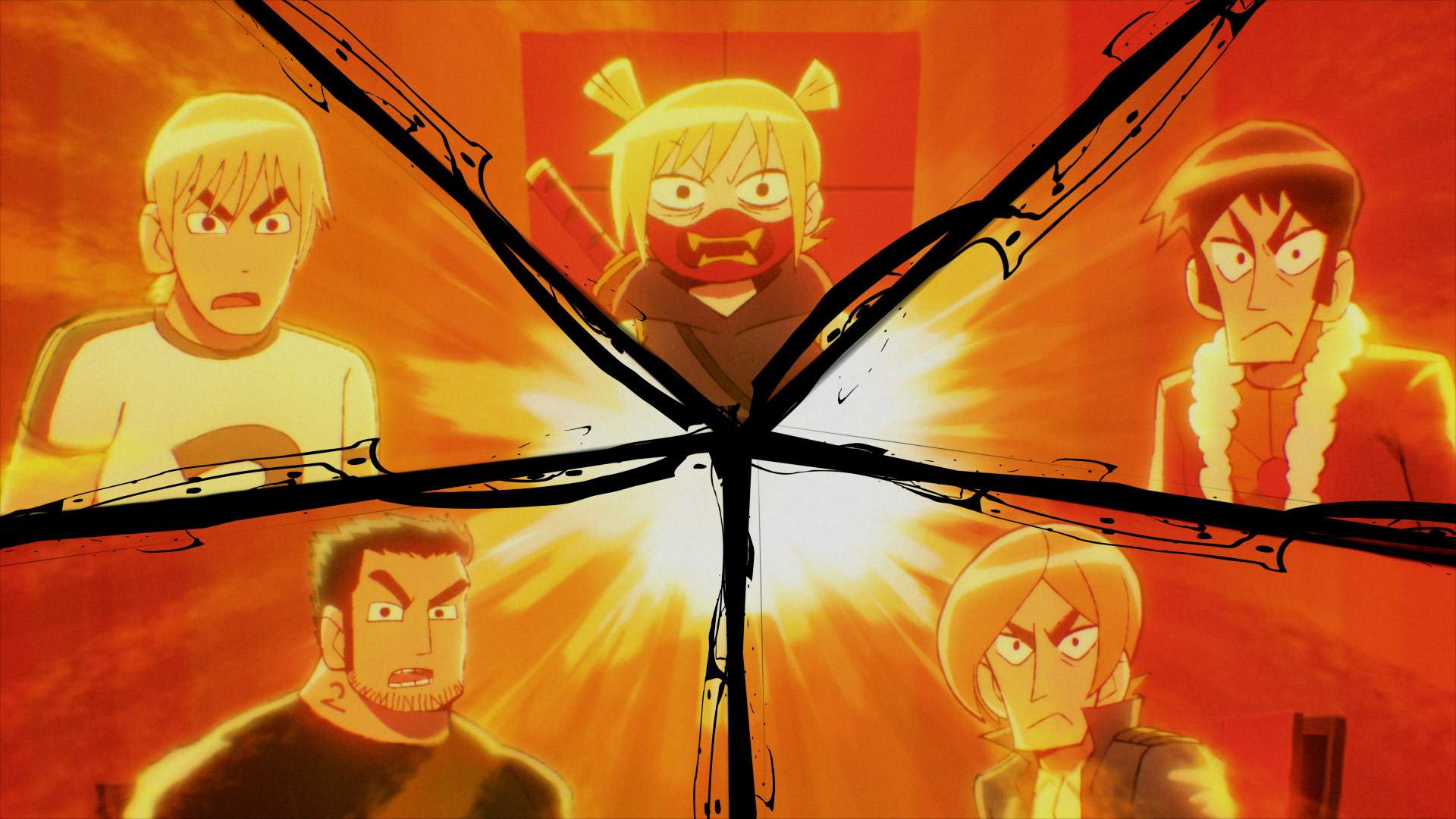 So, what if that narrative didn't follow the path that viewers have seen before? What if there's a reason that this series' moniker mentions Scott not being around? What if that's just the kick-off point for a brand-new, gorgeously dreamy, wildly inventive and infectiously heartfelt Scott Pilgrim remix? This is still a story spun from a slacker fantasy while bubbling with sincerity and intensity about navigating love and life when you're working out who you are, but every new turn in Scott Pilgrim Takes Off deepens its tale, emotions and delights. It still dwells in a world where Scott orders a delivery from the rollerskating Ramona on a boxy computer (she slings Netflix DVDs, aptly), yet it feels even more divorced from time. Although still abounds with pop culture nods and throwback vibes as well — albeit without zero sounds from The Legend of Zelda, but with added lines of dialogue straight out of 90s tunes — this isn't the exact same Scott Pilgrim.
Prepare to get meta, and also for an angle that Wright's Scott Pilgrim vs the World didn't have, putting the focus on Ramona not as the object of eight people's affections but as Scott Pilgrim Takes Off's protagonist. As she endeavours to work out what's going on, she's the audience's guide in a whodunnit (because alongside slotting into the film-to-TV trend like Monarch: Legacy of Monsters, this series embraces its mystery angle as A Murder at the End of the World has also been doing of late, plus plenty of other shows before it). As Ramona's other exes still need confronting, it's her rather than someone she's casually seeing that's wading and soul-searching through her history. If O'Malley, Grabinski and Wright had chosen to call their Netflix effort Ramona Flowers vs the World, it would've fit; that said, not only Ramona but the full slate of characters beyond Scott all benefit from the big shift.
Accordingly, while the ex-by-ex structure stays — plus the fight scenes bursting with on-screen onomatopoeia — each episode builds upon Ramona, Wallace, Knives, Kim, Young Neil, Stephen, Julie, Stacey and Envy, as well as Matthew, Lucas, Todd, Roxy, the Katayanagi and Gideon. If re-enlisting the movie's massive supporting cast seemed like a mammoth achievement, expanding their characters' place in the story must've been a prime way to entice everyone back. What makes Ramona's exes tick, hopes and neuroses alike, cannily and cathartically helps shapes the show's sleuthing. More than that, unresolved emotions and struggles colour every battle. Bouncing ingeniously through an array of film genres in a video store-set fray is a particularly memorable and meaningful move.
As brought to the screen with Science Saru's now-expectedly beguiling animation (see also: the big screen's Night Is Short, Walk On Girl, Lu Over the Wall, Ride Your Wave and Inu-Oh, all from filmmaker Masaaki Yuasa), different instalments also take their tone and approach from different sources. A Lucas-centric chapter that turns Liam Lynch's 2002 track 'United States of Whatever' into its anthem is a treat, for instance, and another episode is a self-referential marvel. Where Scott Pilgrim vs the World looked outward to dive into its characters, using its gaming and pop-culture nods as shorthand to explain who they are, Scott Pilgrim Takes Off peers inwards to get its mood, themes, intricacies and slant. Like Scott with Ramona, this series is something to tumble head over heels for, and one of the best examples yet of pressing play again on a beloved treasure.
Check out the full trailer for Scott Pilgrim Takes Off below:
Scott Pilgrim Takes Off streams via Netflix on Friday, November 17.
Concrete Playground Trips
Book unique getaways and adventures dreamed up by our editors