TRAVEL & LEISURE
The Ten Best Snorkelling Spots in Sydney
Escape your landlubbing worries under the sea.
In the words of The Little Mermaid, "it's better, down where it's wetter". For a city that's oft-accused of being surface-heavy, Sydney has a lot going on beneath. More than 500 species roam the harbour and surrounds — from flamboyant weedy sea dragons to green turtles and (thankfully) blunt-headed Port Jackson sharks.
So, when the hectic pace of life on top gets you down, don your flippers and head underwater, where time slows to a delightfully dreamy tempo. Here are ten of the city's most lively, colourful and intricate snorkelling spots, from the crystalline waters of Little Bay to the rocky outcrops of Manly's Cabbage Tree Bay and the surreal seagrass beds of The Basin, Pittwater.

LITTLE MANLY COVE
Little Manly Cove is made for slow, gentle, relaxing snorkelling. Your best bet is to start on the outside of the swimming enclosure's western wall and follow it all the way around to the rocks on the eastern side. Stick alongside them until you hit the point before heading back. If you're keen for further adventure, Collins Flat and Store Beaches are short strolls away.

CABBAGE TREE BAY
Like the Bronte-Coogee stretch, Cabbage Tree Bay is in an aquatic reserve. It comprises 20 hectares, between Manly Beach's southern end and the northern tip of Shelly Beach Headland. Most of the time, visibility is extraordinarily good and the diversity of critters Great Barrier-level impressive. The most convenient place to begin is Shelly Beach. Follow the reef along the headland or jump in at the boat ramp and swim alongside the walkway. Prepare to meet flounder, flathead, goatfish, old wives, fiddler rays and sharks — namely Port Jacksons, wobbegongs and, between January and June, young dusky whalers.

THE BASIN, KU-RING-GAI
This escapade takes you into new territory. Safe within the shelter of Pittwater, you'll discover the alternative universe created by seagrass beds. The star attraction is sea horses, but you'll also cross paths with starfish, cuttlefish, bream, leather jackets and, during the warmer months, tropical species. If you want a helping hand, book a tour with Eco Treasures. To make a weekend of it, take your tent and stay overnight in The Basin campground. The Basin is only accessible by water (or via a 2.8-kilometre track from West Head Road car park) — catch a ferry from Palm Beach.

CLOVELLY
Like Little Bay (below), Clovelly is a safe, reassuring place to start for inexperienced snorkellers. Unless a storm is brewing at sea, the waters are tranquil and it's easy to get in and out via concrete steps. The most renowned underwater resident(s) is Bluey, a 1.2-metre long blue groper, who was allegedly murdered in 2002 and 2005, but keeps making mysterious returns. The entire Bronte-Coogee coastline is an aquatic reserve, so, in addition to Bluey (and his ooffspring), there's a wealth of marine life. By the way, killing a groper — New South Wales's official fish — can provoke a fine of up to $22,000.

KURNELL
Famous for being the Captain Cook's 1770 landing space, Kurnell is also where you'll find one of the city's busiest underwater communities. For an easy entry point, try Silver Beach, from where you can swim east towards Kamay Botany Bay National Park, passing Cook's obelisk on the way. Keep your eyes peeled for giant cuttlefish, moray eels, sea horses, Port Jacksons and firetruck red weedy sea dragons, decorated with bright blue stripes and canary yellow spots. Fur seals make occasional visits, too.

BARE ISLAND
Just north of Kurnell, across the mouth of Botany Bay, lies Bare Island. Arrive on a weekend and you'll be sharing with lots of scuba divers; it's one of the most popular diving sites in not only Sydney but also New South Wales. If the island looks familiar despite your having not visited before, that's because you saw it in Mission Impossible II (remember the villain's lair?). The western side has good visibility and vibrant sponge gardens filled with life, including red Indian fish and gurnards, while the eastern coast is hugged by a rocky reef. A footbridge connects the island to the mainland.

LITTLE BAY
For snorkelling newbies, Little Bay is a treat. Rocky headlands provide excellent protection from the behemoth Pacific, so the water is almost always calm and clear. Shy, delicate creatures thrive here, from sea anemones and black urchins to squid and tiny fish, travelling in large, brilliant schools. The beach has toilet and change rooms about half way down the steep timber staircase that leads to the beach.

MALABAR BEACH
Just north of Little Bay is Malabar Beach, which is home to not one but two shipwrecks. In 1931, the MV Malabar was travelling to Sydney from Singapore when it smashed into the headland. Everyone on board survived, but the ship (or bits of it, at least) are still in the sea. As are parts of the HMAS Goolgwai, which hit rocks and was wrecked here 24 years later in 1955. It's a hit with divers, and, when visibility's good, snorkellers can check them out, too. Meanwhile, an abundance of octopuses, sting rays and assorted fish will keep you company.

GORDONS BAY
Hidden between Clovelly and Coogee Beaches, Gordons Bay is one of the eastern suburbs' prettiest spots. And it's the only snorkelling destination on this list with a dedicated underwater nature trail. Like the MV Malabar wreck, it's gold for divers, but, thanks to the bay's incredibly clear waters, snorkellers can also enjoy it on most days. Simply follow the series of sunken drums, linked by chains, each of which gives you info about local submarine dwellers, from starfish, sponges, urchins and anemones to cuttlefish, spotted goatfish and garfish.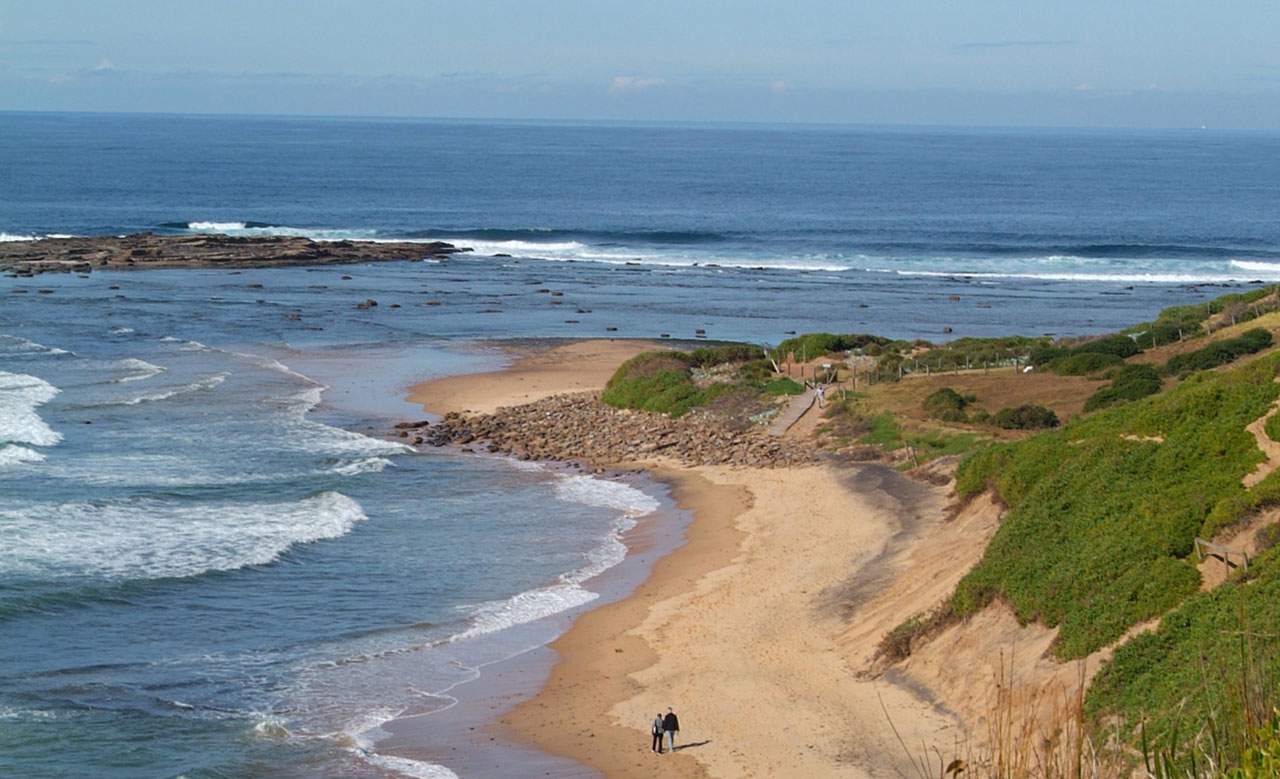 FISHERMANS BEACH, LONG REEF
This one's inside yet another aquatic reserve: Long Reef, which covers 76 hectares between Collaroy's rock pools and the Long Reef SLSC. Most of it features rocky shores and wild surf, but lovely, sandy, sheltered Fishermans Beach is an exception. Watch out for feather stars, sea stars, heart urchins and sea slugs (also known by the more elegant name nudibranchs).
Published on November 12, 2020 by Jasmine Crittenden