Twelve Films and TV Shows You Need to Stream in February
Feast your eyes on Aubrey Plaza's latest must-see performance, a couple of eerie thrillers and the glorious return of 'Party Down'.
Not all that long ago, the idea of getting cosy on your couch, clicking a few buttons, and having thousands of films and television shows at your fingertips seemed like something out of science fiction. Now, it's just an ordinary night — whether you're virtually gathering the gang to text along, cuddling up to your significant other or shutting the world out for some much needed me-time.
Of course, given the wealth of options to choose from, there's nothing ordinary about making a date with your chosen streaming platform. The question isn't "should I watch something?" — it's "what on earth should I choose?".
Hundreds of titles are added to Australia's online viewing services each and every month, all vying for a spot on your must-see list. And, so you don't spend 45 minutes scrolling and then being too tired to actually commit to anything, we're here to help. We've spent plenty of couch time watching our way through this month's latest batch — and, from the latest and greatest through to old and recent  favourites, here are our picks for your streaming queue in February.

BRAND NEW STUFF YOU CAN WATCH IN FULL NOW
THE CONSULTANT
If there's a question that no employee wants to hear from the person setting company agendas, pulling strings and signing paycheques, it's "what do we do?". In The Consultant, the small screen's latest moody and mysterious workplace nightmare — which adapts horror author Bentley Little's 2016 novel of the same name, but plays like Severance filtered through Servant — Regus Patoff (Christoph Waltz, Guillermo del Toro's Pinocchio) asks a variation of it early. "What do we make?" he queries at CompWare after he arrives amid grim circumstances. The mobile gaming outfit came to fame under wunderkind Sang (TV first-timer Brian Yoon), so much so that school groups tour the firm's office. Then, during the visit that opens this eight-part, excellently cast and supremely easy-to-binge thriller, a kid shoots and kills the company's founder. That doesn't stop Regus from showing up afterwards clutching a signed contract from Sang and spouting a mandate to do whatever it takes to maximise his legacy.
Regus is as stern yet eccentric as Waltz has become known for — a suit- and tie-wearing kindred spirit to Inglourious Basterds' Hans Landa, plus Spectre and No Time to Die's Ernst Stavro Blofield. He first darkens CompWare's door in the thick of night, when only ambitious assistant Elaine Hayman (Brittany O'Grady, The White Lotus) and stoner coder Craig Horne (Nat Wolff, Joe vs Carole) are onsite, and he won't take no for an answer. There's no consultant job for him to have, Elaine tells him. There's no business to whip into shape, she stresses. By the next morning, he's corralling employees for an all-hands meeting and telling remote workers they'll be fired if they don't show up in-person within an hour, even if he proudly doesn't know what CompWare does — or care. From there, The Consultant gets creator Tony Basgallop, who is also behind Servant, doing what he loves: kicking off with a blow-in, unsettling a group already coping with tragedy and reordering their status quo with severe methods. Both of his current shows lace the chaos that follows with nods towards the supernatural, too, and both ask what bargains we're willing to make to live the lives we're striving for.
The Consultant streams via Prime Video. Read our full review.
CUNK ON EARTH
If you've ever watched a David Attenborough documentary about the planet and wished it was sillier and stupider, to the point of being entertainingly ridiculous and ridiculously entertaining alike, then Netflix comes bearing wonderful news. Actually, the BBC got there first, airing history-of-the-world mockumentary Cunk on Earth back in September 2022. Glorious things come to waiting viewers Down Under now, however — and this gleefully, delightfully absurd take on human civilisation from its earliest days till now, spanning cave paintings, Roman empires, Star Wars' empire, 1989 Belgian techno anthem 'Pump Up the Jam' and more, is one of the best shows to hit Australia and New Zealand in 2023 so far. This series is a comedy masterclass, in fact, featuring everything from a Black Mirror-leaning skit about Beethoven resurrected inside a smart speaker to a recreation of a Dark Ages fray purely through sound also thrown in. It's flat-out masterful, too, and tremendously funny.
This sometimes Technotronic-soundtracked five-part show's beat? Surveying how humanity came to its present state, stretching back through species' origins and evolution, and pondering everything from whether the Egyptian pyramids were built from the top down to the Cold War bringing about the "Soviet onion". The audience's guide across this condensed and comic history is the tweed-wearing Philomena Cunk, who has the steady voice of seasoned doco presenter down pat, plus the solemn gaze, but is firmly a fictional — and satirical — character. Comedian Diane Morgan first started playing the misinformed interviewer in 2013, in Charlie Brooker's Weekly Wipe, with Black Mirror creator Brooker behind Cunk on Earth as well. Over the past decade, Cunk has also brought her odd questions to 2016's one-off Cunk on Shakespeare and Cunk on Christmas, and 2018's also five-instalment Cunk on Britain. After you're done with the character's latest spin, you'll want to devour the rest ASAP.
Cunk on Earth streams via Netflix. Read our full review.
EMILY THE CRIMINAL
Enterprising, astute, intelligent and accepting zero garbage from anyone: these are traits that Aubrey Plaza can convey in her sleep. But she definitely isn't slumbering in Emily the Criminal, which sees her turn in a performance as weighty and layered as her deservedly Golden Globe-nominated portrayal in the second season of The White Lotus — something that she's been doing since her Parks and Recreation days anyway. Indeed, there's more than a touch of April Ludgate-Dwyer's resourcefulness to this crime-thriller's eponymous figure. Los Angeles resident Emily Benetto isn't sporting much apathy, however; she can't afford to. With $70,000 in student loans to her name for a college art degree she isn't using working as a food delivery driver, and a felony conviction that's getting in the way of securing any gig she's better qualified for for, Jersey girl Emily breaks bad to make bank when she's given a tip about a credit card fraud ring run by Youcef (Theo Rossi, Sons of Anarchy). Her simple task: purchasing everything from electronics to cars with the stolen numbers.
Writer/director John Patton Ford makes his feature debut with this lean, sharp, keenly observed and tightly paced film, which works swimmingly and grippingly as a heist thriller with plenty to say about the state of America today — particularly about a society that saddles folks starting their working lives with enormous debts, turning careers in the arts into the domain of the wealthy, and makes even the slightest wrongdoing a life sentence. Emily the Criminal is angry about that state of affairs, and that ire colours every frame. But it's as a character study that this impressive film soars highest, stepping through the struggles, troubles and desperate moves of a woman trapped not by her choices but her lack of options, all while seeing her better-off classmates breeze through life. As she usually is, Plaza is mesmerising, and adds another complicated movie role to a resume that also boasts the phenomenal Ingrid Goes West and Black Bear as well.
Emily the Criminal streams via Binge and Netflix.
PAMELA, A LOVE STORY
If you weren't aware of Pamela Anderson's recent Broadway stint, bringing the razzle dazzle to a new production of Chicago in 2022, Ryan White (Good Night Oppy)-directed documentary Pamela, A Love Story will still feature surprises. Otherwise, from Playboy to Playbill — including Baywatch, sex tapes and multiple marriages in-between — the actor's story is well-known around the globe. Much of it played out in the tabloids, especially when she married Mötley Crüe drummer Tommy Lee in a white bikini after four days together. She also graced what can easily stake a claim as the internet's first viral video, after intimate footage of Anderson and Lee was stolen, then sold. And that very experience was dramatised in 2022 limited series Pam & Tommy, including the misogynistic way she was treated compared to her spouse, how her rights to her image and privacy were considered trashed due to her nude modelling days, and the unsurprising fallout within her relationship.
No matter how familiar the details are, Pamela, A Love Story does something that little else on-screen has, however: it lets Anderson tell her story herself. Much of the doco focuses on the Barb Wire and Scary Movie 3 star in her childhood home in Ladysmith on Canada's Vancouver Island, watching old videos, reading past diaries and chatting through the contents. She's recorded and written about everything in her life. Sitting in front of the camera without a trace of makeup, with her sons Brandon and Dylan sometimes talking with her, she gives her account of how she's been treated during the highs and lows of her career. The film coincides with a memoir, Love, Pamela, so this is a tale that Anderson is currently on the page and in streaming queues — but it's still a powerful portrait of a woman made famous for her appearance, turned into a sex symbol to the point that male interviewers in the 90s could barely talk about anything else, then cruelly judged and discarded. She's frank and sincere, as is the movie amid its treasure trove of archival footage.
Pamela, A Love Story streams via Netflix.
SHARPER
Sharper didn't start its life on the page, with director Benjamin Caron (Andor) instead working with Brian Gatewood and Alessandro Tanaka's (both Superstore alumni) script; however, it spins the type of tale that'd flow easily in chapters. The slick-looking and smartly cast psychological thriller adopts that kind of structure anyway, unfurling its story in five parts — each named for a character. To begin with, the kindly, soft-spoken Tom (Justice Smith, Jurassic World Dominion) meets the well-read Sandra (Briana Middleton, The Tender Bar) at the used bookstore he owns. He asks her out, she declines, then returns to take up his offer. Then, before his section of the flick is out, he's been swindled out of $350,000. To help fill in the gaps, Sharper jumps into Sandra's backstory, which involves con artist Max (Sebastian Stan, Fresh). His history comes next, and so on. Socialite Madeline (Julianne Moore, Dear Evan Hansen), paramour to billionaire Richard Hobbes (John Lithgow, The Old Man), also pops up, also scoring her own dedicated segment.
The connections between characters, and the deceptions many are spinning as well — most on purpose, some on themselves without realising it — are obviously best discovered while watching this twisty Manhattan-set movie. Sharper achieves its number-one task, however, and one that's essential for any film that's actively playing up its mysteries: keeping viewers wanting to puzzle through its glossily shot pieces. It helps that eating the rich is firmly on the menu, biting in as heartily to the well-to-do and entitled as The White Lotus and Succession have earned such acclaim doing. Also crucial: the top-notch roster of on-screen talent, especially whenever Stan, Moore or both feature. He's a picture of smooth-talking charm, but sly, sneaky and making everyone in his orbit succumb against their better judgement, while she's exceptional, as always, as a woman doing whatever she must — and selling whatever she needs to — to keep moving forward.
Sharper streams via Apple TV+.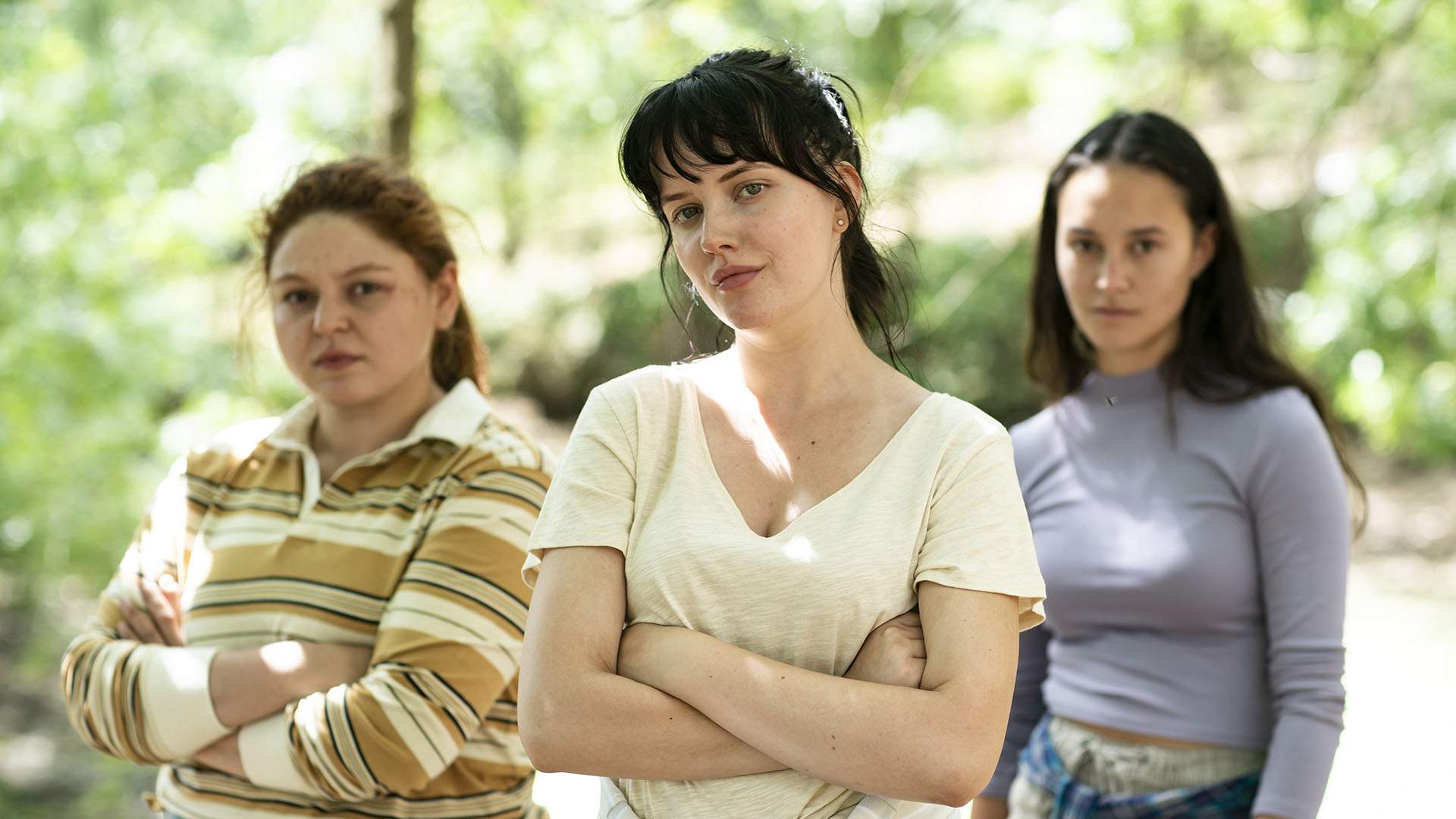 BAD BEHAVIOUR
When high school is hellish on television, sometimes that happens literally; Buffy the Vampire Slayer's teens did their studies above a hellmouth and Stranger Things' crew is constantly trying to avoid the Upside Down. In Bad Behaviour, hell is the girls of Silver Creek, the wilderness campus of an exclusive all-female boarding school where young women decamp to spend a year learning resilience away from the wider (and supposedly wilder) world. It's where Joanna Mackenzie (Jana McKinnon, We Children From Bahnhof Zoo) attended on a scholarship, sharing a cabin with Alice Kang (Yerin Ha, Sissy) before they cross paths again ten years later — Jo striving to become a writer, but paying the bills in hospitality; Alice a musical prodigy-turned-global classical star. While Jo doesn't have fond memories of her year away, she's shocked at Alice's frosty reception. Indeed, she'd always thought that the domineering Portia (Markella Kavenagh, The Lord of the Rings: The Rings of Power) was the bully of their dormitory, making her own experience a nightmare. But this blast from the past gets Jo rethinking her own behaviour.
Adapted from Rebecca Starford's book of the same name by Pip Karmel (Total Control) and Magda Wozniak (Neighbours), with Corrie Chen (New Gold Mountain) directing, Bad Behaviour is spot-on about the Mean Girls-meets-The Lord of the Flies realm it navigates. Starford's tome is a memoir, after all. For anyone who has ever been or known a teenage girl — so, everyone — this four-part series feels deeply lived-in, even if you've never attended a private school, let alone such an education institution's remote campus. With McKinnon, Ha and Kavenagh all delivering potent performances, and the latter making a memorable antagonist, the mood is equal parts tense and reflective. As Bad Behaviour flits between Jo's time at Silver Creek, including the thrall that Portia held over her, and her adult awakening to who she really was while she was there, it's unafraid to face stark truths about our teenage demons as well.
Bad Behaviour streams via Stan.
SOMEBODY I USED TO KNOW
Gotye and Kimbra's similarly titled Hottest 100-winner doesn't get a play in Somebody I Used to Know. Instead, the Alison Brie (Happiest Season)-starring and co-written rom-com gets its lead making up her own lyrics to Third Eye Blind's 90s hit 'Semi-Charmed Life'. She plays Ally, a documentarian who has been chasing her dream by making and hosting reality TV — a cooking competition with a Survivor twist called Dessert Island — and gets singing at the wedding weekend of her ex Sean (Jay Ellis, Top Gun: Maverick). Her career is the whole reason that he's now marrying the younger Cassidy (Kiersey Clemons, Antebellum), after she traded their home town of Leavenworth, Washington, and his dream of a quiet life for Hollywood. But an impromptu trip back after Dessert Island is cancelled leads to an unexpected run-in, a promise to Sean's mother (Olga Merediz, In the Heights) that she'll be the nuptials' videographer, and old feelings resurfacing. When Ally takes to the stage, she's battling with Cassidy, who fronts a punk band, and overtly trying to win Sean back.
Brie and her Somebody I Used to Know co-scribe Dave Franco, also the film's director and her IRL husband — with the pair reteaming as filmmaker and star after 2020's The Rental, too — are well aware that they're toying with familiar parts. (In cinemas rather than on streaming, What's Love Got to Do with It? also follows a filmmaker shooting a loved one's wedding while grappling with work troubles and harbouring a crush). Accordingly, Brie and Franco are also highly cognisant of how the tale they're telling usually goes. This romantic comedy doesn't avoid many of its genre's tropes, lacing them throughout the script knowingly so that it can unpack and build upon them. The whole 'workaholic discovers what she really needs after a career upset' setup is a prompt, getting Brie and Franco thinking about what that really means beyond the cliched idea of getting romance to solve your problems. That said, it mightn't have worked as charmingly as it does without either Brie or Clemons.
Somebody I Used to Know streams via Prime Video.
GEORGE & TAMMY
Stepping into a real-life Tammy's shoes is turning out well for Jessica Chastain, as two of her most recent roles have proven. In 2022, she won an Oscar and a Screen Actors Guild Award for playing televangelist Tammy Faye in The Eyes of Tammy Faye. In 2023, she has backed that up by scoring another Screen Actors Guild Award, this time for playing country icon Tammy Wynette in George & Tammy. Chastain might run out of IRL Tammys from here. If Parks and Recreation ever makes another comeback, perhaps she can add a fictional Tammy there. For now, she's made the most of Faye and Wynnette's stories — especially the latter. This time, the Scenes From a Marriage and The Good Nurse star is on the small screen, in a six-part series that focuses not only on the singer behind 'Your Good Girl's Gonna Go Bad', 'D.I.V.O.R.C.E.' and ;Stand By Your Man' (and, with The KLF in the 90s, 'Justified and Ancient'), but also on fellow musician George Jones (Michael Shannon, Amsterdam).
Always an on-screen powerhouse himself, Shannon hasn't been notching up accolades for his work on George & Tammy, but he deserves to — and any series that pairs these two acting titans was always going to be worth watching. The ups and downs of Jones and Wynnette's intertwined lives and careers are a matter of history, but it's all brought to the screen with fierce and committed performances that cut to the heart of the two famous figures, handsome staging and lensing, impressive supporting turns by Steve Zahn (The White Lotus) and Walton Goggins (The Righteous Gemstones), and genuine appreciation for the central pair's contribution to their chosen music genre. The soundtrack takes care of itself, and easily, and Australian filmmaker John Hillcoat ensures that this biographical affair is never a by-the-numbers effort. Indeed, the series is also worth seeing as the latest work by the Ghosts… of the Civil Dead, The Proposition and The Road director alone.
George & Tammy streams via Paramount+.
NEW AND RETURNING SHOWS TO CHECK OUT WEEK BY WEEK
PARTY DOWN
Sometimes, dreams do come true. More often than not, they don't. The bulk of life is what dwells in-between, as we all cope with the inescapable truth that we won't get everything that we've ever fantasised about, and we mightn't even score more than just a few things we want. This is the space that Party Down has always made its own, asking "are we having fun yet?" about life's disappointments while focusing on Los Angeles-based hopefuls played by Adam Scott (Severance), Ken Marino (The Other Two), Ryan Hansen (A Million Little Things), Martin Starr (Guillermo del Toro's Cabinet of Curiosities) and more. They'd all rather be doing something other than being cater waiters at an array of California functions, and most have stars in their eyes. In the cult comedy's first two seasons back in 2009–10, the majority of its characters have their sights set on show business, slinging hors d'oeuvres while trying to make acting, screenwriting or comedy happen.
Bringing most of the original gang back together —  Lizzy Caplan had scheduling issues making the also-excellent Fleishman Is in Trouble, but Jane Lynch (Only Murders in the Building) and Megan Mullally (Reservation Dogs) return — Party Down keeps its shindig-by-shindig setup in its 13-years-later third season. Across its first 20 instalments as well as its new six, each episode sends the titular crew to a different soirée. This time, setting the scene for what's still one of the all-time comedy greats in its latest go-around, the opening get-together is thrown by one of their own. Kyle Bradway (Hansen) has just scored the lead part in a massive superhero franchise, and he's celebrating. Ex-actor Henry Pollard (Scott) is among the attendees, as are now-heiress Constance Carmell (Lynch) and perennial stage mum Lydia Dunfree (Mullally). Hard sci-fi obsessive Roman DeBeers (Starr) and the eager-to-please Ron Donald (Marino) are present as well, in a catering capacity. By the time episode two hits, more of the above will be donning pastel pink bow ties, the series keeps unpacking what it means to dream but never succeed, and the cast — especially Scott and the ever-committed Marino — are in their element.
Party Down streams via Stan. Read our full review of season three.
SERVANT
When M Night Shyamalan (Knock at the Cabin) earned global attention and two Oscar nominations back in 1999 for The Sixth Sense, it was with a film about a boy who sees dead people. After ten more features that include highs (the trilogy that is Unbreakable, Split and Glass) and lows (Lady in the Water and The Happening), in 2019 he turned his attention to a TV tale of a nanny who revives a dead baby. Or did he? That's how Servant commenced its first instantly eerie, anxious and dread-filled season, a storyline it has followed in its second season in 2021, third in 2022, and now fourth and final batch of episodes currently streaming. But as with all Shyamalan works, this meticulously made series bubbles with the clear feeling that all isn't as it seems. What happens if a caregiver sweeps in exactly when needed and changes a family's life, Mary Poppins-style, but she's a teenager rather than a woman, disquieting instead of comforting, and accompanied by strange events, forceful cults and unsettlingly conspiracies rather than sweet songs, breezy winds and spoonfuls of sugar? That's Servant's basic premise.
Set in Shyamalan's beloved Philadelphia, and created by Tony Basgallop (The Consultant), the puzzle-box series spends most of its time in a lavish brownstone inhabited by TV news reporter Dorothy Turner (Lauren Ambrose, The X-Files), her celebrity-chef husband Sean (Toby Kebbell, Bloodshot), their baby Jericho and 18-year-old nanny Leanne Grayson (Nell Tiger Free, Too Old to Die Young) — and where Dorothy's recovering-alcoholic brother Julian (Grint, Guillermo del Toro's Cabinet of Curiosities) is a frequent visitor. That's still the dynamic this season, which keeps slowly and powerfully moving towards its big farewell. Dorothy is more determined than ever to be rid of Leanne, Leanne is more sure of herself and her abilities than she's ever been — in childminding, and all the other spooky occurrences that've been haunting the family — and Sean and Julian are again caught in the middle. However Shyamalan and Basgallop wrap up this discomforting tale, and whether or not they stick the landing, Servant has gifted viewers four seasons of spectacular duelling caregivers and gripping domestic tension, and one of streaming's horror greats.
Servant streams via Apple TV+. Read our full review of season four.
HELLO TOMORROW!
In 2022, scam culture was here to stay, as drawn-from-reality hits such as Inventing Anna and The Dropout repeatedly promised. In 2023, playing fast and loose with the truth sits at the heart of Hello Tomorrow!, too, which tells a fictional tale about the deceptions people spin to chase their dreams. The show's beaming face: travelling salesman Jack Billings (Billy Crudup, The Morning Show), the regional manager for BrightSide Lunar Residences, and a passionate pusher of timeshares on the moon. He's this intriguing dramedy's version of Don Draper, but with Mad Men's 60s surroundings swapped for The Jetsons-style robot help and hovering vehicles. There's a The Twilight Zone-meets-Leave It to Beaver feel to Hello Tomorrow!, too, as its characters seek the same thing we all do: a better life. Creators Amit Bhalla and Lucas Jansen (both Bloodline alumni), also co-writers and showrunners with You're the Worst's Stephen Falk, zoom in further, focusing on the reasons anyone holds onto to hope their lot will improve. 
Befitting any blend of all of the above series, the look of Hello Tomorrow! is retro-futuristic, steeped in 50s-era visions of what might come. The time and place is an alternative version of that decade, in a suburban enclave called Vistaville, where one of Jack's biggest fibs has its origins. He's summoned back with his crew of hawkers — the gambling-addicted Eddie (Hank Azaria, The Simpsons), promotion-coveting Herb (Dewshane Williams, In the Dark) and resident righthand-woman Shirley (Haneefah Wood, Truth Be Told) — by his mother Barbara (Jacki Weaver, Penguin Bloom) after his wife Marie (Annie McNamara, Severance) is injured by a self-driving delivery van. His son Joey (Nicholas Podany, Archive 81) is struggling to cope, a task made all the more difficult by Jack's absence from his family's lives for decades. He's skilled at sharing stories about his domestic bliss on the moon to customers, but being a happy head of a lunar household is merely one of his go-to falsehoods.
Hello Tomorrow! streams via Apple TV+. Read our full review.
A RECENT CLASSIC MOVIE YOU NEED TO CATCH UP WITH
TONI ERDMANN
Standing in a bar, being interrupted by a stranger, making awkward small talk: we've all been there. Hearing from your parents more frequently than you have time for, despite your best intentions: many of us have experienced that as well. In Toni Erdmann, both scenarios combine in the way that many people might have nightmares about. What if the person accosting you while you try to enjoy a drink turns out to be your dad, just sporting a bad wig, false teeth and calling himself Toni Erdmann? At its simplest, that's the idea behind German writer/director Maren Ade's phenomenal comedy. Here, Ines (Sandra Hüller, I'm Your Man), a German consultant living in Bucharest, is irritated when her practical joke-loving, divorced and lonely father Winfried (Peter Simonischek, Fantastic Beasts: The Secrets of Dumbledore) arrives for an unexpected visit. But that soon gives way to unbridled horror when his alter ego Toni starts following her around.
Once is odd, twice is annoying, and three times... well, that's something else. Then again, one of the basic elements of life is repetition, which Toni Erdmann demonstrates disarmingly well across its 162 minutes. First, you'll cringe. Then you'll laugh. Before long, you may find yourself crying. Those are the stages that audiences cycle through while watching Ade's film, and it's no accident. The mastery evident in ensuring that every detail of the movie imitates life can't be underestimated. The naturalistic camerawork and astute commentary on the importance of humour is not unlike Toni's ridiculous headpiece: it's just what's visible on the surface. Though its first half might make you yearn for a bit less time in the titular character's awkward company, that's by design; in contrast, the second half will make you hope that the movie doesn't end, all while marvelling not only at Ade's astute direction, but at Hüller and Simonischek's pitch-perfect performances.
Toni Erdmann streams via SBS On Demand. Read our full review.
Need a few more streaming recommendations? Check out our picks from January, February, March, April, May, June, July, August, September, October, November and December 2022, and January 2023.
You can also check out our list of standout must-stream 2022 shows as well — and our best 15 new shows of last year, top 15 returning shows over the same period, 15 shows you might've missed and best 15 straight-to-streaming movies of 2022.
Concrete Playground Trips
Book unique getaways and adventures dreamed up by our editors