Ten 2022 Emmy-Winning TV Shows You Should Watch Immediately
Binge (or re-binge) this year's award-winners — including 'The White Lotus' and its vacation hijinks, Korean Netflix phenomenon 'Squid Game' and feel-good sitcom 'Ted Lasso'.
Crap in a suitcase and you too might win an Emmy. Actually, don't try that at home. It worked well for Australian actor Murray Bartlett, though, after he just nabbed one of TV's most prestigious awards — and gave his mum back home Down Under a shoutout in the process — for the all-round phenomenal first season of The White Lotus.
In 2022, the Emmy Awards did what the Emmy Awards always do: gave a heap of gleaming trophies to a heap of ace TV shows, and the folks who make them, of course. Oh, and it also had people dancing to the Law and Order theme, among other classic television tunes; enlisted Oprah to stress how massive the odds are of anyone ever winning; and paid tribute to the one and only Geena Davis as well.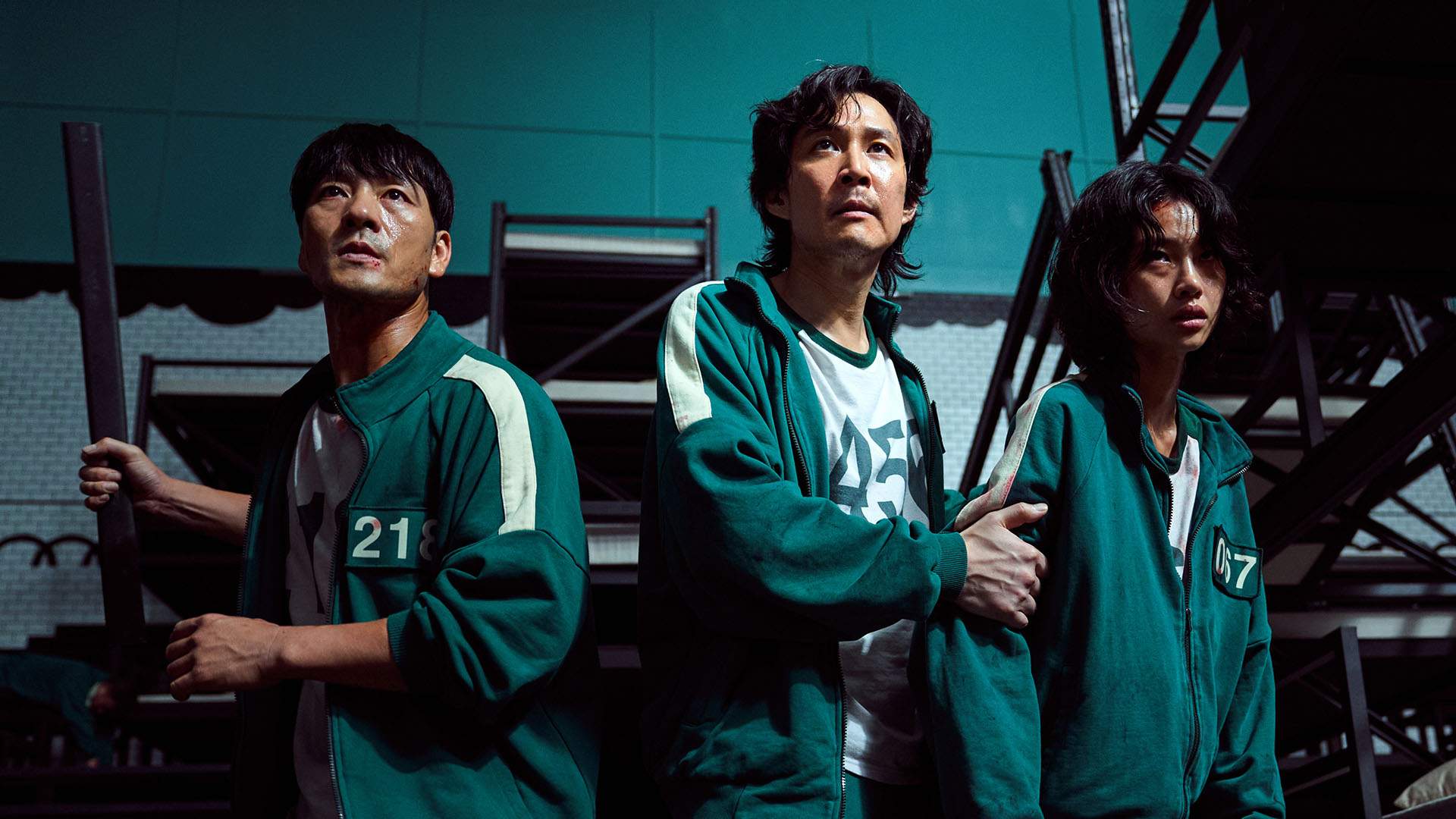 The winners, which included frontrunners Succession, The White Lotus, Ted Lasso and Squid Game, all showed that it really has been an exceptional time for TV lately. The nominees list illustrated that anyway — and even if Severance, Better Call Saul, Yellowjackets, What We Do in the Shadows,Only Murders in the Building, Barry, Station Eleven and Scenes From a Marriage didn't end up emerging victorious, they're all still among the absolute best shows that graced the small screen over the past year.
That's the ceremony done and dusted. Looking for a rundown of how it all went down, as well as a  list of winners? We've got that taken care of.
Now, here comes the next part for all of us at home: celebrating all of the series that earned Emmy recognition this year by getting watching or rewatching. Here's ten you should check out ASAP.
THE WHITE LOTUS
With Enlightened, his excellent two-season Laura Dern-starring comedy-drama from 2011–13, writer/director Mike White (Brad's Status) followed an executive who broke down at work. When she stepped back into her life, she found herself wanting something completely different not just for herself, but for and from the world. It isn't linked, narrative-wise, to White's latest TV miniseries The White Lotus. The same mood flows through, however. Here, wealthy Americans holiday at a luxe Hawaiian resort, which is managed by Australian Armond (Murray Bartlett, Tales of the City) — folks like business star Nicole (Connie Britton, Bombshell), her husband Mark (Steve Zahn, Where'd You Go, Bernadette), and the teenage trio of Olivia (Sydney Sweeney, Euphoria), Paula (Brittany O'Grady, Little Voice) and Quinn (Fred Hechinger, Fear Street); newlyweds Rachel (Alexandra Daddario, Songbird) and Shane (Jake Lacy, Mrs America); and the recently bereaved Tanya (Jennifer Coolidge, Promising Young Woman).
From the outset, when the opening scene shows Shane accompanying a body on the way home, viewers know this'll end with a death. But as each episode unfurls, it's clear that these characters are reassessing what they want out of life as well. In The White Lotus, a glam and glossy getaway becomes a hellish trap, magnifying glass and mirror, with everyone's issues and problems only augmented by their time at the eponymous location. In terms of sinking its claws into the affluent, eat the rich-style, this perceptive, alluring and excellently cast drama also pairs nicely with the White-penned Beatriz at Dinner, especially as it examines the differences between the resort's guests and staff.
EMMYS:
Won: Outstanding Limited Series, Outstanding Supporting Actor in a Limited Series of Television Movie (Murray Bartlett), Outstanding Supporting Actress in a Limited Series of Television Movie (Jennifer Coolidge), Directing for a Limited or Anthology Series or Movie (Mike White), Writing for a Limited or Anthology Series or Movie (Mike White)
Where to watch it: Binge. Read our review of season one.

SUCCESSION
Fans of blistering TV shows about wealth, power, the vast chasm between the rich and everyone else, and the societal problems that fester due to such rampant inequality, are living in a golden time. Just in the past 12 months or so, The White Lotus has fit the bill, as has Squid Game; however, Succession has always been in its own league. In the 'eat the rich' genre, the HBO drama sits at the top of the food chain as it chronicles the extremely lavish and influential lives of the Roy family. No series slings insults as brutally; no show channels feuding and backstabbing into such an insightful and gripping satire of the one percent, either. Finally returning in 2021 after a two-year gap between its second and third seasons, Succession didn't just keep plying its astute and addictive battles and power struggles — following season two's big bombshell, it kept diving deeper.
The premise has remained the same since day one, with Logan Roy's (Brian Cox, Super Troopers 2) kids Kendall (Jeremy Strong, The Trial of the Chicago 7), Shiv (Sarah Snook, Pieces of a Woman), Roman (Kieran Culkin, No Sudden Move) and Connor (Alan Ruck, Gringo) vying to take over the family media empire. This brood's tenuous and tempestuous relationship only gets thornier with each episode, and its examination of their privileged lives — and what that bubble has done to them emotionally, psychologically and ideologically — only grows in season three. It becomes more addictive, too. There's no better show currently on TV, and no better source of witty dialogue. And there's no one turning in performances as layered as Strong, Cox, Snook, Culkin, J Smith-Cameron (Search Party), Matthew Macfadyen (The Assistant) and Nicholas Braun (Zola).
EMMYS
Won: Outstanding Drama Series, Outstanding Supporting Actor in a Drama Series (Matthew Macfadyen), Writing for a Drama Series (Jesse Armstrong)
Where to watch it: Binge. Read our review of season three.
SQUID GAME
Exploring societal divides within South Korea wasn't invented by Parasite, Bong Joon-ho's excellent Oscar-winning 2019 thriller, but its success was always going to give other films and TV shows on the topic a healthy boost. Accordingly, it's easy to see thematic and narrative parallels between the acclaimed movie and Netflix's highly addictive Squid Game — the show that's become the platform's biggest show ever (yes, bigger than everything from Stranger Things to Bridgerton). Anyone who has seen even an episode knows why this nine-part series is so compulsively watchable. Its puzzle-like storyline and its unflinching savagery making quite the combination. Here, in a Battle Royale and Hunger Games-style setup, 456 competitors are selected to work their way through six seemingly easy children's games. They're all given numbers and green tracksuits, they're competing for 45.6 billion won, and it turns out that they've also all made their way to the contest after being singled out for having enormous debts.
That includes series protagonist Seong Gi-hun (Lee Jung-jae, Deliver Us From Evil), a chauffeur with a gambling problem, and also a divorcé desperate to do whatever he needs to to keep his daughter in his life. But, as it probes the chasms caused by capitalism and cash — and the things the latter makes people do under the former — this program isn't just about one player. It's about survival, the status quo the world has accepted when it comes to money, and the real inequality present both in South Korea and elsewhere. Filled with electric performances, as clever as it is compelling, unsurprisingly littered with smart cliffhangers, and never afraid to get bloody and brutal, the result is a savvy, tense and taut horror-thriller that entertains instantly and also has much to say.
EMMYS:
Won: Outstanding Lead Actor in a Drama Series (Lee Jung-jae), Directing for a Drama Series (Hwang Dong-hyuk)
Where to watch it: Netflix.

TED LASSO
A sports-centric sitcom that's like a big warm hug, Ted Lasso belongs in the camp of comedies that focus on nice and caring people doing nice and caring things. Parks and Recreation is the ultimate recent example of this subgenre, as well as fellow Michael Schur-created favourite Brooklyn Nine-Nine — shows that celebrate people supporting and being there for each other, and the bonds that spring between them, to not just an entertaining but to a soul-replenishing degree. As played by Jason Sudeikis (Booksmart), the series' namesake is all positivity, all the time. A small-time US college football coach, he scored an unlikely job as manager of British soccer team AFC Richmond in the show's first season, a job that came with struggles. The ravenous media wrote him off instantly, the club was hardly doing its best, owner Rebecca (Hannah Waddingham, Sex Education) had just taken over the organisation as part of her divorce settlement, and veteran champion Roy Kent (Brett Goldstein, Uncle) and current hotshot Jamie Tartt (Phil Dunster, Judy) refused to get along.
Ted's upbeat attitude does wonders, though. In Ted Lasso's also-excellent second season, however, he finds new team psychologist Dr Sharon Fieldstone (Sarah Niles, I May Destroy You) an unsettling presence. You definitely don't need to love soccer or even sport to fall for this show's ongoing charms, to adore its heartwarming determination to value banding together and looking on the bright side, and to love its depiction of both male tenderness and supportive female friendships (which is where Maleficent: Mistress of Evil's Juno Temple comes in). In fact, this is the best sitcom currently in production.
EMMYS:
Won: Outstanding Comedy Series, Outstanding Lead Actor in a Comedy Series (Jason Sudeikis), Outstanding Supporting Actor in a Comedy Series (Brett Goldstein), Directing for a Comedy Series (MJ Delaney)
Where to watch it: Apple TV+. Read our review of season two.
ABBOTT ELEMENTARY
The Office did it, in both the UK and US versions. Parks and Recreation did it too. What We Do in the Shadows still does it — and, yes, there's more where they all came from. By now, the mockumentary format is such a well-established part of the sitcom realm that new shows deciding to give it a whirl isn't noteworthy. But in Abbott Elementary, the gimmick is also deployed as an outlet for the series' characters, all public school elementary teachers in Philadelphia, to help convey the stresses and tolls of doing what they're devoted to. In a wonderfully warm and also clear-eyed gem created by, co-written by and starring triple-threat Quinta Brunson (Miracle Workers), that'd be teaching young hearts and minds no matter the everyday obstacles, the utter lack of resources and funding, or the absence of interest from the bureaucracy above them.
Brunson plays perennially perky 25-year-old teacher Janine Teagues, who loves her gig and her second-grade class. She also adores her colleague Barbara Howard (Sheryl Lee Ralph, Ray Donovan), the kindergarten teacher that she sees as a mentor and work mum. Actually, Janine isn't just fond of all of the above — she's so devoted to her job that she'll let nothing stand in her way. But that isn't easy or straightforward in a system that's short on cash and care from the powers-that-be to make school better for its predominantly Black student populace. Also featuring Everybody Hates Chris' Tyler James Williams (also The United States vs Billie Holiday) as an apathetic substitute teacher, Lisa Ann Walter (The Right Mom) and Chris Perfetti (Sound of Metal) as Abbott faculty mainstays, and Janelle James (Black Monday) as the incompetent principal who only scored her position via blackmail, everything about Abbott Elementary is smart, kindhearted, funny and also honest. A second season is on its way, too.
EMMYS:
Won: Outstanding Supporting Actress in a Comedy Series (Sheryl Lee Ralph), Outstanding Writing for a Comedy Series (Quinta Brunson)
Where to watch it: Disney+.
EUPHORIA
From the very first frames of its debut episode back in June 2019, when just-out-of-rehab 17-year-old Rue Bennett (Zendaya, Spider-Man: No Way Home) gave viewers the lowdown on her life, mindset, baggage, friends, family and everyday chaos, Euphoria has courted attention — or, mirroring the tumultuous teens at the centre of its dramas, the Emmy-winning HBO series just knew that eyeballs would come its way no matter what it did. The brainchild of filmmaker Sam Levinson (Malcolm & Marie), adapted from an Israeli series by the same name, and featuring phenomenal work by its entire cast, it's flashy, gritty, tense, raw, stark and wild, and manages to be both hyper-stylised to visually striking degree and deeply empathetic. In other words, if teen dramas reflect the times they're made — and from Degrassi, Press Gang and Beverly Hills 90210 through to The OC, Friday Night Lights and Skins, they repeatedly have — Euphoria has always been a glittery eyeshadow-strewn sign of today's times.
That hasn't changed in the show's second season. Almost two and a half years elapsed between Euphoria's first and second batch of episodes — a pair of out-of-season instalments in late 2020 and early 2021 aside — but it's still as potent, intense and addictive as ever. And, as dark, as Rue's life and those of her pals (with the cast including Hunter Schafer, The King of Staten Island's Maude Apatow, The Kissing Booth franchise's Jacob Elordi, The White Lotus' Sydney Sweeney, The Afterparty's Barbie Ferreira, North Hollywood's Angus Cloud and Waves' Alexa Demie) bobs and weaves through everything from suicidal despair, Russian Roulette, bloody genitals, unforgettable school plays, raucous parties and just garden-variety 2022-era teen angst. The list always goes on; in fact, as once again relayed in Levinson's non-stop, hyper-pop style, the relentlessness that is being a teenager today, trying to work out who you are and navigating all that the world throws at you is Euphoria's point.
EMMYS:
Won: Outstanding Lead Actress in a Drama Series (Zendaya)
Where to watch it: Binge.
HACKS
In 2021, Hacks' first season quickly cemented itself as one of 2021's best new TV shows — one of two knockout newbies starring Jean Smart last year, thanks to Mare of Easttown as well — and it's just as ace the second time around. It's still searingly funny, nailing that often-elusive blend of insight, intelligence and hilarity. It retains its observational, wry tone, and remains devastatingly relatable even if you've never been a woman trying to make it in comedy. And it's happy to linger where it needs to to truly understand its characters, but never simply dwells in the same place as its last batch of episodes. Season two is literally about hitting the road, so covering fresh territory is baked into the story; however, Hacks' trio of key behind-the-scenes creatives — writer Jen Statsky (The Good Place), writer/director Lucia Aniello (Rough Night) and writer/director/co-star Paul W Downs (The Other Two) —  aren't content to merely repeat themselves with a different backdrop.
Those guiding hands started Hacks after helping to make Broad City a hit. Clearly, they all know a thing or two about moving on from the past. That's the decision both veteran comedian Deborah Vance (Smart) and her twentysomething writer-turned-assistant Ava Daniels (Hannah Einbinder, North Hollywood) had to make themselves in season one, with the show's second season now charting the fallout. So, Deborah has farewelled her residency and the dependable gags that kept pulling in crowds, opting to test out new and far-more-personal material on a cross-country tour instead. Ava has accepted her role by Deborah's side, and is willing to see it as a valid career move rather than an embarrassing stopgap. But that journey comes a few narrative bumps. Of course, Hacks has always been willing to see that actions have consequences, not only for an industry that repeatedly marginalises women, but for its imperfect leading ladies.
EMMYS:
Won: Outstanding Lead Actress in a Comedy Series (Jean Smart)
Where to watch it: Stan. Read our full review of season two.
THE DROPOUT
Dramatising the Theranos scandal, eight-part miniseries The Dropout is one of several high-profile releases this year to relive a wild true-crime tale  — including the Anna Delvey-focused Inventing Anna, about the fake German heiress who conned her way through New York City's elite, and also documentary The Tinder Swindler, which steps through defrauding via dating app at the hands of Israeli imposter Simon Leviev. It also dives into the horror-inducing Dr Death-esque realm, because when a grift doesn't just mess with money and hearts, but with health and lives, it's pure nightmare fuel. And, it's the most gripping of the bunch, even though we're clearly living in peak scandal-to-screen times. Scam culture might be here to stay as Inventing Anna told us in a telling line of dialogue, but it isn't enough to just gawk its way — and The Dropout and its powerful take truly understands this.
To tell the story of Theranos, The Dropout has to tell the story of Elizabeth Holmes, the Silicon Valley biotech outfit's founder and CEO from the age of 19. Played by a captivating, career-best Amanda Seyfried — on par with her Oscar-nominated work in Mank, but clearly in a vastly dissimilar role — the Steve Jobs-worshipping Holmes is seen explaining her company's name early in its first episode. It's derived from the words "therapy" and "diagnosis", she stresses, although history already dictates that it offered little of either. Spawned from Holmes' idea to make taking blood simpler and easier, using just one drop from a small finger prick, it failed to deliver, lied about it copiously and still launched to everyday consumers, putting important medical test results in jeopardy.
EMMYS:
Won: Outstanding Lead Actress in a Limited Series of Television Movie (Amanda Seyfried)
Where to watch it: Disney+. Read our review.
DOPESICK
'Eat the rich' dramas have been having their day across small screens and streaming queues (see: Succession, The White Lotus and Squid Game above), inescapably so. That said, shows in another big current trend are everywhere, too. Dramatised true tales just keep enlisting stacked high-profile casts to wade through murky IRL details, Dopesick included — which adapts Beth Macy's non-fiction book Dopesick: Dealers, Doctors, and the Drug Company that Addicted America. You don't need to have read that text to instantly know that it's about the impact of opioids throughout the US. Everyone has heard of painkiller OxyContin, which originated from US pharmaceutical company Purdue Pharma. Everyone now knows that it is highly addictive, and that that simple fact is the cause of too many woes. If you aren't aware of all the details — or even if you are — prepare for grim viewing via this eight-part affair.
The names don't mirror real life, but the story is factual — and infuriating. Michael Keaton (Morbius) plays Samuel Finnix, a mining town doctor who is convinced by Purdue rep Billy Cutler (Will Poulter, Midsommar) to begin prescribing the then-new OxyContin to patients — such as Betsy (Kaitlyn Dever, Dear Evan Hansen), who has a back injury. Also covered: the legal efforts by assistant US attorneys Rick Mountcastle (Peter Sarsgaard, The Lost Daughter) and Randy Ramseyer (John Hoogenakker, Castle Rock) to make Purdue accountable, with the series never holding back about the ills that the drug has caused. The word for the end result: harrowing in oh-so-many ways and for oh-so-many reasons, and also empathetic towards the people affected by opioids.
EMMYS:
Won: Outstanding Lead Actor in a Limited Series of Television Movie (Michael Keaton)
Where to watch it: Disney+.
OZARK
In 2022, Julia Garner schemed her away into New York's upper echelons in the instantly addictive Inventing Anna, playing IRL faux socialite Anna Delvey — and won the unofficial award for wildest accent on TV, too. She didn't end up nabbing an Emmy for her part, despite being nominated; however, the acclaimed actress didn't go home empty-handed. The reason? Fellow Netflix series Ozark. Not for the first time, The Assistant star picked up the Outstanding Supporting Actress in a Drama Series gong for the crime drama. Actually, this marks her third win, all for her blistering performance as Ruth Langmore. When the show started back in 2017, Garner wasn't in its top-two biggest names, thanks to Jason Bateman (The Outsider) and Laura Linney (Tales of the City), but she's turned her part into an absolute powerhouse.
Ozark's focus: a financial advisor, Marty Byrde (Bateman), who moves from Chicago to a quiet Missouri town — yes, in the titular Ozarks region — after a money-laundering scheme goes wrong in a big way. That's a significant shift for his wife Wendy (Linney) and kids Charlotte (Sofia Hublitz, What Breaks the Ice) and Jonah (Skylar Gaertner, Daredevil), but it doesn't see Marty change his ways. Instead, more laundering is in his future, as well as crossing paths with Ruth, who hails from a criminal family. Across its four-season run, Ozark has always been lifted by its performances, which is unsurprising given that Bateman, Linney and Garner are all at the top of their games. It's a masterclass in tension, too, and in conveying a relentless feeling of dread.
EMMYS:
Won: Outstanding Supporting Actress in a Drama Series (Julia Garner)
Where to watch it: Netflix.
Top image: Mario Perez/HBO.
Concrete Playground Trips
Book unique getaways and adventures dreamed up by our editors