Ten Sydney Date Ideas That Aren't Just 'Grabbing a Drink'
If you're seeking romance that's never stale, here's a mixed bag of Sydney date ideas that aren't just 'grabbing a drink'.
When it comes to orchestrating a first date, the suggestion of 'we could go grab a drink somewhere' is conventional but lacks creativity. The Bar as a venue for first date small talk is the 20-30-40-50-plus-somethings dating default. It's non-committal and virtually foolproof. But as a date concept, the classic 'grabbing a drink' milieu isn't exactly memorable.
So if you feel it's time to spice up your game, here are some ideas to get you started. From budget-friendly daytime spots to revamped tried-and-true classics, this is your guide to Sydney date ideas providing an alternative to your regular rotation of bars.
BYO PICNIC AT WENDY'S SECRET GARDEN IN LAVENDER BAY
In a city as spectacular as Sydney, why wouldn't you want to head outdoors? And there's something uniquely romantic about a sunset picnic by the water in a garden created by a local cultural icon. Wendy Whiteley's Secret Garden is a leafy haven with history, hidden artworks and harbour views. And it is just as suitable for a leisurely stroll as it is for flinging out the rug and having a couple of beers. It's scenic and, importantly, as budget-friendly as you want it to be. Check out our favourite Sydney picnic spots if all goes well and you're up for a second date.
SEE A CULT CLASSIC FILM AT GOLDEN AGE CINEMA
Before you groan in protest at the idea of a movie as a date option, think again. Golden Age is more than your average movie theatre. Hidden underneath one of the best hotels in Sydney at Surry Hills' Paramount House, this venue brings back the romance and nostalgia of cinema in its heyday. Screening beloved cult classics plus a thoughtfully selected program of recent releases, Golden Age's intimate session sizes make this spot perfect for taking someone special.
Best of all, you'll be sipping some of Sydney's best cocktails and stellar snacks like the ever-changing selection of popcorn flavours and a cheese or charcuterie board. If the vibes are high and you're looking for a spot to break down what you just saw with your plus one, head to one of the bars and restaurants nearby. Our picks would be Poly or the sleek lobby bar at the Ace Hotel.

PADDLEBOARD OR KAYAK YOUR WAY ACROSS SYDNEY
For those who like to a date designed around an outdoor activity, this one's just for you. Navigate the waters of the harbour like a pro by taking a stand-up paddleboarding lesson from the crew at Rose Bay Aquatic Hire. Or do it yourself and check out one of our five other favourite SUP spots around the city. They'll be possible spills and embarrassment, but this has to be one of the best ways to experience Sydney's sparkling scenic spots and, besides, water is just a naturally flirty medium. Otherwise, if balance isn't your strong suit, how about kayaking?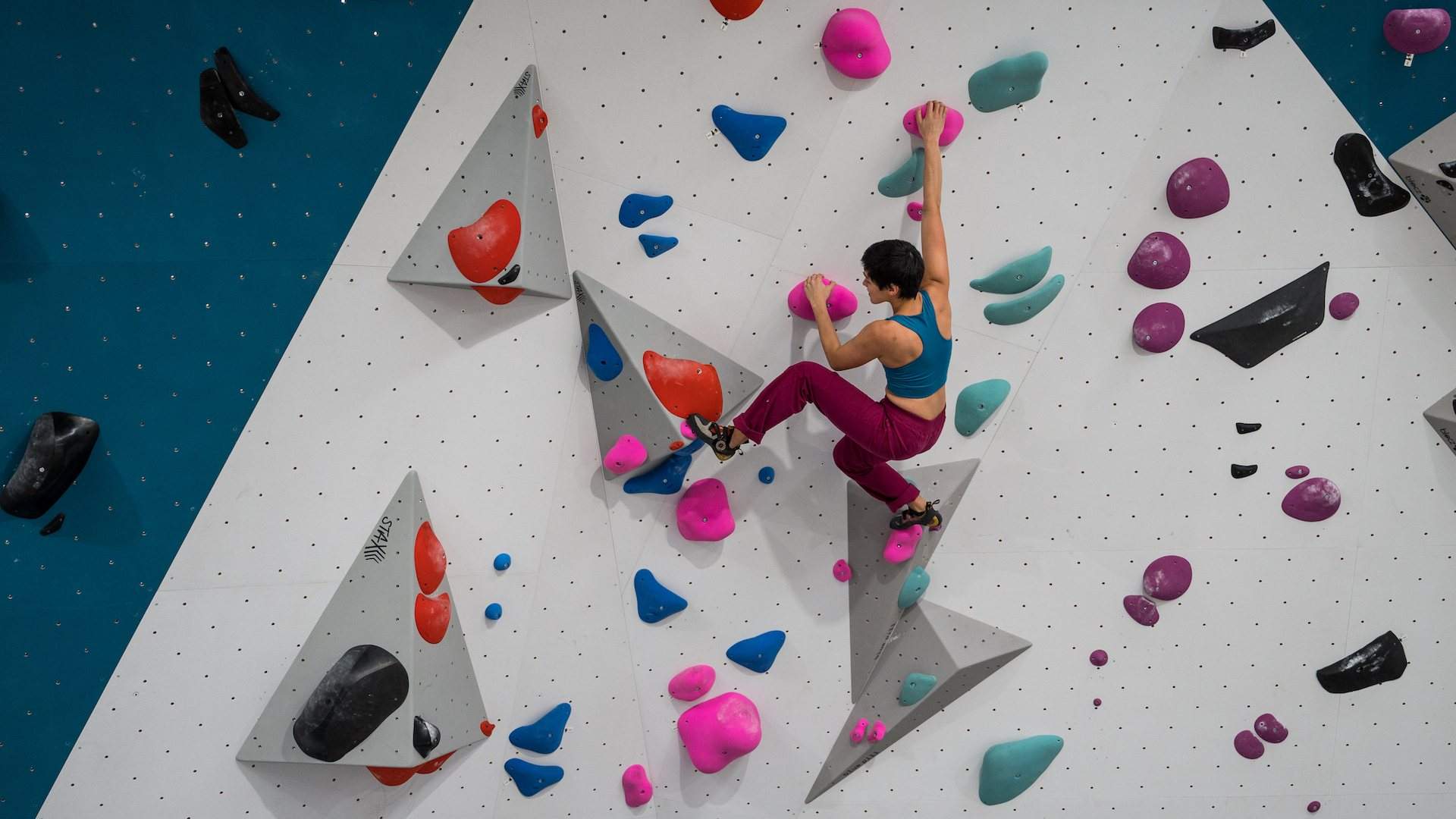 GET ACTIVE INDOORS
If La Niña strikes again or you're looking to add some healthy competition into your romantic endeavours, check out Sydney's indoor bouldering scene at either 9 Degrees in Waterloo or Blochaus. Both have multiple levels of difficulty so they're perfect for beginners and pros alike.
STAY AFTER HOURS AT THE GALLERY
Live music, drinks and the city's best art. No, this isn't the opening of the hottest new nighttime venue. On Wednesdays throughout the year, the Art Gallery of NSW keeps its doors open late to bring together Sydney's art-loving community for Art After Hours. Each iteration features the likes of live music, talks, workshops and access to the gallery's latest exhibition. If you're keen for more late-night cultural adventures, you can also head to the Powerhouse Museum on Thursdays or MCA on Fridays for their weekly after-work cultural events.
LEARN SOME CULINARY SKILLS WITH A COOKING CLASS
New year, new chance to learn new skills. For most of us, that's how every January starts — but once February, March and April roll around, it's easy to let that plan fall by the wayside. Enter Cornersmith, the cooking school run by the crew from beloved Annandale cafe which will load you up with new know-how. The organisation's hands-on workshops cover a range of topics but focus largely on the likes of pickling, preserving and fermenting. Always wanted to know how to make your own tofu? Fancy making your own bottled tomatoes? Desperate to create and perfect your own signature hot sauce? Head along and you'll learn everything you need to.
If seafood is more up your alley than making marmalade, check out the Sydney Seafood School's culinary classes. Located above the current Sydney Fish Market site, the school has been a staple for top-notch cooking classes for over 30 years now. Book the right night and you could even be treated to a masterclass from some of Sydney's best chefs.
Paddington's Italian eatery Barbetta lets you do just that at its regular (and super popular) pasta-making classes. Running regularly throughout the week, the classes let you get your hands dirty while you learn to roll out the likes of gnocchi, lasagna, fettuccine, orrechiette and strozzapretti.
LEVEL UP WITH ARCADE GAMES, DODGEMS AND BOWLING
If the couple that hits the arcade together stays together, then this town of ours has a few options to help your relationship keep going strong. From the moment you walk into Newtown's 1989, you'll get rows of games consoles, walls covered with VHS tapes and cereal-spiked cocktails, so you and your date can hit flippers, smash buttons and pass go. Otherwise, you can head over to B. Lucky and Sons to shoot hoops, show off your dance game skills and race through Mario Kart, all while drinking boozy bubble cups; get weird at Hijinx Hotel for a series of larger-than-life activities and escape rooms; or head west to Sydney's largest indoor fun park.
TRY TO ESCAPE FROM A LOCKED ROOM (FOR FUN)
By now, we've all heard about escape rooms. They've been one of the big thing in adult puzzles for a few years now, so much so that Brooklyn Nine-Nine even based one of its storylines around the concept. And, they've popped up all around Sydney, so you can choose between an eerie Australian outback-themed room in Redfern, a 1940s espionage mission in Newtown and a version set in a haunted toy shop in St Peters which is truly cursed but also fun. Trying to find your way out of a confined space is a great bonding activity as well as a good way to stress-test compatibility.
LEAN INTO THE ROMANCE AND CATCH SOME JAZZ
It may be a cliche, but it's a cliche for a reason: jazz is horny. There are plenty of places where you can integrate jazz into a date around Sydney each week. On the more opulent side of things, you can head to Restaurant Hubert — one of the best restaurants in Sydney for our money — which hosts daily live jazz with a luxurious side of magnificent French cuisine. If you're looking for a more relaxed spot to catch a wailing sax or silky piano, local favourites like The Lansdowne and Yulli's Brews host regular free jazz nights too.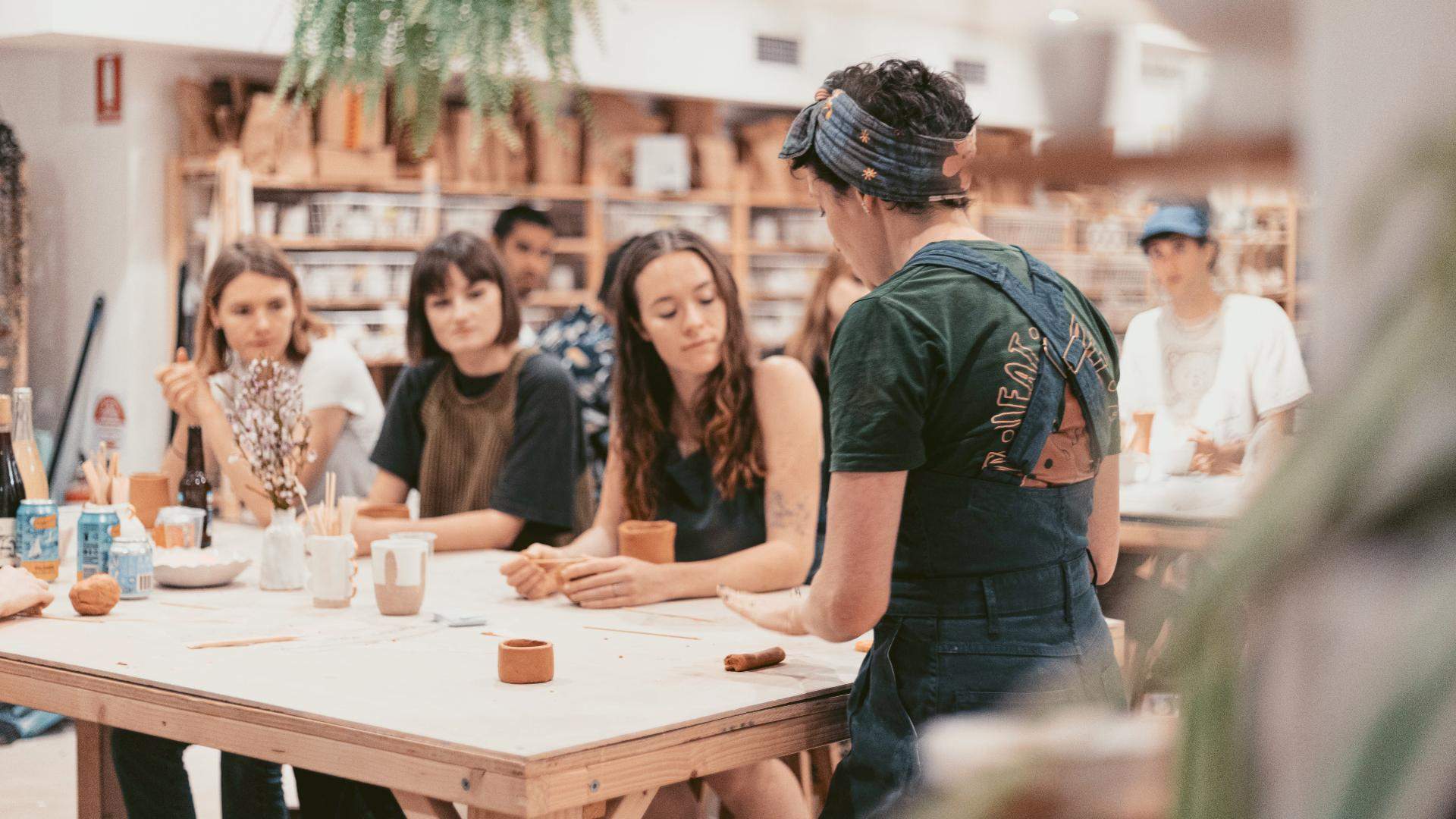 TAKE HOME A MEMORY FROM YOUR DATE AT A POTTERY CLASS
If you're eager to pick up a new skill but cooking isn't your preferred use of your hands, head to Clay Sydney for a pottery class. Catering to beginners and more seasoned pottery enthusiasts, the studio runs a variety of workshops that will have you getting messy and flexing your creative muscles. You can choose to make a keep cup, dinner set or teapot; opt for a wine and clay night where you can enjoy your favourite pét-nat or craft beer during the class; or there's even date-night specific packages if you want to really lean into the romance.
Top image: Golden Age by Cassandra Hannagan
Concrete Playground Trips
Book unique getaways and adventures dreamed up by our editors