The Most Luxurious Boutique Hotels In and Around Sydney
Whether you're vacationing or staycationing in Sydney, these hotels will have you sleeping in soft linen, eating in fine restaurants and relaxing in big spa baths.
After the year or so we've all had, a vacation is always on the cards. But sometimes the best option is to have a sneaky weekend getaway without leaving Sydney at all. There's something undeniably romantic about staying in a hotel room in your own city. It should be mandatory for us all, at least once in a while. We all need to take a break from the drudgery of life, and to become the best versions of ourselves — that is, the hotel version.
Staycationing in Sydney has never been better, with quite the cornucopia of boutique hotels popping up around the city — from heritage-listed warehouses to Victorian mansions and everything in-between. There are some seriously impressive (and incredibly designed) hotels awaiting your arrival. Pencil one into your calendar as soon as possible.

PARAMOUNT HOUSE HOTEL, SURRY HILLS
When Paramount House Hotel was first announced back in August 2017, the hotel promised it wouldn't be your standard luxury hotel, but rather an experience that would embed patrons into the culture of Sydney's inner city suburb of Surry Hills. All we can say is that, when it opened in 2018, it delivered on that guarantee.
You'll never have a dull moment at Paramount, as the building offers up a rooftop gym, independent cinema and one of Sydney's best cafes — plus, depending on when you book your stay, you're likely to find a dance party, art exhibition or a film retrospective awaiting your attendance. Set in an old 40s warehouse, the 29-room hotel features soaring ceilings with exposed brickwork, and while there's also luxury copper finishes, Jardan sofas, premium kilim rugs from Pakistan and a one-of-a-kind vending machine, the appeal of the place is less tangible in its nature. It's both the vibe and history of the surrounding community that make Paramount House Hotel a special stay.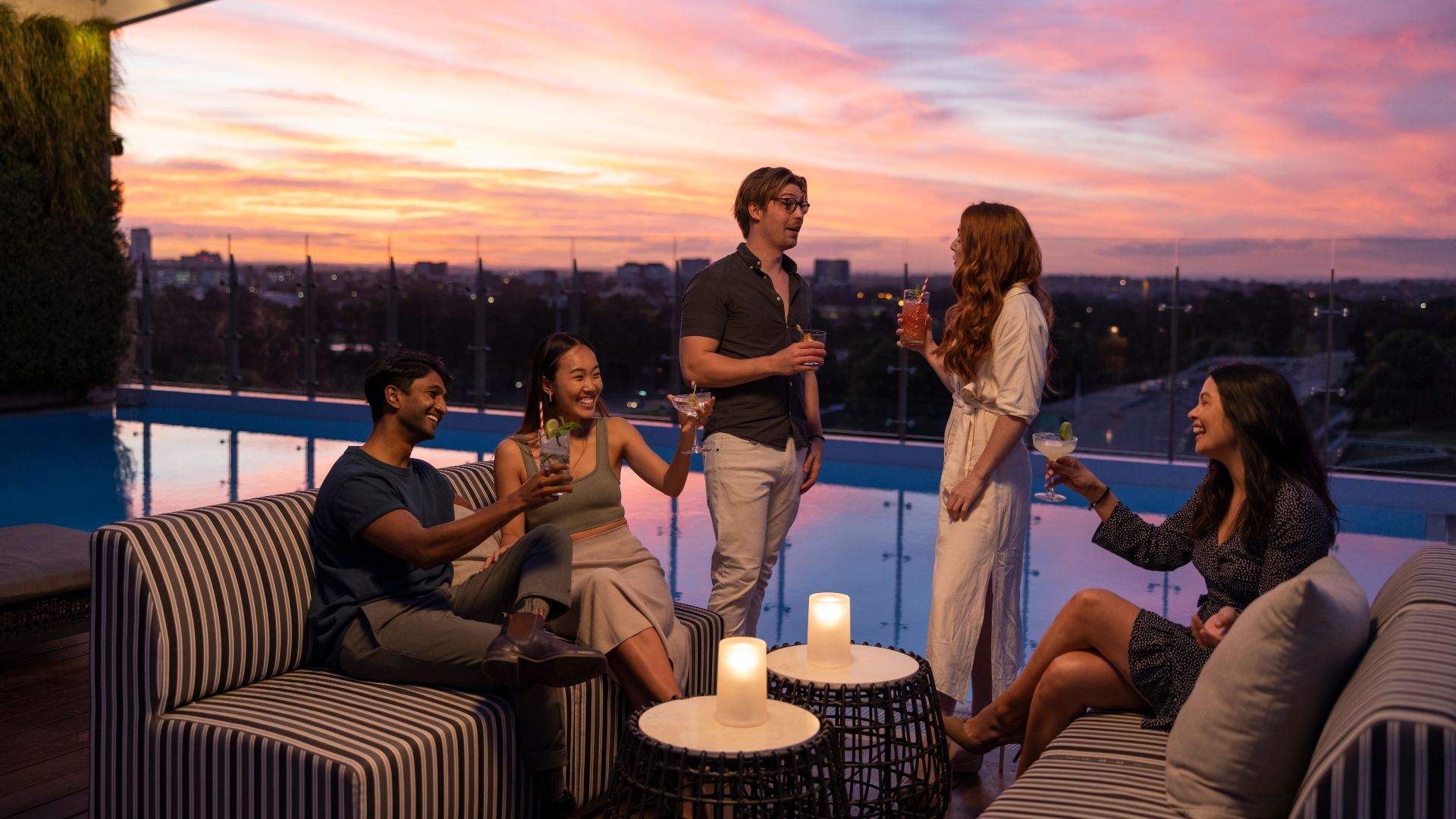 WILLIAM INGLIS HOTEL, WARWICK FARM
Named after Australia's renowned thoroughbred company, William Inglis and Sons, Western Sydney's latest hotel is a sure thing if you're after a mini Sydney staycation. The William Inglis Hotel's centrepiece is its rooftop bar, which offers a spot to relax by the pool with a drink — and to soak in the stunning panoramic views of the surrounding Warwick Farm.
Once you've built up an appetite, head downstairs to the Newmarket Room, the hotel's luxe dining room overlooking the gardens and riverside horse stables. It serves up everything you want on a carefree staycation, from oysters to prawn linguine and NSW Riverina black angus steak. Whisky fans will be at home here, too — the mezzanine's 1867 Lounge serves high-end cocktails and boutique wines.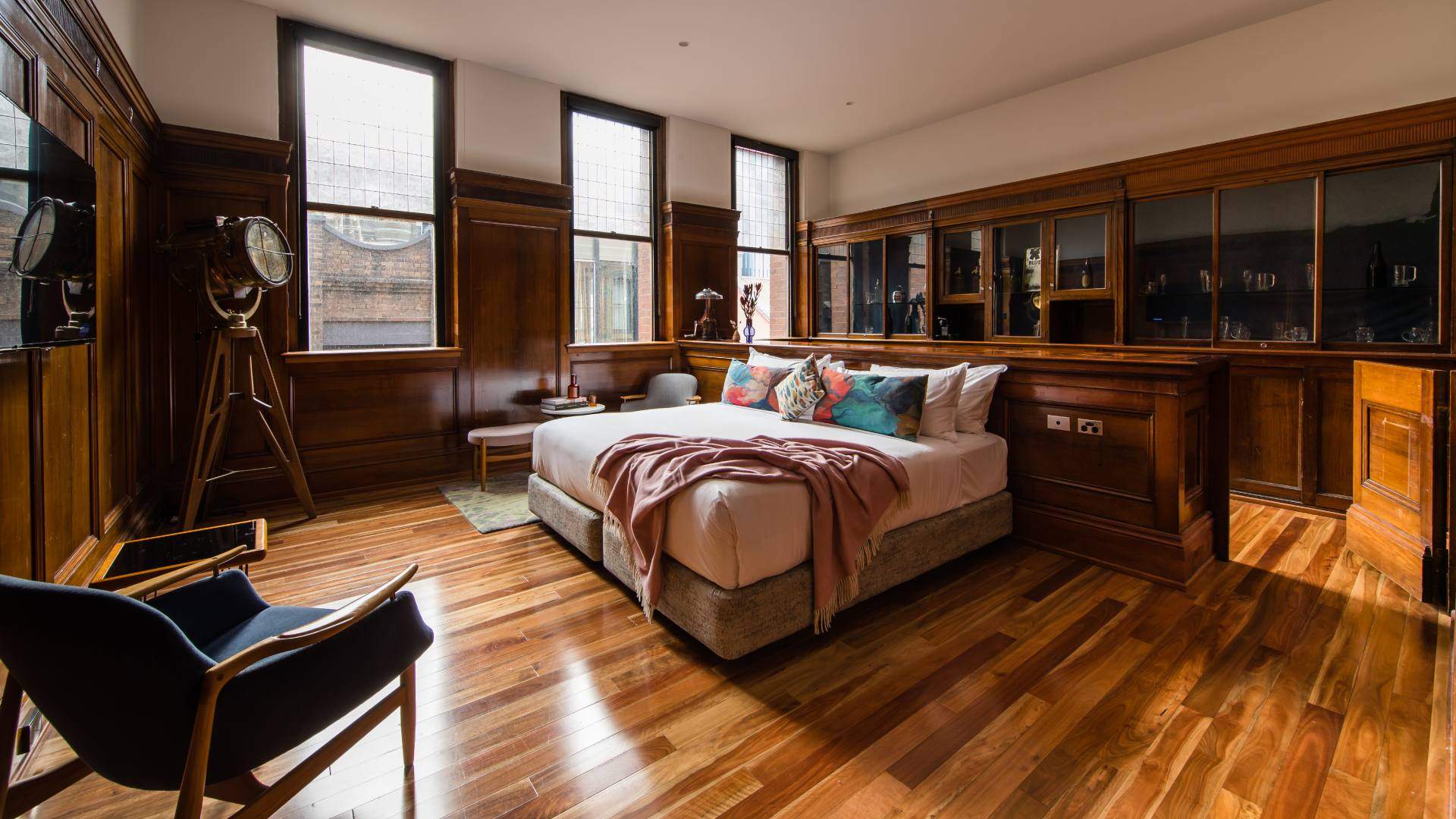 THE OLD CLARE, CHIPPENDALE
Since its highly anticipated re-opening back in 2015, Chippendale's Old Clare Hotel has held a firm place as one of the city's best boutique hotels. Reborn from the (metaphorical) ashes of the historic (and dearly beloved) Clare Hotel, and adjoining Carlton United Brewery Administrative Building, the hotel boasts heritage timber panelling and exposed brick walls, furnished with pendant lighting and vintage furniture. Plus, you can bring your pup along thanks to several dog-friendly suites.
Other hotel amenities include a rooftop pool and bar, private gym and free bike hire, as well as in-room massage services. Guests can also take advantage of custom-made bicycles to explore the surrounding neighbourhood. At night, simply relax at The Clare Bar — or at the hotel restaurant, Automata, which gives all guests a cool 20-percent off.

OVOLO, WOOLLOOMOOLOO
Situated in a gorgeous heritage-listed building in Sydney's harbourside suburb of Woolloomooloo, the Ovolo is a concept boutique hotel that has plenty of character. The amount of free amenities and offerings for guests is unrivalled, including continental breakfast, a free in-room mini bar, happy hour drinks in the evening and ultra fast wifi. Plus, there's an indoor pool and gym, too, as well as pet-friendly rooms. The stunning rooms are all generous in size, the facilities are open 24 hours a day and flexibility lies at the heart of every feature.
Now, the hotel is also a go-to for culinary delights, thanks to plant-based restaurant Alibi. It's the first Australian venture by world-famous vegan chef Matthew Kenney, who hails from California. The menu is big on creative combinations of fresh, local and seasonal ingredients, and the new drinks list focused on Australian drops.

CRYSTALBROOK ALBION, SURRY HILLS
Crystalbrook Albion is a luxurious operation in the heart of Surry Hills. It was launched back in July 2018 by 8Hotels, but has since been acquired by the Crystalbrook Collection hotel group. With 24-hour service and brekkie included, this guest house is pitched as a fusion of hotel and home.
Here, you'll get to lounge around in designer interiors decked out with a covetable art collection — and in a rooftop garden complete with an outdoor shower and panoramic city views. There's also an honour-system bar, where guests can help themselves to high-end nibbles and drinks. When it comes to the food and drinks, both at the breakfast table and in the mini bar, working with local businesses such as Brix Distillery, Infinity Bakery and Poho Flowers is of major importance.

CITADINES CONNECT, SYDNEY AIRPORT
Airport accommodations are normally pretty drab, but the lively 150-room Citadines Connect (formerly the Felix Hotel) is bucking this trend with a truly first-class stay. Inspired by the golden age of air travel in the 60s — that is, before budget airlines made you pay for water — the seamless experience starts from the get-go with guests heading straight to the top-level penthouse to check-in.
From here, overlooking the runway, guests can enjoy the rooftop cinema, dining area, heated outdoor terrace and colourful cocktail bar — the latter of which will undoubtedly be a departure from the usual monotonous airport watering holes.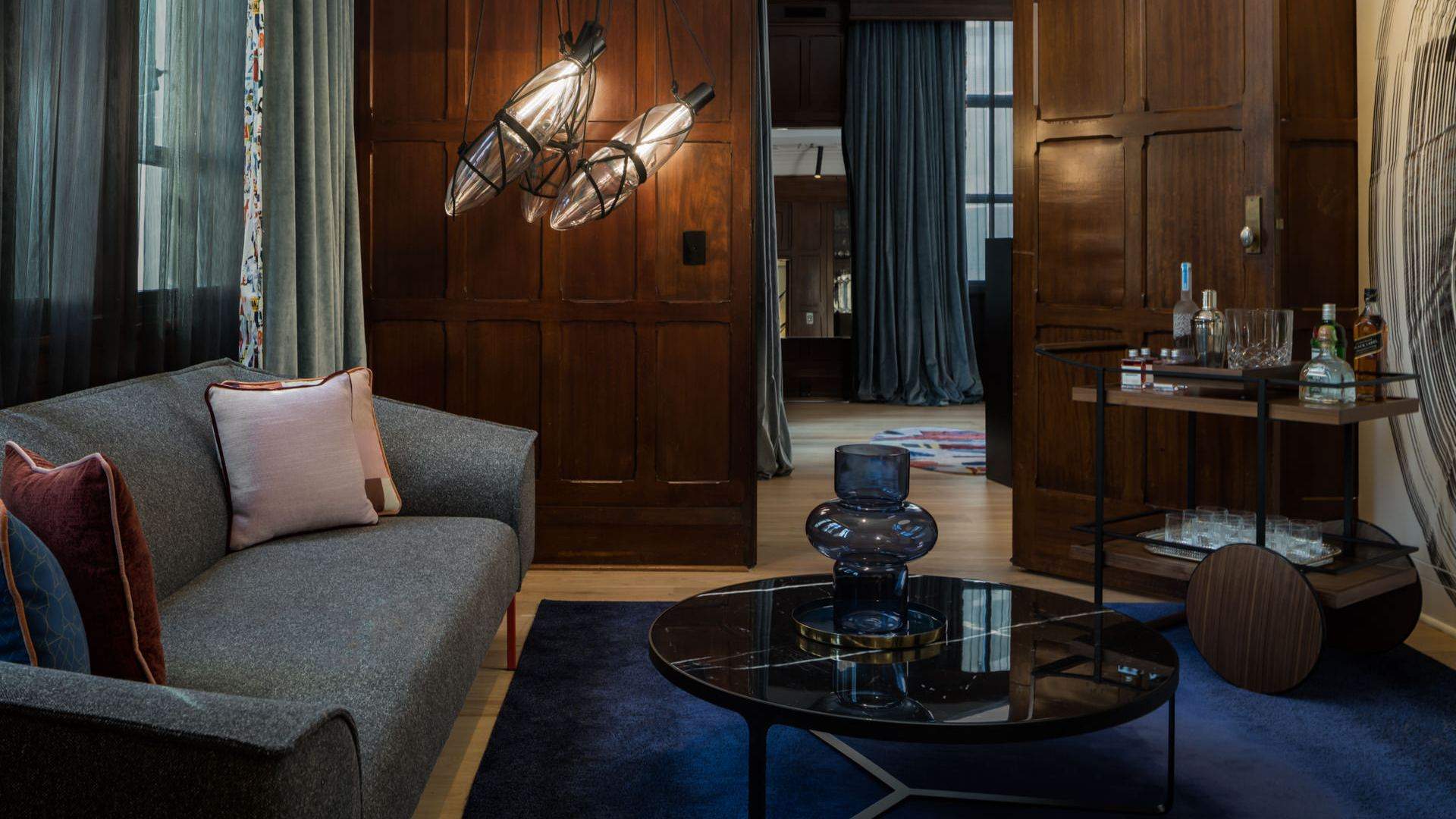 QT SYDNEY, CBD
Every one of QT Sydney's guest suites have been carefully crafted to reflect and honour the historic Gowings and State Theatre buildings in which it resides. QT's exterior sports a striking blend of gothic, art deco, and Italianate-influenced architecture — and inside, the luxurious rooms carry through that art deco-meets-gothic aesthetic to quite the striking degree.
Plus, thanks to its location right in the centre of the CBD — and alongside one of the city's most famous theatres — it's a great pick for out-of-towners, while locals can often be found making the best of its various bars, bistros and restaurants. Just nearby, you'll find Sammy Junior, Glass Brasserie and The Grounds of the City; however, if you don't feel like leaving your hotel, you're in luck. The QT hosts the renowned Gowings Bar & Grill, too. Want to stay a little closer to the beach? Hop over to the QT Bondi for a coastal escape.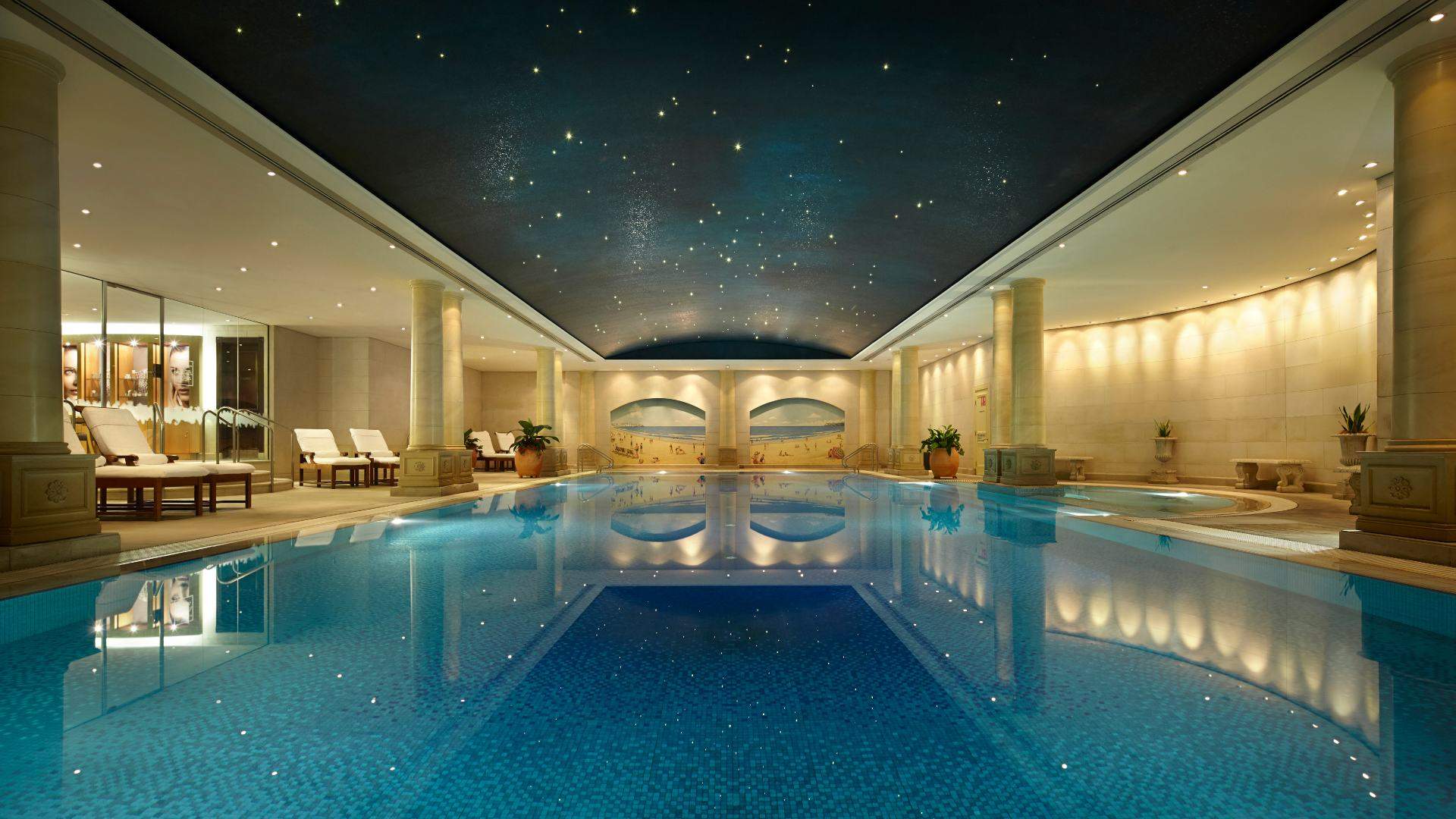 THE LANGHAM, MILLERS POINT
Just a ten-minute walk from Circular Quay and The Rocks, The Langham is the epitome of boutique indulgence. With only 96 exquisite rooms on offer, demand for even just one night at this Sydney institution is high all year round — and with facilities like its fitness centre, sauna, day spa and a spectacular 20-metre indoor pool with a star-dappled sky ceiling, you'll find it hard to tear yourself away from the hotel to explore the amazing areas that surround it.
Within the suites, expect plush furniture, high ceilings and large windows over-looking the western side of the harbour. Bed and breakfast specials are also on offer, as is a 'pampered pets program' — making it one of Sydney's only pet-friendly accommodation options at luxury level.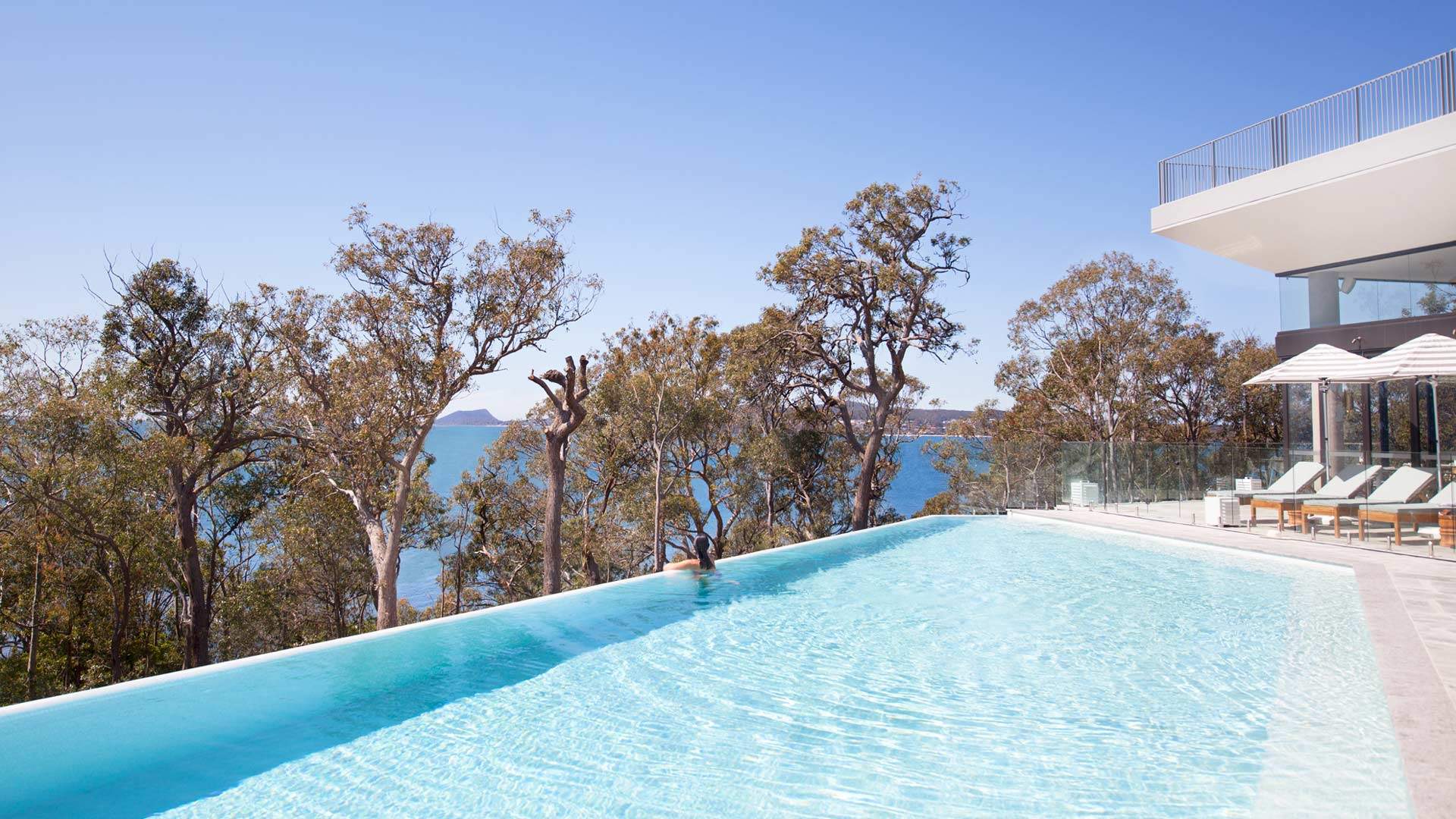 OUT OF TOWN: BANNISTERS, PORT STEPHENS
Bannisters opened its much-anticipated third NSW hotel in Port Stephens back in 2018. With two already in Mollymook, the boutique chain's latest outpost is perched on absolute beachfront in Soldiers Point. The luxury digs includes dog-friendly rooms, stunning views, super-luxe suites and, for very special occasions, a penthouse. Depending on where you choose to stay, you'll be looking out at either the tranquil waters of Nelson Bay or dense forest — or both.
Wherever you sleep, you can look forward to light-filled spaces, Hamptons-inspired white hues, king-sized beds and decadent touches. Among the common facilities is an infinity pool — looking out across the river — and the Terrace Bar. Plus, if you're keen to indulge, Rick Stein at Bannisters is also on the water, with Stein and head chef Mitchell Turner overseeing a menu big on premium seafood.

Top image:
Introducing Concrete Playground Trips
Book unique getaways and adventures dreamed up by our editors