Brisbane Bars and Restaurants That Are Undeniably, Unabashedly Romantic
Low lighting, jazz playlists, opulent cocktails, breathtaking views — these date spots will help you to start planning the perfect Valentine's Day.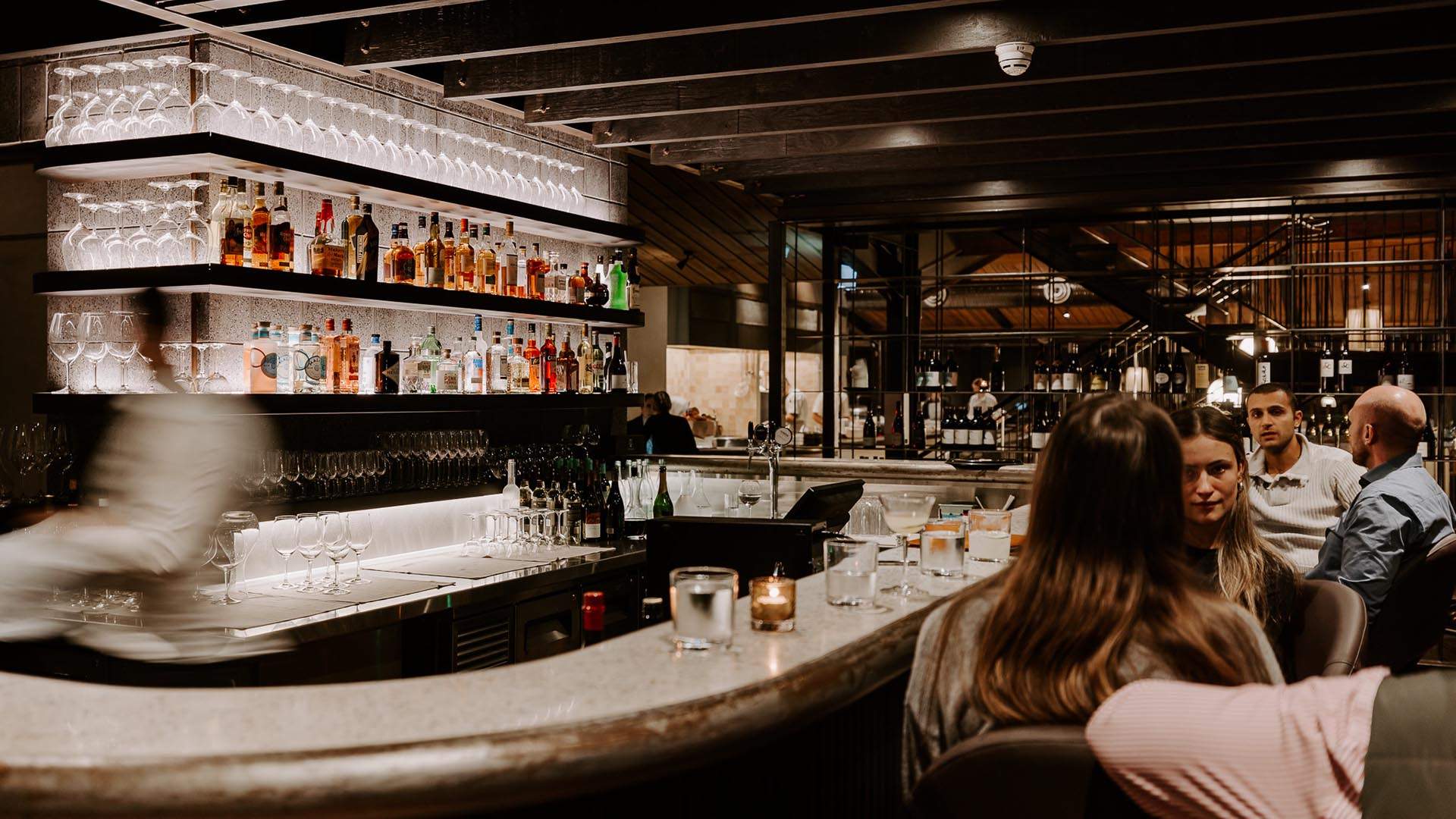 Alright, alright. So we've sat here all day grumbling about Valentine's Day, about manufactured romance, about disingenuous, 'love' related holidays and the atrociously high price of roses. Words like 'phooey', 'poppycock' and 'hell naw' have been bandied about.
Pay no attention to the phones under our desk, messaging that special someone, planning a little get-together later on. If we run into you at these undeniably romantic, unashamedly snuggly Brisbane bars and restaurants, don't be too harsh on us. We love love.
Image: Hervé's by Markus Ravik.
Food & Drink

The Lune Croissanterie crew has opened its first-ever wine bar, setting up shop next door to its South Brisbane bakery.

Food & Drink

This Newstead supper club is Brisbane's gloriously 70s-inspired new go-to for cocktails and all-day bites.

Food & Drink

This holiday-style seafood restaurant and bar on Eagle Street boasts killer river views and hails from the Naga Thai team.

Food & Drink

Woolloongabba has a new go-to for wines from around the world, French-inspired cocktails, steak frites, escargot, and lemon lime and bitter oysters.

Food & Drink

Towering above the Jubilee Hotel, this luxe new 14th-floor restaurant and bar serves up Peruvian and Japanese cuisine.

Food & Drink

Tuck into French-inspired dishes and wine in Albion's revamped timber mill.

Food & Drink

This new pastel-hued Woolloongabba eatery serves up Chinese Peruvian dishes, and hails from the Sasso Italiano crew.

Food & Drink

Perfect for music-loving couples, this Fortitude Valley spot serves up a mezcal and tequila-heavy drinks menu, plus piña colada panna cotta.

Food & Drink

Enjoy cacio e pepe udon and cheeseburger bloody marys next to The Triffid, inside two old WWII hangars.

Food & Drink

Serving up 11 types of negronis — and an 11-option pizza menu — the 110-seater South City Square eatery takes its cues from 70s-era Italian joints.

Food & Drink

This European-influenced restaurant and bar sits inside a heritage-listed building.

Food & Drink

Enjoy table service in this new spot from the team behind a laneway favourite.

Food & Drink

Pair Italian wines and cocktails with salumi and cheese.

Food & Drink

Peer over the river, hang out on daybeds by the pool and sip cocktails — all on a rooftop.

Food & Drink

Fortitude Valley's go-to for comic-book lovers.

Food & Drink

This cosy Bakery Lane restaurant only seats ten — at the chef's table while you watch the culinary magic happen.

Food & Drink

This darkly lit Fortitude Valley fine-diner focuses on locally sourced ingredients.

Food & Drink

Despite its name, this hidden laneway bar is filled with romantic dark corners and tasty cocktails.

Food & Drink

Treasury Brisbane's all-day overwater bar serves up a seafood-heavy menu with coffee, spritzes and stellar river views.

Food & Drink

Wander past the cabinet of curiosities, soak in the retro glamour and pretend you're in a 1920s Paris salon.

Food & Drink

Peer out over the city while slurping down oysters, tucking into duck liver parfait eclairs and sipping hot whisky cocktails.

Food & Drink

Cru Bar is the ideal alternative for those wanting to avoid the chaos that is the Valley on a Saturday night.

Food & Drink

This two-level Cantonese bar and restaurant combines river views with cosy nooks and a leafy courtyard.

Food & Drink

This Italian riviera-themed spot goes big on cocktails, as curated by Sydney's award-winning Maybe Sammy.

Food & Drink

Tuck into a Thai meal from the ex-Longtime team, or head upstairs for more than 140 types of tequila

Food & Drink

The New York-inspired steakhouse with old-school charm.

Food & Drink

The Mediterranean-inspired venue sits atop Brunswick Street's Hotel X.

Food & Drink

Barracks restaurant and bar Libertine serves up French-Vietnamese cuisine in heritage-listed surroundings.

Food & Drink

Sip cocktails beneath a cascading gold and crystal chandelier.

Food & Drink

Treat your date to crayfish, crispy pork bao and other Chinese dishes with Sichuan and Cantonese flavours and influences.

Food & Drink

Paddington's fancy, yet affordable eatery in the former Montrachet site.

Food & Drink

The all-day French restaurant with an oyster and caviar bar.

Food & Drink

Sip vino — and make it — at Brisbane's first inner-city winery.

Food & Drink

Spend an afternoon on this Newstead venue's sunny deck, or sitting beneath its neon sign.

Food & Drink

Tuck into Italian dishes with an Aussie twist in a Fortitude Valley lane.

Food & Drink

This moodily lit Fortitude Valley restaurant dishes up creative takes on Japanese cuisine.

Food & Drink

A multi-faceted Woolloongabba bar features its own secret whisky room — if you can find it.

Food & Drink

Caxton Street's go-to for whisky, southern-style food and Americana rock.

Food & Drink

Say cheers to French wine at this Euro-style South Brisbane bar and restaurant.

Food & Drink

Head up 16 levels for sky-high drinks in the CBD.
Tap and select
Add to Home Screen
to access Concrete Playground easily next time.
x