Everything You Need to Put in Your Diary for December
Here's your guide to filling this month with all the best food, drink, films, live music, pop-ups and activations this wonderful city has to offer.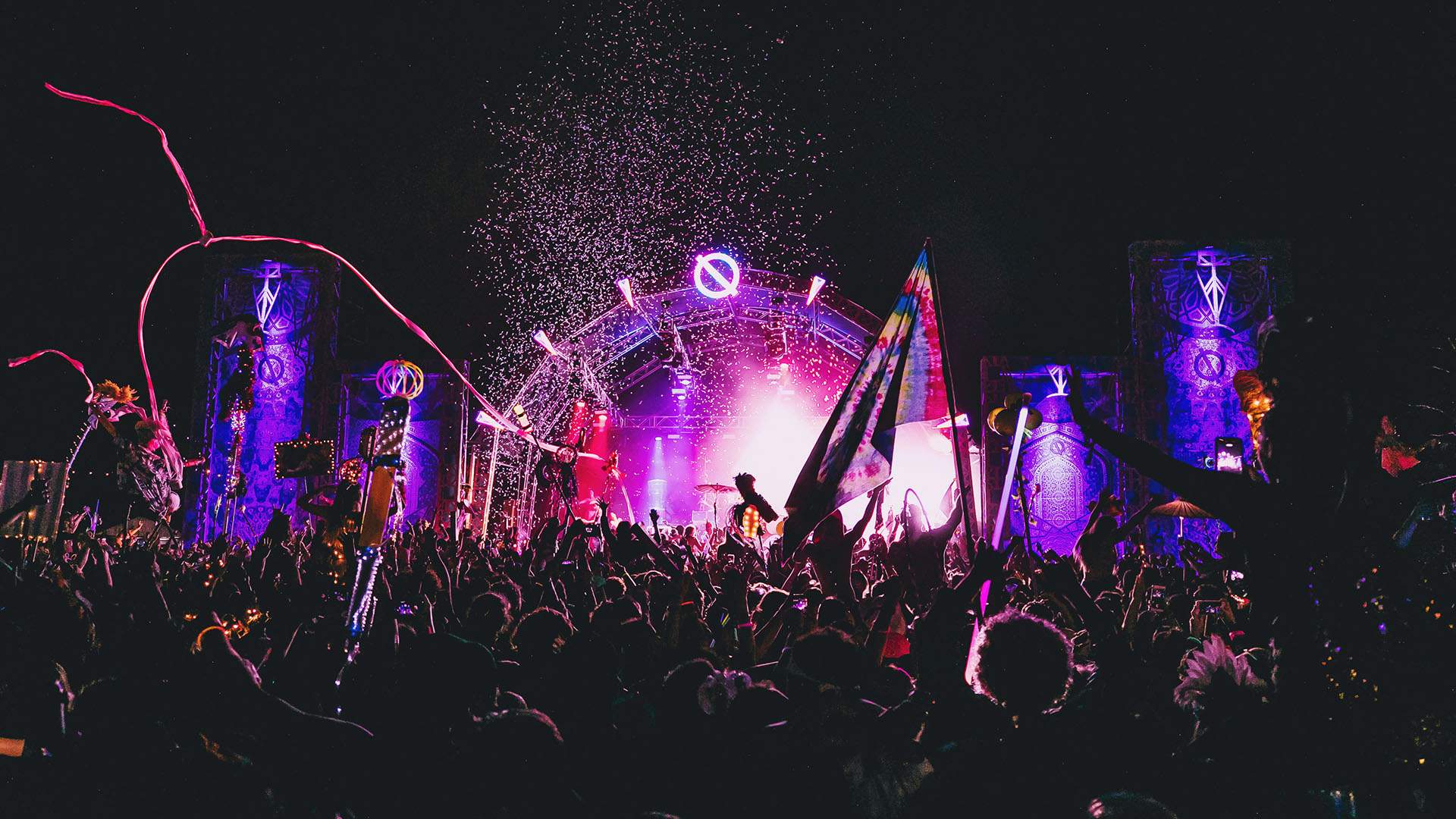 A lot happens in this big, bustling city of ours. Think movie marathons, exhibitions, and everything from booze-fuelled shindigs to outdoor adventures in between. And, of course, there's always more around the corner, with next month no different. That means that there's plenty to look forward to, and plenty of activities to fill your diary to the brim. To help you plot things out, make plans with the gang and make the most of every moment, we've rounded up Sydney's best happenings for December. Don't say you don't have anything to do this month.
Image: Lost Paradise, Jordan Munns
Food & Drink

A pop-up tequila bar has landed in the Royal Botanical Gardens, and it's made completely from recycled materials.

Food & Drink

The first 300 customers through the door will score free ramen, plus a two-for-one deal will run all day.

Food & Drink

Sample rare and premium wines by the glass at this daily wine club.

Design & Style

Find native Christmas trees, playful candles, ceramics, rare books and magazines and summer-ready t-shirts at this holiday market.

Arts & Entertainment

Palace's Sydney cinemas are treating cinephiles to a week of discounted tickets.

Travel & Leisure

This light-filled Christmas festival is taking over the Royal Botanic Gardens and its surrounds for 16 nights.

Arts & Entertainment

Taking a journey to the centre of an otherworldly realm, Walt Disney Animation Studios' 61st film is heartfelt, urgent and visually stunning.

Arts & Entertainment

New Zealand filmmaker David Farrier has done it again, chronicling another story so wild that it can only be true — and this one started with an antiques store's car park.

Arts & Entertainment

Paying tribute to the one and only Dolly Parton, this Australian comedy follows a plucky impersonator swapping the nine-to-five for playing her idol.

Arts & Entertainment

For three nights, Powerhouse Museum is pairing its 'Unpopular' 90s music exhibition with six stunning documentaries.

Arts & Entertainment

Cinema under the stars is returning to St Ives Showground with Christmas films, big-screen blockbusters and a three-day doggo fest.

Arts & Entertainment

The Art Gallery of NSW is welcoming art lovers to its new Sydney Modern Project with a free nine-day program featuring extended opening hours, a concert from Ellie Goulding and a series of talks.

Arts & Entertainment

Casting David Harbour as a kick-ass Santa is a gift, but this festive action-comedy pilfers too many of its parts from other, better films.

Food & Drink

This summer, Thursday night at the Entertainment Quarter is for street food, drinks to match, live music and play for all ages.

Food & Drink

Put a Swedish spin on your festive season with three-course Christmas dinners at IKEA's Sydney stores.

Food & Drink

The Sheaf has ice-cold bevs, stand-out live music and free entry at each of these five sunshine-soaked parties.

Food & Drink

Start summer with $3 ice creams — including Gelatissimo's brand-new smashed berry pavlova flavour.

Design & Style

Pick up pre-loved and upcycled clothes from over 100 local sellers and designers at this Darlinghurst market.

Arts & Entertainment

A culinary thriller-slash-black comedy with bite, this Ralph Fiennes- and Anya Taylor-Joy-starring cinematic dish is savage, savvy and slickly satisfying.

Arts & Entertainment

The 'The Shape of Water' and 'Pan's Labyrinth' director's stop-motion take on the beloved 19th-century Italian tale might just be the most magical yet.

Arts & Entertainment

Timothée Chalamet and Taylor Russell play cannibal lovers road-tripping through America's midwest in this evocative and exquisite film from 'Call Me By Your Name' director Luca Guadagnino.

Arts & Entertainment

Find art, eats and slick beats — minus the Christmas cliches — as an array of artists and chefs take over Locomotive Street.

Food & Drink

Tuck into $9.95 schnitzels one day a week at The Bavarian.

Design & Style

The Powerhouse Museum is hosting a two-month run of this immersive multi-sensory Gucci exhibition.

Travel & Leisure

A Pixar-themed mini golf course is popping up at the Pier St Underpass this summer.

Arts & Entertainment

Australia's touring genre film fest is back with another lineup of weird, wild, strange and surreal movies.

Food & Drink

This local natural winemaker is popping up at The Lansdowne, The Duke of Enmore, Leichardt Bowlo and Laguma with free tastings, vinyl and DJ sets.

Design & Style

Support the next wave of independent artisans at this three-day art and design market.

Food & Drink

Sip cocktails from Archie Rose while you shop for produce and gifts from the likes of Nonna's Grocer, LP's Quality Meats and AP Bakery.

Arts & Entertainment

For his first movie in seven years, Oscar-winning director Alejandro González Iñárritu ponders the weight of being a filmmaker in a feature both spectacular and indulgent.

Arts & Entertainment

Carey Mulligan and Zoe Kazan lead this powerful newspaper drama, which follows the journalists who broke the Harvey Weinstein story.

Arts & Entertainment

Catch TISM, Bring Me the Horizon, Deftones, The Amity Affliction, NOFX and Millencolin at this massive alternative, metal and punk music fest.

Food & Drink

Whether you want to learn the secrets of Singapore chilli crab or perfect your paella, these summer classes will level up your cooking game.

Arts & Entertainment

The wildly popular, multi-sensory Van Gogh experience is returning to Sydney this December.

Arts & Entertainment

Step inside one of Joost Bakker's most ambitious zero-waste projects yet: a fully sustainable, recyclable home in Melbourne's Federation Square that grows all of its own food.

Arts & Entertainment

A stacked local lineup, drinks from P&Vs Mike Bennie, flash tattoos and a mullet station will all be popping up at The Great Club for Heaps Normal's music festival.

Food & Drink

Josh Niland is hosting a seafood and whisky event pop-up at his Saint Peter restaurant.

Arts & Entertainment

See out the year dancing to live tunes when this regional music fest makes its much-anticipated comeback.

Travel & Leisure

Check off your Christmas shopping list outdoors this year, while you browse artisan products and festive foods.

Food & Drink

The Dolphin Hotel is bringing a slice of Sicily to Surry Hills with a wine mixer dedicated to southern Italy.

Arts & Entertainment

There's nothing false about this astute and hilarious NZ comedy about faking it till you make it in a social media-ruled world — or about Ana Scotney's exceptional performance.

Food & Drink

Sit down to a delectable five-course degustation or party outside until your feet fall off while enjoying front row seats to Sydney's fireworks spectacular.

Travel & Leisure

Head to the Entertainment Quarter on the first Sunday of December to sort out your holiday shopping via over 130 stalls.

Arts & Entertainment

The final exhibition of 2022 showcases Karen Black's reinterpretation of radical care.

Arts & Entertainment

Destiny is calling you: Las Vegas-born rockers The Killers are coming to Sydney this summer.

Food & Drink

Food, fashion and festivities will transform Martin Place into a Christmas wonderland.

Arts & Entertainment

Submerge yourself in the deep ocean and uncover the wonders of these ancient predators.

Food & Drink

We hope you're ho, ho, hungry: nel is dishing up a Christmas-themed 11-course degustation.

Arts & Entertainment

South Korean artist Do Ho Suh's immersive solo exhibition is now on at the Museum of Contemporary Art Australia (and it's exclusive to Sydney).

Arts & Entertainment

Explore the iconic director's filmography on the big screen, including 'Taxi Driver', 'Goodfellas', 'The Departed' and more.

Food & Drink

Circular Quay is home to the first monthly fresh produce market this close to the Sydney CBD.

The global art fair returns to Sydney, and it dares us to think differently.

Arts & Entertainment

This supremely festive cabaret show sings through all the hits from 'Love Actually'.

Travel & Leisure

Pack a blanket and some bevvies to watch the year close out from one of the best seats in the city.

Food & Drink

Head to The Entertainment Quarter every Wednesday and Saturday to shop, eat and meet a variety of makers.

Arts & Entertainment

Celebrate new and classic Japanese cinema with an animated flick about competitive gliding, an action-comedy giving assassins a kawaii spin and a documentary about four top Tokyo chefs.

Arts & Entertainment

It's time to play the music at this big-screen session of a festive classic with a live orchestra.

Food & Drink

Enjoy a nostalgic Australian barbecue spread and bottomless cocktails over a bangin' 90s soundtrack.

Arts & Entertainment

Lost Paradise returns to Glenworth Valley with a huge program including sets from Lil Nas X, Arctic Monkeys, Jamie xx and PinkPanthress — plus yoga, talks, workshops and glamping.

Food & Drink

DOOM JUICE's new St Peters cellar door is hosting weekly culinary pop-ups with chefs from Sagra, Cafe Paci, Bar Louise and The Old Fitz.

Arts & Entertainment

This exhibition features never-before-seen footage of bands like Nirvana, Foo Fighters and Beastie Boys taking to Australian stages.

Arts & Entertainment

As part of its 85th birthday celebrations, the Ritz is spending a year screening iconic Australian films on 35mm.

Arts & Entertainment

Two massive music-filled days are taking over one of Australia's most renowned racetracks this summer.

Arts & Entertainment

Take a deep dive into First Nations histories and cultures on an expert-guided tour at the Australian Museum.

Arts & Entertainment

The new community market will be slinging unique art, homewares, handmade jewellery, vintage fashion and delicious grocery goods each month.

Travel & Leisure

Explore over 70 stalls featuring beautiful local produce, artisanal clothing, homewares and more at this fortnightly Sunday market on the banks of the Parramatta River.

Arts & Entertainment

See the evolution of Australian studio ceramics at the Powerhouse Museum with over 400 works by 160 different artists.

Arts & Entertainment

Glass slippers and pumpkin carriages are coming to Sydney, with the Broadway production dancing into the Sydney Lyric Theatre from October.

Arts & Entertainment

An easy-going market packed with food, drinks and produce in the heart of the inner west.

Arts & Entertainment

The Broadway hit is finally bringing its all-singing, all-dancing romance to Sydney.

Arts & Entertainment

Direct from London's Natural History Museum, the best nature photographs from the past year are now on display in Sydney.

Food & Drink

Party until 3am every Sunday night at Big Poppa's.

Food & Drink

Head to Rocker each Sunday arvo for two hours of free-flowing rose, Sydney rock oysters, cauliflower hummus and live tunes.

Arts & Entertainment

Add some rock 'n' roll to your after-work routine with a trivia, a live band and free beer.

Travel & Leisure

Explore the night sky at this astronomical tour in the Blue Mountains.

Food & Drink

Sydney's Tex-Mex bars are slinging cheap tacos one night a week.

Food & Drink

The Paddington restaurant serves coffee, scones and canelés from 8am, and sells boxes of fresh produce too.

Travel & Leisure

Finally a yoga practice where you can literally touch the earth.
Tap and select
Add to Home Screen
to access Concrete Playground easily next time.
x