DESIGN & STYLE
The LYNX Black Gentleman's Guide to Auckland
Come this way and let LYNX Black and Concrete Playground take you on a gentleman's tour of Auckland.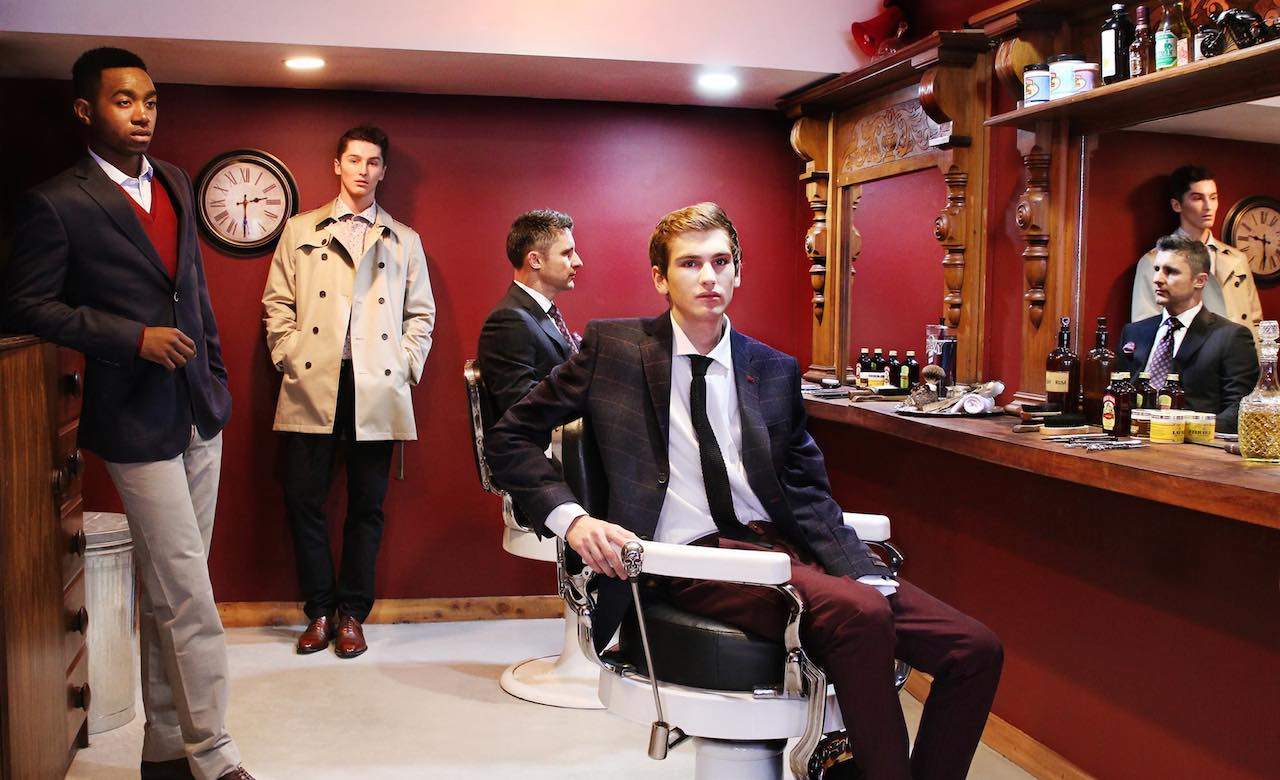 The modern man is a constantly evolving beast. Manliness isn't just bulging muscles and lumberjack beards anymore. Nor is it just stoically bringing home the bacon. He isn't afraid of clamping that top button, but can just as easily undo it. He can chew into a big juicy steak just as keenly as he can sip an acai berry smoothie. He knows what he wants, but is confident enough to ask for guidance when he needs it.
Today's modern gentleman is goddamn inspiring. And we're inspired by him. So come this way and let LYNX Black and Concrete Playground take you on a gentleman's tour of Auckland.
Arts & Entertainment

Exploring the duality of war, the destruction of lives and the construction of a collective future.

Arts & Entertainment

A slick, provocative and timely biopic about one of hip hop's most iconic groups.

Design & Style

Find some fresh new threads and enjoy a seamless delivery.

Food & Drink

A four-course progressive lunch with a side of Kathryn Wilson, WORLD, Trelise Cooper and Zambesi.

Food & Drink

A bar that's home to around 35 Irish whiskeys, about 33 Scotch and a few American and Japanese varieties.

Arts & Entertainment

Gyllenhaal delivers a knockout performance despite the movie's countless clichés.

Food & Drink

Everything from an environmental singles event on an island, a talk about intense animal encounters, sardonic observation comedy, and some ballet from across the ditch.

Arts & Entertainment

Featuring genre-spanning banger-makers and the person responsible for a viral crunk sensation.

Food & Drink

Like every good gastro-pub, it's the simples and classics done right. And they have beef short ribs with a spicy L&P and Wild Turkey glaze. Go on.

Design & Style

Whatever vibe appeals to you most, you can rest assured you're in expert hands with any one of Auckland's finest.

Arts & Entertainment

A photo exhibition that encapsulates 2014, the best local tour of the year, unprofessional professional EDM artists and a live music and film crossbreed are just some of the things that make July a brilliant time to explore this fine city of ours.

Food & Drink

The perfect place to have a little snack over a few beers with mates.

Design & Style

You get a cycleway! You get a cycleway! Everybody gets a cycleway!

Food & Drink

An ideal location for the indecisive ones among us who tend to stare blankly at long drawn out burger menus.

Food & Drink

Where cocktail prices fluctuate in real time, according to supply and demand.

Design & Style

Yes, you can ask Siri to play her favourite Kendrick Lamar song.

Design & Style

The American technology giant is getting rid of your clunky charger.

Food & Drink

Matter-of-factly named 'Dinner and a Show', you will be treated to exactly that.

Travel & Leisure

If you like Pina Coladas and getting caught in the rain, you may just be in luck.

Design & Style

Monetising a concept their customers have already been embracing for years.

Arts & Entertainment

Take your bodies to the festival of soul - featuring Mary J. Blige, Charlie Wilson, De La Soul, Talib Kweli, Dwele and more.

Design & Style

Men, we've hunted down the best of the best, the creme de la creme of thread-selling stores in Auckland. Now all you must do is gather.

Design & Style

Blending your listening history with new specially-created tracks, it's like your own personal exercise DJ.

Food & Drink

Descend the stairs and enter into an '80s-inspired cave which hosts regular live gigs.

Food & Drink

The journey of a thousand pounds begins with a single burger.

Food & Drink

A boutique hotel, a retail shop, a sometimes gig venue and a pleasant, aquatically themed restaurant.

Food & Drink

Wholesome, locally sourced, American-themed goodness.

Food & Drink

Matterhorn has come a long way since its days of being a '60s Swiss coffee house.

Food & Drink

An amazing deck that that looks over the Kumeu River, it's the perfect place to kick back with a beer

Food & Drink

Internet is best served with a flat white and some snacks.

Food & Drink

A bar that leaves everyone with a story to tell.

The members-only bar serves sophistication without pretension.

Food & Drink

The ex-denim factory is a carnivore's paradise.

Food & Drink

A regular pit stop for bright local musical talents, Leigh Sawmill boasts great pizzas and wooden cabins for overnight stays.

Food & Drink

1885, nestled in the popular Britomart precinct and set inside the historic Stanbeth building, features restored brick, exposed kauri beams and luxurious leather couches, while the bar itself boasts an extensive wine cellar and cocktails selection.

Food & Drink

Nestled amongst strategically placed greenery and padded bench seating you'll find a cocktail bar housed within a shipping container, a mini golf green and a burger joint.

Food & Drink

This pun will write itself. Everybody's has something for everybody. But mostly, it's got a jaw-dropping array of modern European fusion and cocktails made to measure.

Food & Drink

A low-key, relaxed pub that's a great spot to meet friends and share an ale.

Food & Drink

City Works Depot's cafe/bar/plant nursery fusion cafe.

Food & Drink

It seems the world of the burger has seen the line between professional eatery and burger takeaway joint become blurred.

Food & Drink

Jack Tar is a good gastropub. Good food. Good beer. Good atmosphere. Good everything.

Food & Drink

Just the ticket for those in the area or those who may have found themselves needing a late night hangout in the Pons.

Food & Drink

A country restaurant in the best sense of the word.

Food & Drink

It's basically a sophisticated alcoholic American tuck shop.

Food & Drink

Situated in a smart looking brick building opposite Fraser Park, 46 and York is single-handedly jazzing up Parnell.

Food & Drink

If you put 'Mexico' into Google maps you might be told that you're approximately 11,000km away. The great news is Google maps are wrong.

Food & Drink

Contemporary Japanese restaurant Masu proves a culinary force to be reckoned with.

Food & Drink

Orleans is an ode to its Southern American namesake drawing heavily on the region's Creole cooking style.

Food & Drink

You can literally taste the goodness without having to feel guilty.

Food & Drink

Located in the heart of Britomart's restaurant precinct, popular inner-city eatery Tyler St Garage is continuing to impress with its exciting new menu.

Food & Drink

I've started so many fun nights out at SPQR and indulged in many a long lunch with many a glass or three of Astrolab to help the afternoon slip by. The buzz and atmosphere are unbeatable in my opinion.

Food & Drink

If a restaurant has been around since 1986, you could safely say it's got to be doing something right.

Food & Drink

Dizengoff on Ponsonby Road needs little introduction, with an army of fans it's your reliable go-to for a perfect coffee fix and is a true friend on a lazy Sunday.

Food & Drink

The Jervois Steak House guarantees a satisfying meal for both steak lovers and non steaklovers alike.

Food & Drink

Lazy Sunday afternoons don't get much better than this.

Food & Drink

Ebisu offers a Japanese dining experience with a relaxed New Zealand feel.

Food & Drink

Seek this covert treasure and you shall be pleasantly surprised.
Tap and select
Add to Home Screen
to access Concrete Playground easily next time.
x